We're down to the final JGP event of the season!
Here are the final results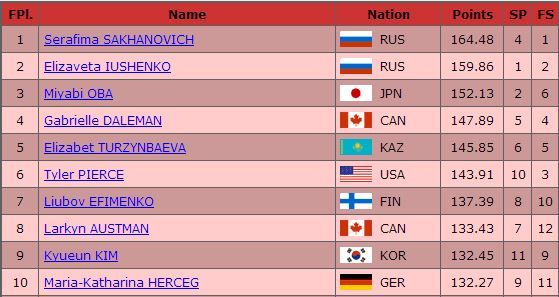 Serafima Sakhanovich (RUS): 55.17 (SP) + 109.31 (FS) = 164.48 (1st)
Serafima was my pick to win this event. It wasn't all smooth sailing for her. She started off her SP well with a 3F-3T but then fell on her 3L. That mistake left her about 4 points out of first heading into the FS. Serafima went after her FS, landing 6 of her planned 7 triple jumps. Her main hiccup was a fall on her 3F-1L-3S combination, but even with the fall, she was able to rack up enough points to win the FS and the gold medal.
Elizaveta Iushenko (RUS): 59.18 (SP) + 100.68 (FS) = 159.86 (2nd)
I wasn't expecting to see Elizaveta leading after the SP but even with her easier 3T-3T, she was able stack points on her spins and PCS. As always, the FS is a different story. Elizaveta started off well with a nice 3T-3T which earned 1.40 points in GOE, but then faltered on her 3Lz-2T. Her 3F received
<
as well as her 3S which she also went down on. She finished out the rest of the program cleanly but in the end it wasn't enough to hold on for gold and she had to settle for silver.
Miyabi Oba (JPN): 57.51 (SP) + 94.62 (FS) = 152.13 (3rd)
Miyabi started off very well in the SP, finally nailing that 3S-3T combo which earned her 1.30 in GOE. The rest of her elements were solid and well executed (+GOE for all 7 elements) and she finished the SP in 2nd place, only 1.67 points out of first. Unfortunately, Miyabi struggled in the FS. She opened with a nice 2A-3T but then fell on her 3F (
<
) and had to fight for the landings on her next two jumps. By the end of the program she got herself together but the damage was already done. She placed 6th in the FS but thanks to her solid SP, she was able to hold on for bronze.
As for the rest...
Gabrielle Daleman (CAN; 147.89, 4th)
is such a powerful skater but she really needs some help when it comes to reeling that power in a bit. She opened her SP with a huge 3Lz and then popped the toe loop on the end. Multiple errors and a sloppy skate in the FS kept her off of the podium.
You can watch most of the videos on the
ISU JGP YouTube channel
. I say most because they haven't posted the rest of the FS videos for the ladies. Ah well...that's it for the JGP events. The JGP Final doesn't take place until later on in December. With this event out of the way, the places for the Final are now set.

Evgenia Medvedeva (RUS)
qualified in first place, earning two gold medals and a total of 30 points.
Polina Edmunds (USA)
qualified in second. She also earned two gold medals and 30 points but in the scoring tiebreaker, Evgenia comes out ahead of her.
Alexandra Proklova (RUS)
qualified in third place, earning one gold and one silver medal for a total of 28 points.
Karen Chen (USA)
qualified in fourth place, earning one gold medal and one bronze medal for a total of 26 points.
Maria Sotskova (RUS)
qualified in fifth place. She earned two silver medals and 26 points overall. She and Karen tied on JGP points, however Karen's gold medal is weighted heavier than Maria's silver medal which means Karen earns the higher spot.
Serafima Sakhanovich (RUS)
placed 4th in one event but her gold medal this week was enough to get her that sixth and final spot in the Final with 24 points.
Angela Wang (USA)
is the first alternate (20 points),
Elizabet Turzynbaeva (KAZ)
is the second alternate (20 points), and
Riona Kato (JPN)
is the 3rd alternate (20 points).
The ladies have a long gap between now and the JGPF which takes place on December 5-8 in Fukuoka, Japan. I've never really understood that but whatever. Congrats to all of the qualifiers and I can't wait to see what happens.
The JGP is officially over and now the real fun begins. The Grand Prix season kicks off next week with
Skate America
and there are going to be a bunch of big names at this season opener:
Mao Asada (JPN), Ashley Wagner (USA), Elizaveta Tuktamysheva (RUS)
, and the GP debuts of
Elena Radionova (RUS)
and
Samantha Cesario (USA)
. This is going to be a great first event!