Please forgive me if this review rapidly descends into incoherent babbling. I spent 18 of the last 48 hours on a bus and I'm running off of only a few hours of sleep. I enjoyed my lightning fast mini vacay to Orlando (yay Disney World!) but it's time to get back to business. I was able to watch the ladies SP on Friday but I had to check my phone while waiting on the fireworks show at Epcot to see who won the event. So, here's my catch-up review...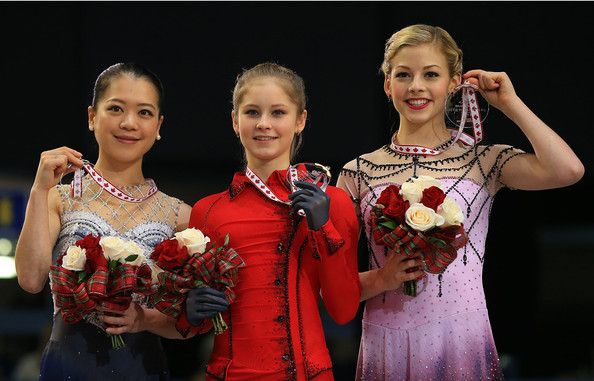 A new darkhorse has emerged for Sochi...
Here are the final results: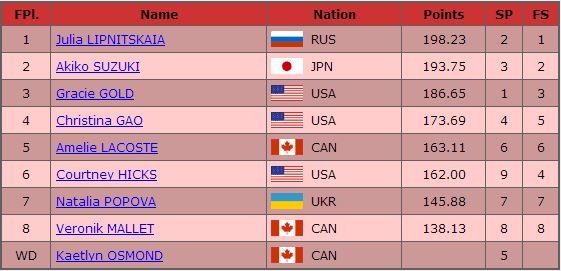 Julia Lipnitskaya (RUS): 66.89 (SP) + 131.34 (FS) = 198.23 (1st)
Julia just threw her name in the hat for potential Sochi spoiler and I have to say, I think there could be a chance for her to sneak in if one of the favorites slide. Julia has returned to what I call
beast mode
and every skater not included in the Big Three should be pretty damn scared right now...actually, some of the Big Three might want to peek over their shoulder just in case.
I'm impressed. Julia has regained her consistency after struggling through a growth spurt and injuries last season. In addition to that, I'm shocked to say I actually enjoy her programs this year. I've been very critical of Julia in the past due to her lack of musical connection and performance (at times I wondered if she was even aware that music was playing while she skated). Now, thanks to some much better choreography, the little artist I knew was in there is beginning to emerge. Gone are the four leg lifts and aimless stroking, replaced with more thoughtful and musical movements that she delivers quite well. Her SP was steady and clean though I do think she should work on centering her spins more. Oftentimes she travels all over the place, especially in her combination spin. Julia placed 2nd in the SP and was in a great position to make a run at gold.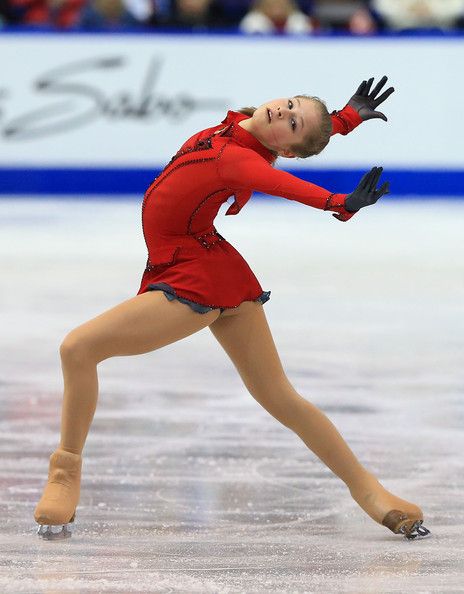 Lovely Ina...
Julia continued her easy-as-pie approach to skating by knocking out 7 triples (including a 3Lz-3T and 2A-3T-2T) as well as all level 4 elements in her FS. Her only mistake was an
e
on her 3Lz-3T combo. Julia isn't a chronic flutzer which helps her in the long run because the judges aren't always aware that she's flutzing if she does, so she doesn't get hit with that automatic -GOE most chronic flutzers/lippers get. Julia's "Schindler's List" program is nicely done and I really love that she's giving more to her performances this year. For the longest time she was so robotic and cold whenever she skated; now I see her opening up a little more and showing some emotion/connection with the music. It makes her much more enjoyable to watch and brings her skating to a different level in my opinion.
Julia won the FS with a 130+ score and secured her first GP gold medal. More importantly, her nearly 200 point score proves that she has the goods to compete at the top. She's not going to get the +GOE or PCS that the Big Three get but with her consistency, difficulty and high level elements, she's at the top of my list to round out the top 5 in Sochi right now.
Akiko Suzuki (JPN): 65.76 (SP) + 127.99 (FS) = 193.75 (2nd)
I love how year after year Akiko finds a way to keep herself in the mix with these young'uns. She's finally in a space where the judges are giving her the PCS she deserves though I won't breathe a sigh of relief just yet. Akiko was clearly the class of the field in this competition but we'll have to see how the judges score her next to the bigger PCS earners in the sport later in the season.
I love Akiko's SP. No other skater out there exudes joy the way Akiko can. I feel her heart when she skates and this program is spectacular. The choreography is great, she looks amazing, and the music is big and uplifting. It's a beautifully packaged program and Akiko gave a really good performance here. Her 3T-3T got hit with a
<
but the rest of her elements were good (level 3 combo spin, level 4s for everything else). Unlike last year at this event where she struggled a bit in the SP, it was good to see Akiko get this solid performance under her belt. She earned the highest PCS in the segment (damn right she did) and finished third, less than 4 points out of first.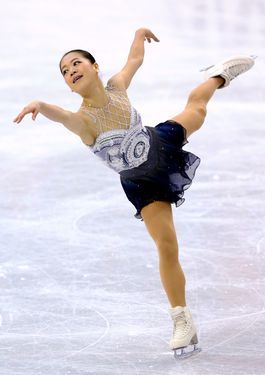 Don't you dare count her out
I'm not as crazy about Akiko's "Phantom of the Opera" FS as I was her "O" FS from last year but this one is still a lovely program and serves its purpose. I do love the music choice for her...I've always loved "Phantom" and I think she does it justice. This wasn't a perfect performance for Akiko but it was a great start to her season. She lost several points (two
<
and two
e
) but she maximized all of her levels and never dropped the program. To score 127+ this early in the season and still have so much more room for improvement is very encouraging. This program clearly has the potential to score over 130 points and a clean performance would probably push her 66+ PCS score even higher.
I think this was a great debut for Akiko but it wasn't enough to overtake the technical content of Julia, so Akiko settled for silver. The good news is she bested her total from last year's Skate Canada by more than 18 points. It's clear the ladies are going to need 190+ to be anywhere near the podium this year so it's good to see Akiko start off so well here.
Gracie Gold (USA): 69.45 (SP) + 117.20 (FS) = 186.65 (3rd)
Miss Gold has been the topic of many discussions leading up to this season. Hoopla over coaching changes, less than stellar programs, her jumping woes...needless to say all eyes were fixated on Gracie as she debuted on the GP alongside her new coach, Frank Carroll. All in all, I'd say this was a moderately successful outing for her.
Gracie started off very well in the SP. I'm over the dress, which isn't as bad as I originally thought; however, I cannot and probably will not
ever
get used to the screechy violin music she chose for this program. Having learned from my bleeding ears the first few times, I turned the volume all the way down to watch this program. I'm pleased to say that without the music assaulting my eardrums, Gracie wasn't all that bad. She looks a little less stiff and even the crazy flailing has calmed down somewhat, though she still needs to work on it. Rather than look blank in the face she actually looks to be more engaged in her performance which is always a plus in my book. As for the jumps, her 3Lz-3T looked comfortable and everything else was secure as well. Seeing as how the SP was her downfall last year, it was nice to see her finally get a clean one under her belt.
That'll do Gracie...that'll do
I'm still not satisfied with this "Sleeping Beauty" program but I don't think the program matters nearly as much as the jumps do for Gracie at this point. If the jumps fall into place she'll get the scores regardless if her program stinks. Gracie won the SP and went into the FS with a small lead but she knew she couldn't back off if she wanted to stay in the lead. The pressure to skate well when the gold is right there in front of you isn't easy (ask Sasha Cohen) and Gracie couldn't do that here. She started off well with a 3Lz-3T but then the nerves set in and she started making mistakes. She opted out of her 2A-3T and struggled with all of her jumps in the second half of the program. She got hit with an
e
on her 3F (lost 1.0 point from -GOE), fell on her 3Lz and received a
<<
on her 3S. Next to Akiko's solid performance and Julia's near perfect one, Gracie was unable to maintain her lead and dropped from first to third overall.
This was a decent debut but I'm sure she was hoping for a better FS to build off of. I can I see some improvements in Gracie but it's obvious she still has work to do. More than anything she and Frank need to focus on steadying her nerves. She's in excellent shape, all of the jumps are there, she has the green light from the judges...she just has to learn how to deliver under pressure now.
As for the rest...
Loved the SP performance
Christina Gao (USA; 173.69, 4th)
had an absolutely lovely SP debut. I really love her "Close Without Touching" program and I'm glad she brought it back this season. Her 3T-3T was great and I'm so happy to see her earn level 4s for all of her spins. Christina ran into some issues in her FS. I think she was going for the 3F-3T but ended up singling the 3T. She hit a few more snags (doubled her 3F and only earned a level 2 for her final spin) but all in all it was a decent debut. She will definitely need more if she's hoping to earn that 3rd spot though...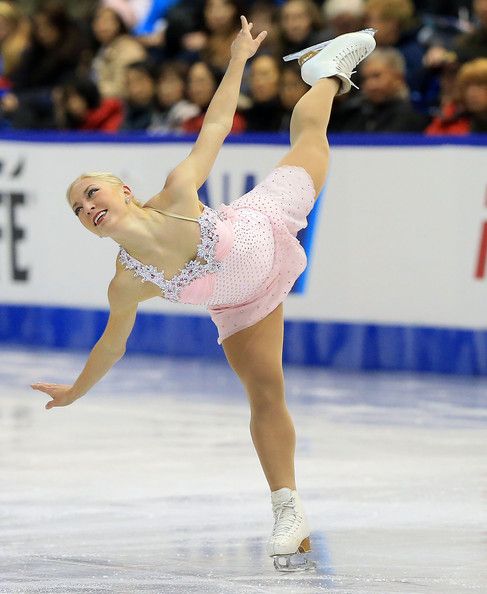 Is Amelie going to be the new #1 Canadian lady?
Amelie Lacoste (CAN; 163.11, 5th)
was great in the SP. It was nice to see her come out fighting and deliver such a strong program. Her FS wasn't as solid (a fall and some doubled jumps) but she managed to finish as the top Canadian lady overall which is a big victory for her after losing her spot on the world team to Kaetlyn last year. We'll have to see if this gives her confidence a boost in her next event...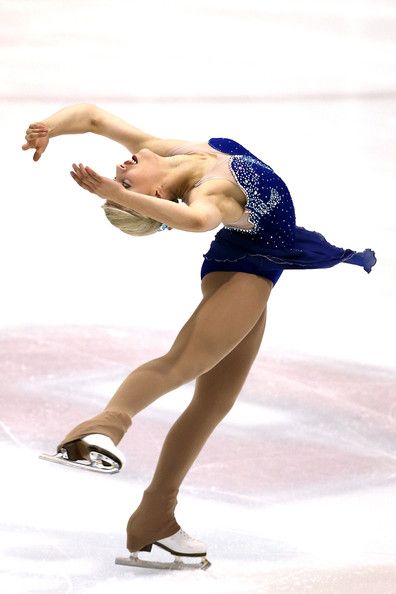 Welcome to the senior level, newbie
Courtney Hicks (USA; 162.00, 6th)
looked a little frightened to me, especially in the SP. It's always a different story when you are competing on the senior level and sometimes it takes some getting used to. Courtney struggled in her SP, doubling her 3F-3T combination as well as her 3Lz which left her in last place heading into the FS. She rebounded well in the FS, landing her 3F-3T and five other triples though she did fall on her 3-jump combination. It was good to see her fight back. Hopefully this was a learning experience for her and she'll be ready for her next event.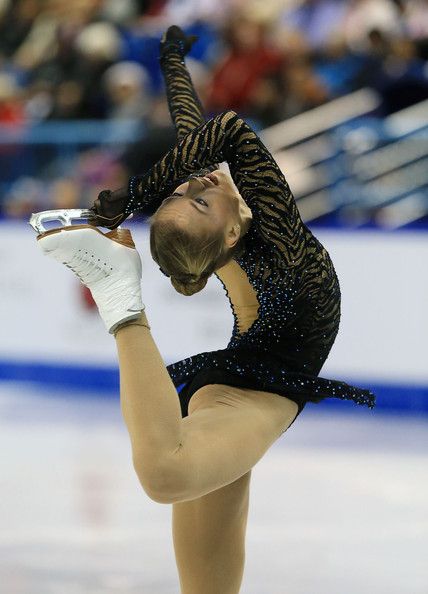 Interesting dress...except for the gloves
Natalia Popova (UKR; 145.88, 7th)
opened with a decent SP though she did lost some points on her wonky 3T. She struggled a little bit in the FS with a few
<
and only ended up completing 3 triple jumps in her FS but at least she stayed on her feet and fought for everything.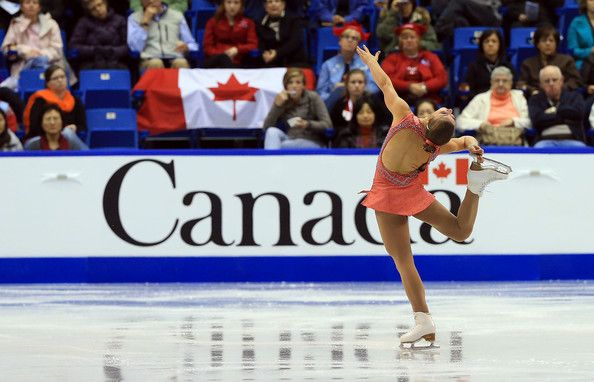 A pleasant surprise in the SP
Veronik Mallet (CAN; 138.13, 8th)
was very pleasant to watch in the SP. I'd never seen her before but her program to music from the "Secret Garden" soundtrack was very nice despite the fall on her 3F. Veronik ran into a lot of trouble in her FS (two falls, an e, and too many combos which negated her final 2A-2T-2T combo) and she finished last here.
Get well soon Kaetlyn!
Kaetyln Osmond (CAN; WD) started off pretty well in the SP. I enjoyed the program and I thought she put forth a good effort. The scoring for her fall on the 2A was really weird. I don't know if some of the judges were scoring the fall as if it didn't happen with the jump or what, but only four judges gave her -GOE and only one of those four gave her -3...I didn't get that at all. Anyhoo, Kaetlyn earned 60.32 and was in 5th place heading into the FS before withdrawing before the final group, citing a hamstring injury. Kaetlyn was supposedly recovering from another injury prior to this competition so another injury on top of one she already has does not bode well for her in this Olympic season. Here's hoping she'll make a speedy recovery. If she doesn't, who is Canada sending to Sochi??
Good competition! This week is Cup of China and the season debut of Carolina Kostner (ITA). Funny enough, we haven't heard anything from Carolina in the last few months other than what she's skating to. I'm excited to see what shape she's in and what her programs are looking like. In addition to Carolina we'll see Kanako Murakami and Haruka Imai (JPN); Adelina Sotnikova, Anna Pogorilaya and Nikol Gosviani (RUS); Zijun Li, Kexin Zhang and Xiaowen Guo (CHN); and Agnes Zawadzki (USA).