So
so
SO
much skating to talk about! A number of competitions featuring several of the top names in the sport went down this past weekend: Japan Open, Finlandia Trophy, JGP Czech and Ondrej Nepela Trophy. Get ready cause I'm going for the high score: four competitions in one post! Here we go...
I always enjoy Japan Open and this season we were treated to some really strong performances, especially from the ladies.
Team Japan wins again!
Final results:
Mao Asada: 135.16
Mao is looking particularly strong for this early in the season and that's a great sign. She completed 5 triple jumps, including the 3A and level 4s on everything with only one
<
call (3S). Her jumps looked good for this early in the season and that 3F-2L-2L was awesome. Mao's jump combinations don't usually have much flow on the landings but that combination covered the ice and had great flow coming out of the final jump. That's the best I've ever seen it! The program itself is nice; I don't like it as much as I liked her "Swan Lake" FS from last season but this one has potential to grow on me. It's a well paced program and I think the music edits are pretty good as well. As always the step sequence is the highlight of the program and I really like the ending too. I'm not a fan of the dress (it's meh with a touch ugh) but overall, I'm impressed with Mao. She's looking ready to go and I'm excited to see how she does on the GP this season.
Joannie Rochette: 123.99
I am thoroughly impressed by Joannie. I mean, wow! She's was wonderful! I did not expect her to be in that great of shape coming into this competition. Joannie threw down
6
triple jumps, including a 3T-1L-3S combination. Her spin levels were scattered (level 2, 3 and 4) but her step sequence was a well-earned level 4 and her ChSq earned several +2s. I'm so impressed with her. The difficulty could have been higher (no lutz and no 3-jump combo) but those are things that could be fixed easily. I don't know if Joannie plans on coming back or not but given what she did here, she'd easily make it onto the Canadian team and would be a real asset in the team event. Her program was lovely, she looked amazing, and her performance was classic Joannie. Definitely a treat to see her back on the ice and performing so well.
Ashley Wagner: 119.77
As promised, Ashley pulled out the 3F-3T and even though the 3T was hit with
<
, I thought it was much closer to being clean than any other attempt in the past. She has better spring into the 3T and a tighter air position as well. In real time it looked clean albeit slightly two-footed. More than anything I'm glad she went for it and didn't bail out. I don't doubt she'll nail that combo very soon. The rest of her jumps were solid as well (5 other triples, one
<
on her 3L) though she did leave a few points on the table with her spins. The program is nothing like what I was expecting for a "Romeo & Juliet" program and that's a good thing. I like that this one doesn't remind me of Sasha Cohen's R&J at all. The program still needs some tweaking here and there but, overall, it is solid and has room to grow as the season progresses. I love her dress; again not what I was expecting for R&J but lovely nonetheless. Like Mao, Ashley looks solid, secure and ready to go. In my opinion, that performance just cemented her status as the clear US #1 heading into this Olympic season.
As for the rest...
Adelina Sotnikova (105.95):
I'm really sad to say I didn't like this program much and that dress is spew-worthy. Why do so many of the Russians have such horrifying dresses? It's a sartorial homicide; they are killing me with these terrible dresses! Anyway, back to Adelina. They need to dumb down her content. Plain and simple. She can't seem to execute two 3Fs in one program: she'll land the first and then mess up the second, which is a loss of more points because she forfeits a combination. Why not go the clean/easy route instead of the difficult/sloppy route? She'll make up for the loss of base value in GOE and PCS because if she's able to skate cleanly her PCS will rise. Adelina's team isn't playing smart right now and if she isn't careful, she might end up missing the Olympic team.
Kanako Murakami (102.15):
Loved the dress, liked the program, but this wasn't the kind of debut she wanted. Kanako popped three jumps and left a lot of points on the ice. The good news is Kanako has never been an early season skater. She usually finds her stride right around nationals which works out fine for her. That said I enjoyed her program. She lost a little steam in the middle but I felt she really pushed herself at the end. It was a decent debut but she has plenty to build on from here.
Irina Slutskaya (69.24):
What can I say? The fact that her total score was what someone would earn for a great SP says enough about what she managed to accomplish. If I have to compare her to the rest of the field, I will have nothing nice to say; therefore, I'll just say it was nice to see her competing again and leave it at that...
You can find all of the 2013 Japan Open videos (men and ladies) on icechannel2011's YouTube channel.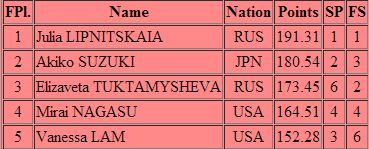 Julia Lipnitskaya (RUS): 65.49 (SP) + 125.82 (FS) = 191.31 (1st)
These programs are definitely better than what she had last season. More than anything, I think it's the choreography; it's phrased with the music which doesn't allow Julia to skate through it and, in turn, forces her to connect more. I see the improvement and that's definitely a plus in my book. Even though her jumps still look muscled and lack flow, she nailed them. No issues in the SP, though she did step out of her 3Lz-3T in the FS and received
e
calls on both lutzes. Still, it looks like
beast mode
Julia from two seasons ago is back.
Akiko Suzuki (JPN): 64.57 (SP) + 115.97 (FS) = 180.54 (2nd)
I love to watch this woman skate! Akiko's SP has an sense of grandeur unlike anything else I've seen this season. I think the program is gorgeous. She stepped out of her 3F but by the time she finished, I'd completely forgotten about it. Akiko knows how to ride a wave of music so brilliantly and that's what she did at the end of her SP. Simply stunning. I'm not as in love with her "Phantom of the Opera" FS as I was with her masterpiece "O" FS from last year, but this one is nice and pleasant and gets the job done. Akiko struggled with a few of the jumps here but for a first time out, I thought she looked great. I'm glad to see she's keeping her content up. With Miki back, Akiko has to be on the attack all season long.
Elizaveta Tuktamysheva (RUS): 52.13 (SP) + 121.32 (FS) = 173.45 (3rd)
I abhor both of her dresses. The black tights and gloves makes her look like she's at a practice session instead of an actual competition. Both of them are black with a little bit of sparkle which makes them look very similar. Where's the variety? Where's the color? In addition to monotonous dresses, Liza T's skating style seems to be one note as well, and that note is usually something of the Latin variety. The music and programs are so similar year to year that it's becoming more difficult to distinguish one from the other. I feel like I've seen her SP before. Liza T popped the first jump in her combo and then fell on her solo jump in the SP which left her in a pretty deep hole, but she managed to dig herself out of it in the FS. Her "Malaguena" FS is a waste of the music (I have yet to see a FS do that piece justice) but at least she performed and gave it her all. Liza T has a long way to go this season but if she can get her consistency back, she'll be able to put up a good fight for one of those two Olympic spots.
As for the rest...
Mirai Nagasu (USA; 164.51, 4th)
: I admire Mirai for going for the tougher content but I honestly don't think she will get that 3F-3T in her SP ratified at any point in the season. I think it's a safer bet to go for the 3T-3T. All jump issues aside, I thought she presented both of her programs well but the
<
and
<<
are killing her. She landed 6 triples in the FS but only got full credit for 3. Also, it doesn't help that the judges have pretty much given up on her to the point they don't even bother to give her credit when she actually has a good performance. I thought her PCS should have been higher in both programs.
Vanessa Lam (USA; 152.28, 5th):
Vanessa has been MIA for a while but I'm glad to see she's back. I'd forgotten how much I really enjoy her skating. I thought her SP was absolutely gorgeous. Lovely music, great choreography and her footwork was excellent. The jumps were decent but not great in the SP. She ran into a lot of trouble in the FS (2 falls,
e
call) and couldn't maintain her positioning.
You can find a list of all the SP videos
here
and the FS videos
here
. (Thanks for the list Mao88!)
Alexandra Prokolova (RUS): 63.43 (SP) + 117.75 (FS) = 181.18 (1st)
Alexandra, like so many of the Russian firecrackers before her, makes it look so easy. She was perfect and I mean that literally; not one
<
or
e
in either program. 3F-3T with all level 4 spins in the SP, and a 7-triple FS which included a 3F-1L-3S and 2A-3T. Though I can't say I agree with her PCS (they seemed ridiculously high compared to the rest of the field), there's no doubt Alexandra got the job done here. She easily secured her first JGP gold medal and, with that, her spot in the Final.
Maria Sotskova (RUS): 57.74 (SP) + 107.85 (FS) = 165.59 (2nd)
Another solid competition for Maria. Her SP was clean but her lower PCS and bad strategy in terms of jump placement (no jumps in the bonus) left her with a slight gap to make up in the FS. Maria rose to the challenge and delivered a solid 7-triple FS. Her only mistake was a fall on her final jump (2A). Maria was very close to Alexandra in TES; however, the PCS gap was unjustifiably massive (nearly 7 points), so she had no chance of catching Alexandra. This silver medal has secured Maria a spot in the Final.
Amber Glenn (USA): 56.84 (SP) + 107.34 (FS) = 164.18 (3rd)
This event was Amber's debut on the JGP and I think she was wonderful. She had a strong showing in the SP (3F-3T and level 4 spins) and an equally strong showing in the FS (6 triples including a 3F-3T). I like Amber's personality on the ice. She's expressive and engaging which makes her enjoyable to watch. Great edges, smooth flow and good presentation...where have they been hiding her this season? Amber is listed as a substitute for next week's last JGP event so she won't have an opportunity to make the Final. However, this was a great debut and she should be very proud of herself.
As for the rest...
Riona Kato (JPN; 156.39, 4th)
had a lovely and solid SP. She started off well in the FS before suffering a
knock-the-wind-outta-you
fall on her 3F. Riona popped her next jump (3L) but then regrouped and finished off the rest of the program cleanly.
Angela Wang (USA; 155.87, 5th)
is starting to frustrate me! Her SP was the stuff dreams are made out of. Absolutely gorgeous choreography and delivery, plus she had the 3Lz-3T this time. She was in a great position to make a run at gold but, once again, fell apart in the FS. Last season she was a really strong FS skater; this season she's doing well in the SP and bombing the FS. As of now Angela is sitting in the 6th and final JGPF spot but after next week, she'll probably end up as a substitute. *sigh*
As usual, you can see all of the videos on the
ISU JGP YouTube channel
. JGP Tallinn Cup is the final event of the JGP season. We'll see
Gabrielle Daleman (CAN), Serafima Sakhanovich (RUS), Miyabi Oba (JPN) and Elizabet Turzynbaeva (KAZ)
. A medal from any of these ladies will shuffle the standings around. Spots for the Final are still up for grabs!
2013 Ondrej Nepela Trophy
I'm not going to do a detailed account of this one, so I'll just post the results and my super-quick thoughts about the top 3:
Haruka Imai (JPN):
Great to see her on top. I love her skating so much and I really want to see her rise up in the ranks in Japan. She has the goods to be one of the front-runners post Sochi...
Nikol Gosviiani (RUS):
She fought for it in the FS and it paid off. Nikol lacks the difficulty that many of the Russian girls have but I think she performs very well. Nice to see her win silver here.
Christina Gao (USA):
Hopefully she's getting these early season struggles out of the way now because a performance like that on the GP will be detrimental to her chances of making that Olympic team come January...
You can check out all the videos by visiting this Golden Skate Forum
link
.
Okay, I'm done.
*faints dead from skating overload*