I picked a terrible week to go on vacation! So much skating has happened in the last week or so, but no worries...I'm going to cover it all. I'll start with the Grand Prix Final, then look at the Junior Grand Prix Final and wrap up with the debut of Yu-Na Kim at Golden Spin of Zagreb. Let's get to it!
2013 Grand Prix Final
A glimpse of things to come. Maybe...maybe not.
The final results

Mao Asada (JPN): 72.36 (SP) + 131.66 (FS) = 204.02 (1st)
Mao is continuing her season of
AWESOME
as she marches resolutely towards Sochi. This marks the second season in a row she has gone undefeated on the GP.
I love,
love
,
love
this SP. I think it's my favorite of the season...maybe all-time for Mao. Mao connects so completely to the music and the choreography. The only time I see her that absorbed in her skating is during exhibitions, so to see this kind of emotion and connection in a competitive program is amazing. She was breathtaking here. I'm not too sure what Shin Amano was smoking on but he was the only one who thought that 3A was
<
; it looked great to me (and everyone else). Regardless of Shin's bogus technical calls, Mao was gorgeous and went into the FS with about a 4 point lead.
I love the joy on her face!
I'm not too sure if I like the strategy of going for two 3As in the FS. It's a pretty tall order to fill but it's not like she hasn't done it before. I was more partial to the balance of the one 3A and six or seven other triples idea, but I'm sure Mao and her team will work out the math between now and Sochi and figure out what she's willing to risk. Her FS wasn't perfect here but she still landed 5 triples (yet again) including a 2A-3T and got full credit for one 3A (even though she fell on it). Mao won the FS and easily defended her GPF title.
Mao has been gaining steam all season long and it looks like she's right where she needs to be to peak in Sochi. I'm really looking forward to what is going to happen in the second half of the season.
Julia Lipnitskaya (RUS): 66.62 (SP) + 125.45 (FS) = 192.07 (2nd)
Julia was her same
beast mode
self but the difference was the judges were far less impressed than the panel at Cup of Russia, who appeared to be ready to crown her the 2014 Olympic Champion right then and there.
I almost feel as though the judges were determined to bring Julia back down to Earth after what happened at COR. I did expect Julia to score a bit higher in the SP but when you take into account the
e
on her 3Lz-3T and loss of levels in the step sequence and layback (both given level 3 instead of 4), it's a little easier to understand why she wasn't closer to the 68+ I was expecting her to get. Julia is never one to hide her emotions in the K&C and it was obvious she wasn't happy with her score.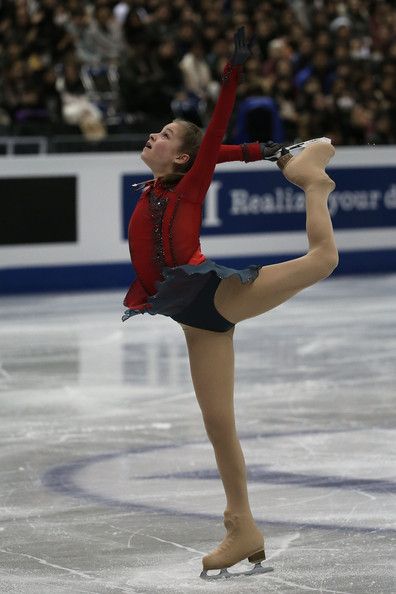 Pack your bags, kid!
Julia's FS was more of the same. This girl's consistency is definitely her calling card. Putting out clean or nearly clean performances count for a lot under this system and the fact that she does it so consistently has raised her stock among the judges this season. She was the only lady to stay on her feet in the FS though she wasn't perfect (
e
on both lutzes and
<
on her 3S). Julia placed second in the FS and leapfrogged from fourth to second and captured the silver medal.
I'm pretty sure Julia's ticket to Sochi is stamped at this point...hell, they've probably already packed her bags and set them by the door for her.
Ashley Wagner (USA): 68.14 (SP) + 119.47 (FS) = 187.61 (3rd)
Ashley has been delivering strong performances all season long and I'm so proud of her for it. Unfortunately, a number of skaters are starting to emerge as we near Sochi which means her path to the podium has gotten a little tougher.
The SP has been working for Ashley all season long thanks in large part to her 3F-3T which she nailed here and earned +GOE from all nine judges. The spins are much better at this point in the season (all level 4s) and she's selling the program very well. Ashley would have placed second in the segment if she'd received a level 4 on her step sequence (level 3 here) but she went into the FS nearly tied with Adelina.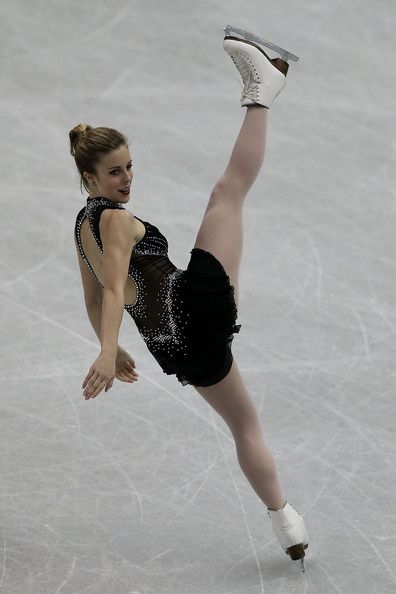 Time to catch that second wind, DivaWagner
As I said at TEB, Ashley's "Romeo & Juliet" FS is growing on me. She's giving more character to the music and the choreography and it's a pleasant program to watch. Most people still feel as though it's not the right vehicle for the Olympics and I somewhat agree. I do think her previous two programs leave a bigger impression than this one, though this one can get the job done if she nails it. Unfortunately Ashley had a few issues here and forked over a lot of points:
<
on the 3F-3T, fall on the lutz,
<
on the second 3F and a few two-footed landings. It wasn't a complete disaster but it definitely wasn't enough to move her up in the competition and she had to settle for bronze.
I do think if Ashley had skated cleanly she'd have won silver here over Julia; however, I'm doubtful that will be the case in Sochi. If the scoring at Cup of Russia was any indicator of the way the Russians will be scored at the Games, it's going to be hard for anyone other than the Big Three to make it on the podium ahead of Julia...
As for the rest...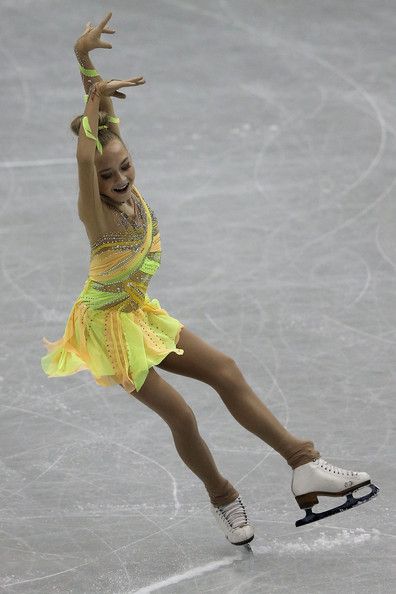 Way to go, cutie!
Elena Radionova (RUS; 183.02, 4th)
had two strong performances in her debut at the Final. She delivered a flawless SP and even though she went down on her second 3Lz in the FS, she finished out the rest of her program cleanly. Elena has had a wonderful debut on the GP and I think Adelina, Anna, Liza T and a number of the other age eligible Russian ladies should be thanking their lucky stars that she isn't old enough to compete in Sochi.
Still not there yet...
Adelina Sotnikova (RUS; 173.30, 5th)
started off really well by going the easier route in her SP and swapping her 3Lz-3L for a 3T-3T. The strategy totally paid off; she placed second in the segment. She went for the lutz-loop in the FS and (shockingly) got full credit for it. Unfortunately just about everything went down hill after that. Even with two splats she still beat out Anna here. I'm guessing she's the best bet for that #2 spot to Sochi. I'm sure Anna is thrilled...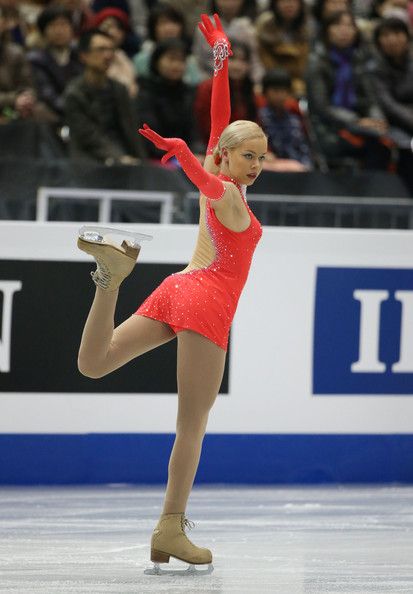 Keep working at it...
Anna Pogorilaya (RUS; 171.88, 6th)
is kicking herself repeatedly. Her 2A woes are really hurting her. She blanked out on her 2A in the SP again and struggled with both attempts in the FS before falling on her final 3F. I know finishing last here was a huge disappointment for Anna. For her debut season on the GP she's done very well and I think she's going to be one to watch out for in the coming years but she still has a lot of growing and maturing to do.
And that's it for the 2013-2014 Grand Prix Series.
2013 Junior Grand Prix Final
It's been a long wait for the junior ladies since the final JGP event all the way back in October, but the top names finally had the chance to face off for the JGPF title.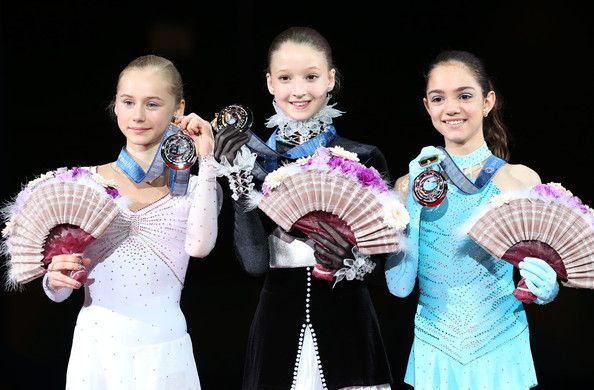 Definitely not the podium I was expecting...
Final results:

Maria Sotskova (RUS): 61.29 (SP) + 115.46 (FS) = 176.75 (1st)
I have to admit, I did not expect Maria to come out on top here. I was sure this event was going to be between Medvedeva, Proklova and Edmunds but Sotskova threw a curve ball and surprised everyone. Costumes aside (I swear, I just don't get the Russian sense of fashion) I thought Maria was excellent. She had two very strong performances, hitting on all of her big elements in both programs; her only mistake was a
<
on her 2A-3T-2T combo in the FS. Maria's presentation was better than most of the girls here and her excellent technique is something to admire as well (no
e
calls). She won both segments of the competition and securely won her first JGPF title.
Serafima Sakhanovich (RUS): 60.56 (SP) + 112.30 (FS) = 172.86 (2nd)
Serafima was another skater who I was not expecting to see on the podium here. On the JGP she struggled to get through the SP cleanly. It seems as though she's worked her way through her SP demons during the break because she nailed all of her elements here, including 3F combo with a Tano 3T on the end. The Tano feature was seen throughout Serafima's FS as well...it's pretty impressive. Serafima had a mostly clean FS (a few
e
calls), finished third in the segment and second overall to capture the silver medal.
Evgenia Medvedeva (RUS): 58.75 (SP) + 104.93 (FS) = 163.68 (3rd)
Following the results of the JGP, Evgenia was a favorite for gold here. She delivered a strong SP but finished third in the segment thanks to lower spin and step levels (her layback was level 4, everything else was level 3). Even with her lower SP score Evgenia was in a position to make a run at gold. She put forth a solid effort in the FS but, unfortunately, it wasn't enough to overtake the top ladies and she had to settle for bronze.
As for the rest...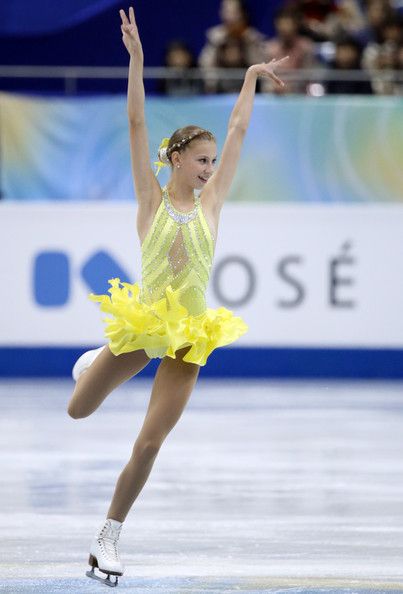 Damn that SP...
Polina Edmunds (USA; 161.71, 4th)
blew the SP and it cost her a medal. It looked as though she got spooked in the SP and ended up botching her two major jumping passes. Even thought the program was a bit of a train wreck from a technical standpoint, I will give her kudos for keeping her energy up. Polina could have dropped the program once the jumps went south but she didn't and I think that will bode well for her in the future. She had an excellent FS and placed second in the segment. Had she delivered in the SP, she may have won gold here.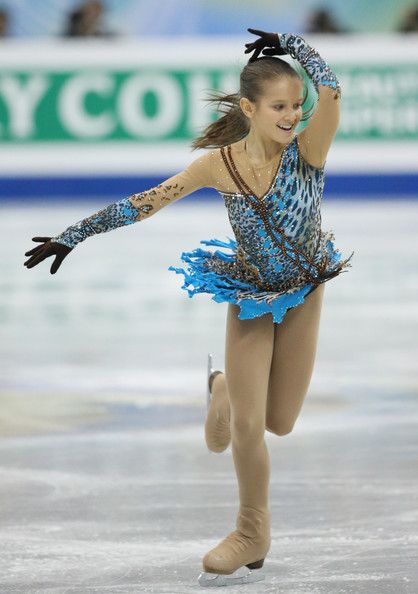 Not her night...
Alexandra Proklova (RUS; 157.77, 5th)
struggled here as well. I fully expected to see her on the podium but the competition was pretty fierce and she wasn't able to keep up. She placed fourth in both segments of the competition but ended up fifth overall.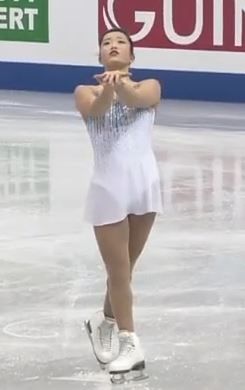 One day...one day...
Angela Wang (USA; 131.58, 6th)
was a substitute for the injured Karen Chen (USA) and, unfortunately, she didn't put this opportunity to good use. Angela looked a little unprepared in my opinion. She couldn't seem to get her feet under her in either program which is incredibly sad because I think she's a beautiful skater. She has the textbook jumps, the spins, high level elements and lovely presentation...she just seems to lack confidence. I will continue to keep my fingers crossed that some day she will wake up and realize her potential.
2013 Golden Spin of Zagreb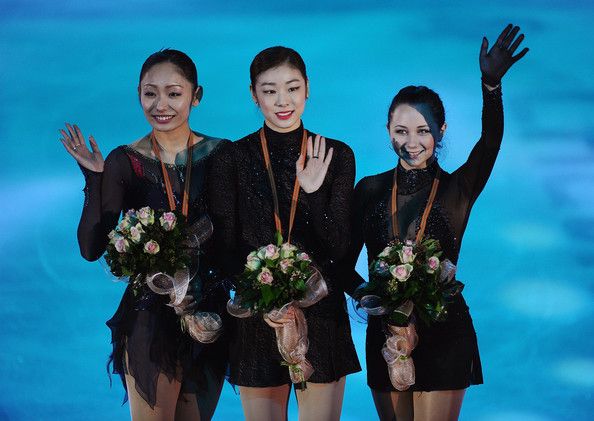 The first step to Sochi is a successful one for Yu-Na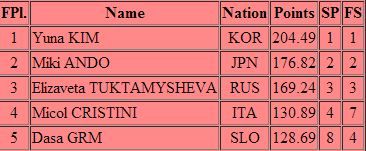 Yu-Na Kim (KOR): 73.37 (SP) + 131.12 (FS) = 204.49 (1st)
No big surprise to see Yu-Na walk away with gold here. I don't think whether or not she'd win this event was up for debate; the bigger question was what condition she'd be in after recovering from her injury. From the looks of it she's doing pretty well. She had a few hiccups in both programs (stumble in the SP, fall in the FS) but overall she looks to be in good shape and ready for Sochi.
As for the programs, I'm liking one and slightly bored with the other. I feel like I've seen her "Send in the Clowns" SP before because it's nearly the same thing we've seen in her last two SPs. It's the placement of the elements. I would have liked to see David add some variety in the arrangement of the elements to freshen it up and set it apart; instead it follows the same layout of her last few SPs. It's a pretty program that will get the job done but, similar to her "Kiss of the Vampire" SP last season, it doesn't stand out for me.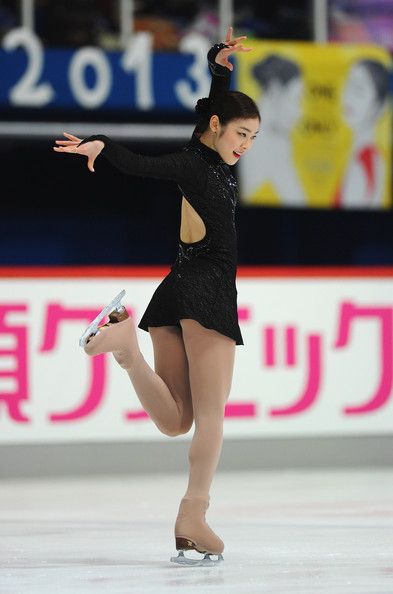 Work it, Miss Kim!
Her "Adios Nonino" FS on the other hand is more of what I was expecting. I definitely see the potential there and I think this could be more of the showstopper kind of program people are expecting from Yu-Na. There are several moments in the program that really add flavor and allow Yu-Na's presence and power to shine. I love the pauses in the choreography and the sharper movements as well as the softer ones. There's a nice balance and contrast in this program that I felt was missing last season. I would like to see them add a little more
BAM!
to the choreographed sequence rather than recycle part of the "Les Mis" sequence, but other than that I really like what they've come up.
In my opinion this FS isn't on the level of her greater programs (Lark, Gershwin, Homage) but I do think it has the potential to be a very memorable and effective Olympic program. Yu-Na still needs time to settle into both programs. I don't feel as though she really
performed
either program that well which is to be expected in a debut. She's still working out the kinks and getting comfortable with them. But overall it was a solid debut. I think it's safe to say Yu-Na is still the favorite for gold heading into Sochi...or rather
co-favorite
for gold. Yu-Na is still in the lead but I feel as though the gap between her and Mao is much narrower than it was in heading into Vancouver...
Miki Ando (JPN): 62.81 (SP) + 114.01 (FS) = 176.82 (2nd)
I really wasn't sure what to expect from Miki here but I do think she's made some decent improvements since the last time we saw her. Given Akiko and Kanako's less than stellar performances on the GP this season, Miki's chances of sneaking onto that team are looking a little better now. She's upped her technical content and is slowly increasing her component scores though she still has a way to go as evident by her lower levels and the
<
and
<<
she received. I still don't think she'll beat a solid Akiko or Kanako but if Miki skates cleanly (which she's been known to do) she may be able to steal a spot if one of the those two falter.
Elizaveta Tuktamysheva (RUS): 58.81 (SP) + 110.43 (FS) = 169.24 (3rd)
Elizaveta is still struggling. She wasn't terrible here but she wasn't good either and being that she's trying to get her name thrown into the hat for consideration for Sochi, she needed to be great. Unfortunately her total here would have placed her behind last place finisher Anna Pogorilaya at the GPF (171.88). Judging by this point in the season, I'm betting the Sochi Olympic team will be Julia Lipnitskaya and Adelina Sotnikova. I just don't see Elizaveta improving enough in the next few weeks to regain her positioning in Russia as one of the top two ladies. That could change but I doubt it...
That's it for the "regular season" of skating. Now we're moving into the second half of the season heading straight for Sochi. National competitions will be taking place over the next few weeks in all of the major countries except for the US. The competition is going to be brutal particularly in Russia and Japan...I can't wait!!