Every season there's at least one competition where the judging raises eyebrows. Last year it was Mao Asada's controversial win over Akiko Suzuki at NHK; this year it's the judging at Rostelecom Cup. Terrible judging...just terrible...
Ahh, nothing like hometown scoring to make you feel good
The final results: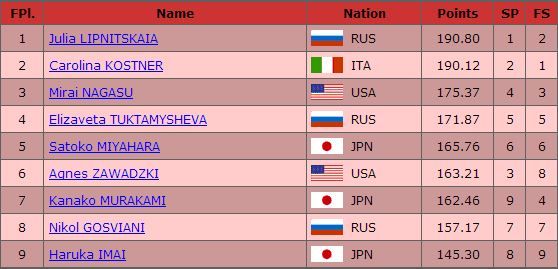 Julia Lipnitskaya (RUS): 72.24 (SP) + 118.56 (FS) = 190.80 (1st)
Julia has been on a tear all season long, kicking major ass in the consistency department and doing a great job of forcing people to include her in the conversation for top contenders in Sochi. Julia wasn't as invincible here as she's been all season yet somehow the scores seem to indicate otherwise.
First off, I must give kudos to Julia for her new SP dress. Hands down, she's now the best dressed Russian lady this year. I was okay with her first SP dress (minus the stupid gloves) but this dress is just beautiful. It should be noted that she's wearing gloves with this dress too but they are sheer; you can't see them unless you're up close. If these ladies insist on wearing gloves, these are the kind they should wear. Okay, enough raving about her improved fashion choices...on to the skating! Julia had another perfect performance: 3Lz-3T, 3F and 2A plus level 4 everything. Julia's last perfect performance earned her 66.87 at Skate Canada. Skating on home ice usually results in a boost to scores so an increase to 69+ or 70+ would have been fine. Needless to say my jaw hit the floor when I saw the
72.24
the judges gave her. I do think she deserved a higher score than she received at Skate Canada but this was just too high. More on that in a minute...

Russia's gold medal favorite
Julia went into the FS with a sizeable lead but for the first time this season, she looked a little rattled. She fell on her opening 3Lz, which was supposed to be a 3-3 combo, and had a scratchy landing on her 2A, which was supposed to be a 2A-3T-2T combo. Julia made up the 2A-3T later in the program but also ended up doubling two other triples. In the end she completed only three out of seven triples, though she did maximize her levels in everything else. In any other case a bad FS like this tends to result in lower scores across the board. So of course I was shocked to see Julia's PCS increase significantly from her perfect FS at Skate Canada despite her very weak performance here. Julia finished second in the FS but still managed to edge out Carolina Kostner for gold by only 0.68.
I have a serious problem with the scoring at this event, particularly the PCS. Julia was given 32.61 for PCS in the SP. To put that into perspective,
Yu-Na Kim
scored 33.18 in PCS at worlds this past year; that's a difference of only
0.57.
In the FS, despite it being a bit of a train wreck, Julia actually scored 2.76 points
higher
than her
perfect
FS at Skate Canada (63.64 vs 60.88). I know the judging is different from competition to competition and I get the judges are boosting Julia because she's at home in Russia, but to me they crossed the line from boosting to straight up
cheating
. Julia is good and has done well so I expected her scores to go up...but not by that much. Is Julia great? Yes. Does she deserve to be among the top ladies? Yes. Should she be included in the same tier as the Big Three? Um,
hell no
. Julia should have received a little more than 30 for PCS for the SP, and given how bad she was in the FS, her PCS should have dropped to 58 or 59. This is a case of the judges controlling the outcome of the event by manipulating the PCS. Had the scores been remotely fair Julia would not have won here. Is this the kind of scoring we can expect to see in Sochi? If so, I foresee another scoring system change in the near future...
Carolina Kostner (ITA): 67.74 (SP) + 122.38 (FS) = 190.12 (2nd)
I was very worried about Carolina coming into this event. She was pretty terrible at Cup of China but thankfully she's made some improvements since then. However, I'm not breathing a sigh of relief just yet.
I wasn't a fan of Carolina's "Humoresque" SP the first time I saw it. To me, something was missing. I could see it was a nice program but it didn't capture my attention the way every other SP of hers has snagged me over the last few years. Luckily, Carolina's performance here successfully reeled me in. There was an energy and life to this program that wasn't there at COC. Of course, landing the jumps really helps too. Carolina hit her 3T-3T (though she had to fight for the landing) and everything else was lovely, including level 4s on all elements except the layback (level 3). I see the potential in this program now and I see how this could be a great Olympic program. Carolina went into the FS 4.50 points out of first place.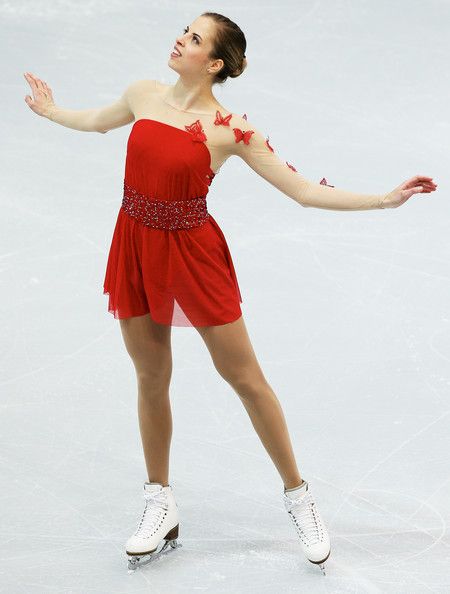 Oh yes, I see it now
Carolina won me over with her performance of "Humoresque" but, unfortunately, I still hate her "Scheherazade." It's just not working. Carolina gave a much better performance here than she did at COC but she still needs some work. She started off well with a nice 3Lz, 2A and 3F-2T but by the time she hit the halfway mark she ran into trouble. All of her jumps in the bonus received -GOE except for her final 3S. In the end she completed six triple jumps and maxed her levels on everything, but it still wasn't that great of a performance. I feel like if she'd had the same kind of performance with her "Bolero" FS from last year she'd have scored higher because the program was so wonderful it made up for some of the technical shortcomings. This "Scheherazade" program is boring and without the jumps it really falls flat. Carolina's whole FS package is a miss this year in my opinion. I'm effin' sick to death of "Scheherazade", the choreography isn't that great, the costumes are all over the place, and most importantly, I don't get the sense Carolina likes this program that much. I'm used to her really getting into a program and selling it...I don't think she can do that with this FS.
Given the inflated scores for Julia at this event, I do think Carolina deserved gold instead of silver. But hopefully there's a silver lining in this silver medal. I really hope Carolina reevaluates her FS decision this year. This "Scheherazade" is a swing and a miss. I'd love to see her bring "Bolero" back. It's such a great program and much more the kind of FS she needs for an Olympic year.
Mirai Nagasu (USA): 60.44 (SP) + 114.93 (FS) = 175.37 (3rd)
Headcases are the hardest skaters to be fans of. As soon as you're ready to cut them loose they do something amazing that draws you right back in. Mirai had a disastrous outing at NHK which meant she needed a major victory here to keep her name in the mix for Sochi. Amazingly, she delivered.
I like both of Mirai's programs this year. Both have potential and when she skates them cleanly, they have the ability to score well. Thankfully Mirai wised up and nixed the
never-gonna-happen-in-a-million-years
3F-3T and opted for the 3T-3T instead. It was a smart move that paid off. She nailed the 3T-3T along with her 3L and 2A. The 2A out of the spread eagle was beautiful and earned several +2s and even a +3 from one judge. She did lose some points on her combination spin which was judged a level 1 (not too sure why) but overall she was very good. I do think she could have sold the performance a lot more which would have surely helped her PCS but in the end Mirai earned a season's best score and went into the FS only 0.01 out of third place and only 0.28 out of fifth.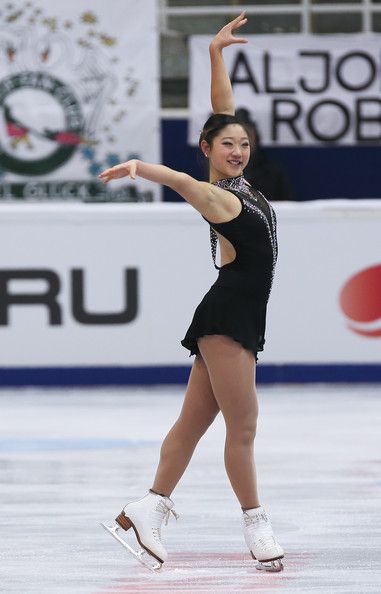 More of this...a lot more of this
The FS was a showdown between Mirai, Agnes and Elizaveta for bronze and Mirai came out on top. She wasn't perfect though. Mirai was hit with
e
calls on both of her flips; the good news is her lutz didn't get an
e
. She's gone from being a flutzer to a lipper...go figure. Mirai also got
<
on the 2T in her 3L-2T combo BUT she rotated
all of her triples
which is a major victory for her. She's known to be a chronic under-rotator so for her to nail all of her triples is a huge deal. The truth is every jump looked a bit higher and tighter and was landed with a cleaner edge as opposed to the scratchy landings she usually has. There was some talk that Mirai stayed in Japan a little while after NHK and trained there. I don't know if that had something to do with these improvements; all I know is this is the best technical performance we've seen from her in years. The only downside to this performance was that she didn't sell the program until after the last triple and that definitely affected her PCS (only 56.98). Mirai has the ability to light up an arena and score much higher in the PCS category. She just has to learn to bring the technical focus and performance energy simultaneously; it can't be one or the other. Mirai placed third in the FS ahead of Agnes and Elizaveta and earned herself a bronze medal.
This is what Mirai needed. Hopefully these two performances will give her the confidence she'll need at nationals. In the race for that third spot (assuming Ashley and Gracie are locks regardless of what they do) Mirai is in the lead. Of the senior ladies vying for that third spot, she's earned the highest total score and is the only one to medal on the GP this year. If Mirai can keep this momentum going, her chances at making it to her second Olympics will be pretty good.
As for the rest...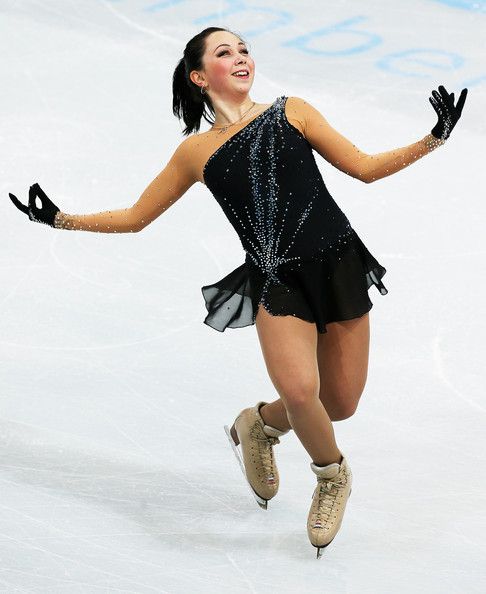 Time's up Liza T!
Elizaveta Tuktamysheva (RUS; 171.87, 4th)
is still struggling to find her stride and I'm afraid she's out of time. The Russian ladies field is stacked to the ceiling with talent, so much in fact that unlike in the US the judges don't need to boost a skater in the standings with the hopes that they'll get themselves together one day. There are at least two other skaters who are just as good if not better waiting in the wings for their shot. At this point Liza T is in danger of being swept aside. I thought she did a better job of performing here and really selling her programs to the crowd, but the jumps were not as strong as they needed to be. Three of the four Russians who made the Final are eligible for Sochi...and there are only two spots in Sochi for the Russian ladies. Liza's chances aren't looking so good right now.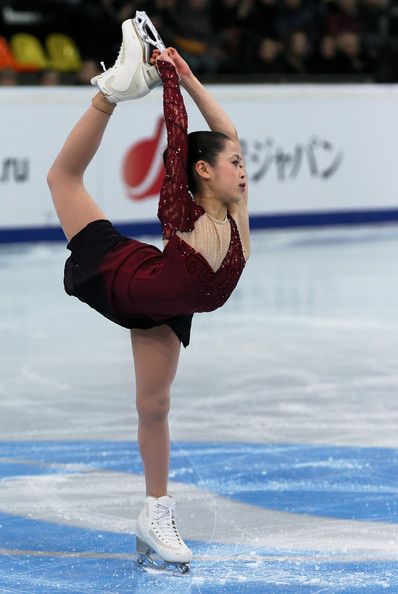 She'll be the darkhorse at nationals...
Satoko Miyahara (JPN; 165.76, 5th)
did a much better job of rotating her jumps at this competition than she did at NHK. Her SP was solid and she hit the big elements in her FS, even though she had a few hiccups (
e
call on her 3F,
<<
on her 3L and a doubled lutz) but overall she had a solid competition. Satoko still needs to work on skating bigger so that she leaves a bigger impression on the ice. I do think she's made some progress in her jumps (better rotation and cleaner landings) and I really enjoy both of her programs. Satoko is eligible for Sochi and she's a threat at nationals this year, especially with Kanako and Akiko taking a little longer to find their stride this season. I do think she's a much better 2018 prospect, but we'll have to see how nationals go...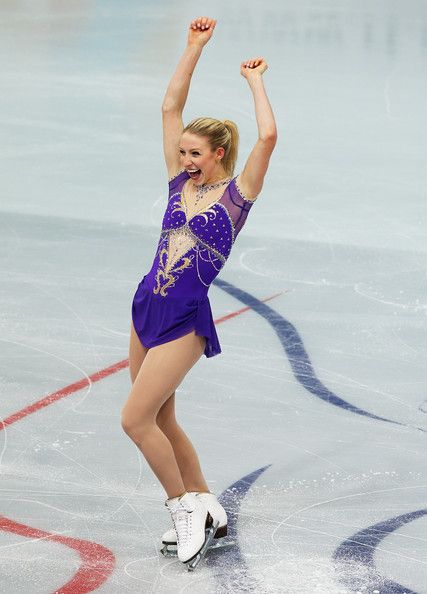 Agnes has her work cut out for her
Agnes Zawadzki (USA; 163.21, 6th)
had a mini-breakthrough of her own in Russia. She finally nailed her SP cleanly and even though she wasn't great in her FS, she performed much better than she did at her last event. Still, Agnes has been underwhelming this season. She usually has a mediocre to poor showing on the Grand Prix and then somehow ends up placing top 3 at nationals thanks in large part to the judges' habit of scoring her very generously. I have no idea if the judges will be following that format this year but with Olympic spots on the line, I hope if Agnes makes it on the team it's because she earned her way on and not because the judges gifted her a spot.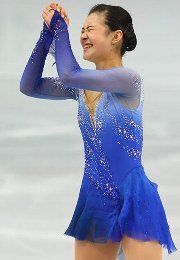 The judges cheated her out of a 4th place finish here...
Kanako Murakami (JPN; 162.46, 7th)
needs to dump her SP. It's just not working the way it needs to work and she's out of time to make it work. I will say she skated with much better speed this time around...but the jumps were still MIA. Her SP was a disaster but her "Papa Can You Hear Me" FS was the highlight of the event for me. It was
gorgeous
! She opened with a huge 3T-3T and added four more triple jumps. Her errors were small and did not disrupt the program which can't be said for the top two skaters of the night. Taking all of that into account, I think Kanako got
completely screwed
on PCS. She gave more to her performance than anyone else that night: speed, commitment to her choreography, a clean performance and beautiful interpretation, and yet she earned only 54.96 in PCS. If Julia earned 63+ for that weak-ass performance, Kanako should have earned at least that much. The judges severely lowballed Kanako; that was easily a 120+ FS. Kanako should have placed 4th in this competition, not 7th.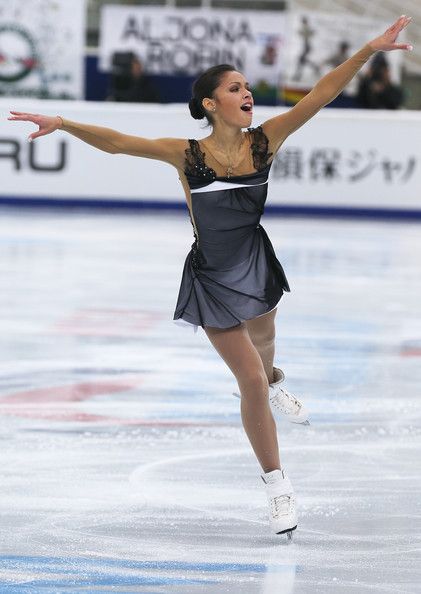 Getting a little better...
Nikol Gosviani (RUS; 157.17, 8th)
had a rough start in the SP falling on her 3F-3T and doubling her 3Lz. She bounced back in the FS with six triples though the program was not without its problems. Still, this was a nice improvement on her last event...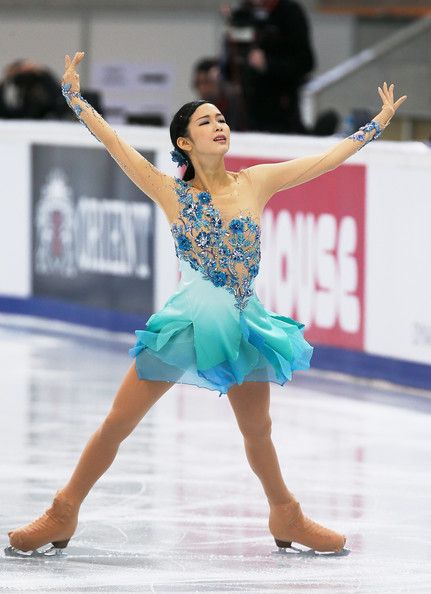 Oh Haruka...
Haruka Imai (JPN; 145.30, 9th)
is having a hard time getting herself together this season. I think she's a lovely skater but without the jumps she'll never make the kind of splash she needs to make on the international stage. It's a shame because she could be a top contender when the current group of dominant Japanese ladies exit at the end of the season. I'll keep my fingers crossed for her...
So that's it for the Grand Prix. This event was by far the
WORST
judging of the season so far. That's all I have to say about that. On to the Final standings...
2013-2014 Grand Prix Final Standings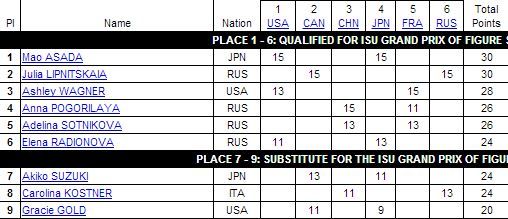 Mao Asada (JPN)
turned in one of her best showings on the Grand Prix in years, winning both of her events and earning
30 points
along with the highest overall score (412.14). She finishes the season at the top of the leader board and is the gold medal favorite heading into the Grand Prix Final.
Julia Lipnitskaya (RUS)
leads the horde of young Russians swarming the Final this year with
30
points
. Julia suffered an injury prior to the Final last season and had to withdraw, so this will be her first time competing in the event.
Ashley Wagner (USA)
finished 3rd in the GP standings this year with
28 points
, though she topped her overall score from last season where she qualified in first place (379.00 versus 388.18 this year).
Anna Pogorilaya (RUS)
placed 4th in the standings, earning her
26 points
. She and Adelina tied in GP points, but Anna's gold medal is weighted heavier than Adelina's two silver medals which means she wins the tiebreaker.
Adelina Sotnikova (RUS)
finished 5th with
26 points
. Though she lost the tiebreaker to Anna, Adelina did narrowly top her in the total score category (364.51 vs 363.31).
Elena Radionova (RUS)
earned
24 points
and captured that 6th and final spot in the Final. Elena's total score (375.76) ranks third highest in the field.
Akiko Suzuki (JPN)
is the first alternate. She earned
24 points
but lost the tiebreaker to Elena by 2.69 points. She will miss the Final for the first time in four years.
Carolina Kostner
(ITA)
is the second alternate. She also earned
24 points
but her lower scores kept her out of the top six. This is the first time she has failed to qualify for the Final since the 2009-2010 season which, coincidentally, was also an Olympic season.
Gracie Gold (USA)
is the third alternate (
20 points
).
The Grand Prix Final will take place from December 5-8 in Fukuoka, Japan. I will be floating around the Caribbean that week (going on a cruise!) which means my review for the GPF, JGPF and Zagreb (yay Yu-Na!) will be a little late but I'll try to update everything before the end of the week.
Later peeps!