A number of countries held their national championships over the last few weeks. Here's a look-see at the two major ones (Japan and Russia) and a few of the minor ones as well.
Japanese National Championships
I never would have predicted these results!
The final results:

Akiko Suzuki: 70.19 (SP) + 144.99 (FS) = 215.18 (1st)
I was so completely shocked and thrilled to see Akiko come out on top here. She has been competing at senior nationals since 2000; 13 years later, she's finally able to stand on top of the podium. Akiko turned in two strong performances here, erasing the heartbreak she suffered last year after missing the podium completely. Other than a

<

on her 3T-3T, her SP was strong and breathtakingly gorgeous. She gave me chills! Her FS was perfection: 7 triple jumps, level 4s on everything, artistry, emotion...it was beautiful. She rocked it and the judges scored her through the roof! All of the scores at these national events are inflated but it doesn't matter. Akiko was the rightful winner and I'm so happy to see her walk away with a gold medal in her last appearance at nationals as well as another trip to the Olympics.
Kanako Murakami: 67.42 (SP) + 135.10 (FS) = 202.52 (2nd)
Kanako touched both my heart and my funny bone in her SP. She has struggled all season long when it comes to her SP but, thankfully, she's gone back to her "Violin Muse" SP from the 2011-2012 season. It's not the same program; the elements have been rearranged so that her 3F and 2A are in the bonus, so the program isn't as effective as it was originally...but it's still miles better than that crap she had before. She nailed her SP for the first time this season and then proceeded to have an emotional breakdown. It was sweet because you could see how much it meant to her to skate well; but it was funny because Kanako's crying face isn't that cute. She kinda reminded me of Dawson. She boo-hooed as her scores came up and even the audience giggled at her, but not in a mean way. Kanako followed up her perfect SP with a near perfect 7 triple FS (only an

e

call). No crying afterwards this time but she did have a barely restrained "F**K YEAH!!" moment. Kanako placed 2nd in the FS and 2nd overall to win a silver medal and a trip to Sochi. I'm really happy to see her deliver so well and prove that one of those spots to Sochi rightfully belongs to her.
Mao Asada: 73.01 (SP) + 126.49 (FS) = 199.50 (3rd)
Mao started off pretty well in the SP. Her 3A was

<

but the rest of the program was wonderful. Given how well she's been skating all season long, I fully expected Mao to win the FS and the title. Unfortunately for her, it didn't work out that way. Mao only completed 4 triples in her FS, failing in both attempts at the 3A. It wasn't a terrible performance but next to what she's been doing all season and the fact that both Akiko and Kanako completed 7 triples each, it wasn't enough. I seriously hope Mao will reconsider the two 3A strategy she's going with right now. She scored much better with a more even jump layout. The 3A is more miss than hit right now and has only been about 50/50 all season anyway. As I said, I hope she reconsiders. Even though she placed 3rd in her final trip to nationals, I'm not too worried about Mao. She's a smart girl and I'm sure she'll have it all figured out by the time she goes to Sochi.
As for the rest...
Satoko Miyahara (191.58; 4th) turned in two very strong performances here. I like Satoko a lot but in order for her to make a splash on the senior scene she'll need a little more time. I love her beautiful skating skills and her programs are lovely. Definitely the future of the Japanese ladies...as long as she fixes those pre-rotation issues...
Haruka Imai (186.16; 5th) finally showed some signs of life in this competition. Haruka is such a beautiful skater but her inconsistency and jump content issues have prevented her from making a name for herself.
She delivered two lovely and strong programs here.
I hope her performances were a bit of a breakthrough for her.
Miki Ando (171.12; 7th) put forth a solid effort but it just wasn't enough. Her jumps in the SP were high and clean; I was impressed. The FS didn't go as smoothly but she did try. After the competition Miki announced her official retirement from the sport. I wish her all the best.
Russian National Championships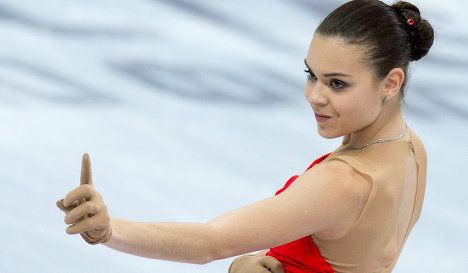 No, no...don't count me out yet.
The final results:

Adelina Sotnikova: 72.53 (SP) + 140.24 (FS) = 212.77 (1st)
Honestly, I was shocked to see Adelina win here. All season long it's been Julia, Julia, Julia (along the lines of
Marcia, Marcia, Marcia
) and while Adelina is by no means the
Jan
in this group, it's obvious Julia was the favorite to win gold. Kudos to Adelina for delivering not one but
two
clean performances for the first time in years. She went for the 3T-3T in the SP instead of the 3Lz-3L and it paid off again. She finished the rest of the program out cleanly and went into the FS with 2.21 point lead. Adelina's test has always been the FS. She skated a clean FS at TEB earlier this year and somehow she was able to master her nerves, handle the pressure, and skate cleanly again. Her only mistake was stepping out of her opening 3Lz-3L(
<
); everything else was solid, including both 3Fs. Her 140+ FS is obviously inflated as is the norm in these competitions, but I agree with her getting the win here. She rose to the occasion magnificently, delivered two very strong performances, and now she'll go into the Sochi Olympics as the reigning Russian national champion. I'd imagine that will come with a few perks...

Julia Lipnitskaya: 70.32 (SP) + 140.49 (FS) = 210.81 (2nd)
Julia came into this event under a sizeable amount of pressure. She's been leading the way for the Russian ladies all season long and she was expected compete in Sochi as the Russian national champ. I'm not sure if that was what was going on in her head or not, but she showed some nerves in her SP by stumbling out of her 3Lz-3T. She recovered and finished everything else cleanly. Given Adelina's habit of making mistakes in the FS, I was sure Julia still had this one in the bag; nobody expected Adelina to skate as well as she did. In the shadow of Adelina's monstrous 140+ score Julia went out and, aside from a 3L(
<
), skated very well. Even though she topped Adelina's FS score by 0.25 it wasn't enough to make up the deficit from the SP and Julia had to settle for silver. Julia's strength is her consistency and competitiveness. Missing the gold here will undoubtedly light a fire in her which means she'll be back to full
beast mode
very soon...and everyone should be afraid of that.

Elena Radionova: 67.76 (SP) + 134.25 (FS) = 202.01 (3rd)
My little Elena has been on it all year long. She was virtually flawless in both programs here. I believe she received a few
e
s on her 3F but there were no major mistakes in either program. I'm so in awe of her consistency and her competitiveness; it's right on par with Julia's. Elena nailed her 3Lz-3T in the SP and delivered 7 triples in the FS, including two 3-3s. Elena is too young for Euros, Sochi or worlds, but she'll probably end up going to junior worlds in which case I think she's the odds on favorite to win yet again. There are a number of Russian juniors who have been good this season but no one has stood out consistently. Plus given Elena's content and the momentum she has going in, I'd say she's the one to beat.
As for the rest...


Alexandra Proklova (195.39, 4th) bounced back from her disappointing showing at the JGPF to capture 4th place here. She really does look like a mini Julia out there, though I do think she's a bit farther along in the performance department than Julia was at that age...

Alena Leonova (187.48, 5th) started off very well in the SP. I hated the program. She's one of the oldest if not the oldest competitor there, yet everyone else had more mature programs than her. Still, it was good to see a little of that old Alena spark back. Her 3T-3T was huge and she over-performed just like she used to. Alena was set to make a run at the podium after the SP but against the near perfection of the top 3, she had too many mistakes and couldn't place higher.
Anna Pogorilaya (180.88, 8th)
seems to be running out of steam in this second half of the season. Several small mistakes in the SP (
<
on the combo, loss of levels on three of her four elements) left her in 10th place going into the FS. She put forth a solid effort in the FS (a number of minor mistakes) but it wasn't nearly enough to get her to the podium.

Elizaveta Tuktamysheva (175.59, 10th) just can't seem to put it all together. To go from the gold medal to 10th in one year is pretty shocking. Liza has the talent but I feel as though she's stagnant at this point. She skated to the exact same SP for the third, yes third, year in a row. That alone shows a lack of artistic growth. Additionally, she's struggling to get over whatever mental hump is blocking her from executing her jumps. Liza used to have that amazing focus, consistency and competitiveness that the Russian ladies are becoming known for, but she's lost it. I don't think it's her body issues; even with the added weight and height she's still rotating her jumps and they look great. I think it's her confidence. She needs to find a way to get it back fast because with all of the new talent the Russian ladies have, Liza is in danger of becoming a distant memory.
You can watch all of the videos from the competition courtesy of LenaElika's YouTube channel.
A Few Other Countries...
Italian National Championships
We know reigning champ Carolina Kostner chose to sit this one out but the crown had to go to someone. Congrats to Valentina Marchei!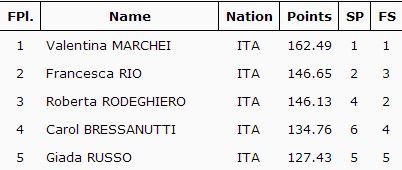 Chinese National Championships
Kexin Zhang won gold (158.42), Zhao Zaiquan got silver (143.35) and Guo Xiaowen got bronze (131.64). Zijun Li is still injured and did not compete in these championships. Hopefully we'll see her in Sochi...
Swedish National Championship
Viktoria Helgesson won gold (174.40), her sister Joshi Helgesson came in second (169.25), and Isabelle Olsson earned bronze (154.23).



As of right now Akiko, Mao and Kanako are confirmed as the Japanese team for the Sochi Olympics. I'm not sure if it's official yet but the thought is both Adelina and Julia will make up the Russian team. Of course we'll see Carolina Kostner there for Italy and Viktoria Helgesson will compete for Sweden. I'll try to post a full list of Olympians in the future, as well as a list of participants for the European Championships, Four Continents Championships and 2014 World Championships.

There are still a number of national competitions left to go: Korean nationals, Canandian nationals, and of course, the US national championships.

Ta for now!