This year's competition was like an amazing television drama. There were so many story lines going on and everything played out in a shocking/unexpected way. Tears, surprises, disappointments, revelations, heartbreak...this year's nationals deserves a Golden Globe for Best Drama!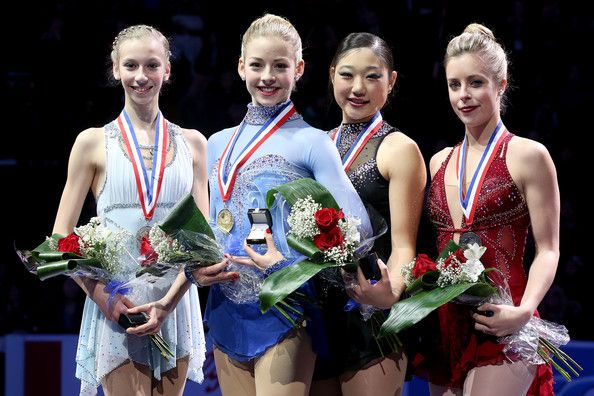 Congrats to the medalists! And congrats to the blonds for making the team!
The final results: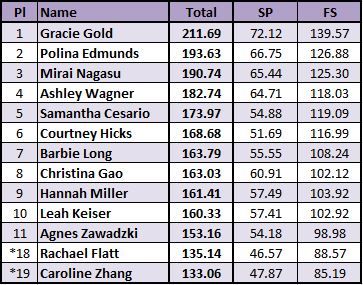 Gracie Gold: 72.12 (SP) + 139.57 (FS) = 211.69 (1st)
It's taken two years, but Gracie has finally caught up to the hype. She can give 100% of the thanks to Mr. Frank Carroll who proved he's still
The Man
; he turned Gracie
Pyrite
into Gracie
Gold
!
I was surprised to see Gracie debut her new SP so well. I expected her to be a little jittery and tight but she pulled the whole thing off with ease. I thought Frank's decision to force her into a softer style was misguided, but I must say they made it work. I still find all of Gracie's
artistry
and
emotion
to be completely on the surface; I don't get the sense she really feels what she's doing, but that's okay because she looked very nice doing it. The program is lovely and she presented it much better than I thought she would. I think her dress, hair and makeup were gorgeous. She looked stunning! I'm sure that was Frank's influence as well. As for the jumps, she hit everything. The 3Lz in her 3Lz-3T combo was massive, almost too big actually. She had to put the breaks on before going up into the 3T, but she took her time and landed it cleanly. I think she checked the landing of her 3L a little lazily, but other than that, she was great. Her score was inflated here (I thought she deserved around a 70) but it's to be expected in an Olympic year. She went into the FS with a 5.37 point lead.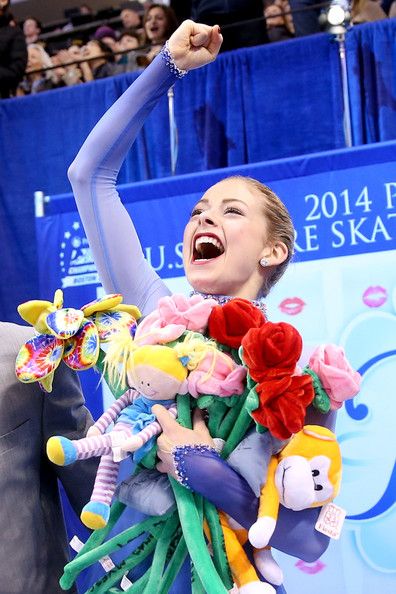 "Yes! YES!"
Gracie drew the
Kiss of Death
placement in the FS skate order: last. I honestly didn't think she'd be able to hold herself together under the pressure of skating last and with a lead. She placed first in the SP at SC earlier this year, blew the FS, and dropped to 3rd. This FS was her test...and, shockingly, she passed. Gracie didn't replicate the perfection of her FS last year (she nearly fell on her 3F) but she hit all of her big elements and skated with a lot more polish and presence...all of which were missing last year. They've changed some of the choreography in her "Sleeping Beauty" FS so it works slightly better, but I still don't care for it; doesn't matter though, she delivered the program well. Again, kudos to her styling team: the hair, makeup and dress were lovely. The score she received was inflated yet again but Gracie was the clear winner of this event. Kudos to her for shaking the nerves and delivering under pressure.
Hopefully this competition has helped Gracie to turn a corner. She's always had the goods to be #1 but she could never put it together. Frank has turned Gracie into a champion in record time, that's for sure. I'm very impressed with her performances here but her work isn't finished yet. Winning is great but it comes with an entirely different kind of pressure. She can't revert to pre-nationals Gracie. It's true she's #1 in the US, but internationally Ashley is still the top US skater. If Gracie really wants to be #1 she's going to have to back up her win with some strong skating in Sochi. If she can skate like this at the Olympics, she has a great chance to put pressure on the medal favorites.
Polina Edmunds: 66.75 (SP) + 126.88 (FS) = 193.63 (2nd)
Having watched Polina all season long on the JGP, I wasn't surprised to see her come out and shake things up here. She won both of her JGP events and finished 4th at the JGPF. I don't think anyone was expecting her to perform as well as she did here but it just goes to show that youth has its advantages.
Polina closed out the SP with a perfect and energized program. She's been accused of having under-rotation issues in the past but it looks like that's a non-issue now. Earlier in the season her jumps did look rather low and eeked out. She's grown a bit since the JGP and, in a best case scenario, the added height has added power to her jumps. Her 3Lz-3T looked effortless: great height, tight rotations, lovely flow. Polina's performance was full of energy and fun and the crowd loved her. I don't think she deserved PCS as high as she got and I seriously doubt she'd score that well internationally, but this is nationals, where if the judges like you they'll score you like you're a top senior international competitor...and if they don't like you, well, just see Agnes Zawadzki for an example of both sides of the nationals scoring coin. I digress...back to Polina. She placed 2nd in the SP and was in good shape to medal heading into the FS.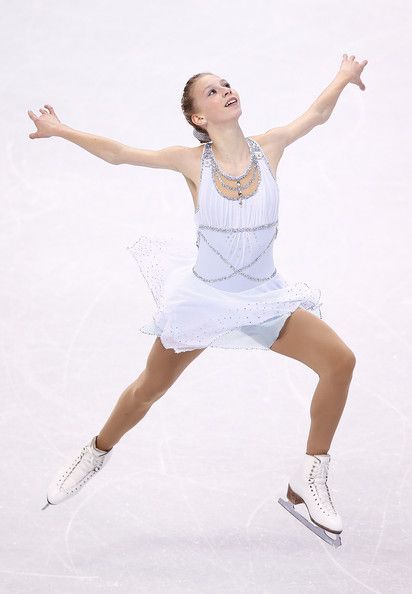 Polina will make her international senior debut in Sochi
In terms of technical difficulty, Polina belongs to the New School of skaters; the same one that the majority of the Russian babies are part of. These girls churn out 7-triple programs as easily as hitting a 2A, and most of them include two 3-3 combinations. Off the top, Polina hit a 3Lz-3T and followed it up with a 3F-1L-3S. Those two jumping passes earned her 21.80 points, nearly one-third of her TES score. Polina was very impressive here but not perfect; she went down on her 3F but recovered well with two more triples. Her performance was very pleasant and easy and much better than what we see from most 15 year-olds. Again, the judges inflated Polina in the PCS department; not by too much, but it was enough to make a difference. In the end Polina ended up finishing 2nd in the FS and overall which earned her a silver medal.
Polina made her mark at these championships. The USFSA loves young, fresh-faced girls and Polina fits that mold. For that reason, despite her lack of senior international experience or exposure, Polina was chosen to be on the Olympic team. She will head to Sochi as an unknown, which can be both a good thing and a bad thing.
Good
because no one will pay her any attention which means she should be able to skate without much pressure, and
bad
because no one will pay her any attention, meaning even if she skates lights out she won't be given the scores necessary to get her to the podium. Either way it will be an experience for her. It's clear the USFSA is crossing their fingers that they have another contender on their hands.
Mirai Nagasu: 65.44 (SP) + 125.30 (FS) = 190.74 (3rd)
As always, no one knew which Mirai was going to show up to this event. We've seen her at a high point this season (COR) and we've seen her bottom out as well (NHK). After seeing Mirai at COR, I had a gut feeling that something had shifted with her. She just seemed more together and more focused, but she'd have to prove it again at nationals. Boy, did she!
Mirai's SP is very nice, especially when she skates it the way she skated it here. The 3T-3T was big, covered a lot of ice and was landed cleanly. The rest of the jumps were fine as well but what really made this performance stand out for me was the fact that she gave a lot more energy and personality to the choreography...more than we've seen from her all season long...in the last few years actually. Mirai looked like she really enjoyed what she was doing. She connected with both the audience and the judges and did a much better job of selling the program. She scored a season's best and found herself in 3rd place heading into the FS.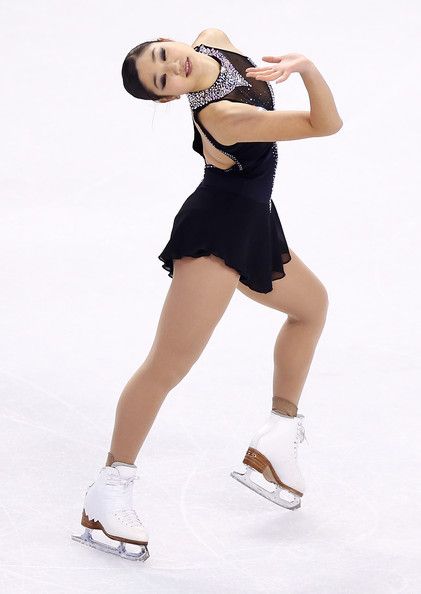 Mirai brought the house down with her FS
Mirai skated second to last in the FS. Up until that point no one in the final group had left the ice smiling. Mirai started off with a scratchy 3F-2T that got dinged (
<
). After that I resigned myself to the fact that she would probably leave the ice in tears as well...but rather than let that opening mistake shake her, Mirai refocused and nailed a great 2A-3T on her way to hitting four more triple jumps. It looked like she took her time on everything; you can actually see her pause a few times throughout the performance to take a breath. At the end of her footwork she appeared to be ahead of the music and basically improvised some choreography to fill in the space, but she took her time and stayed calm. She was a little off her music at the end as well but it didn't matter. After that final 3L the crowd cheered nonstop for the rest of the performance and was on their feet before the music ended. Everyone knows Mirai's story and how she's struggled, so to see her turn in her best performance in years at the same event she owned four years ago was amazing. Her reaction in the K&C to seeing her placement really touched my heart.
Unfortunately, despite Mirai's turn-around these last two competitions, the USFSA passed her over for the Olympic team. I'm completely heartbroken for her, but at the same time I understand why she wasn't selected. Mirai has been hot and cold since Vancouver. She's not a dependable skater and the USFSA knows that at any time she can be the Mirai who showed up to nationals this year, or she can be the Mirai who showed up to NHK this year. In the USFSA's mind they gave her the opportunity to be #1 and she never seized it; it's a case of too little, too late. A newer prospect (Polina) has emerged and the USFSA wants to put their focus into developing her. Mirai plans on appealing the USFSA's decision to leave her off the team, but it's highly unlikely it will make any difference. Aside from her last two competitions, there isn't much Mirai can use to state her case. I am happy she's standing up for herself,
by herself
(she has no official coach). Hopefully, Mirai will be rewarded for her great performances here with a chance to compete at worlds or 4CC. I feel absolutely terrible for her, but I'm so proud of what she accomplished at this competition.
Update: Mirai has decided not to appeal the USFSA's decision to leave her off the team, stating, "I'm disappointed in the decision. Though I may not agree with it, I have to respect the decision the federation made." Additionally, the federation announced the national teams for the remaining events of the season. Mirai was named to the 4CC team along with Samantha Cesario and Courtney Hicks, but she was not given a spot on the world team. I find it interesting and a bit unfair seeing as how Max Aaron and pairs team Cadee Denny & John Coughlin, who were all left off the Olympic team, were named to the world team. If there was any doubt the USFSA doesn't have any stock left in Mirai, this particular snub (even more than the Olympic team snub) speaks volumes. They don't even care enough to give her worlds as a consolation prize...
As for the rest...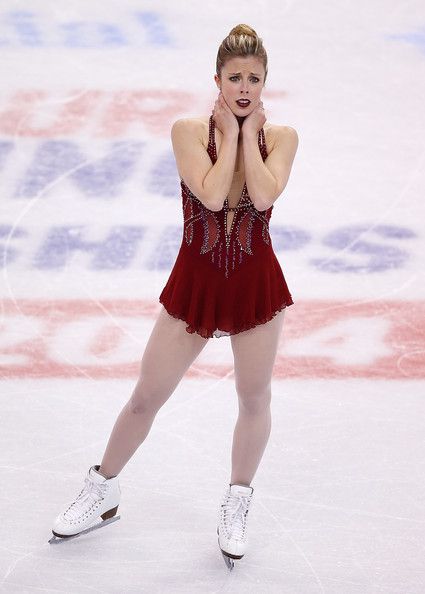 That was so hard to watch...
Ashley Wagner (182.74; 4th)
I am so heartbroken for Ashley. Never in a million years would I have expected her to perform the way she performed here. She's been so solid all season long so to see her basically fail to reach the podium (pewter medals are ridiculous) is shocking. Some scars run too deep...it's clear Ashley has not gotten over failing to make the team last time and those demons haunted her in this competition. She fought the whole way through in both performances and didn't give up, but she just couldn't hold on to it. Watching her cry in the K&C was devastating because everyone knows how hard she's worked over the last few years and how well she's performed.
Ashley has carried the US ladies, winning a medal at every event since 2012 except worlds, where she's placed 4th and 5th and was the highest American finisher. She's been the only consistent gold medal challenger this country has had since the days of Michelle Kwan and Sasha Cohen. She's the only skater who has earned scores high enough internationally to be competitive with the top ladies. I don't think anyone can honestly deny that one bad night was enough to erase nearly 3 years of success. For that reason, Ashley was named to the team over Mirai.
She was named to the team but Ashley is in desperate need of some redemption after this competition. In order to silence her critics, badass Ashley Wagner aka Diva Wagner needs to make a fierce comeback. Sochi is around the corner and now the real pressure is on. I truly hope she can move past this and get back into competitive mode...because now she has something to prove.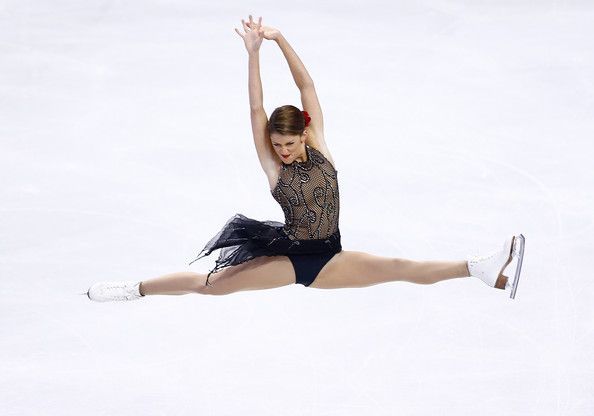 Fiercest Carmen EVER!
Samantha Cesario (173.97; 5th)
Samantha started off roughly in the SP. She went for the 3L-3L but couldn't get it around. She also had a few spin issues as well and ended up placing 11th after the SP. Apparently that lit a fire in her because she stormed back like crazy in the FS, completing a virtually flawless 6-triple program that was full of fire, sass and excitement. Samantha placed 4th in the FS and leapfrogged from 11th place all the way to 5th. This "Carmen" FS is absolutely brilliant and she delivered it beautifully again. It's so well-choreographed, musical and fiery...I love it! Sammi rocks!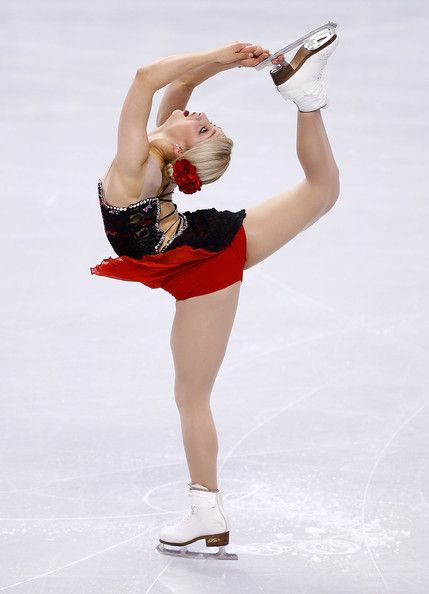 Way to fight back, C. Hicks!
Courtney Hicks (168.68; 6th)
Courtney had a rough time in the SP. There were some technical difficulties with the music that seemed to shake her in the performance. She went down on her 3F-3T and ended up placing a shocking 16th in the SP. Not to be undone, Courtney rallied back with an impressive FS, nailing her 3F-3T as well as 4 other triples. She placed 6th in the FS and was able to move up to 6th overall.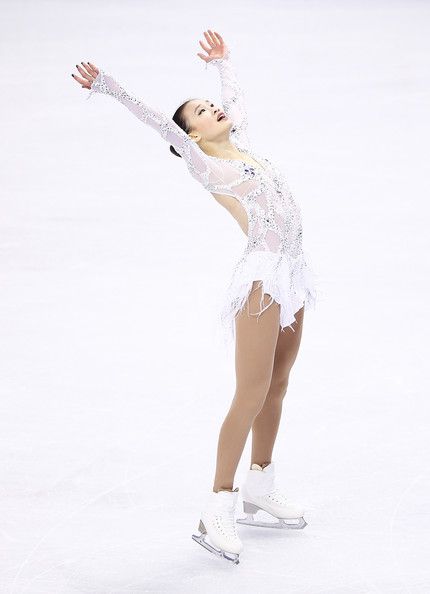 Not 5th anymore...
Christina Gao (163.03; 8th)
Yet another skater my heart absolutely breaks for. Christina's jumps were great in the SP but she lost her focus in the footwork and stumbled several times. It didn't cost her that much (-1.40 in GOE) and she was positioned to place well with a good FS. She started off so strongly: huge 3F-3T, 2A and a clean 3Lz-2T (no
e
call). Unfortunately she couldn't keep her focus and everything went south in the second half of the program. She fell on a 3F and then again on a 3L before popping a salchow and turning out of the landing of her final 3T. She burst into tears at the end. I don't know what Christina's plans are now. She took a year off from Harvard to pursue a spot on the Olympic team. Now that that dream has ended, she has to determine whether she will continue to skate or go to school full-time. I'm crushed for her...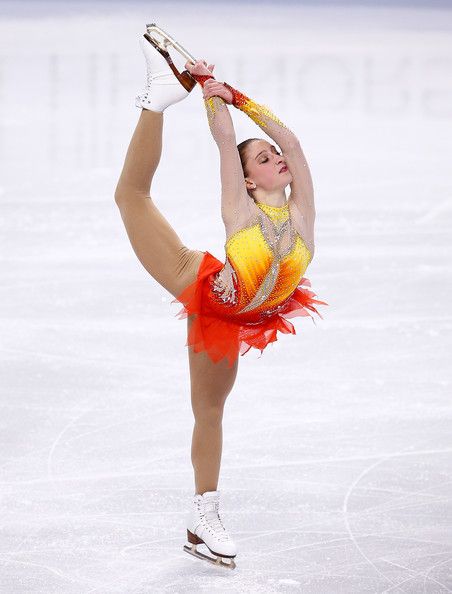 Still loving her spunk and energy
Hannah Miller (161.41; 9th)
I enjoyed both of Hannah's performances. Her "Firebird" SP was energetic and really entertained the crowd. She got through her major elements very well but then blanked on her 2A and fell. I thought her FS was lovely as well. I've always admired Hannah's spunk and fire but she showed a softer more lyrical side in her FS and it was wonderful. Again, some issues with the jumps but her choreography, delivery and smooth edges were very enjoyable. I'm looking forward to seeing how she develops in the future.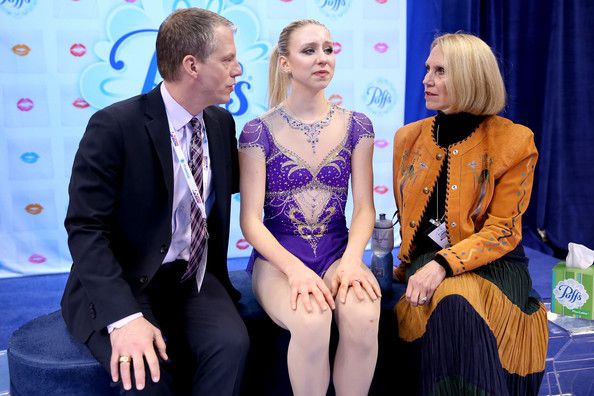 And the USFSA dumps another pet
Agnes Zawadzki (153.16; 11th)
Another distraught skater...Agnes didn't have a disastrous SP so to speak, but the judges nailed her to the wall. It appears as though the USFSA's love affair with Agnes has ended. What that means is all of the
favors
she's been receiving at nationals over the last few years are over and done. Her SP score was all of the evidence needed to support this claim. If this were last year, the judges would have padded Agnes' PCS to keep her closer to 60pts which would have given her a chance to catch up in the FS. Instead they scored her the same way the international judges score her. Agnes fought back tears in the K&C when she saw the score. No doubt it comes as a shock to her to see those kinds of numbers in this event, even though they are what she's used to internationally. What it comes down to is the USFSA has its next few darlings lined up which means they no longer have to hold out hope for Agnes. Her troubles continued in the FS and she ended up placing 11th overall.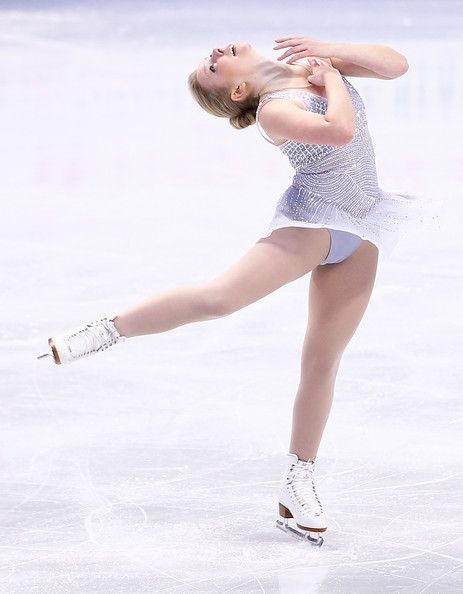 Best of luck, future Dr. Flatt.
Rachael Flatt (135.14; 18th)
This was Rachael's final appearance at these championships and I think she gave herself a decent send off. She had jump issues in both programs but to see her pour her heart and soul into her final FS was really special. She got emotional after her performance. Rachael stood at center ice for a minute and soaked in her last standing ovation from the crowd...it was a very touching moment. Rachael has never been my favorite skater but I think she was one hell of a competitor in her day and she's always been a wonderful role model for the girls coming behind her. I wish her all the best as she continues her education at Stanford University.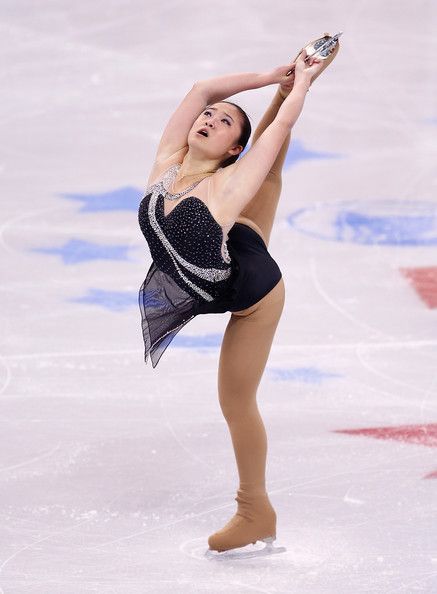 What happens now?
Caroline Zhang (133.06; 19th)
Caroline didn't have the best performance here but she did much better than her disastrous showing at SA earlier in the season. She popped her 3L-3L in the SP, completing only a 3L-1L but she finished out the rest of the program cleanly. Caroline opened up the FS with a nice 3F-2T but fell on her 3Lz and completed only 3 triples total. It looks as though Caroline is competing without a coach now; no sign of Peter or Karen Oppegard in either segment. She sat in the K&C by herself trying to put on a brave face as her scores came up but you could tell she wasn't happy with the results. I'm not sure how much longer Caroline is going to continue to compete but it's quite clear her level of skating is no longer competitive in the senior field.
This nationals was absolutely crazy! Drama, drama, drama!! It was skating at its best. Congrats to Gracie, Polina and Mirai for finishing top 3 this year, and congrats to Gracie, Polina and Ashley who will represent the US in the upcoming Olympic Games in Sochi.
So what do you think? Between Polina, Mirai and Ashley, who should have been dumped from the team? Make sure to answer the poll!