Even though the Sochi Olympics are right around the corner, life in the skating world must go on. This week was the last major competition before the Olympics kick off next week on February 6. Four Continents is usually a warm up event for many of the top skaters before they head to worlds; this year it served as an Olympic warm up for some, and a final season appearance for others.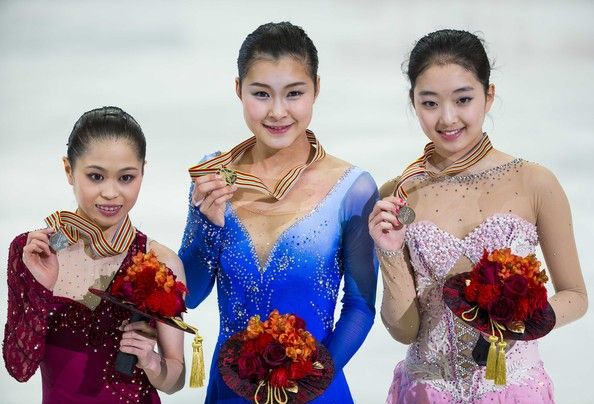 The changing of the guard has begun...
The final results:
Kanako Murakami (JPN): 64.73 (SP) + 132.18 (FS) = 196.91 (1st)
I am a big fan of consistency and that's why I'm a big fan of Kanako Murakami. Her competitive pattern has remained the same for the last three years: she gets a slow start on the GP, revs it up at nationals, and then catches fire from 4CC to the end of the season. People tend to count her out but there
is
a reason she has placed top 5 the last two years at worlds.
Kanako is in that catch fire stage of her season right now. She was phenomenal here! The SP switch from "Swing Bop" back to "Violin Muse" was obviously the right choice. I'm not as fond of the program as I was in 2011 due to some rearranging of the elements and music, but the overall effect is still very good. Everything was
on
in this performance: her 3T-3T had plenty of speed, coverage and height; all of her non-jump elements were level 4; and she performed the program very well. Everything flowed very easily and she looked extremely comfortable and relaxed. Kanako won the SP and went into the FS with a small lead.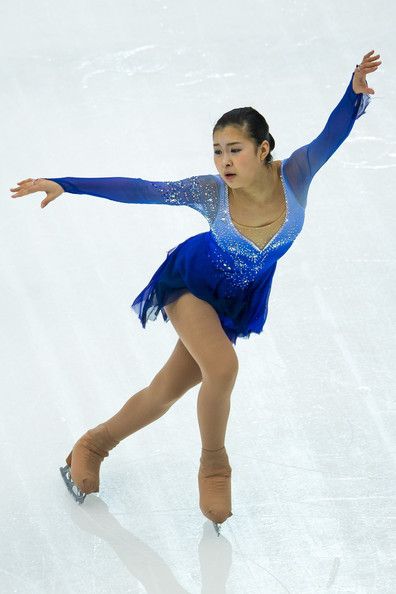 Absolutely beautiful FS performance
This FS continues to grow on me every time I see it. At first I thought Kanako should have stuck with her "Adios Nonino" FS from last year, but I can't deny that this program is a very strong follow-up and that it fits Kanako perfectly. Not much to say about the jumps; she pretty much nailed everything. Another huge 3T-3T to open followed by five more triple jumps. Her mistakes were minor (
e
on the lutz and
<
on one 2L in her 3-jump combo) but they didn't detract from the performance at all. Kanako really feels the music and her interpretation of "Papa Can You Hear Me" is so emotional and passionate. I always think she's underscored when it comes to Interpretation and Choreography but I feel (overall) her PCS here were pretty fair. 4CC is known for having really inflated scoring but the judges were actually a bit stingy this year, which is a good thing. Inflation isn't helpful...it's deceiving. If the judging is fair in Sochi (big
if
there), I could see Kanako earning these kind of scores if she performs this well.
Kanako's FS score was a personal best as was her total score. She won the FS and the gold (her first major ISU championship) and set herself up perfectly heading into Sochi next week. These performances and results should be a huge confidence booster for her.
Satoko Miyahara (JPN): 60.27 (SP) + 126.26 (FS) = 186.53 (2nd)
Satoko continues to prove that she is just as steely nerved and competitive-minded as any of the Russian phenoms. She not as flashy or eye-catching as some of them but she has quietly made her mark on the senior level this season.
Satoko's SP was solid. She went for the 3Lz-3T but was hit with a
<
on the 3T. Looking at the replay, it looks as though the
<
was a pre-rotation call. She landed within the quarter turn mark but it appears as though she took off after she was more than halfway around on her first rotation. Luckily she finished out the rest of the program cleanly, earning level 4s on everything except her layback (level 3). I really like Satoko's programs and the way she performs. She reminds me a bit of Kanako in that her face isn't always expressive when she skates but you can see the understanding of the music and the choreography in the way she performs. Satoko finished 4th in the FS, only 4.46 points off of the lead.
Love her FS...
Satoko had the most technically ambitious FS of anyone in the competition: 7-triple jumps including a 3Lz-3T and 2A-3T...and she nailed all of it. She didn't receive any calls and got full credit for each of her jumping passes. I don't know that I fully agree with giving all of her jumps full credit for rotation. Her edge technique is good (both her lutz and flip edges are correct) but the way she picks into the ice is a little worrisome for me. She spins on her toe pick before leaving the ice which puts a lot of her jumps under the microscope. Apparently she got them all around here but I'm not convinced. Jump technique aside, this "Poeta" program is lovely and she landed everything cleanly. I love her edges, transitions and the way Satoko subtly connects with the judges as she skates. She placed 2nd in the FS and moved up to 2nd overall, winning her first ISU championship medal.
Satoko will not be competing in Sochi but she will lead the Japanese ladies at junior worlds this year. Competition is very stiff at the junior level (as it always is) but a year of senior level competition and a 4CC silver medal should help her put up a good fight for a spot on the podium.
Zijun Li (CHN): 62.84 (SP) + 118.72 (FS) = 181.56 (3rd)
Zijun had me very worried this season. She had a disastrous showing at Cup of China and then withdrew from her second GP event, NHK Trophy. When she skipped nationals I really began to worry that she might not even make it to Sochi. Luckily,
practice videos
of her running her FS surfaced and I began to regain hope. I wasn't sure what to expect from Zijun in her first competition back...
The SP is always a big test and it's often where Zijun makes mistakes that take her out of the running. Thankfully, she showed up ready to fight and threw down a very solid SP, complete with a great 3F-3T and level 4 elements. Her signature layback only received a level 3 but it was still one of the highlights of her program. I love Zijun and her style of skating but I'm not sure a tango was the best direction for her this season. Tangos need fire, spice, attitude...Zijun almost seems too sweet for all of that! She's a very light and lyrical skater; a tango piece is a little too harsh for her style. I'm not a fan of the program overall (or those stupid gloves she wore!) but I was thrilled to see her skate so well. She scored a personal best in the SP and went into the FS less than 2 points off of the lead.
You could see how relieved she was to skate so well
Zijun's FS to "Coppelia" is much more her speed. She does very well with classical pieces that highlight her soft and lyrical qualities. Zijun was supposed to open with a 3-3 but a less than ideal landing on the opening 3F forced her to double the second jump. She regrouped immediately and hit a beautiful 2A-3T on her way to completing four more triple jumps. Her only error in the FS was an
e
on her lutz but the rest of the program was calm and easy. Zijun's programs tend to follow the same layout of elements; I'd like to see her mix it up a bit (I'm talking to you Lori Nichol), but overall the program is nice. I like the opening moves, specifically her choreographed blinks to the music. Zijun is so pretty she really does look like a little doll.
Zijun finished 3rd in the FS and 3rd overall. This bronze medal is her first senior ISU championship medal and her performances here prove that she is ready to go to Sochi and put out two solid performances. Whew! She had me worried there...
As for the rest...
More content please!
Haruka Imai (JPN; 175.40, 4th)
started off very well in the SP. She finally hit that 3S-3T and the rest of the program was great. Haruka's only mistake in the FS was a bad landing and
<<
on a 2A. She completed 5 triple jumps but it wasn't enough to compete with the top three ladies (each of whom had 6 triples or more). Additionally, Haruka's easier content makes it harder for her to gain points. She has no 3-3 or 2-3 in the FS, her hardest jump is a flip (no lutz), and she doesn't repeat it. She just doesn't have enough content to be competitive at the very top. Hopefully she will work on upping the technical ante because other than that, she was lovely.
And this year that makes 5 out of 7!
Courtney Hicks (USA; 169.99, 5th)
continued the US ladies tradition at 4CC of the lower ranked finisher at nationals beating out the higher ranked ones. In
5
of the last
7
years (2008, 2009, 2011, 2013, 2014) this has been the case at 4CC. Not too sure why this is...maybe it's because coming off of nationals the people who placed lower feel motivated to prove they can skate better, almost like a shot at redemption. Whatever the reason, that's what happened here yet again. Courtney started off pretty shakily in the SP, receiving a
<<
on her 3F-3T combo and popping her 2A; however, she managed to execute one of the biggest and best 3Lz jumps I've seen all season. It was
massive
! Even with the two mistakes and placing 7th in the segment, Courtney wasn't out of it yet. She ran into trouble again at the beginning of her FS. That 3F-3T was definitely on the fritz (3F-3T
<<
(fall)) but she kept fighting and didn't give up. Her explosive jumps earned lots of +GOE (+1s and several +2s) and helped to make up the for the missed combo and singled 3L. In the end Courtney finished 4th in the FS and jumped from 7th to 5th overall. Way to keep the tradition alive!
Mini Yu-Na
Hae-Jin Kim (KOR; 166.84, 6th)
had a very solid SP. All of her jumps were clean and she maxed her levels on everything. Her only mistake in the FS was a
<
on her 3Lz but the rest of the program was clean and very well presented. Hae-Jin reminds me a lot of Yu-Na circa 2007. Yu-Na's full-body expressiveness has really rubbed off on Hae-Jin; head to fingertips, she's engaged in her performance...I love that! Like Yu-Na in 2007, Hae-Jin isn't as smooth and refined as she could be. There's a somewhat unpolished look to some of her in-between moves and her jumps aren't as effortless-looking as others, but overall she is a real treat to watch. Both of her programs were wonderful, in particular her "Swan Lake" FS.
You better werk it!
Samantha Cesario (USA; 164.87, 8th)
had a decent but not great competition. She wisely ditched the 3L-3L in the SP, opting for a 3L-2L instead. Samantha finished the rest of her program cleanly and earned level 4s for everything but the layback (level 3). I feel like the judges lowballed her in PCS, particularly in IN and CH; her program and delivery were among the best of the segment. The FS didn't go as smoothly. She got
<
on two triples and an
e
on her lutz, but
dammit
this program is awesome! The musicality of it and her delivery...it's really phenomenal! The choreographed sequence received all +2s and even three +3s. It wasn't her best technically, but the program and performance makes up for everything in my opinion. I thoroughly enjoy watching her skate.
Judges lowballed her in both segments...
So-Youn Park (KOR; 162.71, 9th)
is another skater I really enjoy watching. Like Hae-Jin, So-Youn has absorbed some of Yu-Na's finer points in terms of performance and presentation. However, unlike Hae-Jin, So-Youn's skating is much more polished and refined, and her jumps are cleaner-looking and flow much better. So-Youn opened her SP with a 3S-3T but couldn't hang on to the landing and had to put her hands down. She got credit for the rotation but lost 1.20 points in -GOE. I thought her PCS were very
very
low compared to a number of other skaters. So-Youn's FS wasn't bad: she doubled her 2A-3T and popped her second 3Lz but everything else was solid. Those errors weren't particularly disruptive but they did cost her a lot of points. Regardless of the TES, I thought her PCS in the FS were very low as well considering the programs she delivered. These Korean girls are going to have to work really hard if they want to continue on the path Yu-Na has blazed...
*sigh* Mirai, Mirai, Mirai...
Mirai Nagasu (USA; 159.78, 10th)
*sigh* I feel like I should mention the disclaimer (Mirai was sick here) but I hate making excuses. In the SP both jumps in her opening 3T-3T were hit with
<
and she received a time deduction which cost her 1.00 point. In the FS both 3Ls were
<
and her second 3F was
<<
. The program felt rushed but at the very least she fought to stay upright and she received no
e
calls on her flip or lutz (glass half full). This wasn't the kind of season send off performance Mirai wanted to have.
With so much speculation/conversation still swirling concerning the decision to leave her off both the Olympic and world teams, Mirai needed to have a good showing here...if only as a giant "F**k you!" to the USFSA. Instead she ended this season with her lowest placement
ever
. I have no idea what the future holds for Mirai at this point but I truly hope she's able to put this season past her and either (
a
) come back stronger and more motivated next season or (
b
) move on to the next chapter in her life.
You can watch all of the videos on
icechannel2011's YouTube channel
.
So that's it! Next stop Sochi, Russia and the Winter Olympic Games!! I'm really excited this year. Unlike in Vancouver, where I was certain of who would be on the podium, I'm not nearly as sure of what it will all look like. There are so many podium contenders this year...it's going to be a dogfight to the finish and I can't wait to see how it all turns out.