It's a dream come true or a life's goal for some, and a chance to do it all again for others. The 2014 Sochi Olympics are right around the corner. The ladies won't begin their quest for gold until February 19 (though some of them will take part in the team event which starts this Thursday). Here's a look at the countries with the top entrants for these Games.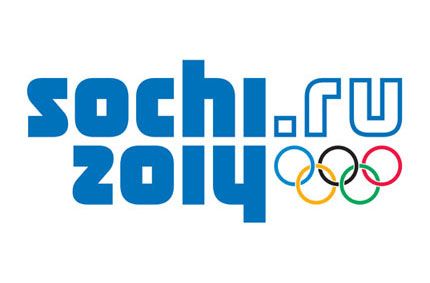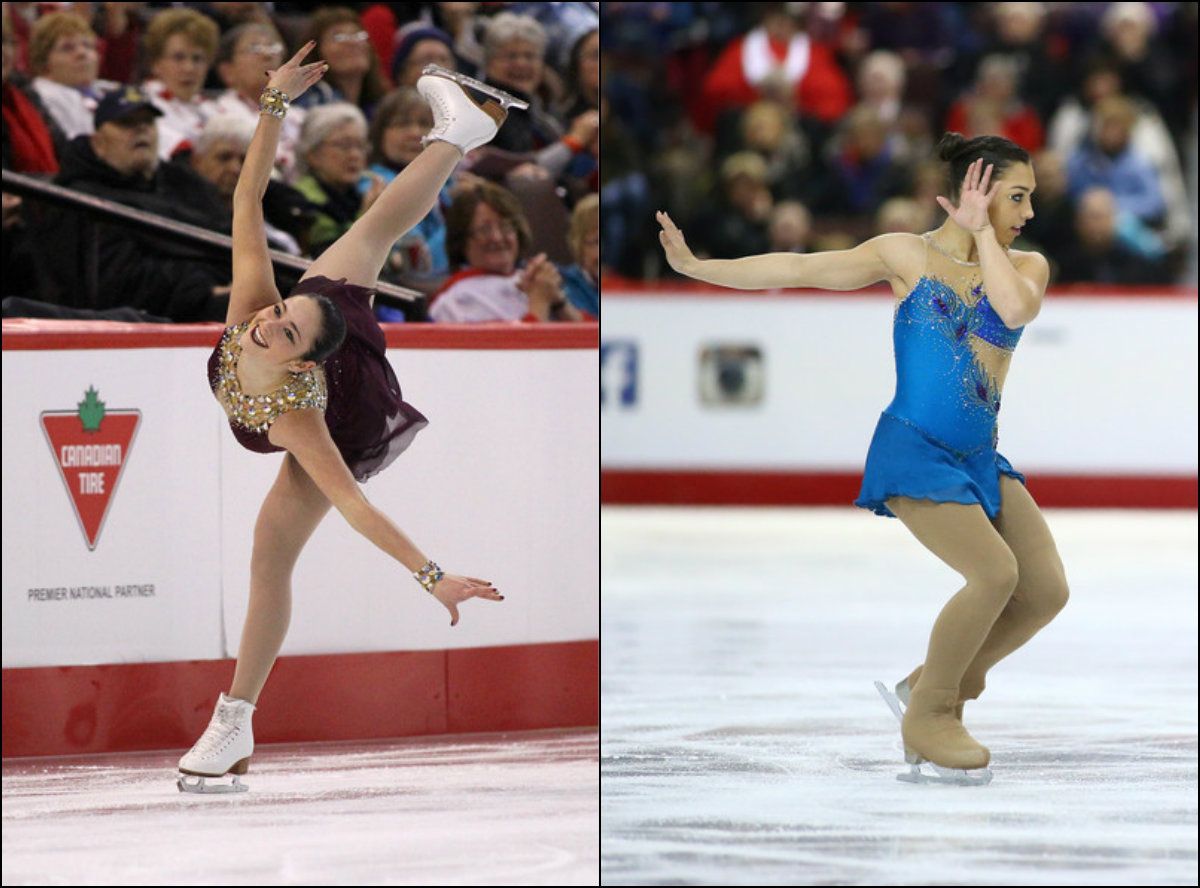 Kaetlyn Osmond & Gabrielle Daleman
Kaetlyn Osmond:
Kaetlyn showed up at nationals looking renewed and ready to compete. She has two solid programs but their lack of mileage in front of the judges could be a big issue for her. Kaetlyn is an amazing performer who can light up the arena when she's on, but she's also been known to falter under pressure. If she can hold it together and deliver two strong skates, I think a top 10 finish is very possible.
Gabrielle Daleman:
Gabrielle has been competing on the JGP for the past few seasons and, like a few other competitors, Sochi will be her first senior international event. She has zero "street cred" meaning the judges don't know her and will probably score her lower, but Gabrielle has
insanely explosive
jumps which means if she lands them the judges will have to take notice. A top 10 finish isn't likely given her lack of experience and somewhat rough presentation, but those jumps could tip the scale in her favor if she lands them.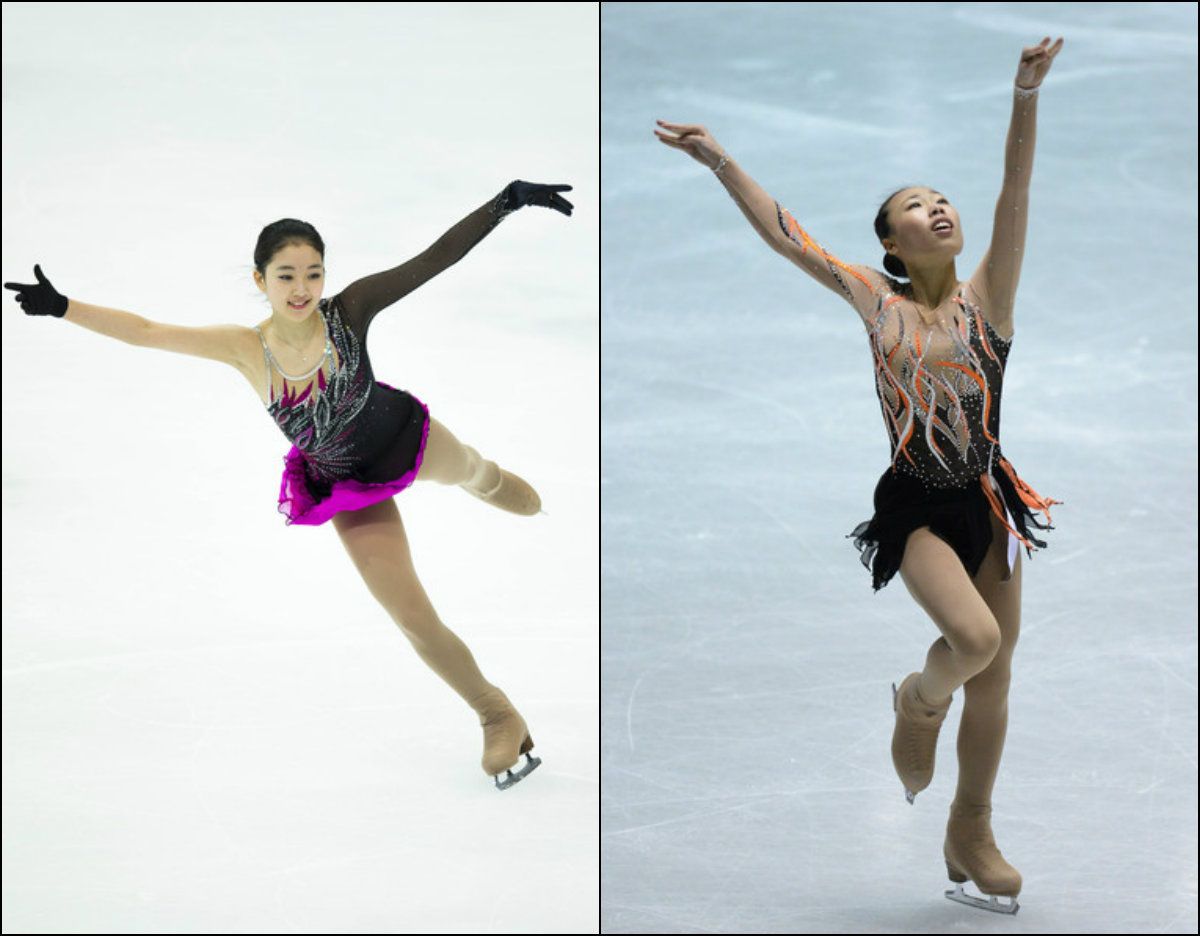 Zijun Li & Kexin Zhang
Zijun Li:
This season has been a battle of injuries and illness for Zijun but it looks like she's finally back on track. Her performances at 4CC were reassuring and proved that her jumps are back and she's ready to go. Zijun's FS at last year's worlds was a major highlight and showed that she's capable of scoring very well when she's clean. She lacks the power and commanding presence of most of the top competitors but she has a full arsenal of jumps including a 3F-3T and 2A-3T. If she can deliver, I think she has a good shot at a top 10 finish.
Kexin Zhang:
Kexin has a 3-3 as well as nice spins but she's very cold and business-like when she skates; there's little to no connection with anything or anyone when she's out there. With the field as stacked as it is, she'd have to deliver a spotless and inspired skate, and others would have to make mistakes in order for her to place. She's very capable of skating semi-cleanly, but I'm not sure if even that will be enough to keep her in the top 10.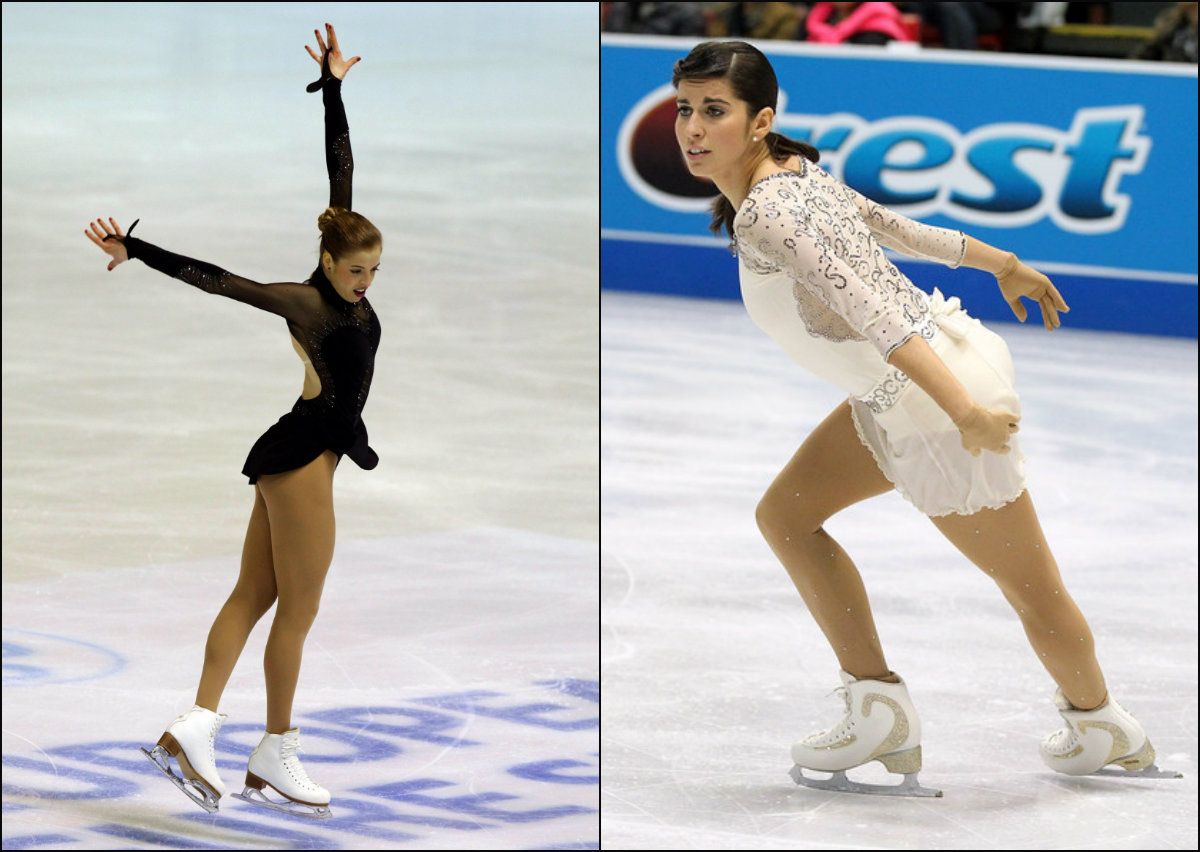 Carolina Kostner & Valentina Marchei
Carolina Kostner:
After worlds last year everyone was sure Carolina was a lock for the podium in Sochi; since then the tide has changed. The emergence of new talent as well as a decline in Carolina's skating over the past season now has her as a
potential
podium finisher rather than a
lock
. This season was a bit of a clusterf**k: the programs weren't connecting, her relative consistency took a hit, she missed the Final, she suffered an injury...it wasn't looking good. Carolina's performances at the European championships allowed people to breathe a small sigh of relief, but the fact that she finished 3rd behind the two Russians had people lighting candles again. Carolina has a terrible track record at the Olympics (9th in Torino, 16th in Vancouver) and it would be devastating for her to have done so well over the past few seasons and then end up having another disastrous showing at this event. It's not over yet though...Carolina has the strongest set of programs in the field and she's fully capable of bringing the house down, particularly in the FS...but she
has
to hit the jumps. If she doesn't she might not only find herself off of the podium, but out of the top 5 as well...
Valentina Marchei:
Valentina is another skater with two amazing programs this year. Her SP is gorgeous and her "Nyah" FS has the potential to be a showstopper if she can hit the jumps. Valentina comes in as the reigning Italian champion (Carolina did not compete) but the title doesn't come with any perks for her if she can't deliver. The 3-3 in the SP will be critical and she'll need to have a strong FS as well. If things go south in either program it's likely she will fall out of the top 10.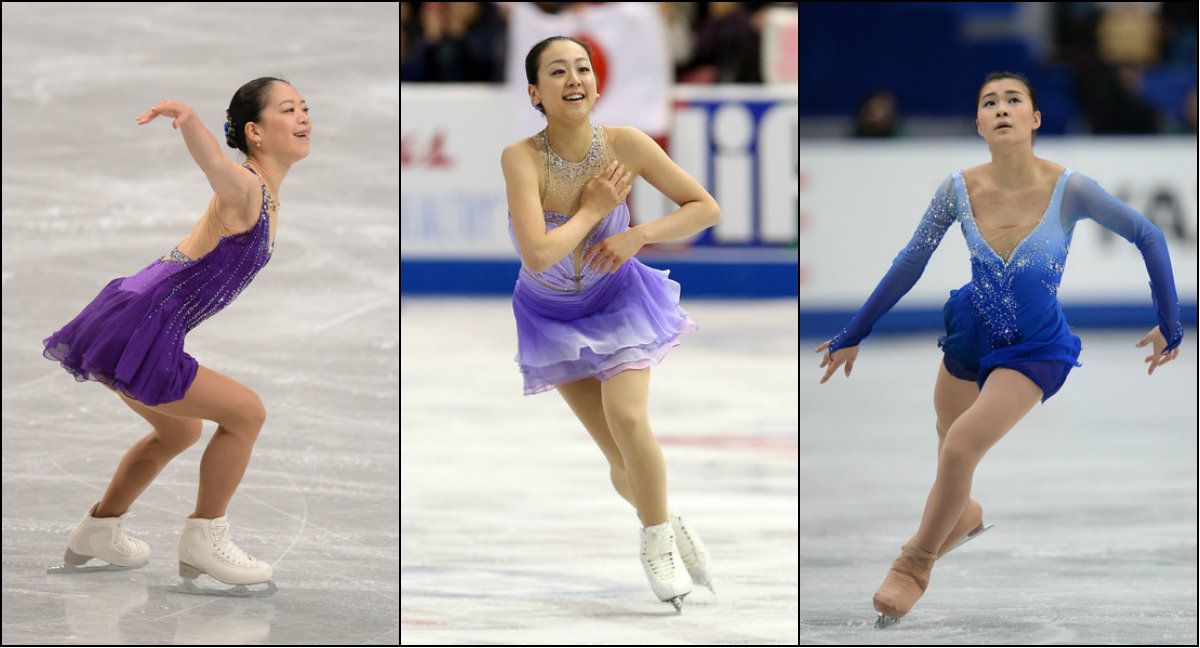 Akiko Suzuki, Mao Asada, Kanako Murakami
Mao Asada:
Heading into Vancouver four years ago I honestly didn't think Mao had a shot at gold. Yu-Na was just too good: she had momentum, she had the programs, she had the jumps...all Mao really had was the 3A and footwork. Flash forward four years: Mao is a much more balanced skater. Instead of shunning her natural ability to cast a spell using her grace, elegance and ethereal qualities, she has embraced it and it's made her a better skater. Mao has two strong programs instead of two spectacular footwork sequences and she has a better arsenal of jumps and has been hitting most of them all season long. However, there is a question of what layout she will be going for in Sochi. She's been including a 3A in both programs this season but it's unclear whether she's going for one or two in the FS. The 3A isn't as reliable as it's been in the past (if one could call it that) but with this being Mao's last run at her dream, I fully expect her to go balls-to-the-wall.
(Update: It's being reported that Mao is going for two 3As instead of three, citing balance as the reason. Smart move Mao, smart indeed!)
If Mao can hit the 3As as well as her other jumps and deliver her programs well, I think she has an excellent shot at gold this time around...but with Yu-Na and Julia in the mix, she has an extremely small margin for error: if Yu-Na is clean she'll likely win unless Mao is
perfect
; if Mao makes mistakes and Julia is perfect, Julia can place ahead of her. Mao will need to dig deep and find those two perfect performances if she hopes to stand on top of the podium.
Akiko Suzuki:
Akiko has been up and down this season but her FS performance at nationals was inspiring and to see her win the national title in her final appearance was a very special moment. Akiko is an excellent example of playing to your strengths and making the best of what you can do. She doesn't have the amazing spins or difficult jumps that others have, but she does have an incredible sense of musicality and performance and it makes her shine. Akiko is on the outside looking in when it comes to the podium. Both of the Russians seems to have pulled even with her (if not ahead of her) when it comes to PCS and, unfortunately, she doesn't have enough firepower to compete with them technically. In order for Akiko to place well, she'll need to be clean and skate with that same passion and abandon she had at nationals. Barring a number of mistakes from several skaters, I don't think a podium finish is in the cards for her but two strong skates should keep her in the top 6 or 7, possibly the top 5 depending on how others skate.
Kanako Murakami:
Kanako's SP switch has done wonders for her confidence and she seems to be ready to turn on the afterburners and go for broke. Her performances at 4CC were excellent and her scores were fair and would be competitive against some of the contenders in Sochi. Kanako knows how to peak and she's also really good at delivering under pressure...I think she's a bit underrated there. With the focus on other skaters in Sochi, Kanako is perfectly positioned to skate with less pressure and shock a few people. If she can deliver the way she delivered at 4CC she'll score well (if the judges aren't on some BS) and put the pressure on others to deliver. If she can repeat her performances at 4CC, she's a definite top 10 finisher.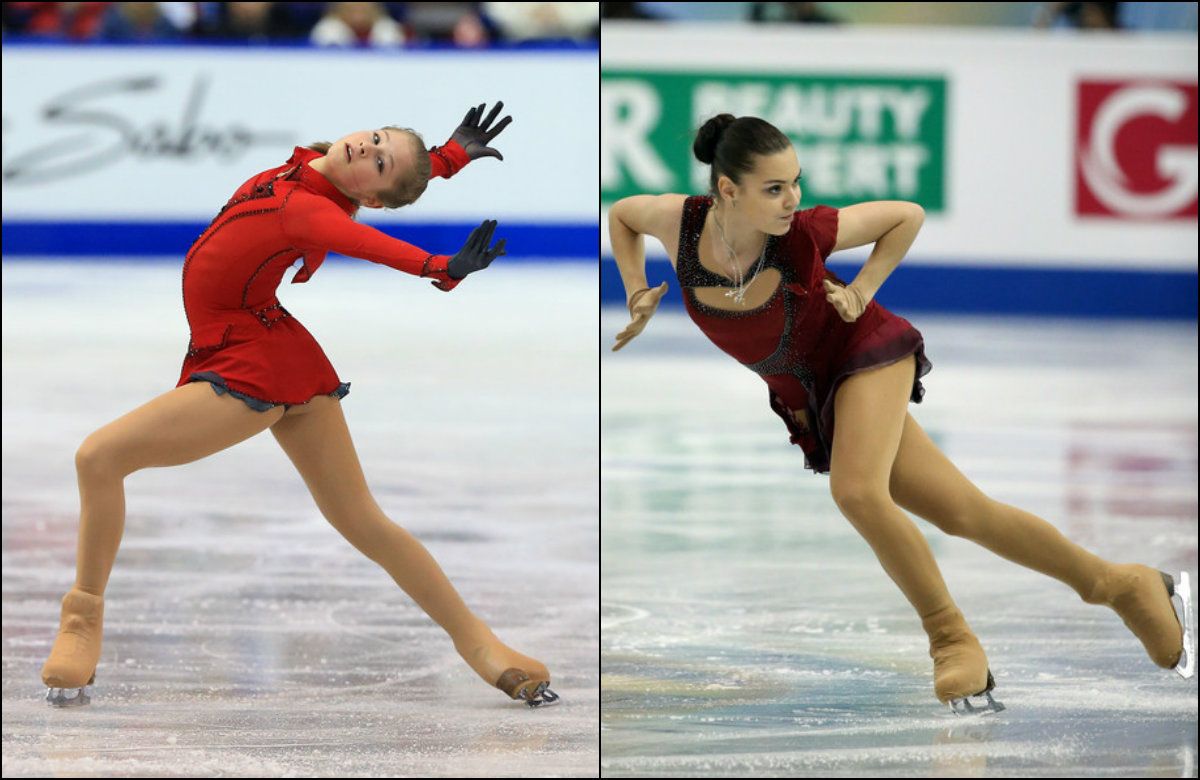 Julia Lipnitskaya & Adelina Sotnikova
Julia Lipnitskaya:
Julia has been in
BEAST MODE
all season long. Her consistency is remarkable and it's what makes her such a threat in Sochi. She's improved in terms of her musical connection and performance but she's still not at the level of some of her competitors. Compared to others who skate very big, Julia skates small which lessens her impact somewhat. Luckily, what she lacks in maturity and impact she more than makes up for with consistency and content. She has a 3Lz-3T in both programs as well as a 2A-3T in the FS; add in her ability to max her levels and the fact that she has both momentum and home ice advantage, and I honestly can't see her
not
finishing on the podium somewhere. As we saw at Cup of Russia Julia is not immune to pressure. Against this field of skaters Julia (like everyone else) cannot afford multiple mistakes if she wants to make it to the podium. If Julia skates the way she's been skating all season she's one of only two people who can be seen as a lock for the podium.
Adelina Sotnikova:
Though I find Adelina's packaging to be distracting at times (weird dresses, mismatch gloves and tights, bad music, odd choreography...someone please help her!) she's still in the running. Adelina has been doing a much better job at keeping her nerves in check and delivering her programs cleanly. She has huge jumps, great spins and a great on ice personality; even if you don't like her programs you can't deny she performs the hell out of them. She skates big and when she hits the jumps she scores huge regardless of what country she's in. Being the national champion
and
skating on home ice will give Adelina a double boost in these games. In a head-to-head match up she edges out Julia when both go clean which means if she can skate cleanly in Sochi, she is very likely to land on the podium. The problem is Adelina isn't nearly as consistent as Julia and that lessens her chances of medaling; however, if Adelina can skate semi-cleanly, I think she has a great shot at a top 5 finish.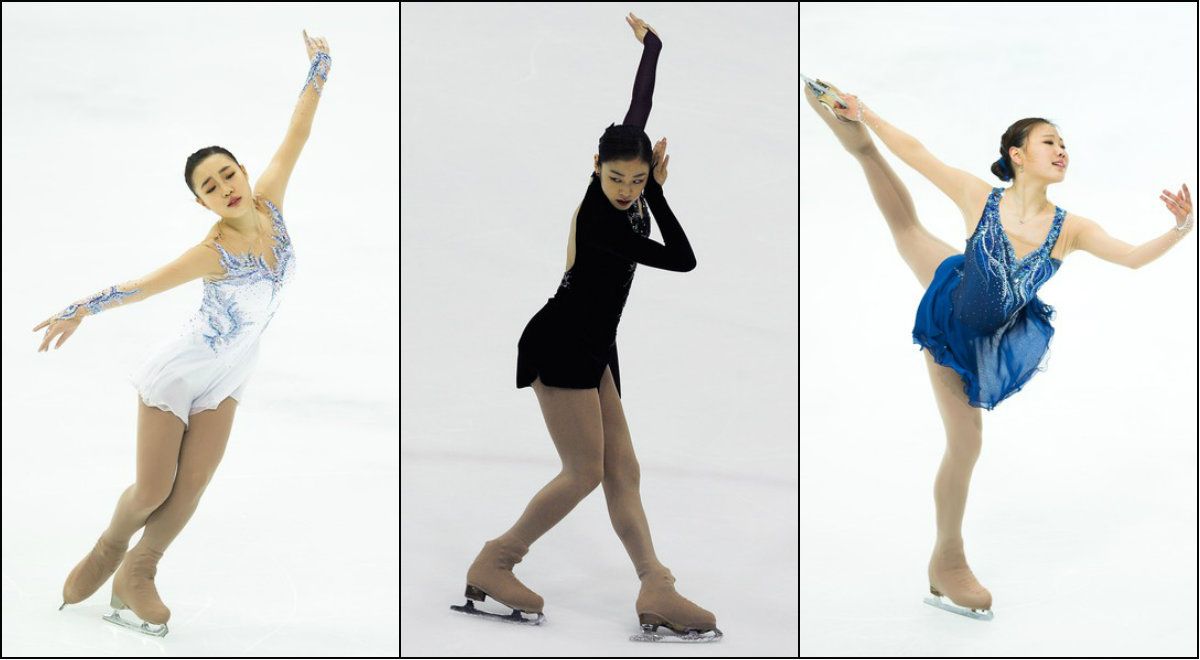 So-Youn Park, Yu-Na Kim, Hae-Jin Kim
Yu-Na Kim:
Since winning gold in Vancouver four years ago, you can count the number of major events Yu-Na has participated in on two fingers (worlds in 2011 and 2013). Despite her absence from the competitive arena Yu-Na is still the reigning world champion and a favorite (if not
the
favorite) to win gold in Sochi. Even though she's only competed twice this season at low level events, Yu-Na is the one everyone is betting on. The gap between her and the rest of the field isn't as big as it was in Vancouver, but she's still #1 which means it's going to be impossible to unseat her unless she makes mistakes. Yu-Na is a lock for the podium; the only way she misses the podium is if she implodes magnificently and I just don't see that happening. The only person who can legitimately beat a clean Yu-Na is Mao...but she'd have to be 100% clean in both programs. The odds of that happening are rather long which is why if Yu-Na skates cleanly she will win gold. She has a larger margin of error than everyone else but if she opens the door wide enough it is possible someone else can skate through it. Bottom line: Yu-Na is the only skater who controls her own fate in Sochi. It's her gold medal to lose...
So-Youn Park:
So-Youn comes to Sochi as an unknown which means no one will expect her to do much of anything. With no pressure and no expectation she can soak up the experience and just go out and skate. So-Youn has two nice programs as well as lovely presentation and style. This competition is an opportunity for her to put her best foot forward and try to make a name for herself. A top 10 finish is very unlikely but two strong skates should at least put her on the judges' radar for worlds.
Hae-Jin Kim:
Hae-Jin is in the same boat as So-Youn: no expectations, no pressure. She had two solid performances at 4CC where she placed 6th, so to follow that up with two strong performances here would be a great way for her to make the judges take notice. Hae-Jin doesn't have the difficulty, presentation or polish of So-Youn, but she does tend to be a bit more consistent. Again a top 10 finish is unlikely, but her performances here can be used as a springboard for the world championships and beyond.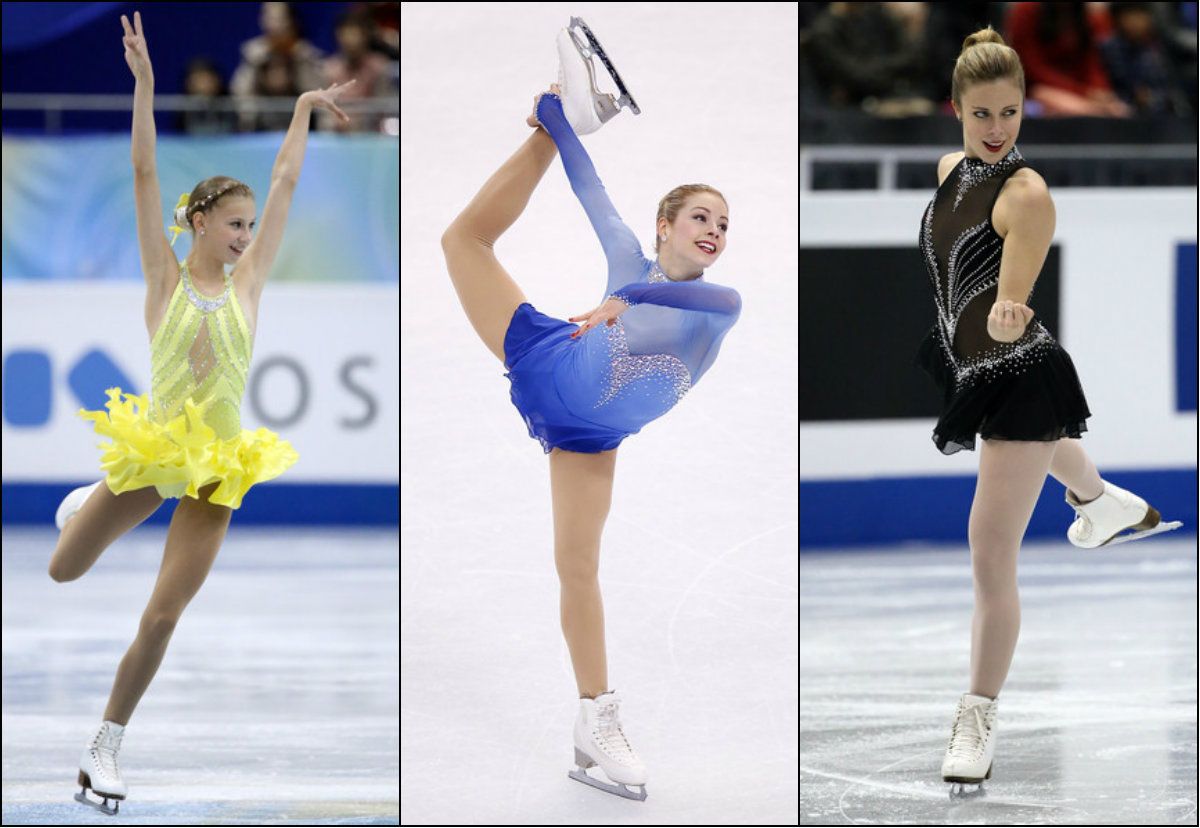 Polina Edmunds, Gracie Gold, Ashley Wagner
Gracie Gold:
Winning the national title in an Olympic year and in such a convincing fashion was a huge moment for Gracie. Unfortunately for her the drama/controversy that surrounded Ashley being named to the team over Mirai pretty much overshadowed her accomplishment. Now that the chatter has died down the focus is back on Gracie. The US media are now pinning the hopes for a medal on her but I'm not sure how smart that is. Gracie has improved exponentially under Frank; there's no denying that. However, that was the first time this season Gracie has put together two strong programs. Up until nationals she'd been mediocre at best. Now is the time for her to prove her performances at nationals were not a fluke. She'll need to back up her win with two strong performances in Sochi. Gracie is an outside shot for a medal but I do think her chances are better than the other two for several reasons: she has the USFSA's backing which means they're going to be politicking for her; she has the national title; and she has the content necessary to make it to the podium. When Gracie is on, she's undeniably amazing and if she can deliver in Sochi, she has a great shot at a top 5 finish...she could even sneak onto the podium depending on how others skate.
Polina Edmunds:
Polina fits into the category of the unknowns along with Daleman, Park and Hae-Jin Kim. The judges don't know her and won't pay that much attention to her so she should just soak up the experience and have fun. Polina has the content necessary to make a splash if she skates cleanly, but she doesn't have the reputation to command the PCS that will make her competitive with the top ladies. Skating well in front of the Olympic judges can give a fledgling senior career a big boost (just ask Mirai Nagasu) so Polina should give it her all. I think she could place top 10 if she skates well but with the field as stacked as it is, a placement outside of the top 10 is more likely.
Ashley Wagner:
It's been a rough couple of weeks for Ashley. Placing 4th at nationals but still being named to the team set a precedent and caused a tsunami of controversy. With people actually paying attention to skating right now, most know about how Ashley was named to the team which means they are going to tune in to see how she skates. Yes, she earned her spot on the team; now she's going to have to defend it. It is imperative that Ashley deliver in Sochi. She can't afford to clam up like she did at nationals and tank. Ashley "Swagner" Wagner aka Diva Wagner needs to be on full display in Sochi in order to get the critics and angry fans off of her back. She's gone back to her "Samson & Delilah" FS (should have done that earlier) though it won't be the same program from last season. Apparently it will be a "Romeo & Juliet"/"Samson & Delilah" hybrid program...I have no idea what to expect. I just hope she can go out there and skate well. Ashley has an outside shot at the podium. I think she's a top 6 or 7 bet if everyone skates well but that rarely happens at the Olympics which means if she's perfect and others falter, she could move up. Side note: I've been wondering whether Ashley's comments regarding Russia's anti-gay laws will have any backlash on her scores. Given all of the dirty politicking in general that is surrounding these Games, I wouldn't be surprised if something like that happened...I truly hope it doesn't though...
Team Competition: Entries & Event
The team competition starts on February 6th (before the opening ceremonies) and the rosters are still being finalized. So far, here's what we know about the ladies:
Japan: Mao Asada (SP) and Akiko Suzuki (FS)
United States: Ashley Wagner (SP) and Gracie Gold (FS)
Russia: Julia Lipnitskaya (SP & FS)