Another busy week in skating though not nearly as busy as last week. I still haven't recovered from last week's epic post but the season continues on and so must I! I'll take a look at Finlandia Trophy as well as JGP Dresden and the JGP final standings.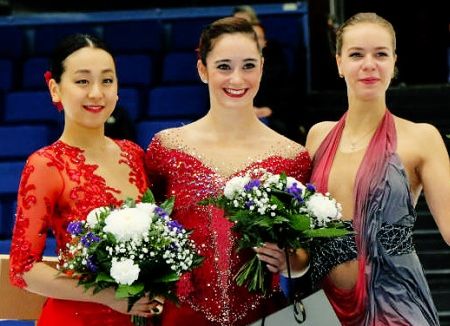 Surprise, surprise!
The final results: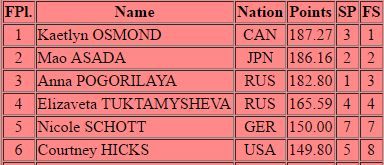 Kaetlyn Osmond (CAN): 187.27 - 1st
Kaetlyn has been plagued by injuries for the past few seasons but it looks like she's finally in a position to have a strong season. I think both of Kaetlyn's programs are very lovely and she had two solid performances here. She lost points in the SP due to a doubled combination but she maxed the rest of her elements and posted a strong score. The FS was one of the strongest she's had in a long time. She landed 6 triples in the FS and made no major mistakes. Some of the landings were a little iffy but she hung on and it worked out. Kaetlyn won the FS and edged out Mao Asada by 1.11 points to take the gold. I hope she has a good year. Her speed is wonderful and her jumps are so powerful that if she can put it all together she could be a real threat.
Mao Asada (JPN): 186.16 - 2nd
Mao turned in two solid performances here. The difficulty of the jumps was scaled back quite a bit but it turned out to be a good thing because it allowed us to focus on the brilliance that is Mao Asada. This season Mao's SP music is also used in the FS as a continuation of the program and I gotta say I freaking love it! The packaging for both programs is exquisite. Mao looks amazing, the choreography is great and something we haven't really seen from her before. I really hope we'll see her deliver both programs beautifully because both have "masterpiece" penciled in right now; an amazing performance will etch it in stone.
Anna Pogorilaya (RUS): 182.80 - 3rd
Anna learned a tough lesson here that I'm sure she'll carry into the GP season. This was the first time in quite a while she'd been leading after the SP and I think the nerves got to her. The SP was strong and gave Anna a 4.63 points advantage going into the FS. I don't know if it was the pressure of leading or what, but she seemed to be a little frantic rather than relaxed in the FS and ended up rushing on some of her jumps which caused a number of wonky landings and some under-rotations..no
PogoSplats
though, so that's a plus. Unfortunately the points she lost hurt her and she dropped from 1st to 3rd. Anna definitely has it in her to move up this season so hopefully she'll learn from this and not let it get her down.
As for the rest...
Elizaveta Tuktamysheva (RUS; 165.59, 4th):
The way back to the top is not going to be an easy one for Elizaveta. She's lost ground technically but she's also lost the edge she had with the judges which means she'll have to find a way to work herself back up into the higher PCS range. She had a solid SP (though she lost points on lower level elements) but had a rough time in the FS (four under-rotations, 2 falls, low levels). Liza T has quite a way to go...
Courtney Hicks (USA; 149.80, 6th):
I think Courtney's programs suit her well this year but she's still a bit
all-over-the-place
when she skates. The jumps are big but they lack control and that's a pretty big problem. Courtney was looking like a potential #3 for the US last season. We'll have to see if she can get herself back to that this season...
That's it for the major events of the Challenger Series. There are a few more in the coming weeks but the focus will be switching to the Grand Prix next week.
Moving on...
2016 JGP Dresden
The last JGP event of the season! Spots to the Final were on the line for a few of the skaters here and a few who were not here.

Anastasiia Gubanova (RUS): 194.57 - 1st
Anastasiia started off a little roughly in the SP. A stumble out of her combo lost her some points but she nailed everything else and went into the FS with the lead. Her FS was flawless: 7 triples including two 3Lz-3T combos (3Lz-3T and 3Lz-3T-2T in the bonus). She maxed all of her non-jump elements and made this an easy one to call. I really love her skating and I'm super-excited to see how she does in the Final. I think her artistry gives her a nice edge but she'll have to be more consistent with her jumps if she hopes to come out on top. Still, that was a great way to end her run on the JGP and hopefully she'll carry this momentum with her into the Final.
Yuna Shiraiwa (JPN): 176.66 - 2nd
Yuna hasn't been as strong this season but it seems she found her stride at the very end. The SP was tough for her. She went down on her combo and ended up placing 6th heading into the FS. Yuna seemed determine to make her last performance of this JGP season a good one and she delivered. She turned in a flawless 7 triple program including a nice 3Lz-3T and a 2A-3T in the bonus. Yuna placed 2nd in the FS and moved up to finish 2nd overall. That's the way you end your season! Good job!
Eunsoo Lim (KOR): 173.21 - 3rd
Eunsoo reminds me a lot of Yuna Kim. There's something about her presentation and the way she performs that really takes me back to Yuna's early competition days. Eunsoo started off really well in the SP finishing a close 2nd. She skates with a lot of speed and her jumps are big and clean, though I'd like to see her get her free leg out a little faster on her landings. In the FS she had a few problems. She put forth a strong performance but a fall and a popped combination lost her several points and she slid in the standings but was still able to edge out Stanislava by 1.15 points and earn her first JGP medal.
As for the rest...
Stanislava Konstantinova (RUS; 172.06, 4th):
Stanislava needed to place 2nd or better to have a shot at the Final. She struggled in both programs, popping her loop in the SP and falling twice in the FS. Unfortunately she will not make the Final this year.
So the 2016-2017 Junior Grand Prix season has come to a close and the participants for the Junior Grand Prix Final are set...
2016-2017 Junior Grand Prix Standings

Anastasiia Gubanova (RUS)
won both of her events which gives her
30 points
and qualifies her in
1st place.
Polina Tsurskaya (RUS)
also won both of her events and earned
30 points
; however, she lost the scoring tiebreaker to Anastasiia by 2.41 points, so she qualifies in
2nd place
.
Rika Kihira (JPN)
won silver at one event and gold at the other which gave her
28 points
. She qualifies in
3rd place
.
Kaori Sakamoto (JPN)
also won silver and gold at her two events which gave her
28 points
as well. Rika won the scoring tiebreaker so Kaori qualifies in
4th place
.
Alina Zagitova (RUS)
won gold and bronze in her two events which earned her
26 points.
She qualifies in
5th place
.
Marin Honda (JPN)
won silver in both of her events which gave her
26 points
as well. Alina's gold medal is weighted heavier than Marin's two silvers which means Marin qualifies in the
6th and final spot.
Elizaveta Nugumanova (RUS)
is the first alternate (24 points).
Stanislava Konstantinova (RUS)
is the second alternate (22 points) and
Yuna Shiraiwa (JPN)
is the third alternate (22 points).
The
2016-2017 Junior Grand Prix Final
will take place in Marseille, France on
December 8-11
. In the past it's been pretty easy to guess who would come out on top but that's not the case this year. The top scores for four of the six qualifiers are all within tenths of each other (Gubanova - 194.57, Zagitova - 194.37, Kihira - 194.24, Tsurskaya - 194.02). This is anyone's game. I can't wait!
I've gotta say there has been a lot of great talent on the JGP this season. More than just jumping beans, I've seen some overall amazing skaters this season. They're all so young and already so talented not just technically but in performance, presentation and artistry...that makes me really excited for the seasons to come.
As the junior season comes to a close the senior Grand Prix prepares to kick off. I'll be posting my Season Preview soon. First however, I'll be posting the results of my
W
e'll Be the Judge of That: 2014 Sochi Olympics
. Check back soon!