Just that fast, we're nearing the halfway point of the JGP season. Pretty soon it will be time for the senior ladies to make their debut on the Grand Prix. I'll take a look at the junior ladies from JGP Czech Skate and give my thoughts on the long awaited test skate videos from the top women in Russia.
Here are the final results: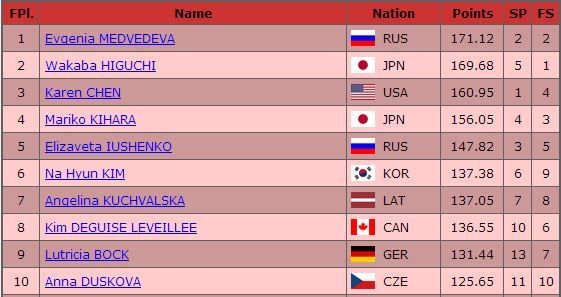 Evgenia Medvedeva (RUS): 55.92 (SP) + 115.20 (FS) = 171.12 (1st)
This victory wasn't as flawless and smooth as her first, but in the end Evgenia pulled out the win. She ran into trouble in the SP when she fell out of the 3F in her 3F-3T combo. She recovered with a solid 3Lz, though it did receive a
!
which lost her 0.20 points. Evgenia placed 2nd in the SP and was in a prime position to move up with a solid FS...and that's what she did. Kudos to her for being able to refocus and deliver a strong program. Her only error was an
e
on her 3Lz (-0.80). The judges weren't as generous overall with Evgenia's PCS (51.90 vs 53.82 at Courchevel) but then again, I do think her performance at Courchevel was stronger than her performance here. Despite not winning either segment of the competition (she was 2nd in the FS as well), Evgenia's overall score was enough for gold, though the margin was much closer than her last win (only 1.44 separated gold from silver). With this win Evgenia has earned 30 points in the JGP standings and has guaranteed herself a spot in the Final.
Wakaba Higuchi (JPN): 52.75 (SP) + 116.93 (FS) = 169.68 (2nd)
It appears as though this current crop of debuting Japanese juniors is where all of the talent has been hiding. I like Wakaba. Nice speed, lovely jumps and a little bit of zazz as well. Wakaba started off a little sluggishly in the SP. She doubled an intended 3F in her combo which cost her several points and contributed to her 5th place finish. Luckily, she regrouped big time in the FS and knocked it out of the park: 7 triple jumps including a 3Lz-3T and 2A-3T in the bonus. It was a great performance as well. She sells the program to the judges, though it does go in and out; she drops the performance at certain points, but overall, I was impressed with her. Wakaba won the FS and leapfrogged from 5th to finish 2nd at her first JGP event. Very well done!
Karen Chen (USA): 60.68 (SP) + 100.27 (FS) = 160.95 (3rd)
Karen started off well in the SP. Despite not having a 3-3 (3L-2T), her clean and inspired SP won the night. The majority of her elements earned several +2s and she ended up with the highest PCS of the segment. Karen went into the FS with about a 4 point lead. Unfortunately, like so many of the American girls, she couldn't deliver the goods. A fall and downgrade on her opening combo (3Lz-3T) as well as an edge call and two more
<
triples (one with a near fall) took her out of the running. In the end Karen finished 4th in the FS but, thanks to her strong SP, was able to finish 3rd overall.
*sigh*
I'm proud of her for earning bronze but this was definitely a missed opportunity for Karen. A clean performance likely would have given her gold. Hopefully, she'll come back stronger in her second event.
As for the rest...
Mariko Kihara (JPN; 156.05, 4th)
had a very solid debut here: 3T-3T in the SP, 7 triples and only one
<
in the FS. I like Mariko's presence on the ice and she does a good job selling her performance. She gives
face
and seems to connect to the judges when she skates. The downside to her skating is her skim-the-surface jumps; not a lot of height there. Still, I enjoyed watching her and I'm interested to see how she'll progress.
Elizaveta Iushenko (RUS; 147.82, 5th)
was fun to watch in her SP. I liked her style in that performance and, despite the mistake (fall on her opening 3T-3T), I really enjoyed watching her. She gave it her all in the FS but the jumps just weren't working as well as they needed to.
All of the ladies' videos can be viewed on the
ISU JGP YouTube channel
.
This week's
Nagoya TV Cup
is the fourth event of the JGP series and serves as the official halfway point of the season. This will be headliner/favorite
Serafima Sakhanovich's (RUS)
second event of the season. We'll also see
Yuka Nagai (JPN)
,
Jenni Saarinen (FIN)
and
Da Bin Choi (KOR)
.
Man oh man, were we waiting for this! It seems like it took forever but we finally have some video of the ladies and their new programs for this season. Of course it's early in the preseason which means there's a chance things will change between now and the time these skaters debut these programs on the Grand Prix in a couple of weeks. For now, it's just nice to have something concrete to speculate about. (A big
THANK YOU
to
mihsersh
for these YouTube videos!)
Adelina Sotnikova: "Je Suis Malade" (FS)
This is the same portion of Adelina's FS that she's been using in shows all summer long. I have to say, I've really grown fond of the song. Granted I have no idea what the words mean (my languages are English and Spanish), but I think it's a lovely song and it creates a very powerful backdrop for Adelina's skating. So far, I like what I've seen of this program. It's been a long time since I've seen Adelina skate to anything slow. I think the slower pace forces her to hold out/smooth out her movements and it gives her skating a more polished look. The jumps looked stronger here than I expected: nice 2A-3T and a lovely 3F...better than any 3F she did last year in fact (better riding edge).
So far I like what I see from Adelina. Hopefully she'll pair this program with some nice costume choices and really tie it all together.
Julia Lipnitskaya: "Megalopolis" (SP)
I really love this music and I think Julia and her team have done a good job as far as choreography goes. I'm really happy to see we're not getting the same forlorn/wistful/woe-is-me look from last season. Julia's showing a smidgen of range and I'm happy about that. This program seems to be more musical than her last two; many moves in the choreography are hitting on the accents of the music...I love that. Those kind of things draw you into the performance. The jumps look solid for this point in the season and the spins are great as well.
Overall, I'm really pleased with what Julia has so far and I'm interested to see what her FS will look like.
I love Elena's dress and hair for her SP! The only thing I dislike are those gloves and the way she wears her tights; either cover the boot or don't...I hate the halfway covered skate. Anyhoo, I think the program is good. I don't love it as much as her SP from last season (yet) but it's impossible for me not to enjoy it. This girl is phenomenal when it comes to selling the performance.
I was really shocked when her FS music started playing. Not only is it the Kween's music, the first half is the Kween's
edit
of the music as well. I'm sure this isn't true for all, but for me, when someone uses iconic Michelle Kwan music my mind immediately starts running a video of that program and it's tough for me to pay attention to what's happening on the ice. I had to watch Elena's program twice before I could really get a feel for it. I think it still needs some work (she seemed to be chasing the music a little) but this is something she can make into a solid FS. I do like that she's going the more mature route this season and, if she's successful, I think it will pay off big time.
Anna Pogorilaya:
(The video is unlisted, so
click here
to get to the link.)
I think the program has the potential to be nice but Anna still needs a lot of work. Her movements still lack polish, refinement and control which gives her a sloppy and unfinished look on the ice. During the footwork is where you can really see it. I love that she's trying to give the performance some passion and emotion but she has to maintain control of the movements. I'd also like to see her work on her lines, particularly in her spins. Anna's still really young so there is time for her to work on these things...the question is how much will she improve upon them this season?
Elizaveta Tuktamysheva: "Bolero" (SP) & "Middle Eastern Theme" (FS)
I'm thrilled to see Liza T has steered away from anything remotely Latin this season. I'm not so sure "Bolero" was the best choice but I do think it will serve its purpose. As always, Liza T does a good job of playing to the judges/audience. The jumps looked good even though she struggled with landing them, and I loved her final scratch spin. I do hope that's just a practice outfit and that won't be what she wears for competition. It looks like one of those cover-ups you put on over a bathing suit on your way down to the beach. I am not a fan.
I like her FS. I think it really suits her on-ice personality and it looks like she's having fun while she's performing it. The jumps were much better here than I thought they would be for this point in the preseason. Liza T has always had great jumps; her only issue has been landing them. As far as the dress...at least it isn't black.
This program is definitely Alena's style: very campy, a little kitschy, but still kinda cute. Her style is not my favorite but I've always appreciated the energy and
voidyness
she brings to her programs. The jumps were a little off here so hopefully she'll be able to clean all of that up by the time the GP starts.
It was pretty clear Alena ran out of gas in the FS. The program is okay but given that she's trying to fight her way back into the top 3,
okay
isn't good enough. Everything she does needs to be spectacular and it needs leave a big and lasting impression on the judges if she wants to unseat the youngsters. I'm still not sure where Alena fits into the Russian ladies hierarchy right now. Next to Adelina, Julia, Elena, Anna and even Liza T, Alena is far down on the totem pole. She's going to have to fight like hell to get back on the judges' radar if she wants to make another world or European team.