Two events this week: the fourth event in the JGP series, JGP Nagoya TV Cup, and the 2014 US International Skating Classic. I'll take a look at the JGP event first (as well as the standings so far) and then give my thoughts on the ladies from the Classic.
Final results: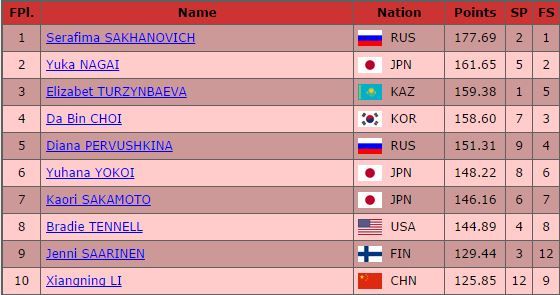 Serafima Sakhanovich (RUS): 56.03 (SP) + 121.66 (FS) = 177.69 (1st)
Similar to Evgenia last week, Serafima's second win wasn't as smooth as her first but that Russian resiliency prevailed and she was able come away with a solid victory. Serafima botched her combination in the SP by falling on her 3F. She finished up the rest of the program cleanly but losing those points hurt her score and she ended up in 2nd place. Luckily, Serafima came out focused in the FS and threw down a nearly flawless performance (one wonky landing on a 2A and a
!
on her lutz). She easily won the FS and finished first overall which guarantees her a spot in the Final. I think she's the favorite to win it all this year...

Yuka Nagai (JPN): 52.95 (SP) + 108.70 (FS) = 161.65 (2nd)
Yuka opened her SP with a beautiful 3T-3T (+1.10 in GOE) before losing her focus and popping open her lutz (zero points). Everything else was fine but earning no points for that lutz left her all the way down in 5th place going into the FS. Yuka started off a little shaky in the FS with a 1Lz-3T combination but quickly regrouped and managed to hit five more triples, including a 2A-3T-2T in the bonus. She finished second in the FS and second overall to earn her second silver medal this season. As of now she has a spot in the Final but, depending on how the rest of the season goes, that could change.



Elizabet Turzynbaeva (KAZ): 59.25 (SP) + 100.13 (FS) = 159.38 (3rd)
While everyone else seemed to be feeling the pressure in the SP, Elizabet sailed along like it was nothing. She nailed her jumps and elements (3L-3T, 3Lz, level 4 spins, level 3 footwork) and won the segment. Unfortunately, that pressure she seemed immune to in the SP caught up to her in the FS. The first half was rough; she went down on her 3Lz (
<<
) and her 3S-3T(
<
). Fortunately, she was able to settle herself down in the second half of the program and hit three more triples, including a 2A-3T. Elizabet finished 5th in the FS but, thanks to her excellent SP, she was able to hang on for bronze.
As for the rest...
Da Bin Choi (KOR; 158.60, 4th)
missed bronze by only 0.78. She had a decent SP but lost points on her combination (3F-3T
<
) and finished 7th in the segment. She fought back hard with a 6-triple FS which included a nice 3Lz-3T. Da Bin placed 3rd in the FS which helped to move her from 7th all the way up to 4th.
Diana Pervushkina (RUS; 151.31, 5th)
had a tough SP (fall on the combo, bad landing on the solo jump) and finished 9th. She had a better go of it in the FS, hitting two 3-3s (3Lz-3T, 3F-1L-3S) as well as two other triples, though she did fall on her 3L(
<<
). Diana was able to finish 4th in the FS which moved her up to 5th place overall.
The JGP series will be on hiatus this week but will return with JGP Tallinn Cup on September 24-27. Rin Nitaya (JPN) and Amber Glenn (USA) are two to watch in this event along with Miyu Nakashio (JPN) and Alsu Kauimova (RUS).

This event marks the official halfway point of the JGP standings. Here is what it's looking like so far:


Serafima Sakhanovich (RUS) and Evgenia Medvedeva (RUS) both won their two events which gives them 30 points a piece and secures their spots in the Final. Serafima wins the overall score tiebreaker and has qualified in 1st place.
Yuka Nagai (JPN) earned silver medals at both of her events which gives her 26 points. As of now she is in 3rd place, but with three events left to go that could change. As of now I'd say Yuka has a good shot at making the Final.
Wakaba Higuchi (JPN) and Rin Nitaya (JPN) both have 13 points so far and are favorites to win their next event. A win for either will give them a total of 28 points and guarantee their spot; however, if either win a silver medal they will have 26 points and end up in a score tiebreaker.
Karen Chen (USA) has 11 points so far but is a heavy favorite to win her second event; it's the easiest field of the season. A win will give her a total of 26 points and, thanks to gold being weighted heavier than silver, she'll have the upper hand in a scoring tiebreaker situation. Amber Glenn (USA), Leah Keiser (USA) and Elizabet Turzynbaeva (KAZ) all have 11 points as well but, unfortunately for them, they are in more competitive fields.
Still plenty of skating left to go!
2014 US International Skating Classic
I always enjoy this event. The Grand Prix will kick off in about six weeks so this helps to gauge where everyone is at this point in the season.
The final results:

Polina Edmunds (USA):
I'm impressed with Polina. I love her SP though I would like to see her bring a bit more sass and smolder to the performance to really set it off. She's got a somewhat passive smolder going on...light it on fire! Polina's FS reminds me a lot of her FS from last year in that it's a lovely and pleasant program. There's a nice lightness and ease to her style that makes her very pleasing to watch but I am worried about whether or not it will leave enough of an impact on the judges. I'm not a fan of the pink butterfly dress and hair jewelry (yeah, it's still there). It's not bad but it's just too juniorish. She had a few issues in the FS (two
<
s and two
!
on her 3F as well as lower level spins) but overall, this was a solid performance for this point in the season. It's going to be really interesting to see how Polina handles this first full senior year. All I know is that if I were Gracie, I'd be a little worried...
Courtney Hicks (USA):
I feel like Courtney is starting to come into her own. I really enjoyed both of her programs; I thought both the music and choreography suited her style of skating very well. Rather than try to be lyrical or graceful she's embracing what she's good at: speed and power...and it's working well for her (take note Gracie Gold). Courtney put together two strong performances here and is looking solid and ready to go for the season. She's not one of the top 3 women in the US right now but if she can find some consistency that should put some pressure on them to perform.
Riona Kato (JPN):
I think Riona's SP was lovely: the dress was gorg and the music and choreography were great too. Her 3F-3T was very solid as were her other elements. I think a lot of people may have been surprised to see her place a close 2nd in the SP. With Polina's FS score a little lower than I anticipated, Riona had a real shot at gold here. Unfortunately her FS wasn't as strong but she still managed to hang on to win bronze (by only 0.04 points!).
Alaine Chartrand (CAN):
Alaine surprised me. I've seen her compete a couple of times but, for some reason, she really caught my attention here. She has a pretty large technical vocabulary (different 3-3s, 2A-3T) and though she wasn't 100% successful with everything here, you can tell she's capable of hitting them. With
Kaetlyn Osmond out for at least 6 weeks
with a broken leg, Alaine's chances of grabbing a foothold in the standings for Canada have increased. It will take some strong performances from Alaine but I could see her making her mark on the Grand Prix this year.
Mirai Nagasu (USA):
I think Mirai's SP is nice but it needs more. I just don't see this program standing out this season unless she can bring more out of it. I like that she was going for the 3F-3T even though she didn't do it here. Whereas last season I just didn't see that combo being ratified at all, after watching her warm it up here, I do think she could rotate it but she's gotta
go
for it. Mirai's FS to "Madame Butterfly" has lots of potential but, again, she has to bring more energy and passion to the performance. Her performance here was
ZZZzzzz
. It's a lovely program but without adding some life to it, she'll never earn the kind of scores she needs. Mirai has two good vehicles for her skating this season but, as always, if she wants to be a factor this season she's going to have to perform.