The season is gearing up! Two more events to talk about this week. We saw the penultimate JGP event, JGP Pokal, as well as one of my favorite pre-season events, Japan Open. I'll start with the ladies of Japan Open and then take a look at JGP Pokal.
The overall final team result:

Final scores for the ladies: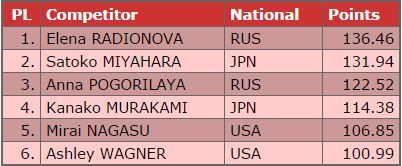 Elena Radionova (RUS):
For all of those people saying Elena's jumps looked iffy at the test skate a few weeks back, I submit this performance as evidence that I was right! Ha! There's nothing wrong with this girl's jumps! Another clean 7-triple performance...not a bobble, not a misstep. Perfect. I really love Elena's lutzes; she just pops off that edge and it gives the jump good speed and distance across the ice. Even Elena's double axels (her weakest jump) looked bigger and had more flow here. When this girl performs I smile from ear to ear. She is really something special...like the Akiko Suzuki of the Russian girls when it comes to performing. Like Akiko, Elena taps into something inside of her that enables her to exude joy the entire time she's on the ice. She makes me happy. Plain and simple. This program is growing on me--as I figured it would. Elena looks more mature and that's a plus: her hair is lovely (gone is the top knot) and the dress looks decent too, though all of the beading at the top is overkill. Less is more, Russian girls...
less is more
. Overall Elena is looking even stronger this season and everyone should probably take notice. She just set the bar very high.
Satoko Miyahara (JPN):
This FS is probably my favorite so far this season. I have always enjoyed Satoko as a performer. There's a subtle power to her skating that is so intriguing and really draws me in. The choreography and delivery of her "Miss Saigon" FS is outstanding. In addition to the artistic side of things, Satoko is showing that she's fully capable of throwing down on the technical side too. No edge calls or under-rotations either; not sure if that's accurate or just this judging panel but either way, she gave a spotless performance and I think her score was well-deserved. Everyone is paying attention to the Russians but I do think people should look out for Satoko. The girl is a silent killer...and I love it.
Anna Pogorilaya (RUS):
I'm not sure "Firebird" was the way to go this year but at least Anna had a strong skate. I was very concerned with the extremely high PCS she received at worlds this year. Thankfully, the judges brought her back down to earth here. 59.61 is a solid number and, I'd say, an accurate reflection of where she is with her skating right now. I saw a
smidgen
of improvement in her presentation here but it's almost imperceptible, and that's a bad thing. In order for Anna to compete at the very top, she's going to have to work really hard on her polish, connection to the music and overall performance. Nailing jumps won't be enough to get her to the top unless everyone else is having an off night. This was a strong performance for her and a solid way to start the season but she still needs a lot of work...
Kanako Murakami (JPN):
I'm really sad to say it, but I didn't like Kanako's "Phantom of the Opera" at all. The dress is a big
yuck
and the program overall doesn't work for me. The music edits are a hot mess and...I just don't like it. I really loved Kanako's last two FS programs but this one is a big miss as far as I'm concerned. I hope she and her team go back and rework it before the GP starts. Kanako's jumps weren't terrible here but there's no way 4 triples will be enough to get by on this season. I'm not entirely sure where Kanako fits into this new group of post-Sochi skaters but, skating like this, I don't think it's anywhere in the top 5...
Mirai Nagasu (USA):
I want to say this was an improvement over the last time we saw Mirai compete and, in a way, it is...but in another way, it isn't. She attacked the jumps and went for all of them which is a major accomplishment in my opinion. Mirai is known for starting off with attack but then backing off midway through; she maintained her stamina throughout this performance so, in my eyes, that's a huge victory for her. Unfortunately, she under-rotated three triples and that's no bueno. What's worse is Mirai looked genuinely surprised at her score which, to me, indicates that she was unaware that several of her jumps were landed short. If she can't see the problem then that makes fixing the problem more difficult. Mirai went for all of the harder content (3F-3T and 2A-3T) and though both 3Ts received a
<
, they looked closer to being all the way around. Eventually, I think she'll hit them. As far as the overall performance goes, I thought she could have done better. Right before the choreographed sequence she came alive: smiling, giving more energy to her movements and really performing. It was great...but that was the last 30 seconds of the program. She only gives that kind of sparkle and
umph!
to her performance at the end, and
only if
she skates well. Mirai needs to learn to sell the program from start to finish, whether she nails it or misses every single jump. Despite the mistakes, I think this was a great performance to build off of. We'll have to see if she improves in the next few weeks...
Ashley Wagner (USA):
Whoa. I don't know what happened to Ashley but she was off here. That said, I don't agree with the scores they gave her. I think the callers weren't fair to Ashley, especially with her last two jumps. Her solo 3L looked clean in slo-mo and while her final 3F was 2-footed, it looked to be fully rotated. I'm not sure what to make of the scores. It's a fact that once the judges are "over" you they let it be known by handing out really shitty scores. It's a bit hard to tell if that's what happened here or whether the callers made mistakes...or whether Ashley was just that bad. If we take away the two bogus
<
calls, she still under-rotated three other triples. It wasn't a good performance for her, no matter which way you slice it. I do think that the program has some potential but, for now, it's just a lot of stroking around. It definitely needs more. After Ashley's low score came up she left the K&C and didn't come back. I'm sure this was a very disappointing outing for her but hopefully it lit a fire under her and she will come out more determined and ready at her first Grand Prix event. I just hope her performance here wasn't a sign of things to come.
Thanks to
JPTV
for all of these videos!
Final results: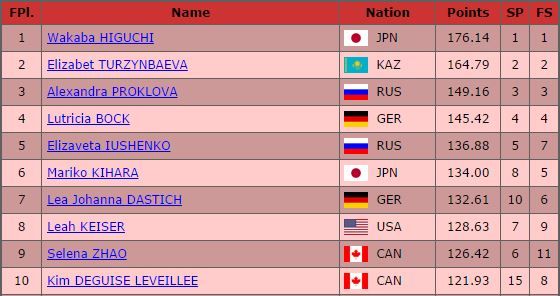 Wakaba Higuchi (JPN): 58.99 (SP) + 117.15 (FS) = 176.14 (1st)
I really love Wakaba's on ice personality. She looks like she's having a blast out there and that always helps to draw me into a performance. After her silver medal at JGP Czech Skate, I expected Wakaba to do well here; thankfully, she did not disappoint. Wakaba won both segments of the event comfortably with her only errors being edge calls (on her 3F in both programs) and a step out on a huge lutz in her FS. I love the flow and ease to her jumps and it's obvious the judges loved it too. With this gold medal Wakaba has earned herself a spot in the Final. Very well done!
Elizabet Turzynbaeva (KAZ): 55.31 (SP) + 109.48 (FS) = 164.79 (2nd)
Elizabet has gone from being a surprise medalist to a full-on medal threat. She had a little bit of trouble in the SP (3L-3T
<
) but her level 4 elements and strong presentation helped her to place 2nd. Elizabet started off well in the FS with a nice 3F but then took a hard fall on a 3Lz. Luckily, she refocused immediately and hit a nice 3S-3T as well as three more triples (including a 2A-3T). Elizabet placed 2nd in the FS and 2nd overall. As of now she has 24 points and is in that final JGPF spot but, after next week's final event, I'm doubtful she'll make the Final this year. Still, very solid skating from her this season. She should be proud.
Alexandra Proklova (RUS): 52.89 (SP) + 96.27 (FS) = 149.16 (3rd)
I was a little shocked to see Alexandra skate so poorly here. Apparently she's not 100% healed from her injury because despite her medal finish, this was very below standard for Alexandra. She struggled in both programs: 3F-3T
<
and 3Lz
<
(fall) in the SP, and two falls with under-rotations as well as a downgrade (3F-1L-3S(
<<
)) in her FS. It was tough to see her struggle so badly. I'm used to her being confident and consistent so this was a shocker for me. Alexandra will have to shake off these bad performances quickly because she's slated to compete at the final event this week.
As for the rest...
Lutricia Bock (GER; 145.42, 4th)
turned in two solid performances in front of her home crowd. It was nice to hear all of the cheers and support from the German fans. Lutricia has the content to compete (nice 3F-3T in the FS) but will need to work on getting her levels up and minimizing her under-rotations. Still, a great finish for her at home.
As always, you can watch all of the videos on the
ISU's YouTube channel
.
The final JGP event is here!
JGP Croatia Cup
takes place this week. It looks like this will be the most competitive JGP event of the season!
Karen Chen (USA)
,
Alexandra Proklova (RUS)
and
Maria Sotskova (RUS)
are set to duke this one out. A gold medal for either lady equals a trip to the Final and a silver medal (along with a good score) will likely earn a trip as well. Whoever places 3rd won't make it...this should be an interesting competition!