Skate America is the opening event for the Grand Prix series and is always a great one. This one was touted as "Gracie Gold versus the Russians" by most of the US media and in the end, that was more or less (mostly less) of what ended up happening...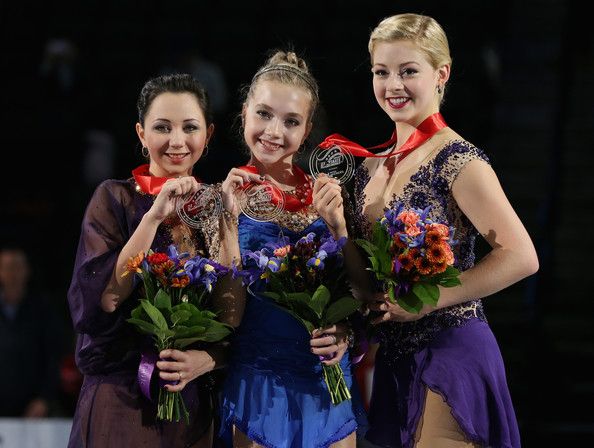 The Russian Reign has begun
The final results:
Elena Radionova (RUS): 65.57 (SP) + 129.90 (FS) = 195.47 (1st)
This is Elena's second year on the Grand Prix but it's her first year as a full senior. With senior worlds as a possibility this year, Elena needed to put her best foot forward to keep her at the top of that ridiculously long list of eligible Russians vying for those three coveted spots to Euros and worlds.
Elena opened up her Latin/JLo SP (tee hee) with a big 3Lz-3T. She hesitated slightly on the landing of the lutz but was able to tack a clean 3T to the end and complete the combination, though she did lose a bit in GOE (-0.30). Rumor was she'd been having issues adjusting to the smaller size of the rink. Being that she jumps on a curve and close to the boards anyway, her lutzes here weren't as clean as they usually are but she made it work. Elena finished out the rest of the program cleanly and, as always, sold every second of the program. I'm not too crazy about the music edits but I do think that the program plays to the fun and energetic side of her personality. It's not the best but I definitely think as a whole, it works for her. Elena placed 2nd in the SP and was in a great position to make a run at gold in the FS.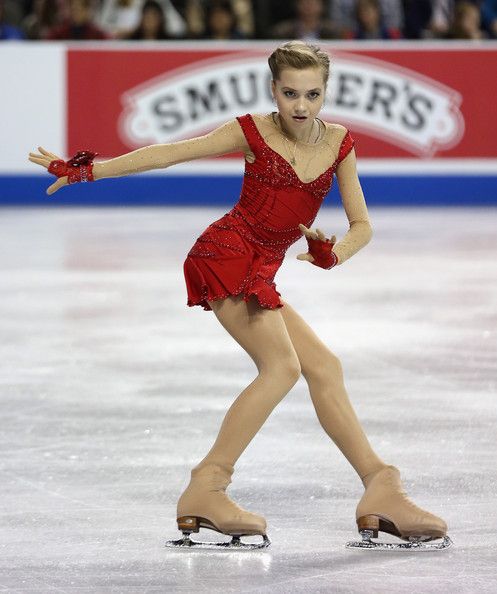 Look at that stare!
In addition to being a little dynamo on the ice, Elena is known for being a consistent and tough competitor. That consistency and mental toughness was on full display in her FS, where she hit on all seven of her triple jumps including two 3-3 combinations (3Lz-3T and 3L-1L-3S in the bonus). Elena is such a reliable skater. She knows what she needs to do, she stays focused and she just does it. Her lutzes continued to give her issues; both were a little scratchy but still clean. I'm not a huge fan of this "Rachmaninoff" FS. I don't think anyone but the Kween can do it justice, but I will say that from a performance standpoint, I enjoyed it (as I always do). Elena's PCS were 2nd highest of the night, and she had the highest TES of the segment. She placed 1st in the FS and moved into 1st overall to win her first GP title.
If anyone had any doubts about Elena's abilities, I think this competition was enough to put them to rest. She still has plenty of growing and improving to do...but that's what's so scary. She is amazing now but she has the ability to be even better. Her next event is the second to last event of the season, Trophee Eric Bompard. There we'll get to see Elena face off against Julia Lipnitskaya. Hopefully Julia will provide Elena with a bit more of a challenge than she got here.
Elizaveta Tuktamysheva (RUS): 67.41 (SP) + 122.21 (FS) = 189.62 (2nd)
After all of the great skating we saw from Liza T over the summer, I was curious to see whether her confidence and consistency would carry over into the Grand Prix.
Liza T opened up her SP with a beautiful 3T-3T that earned eight out of nine +2s in GOE which added 1.40 to her score. She followed that up with a gorgeous 3Lz that earned a total of five +2s in GOE which added 1.10 to her score. Same thing with her tano-2A; straight +2s across the board which added a full point to her score. When Liza T hits her jumps cleanly, they are of some of the best quality in the field. Lovely speed, air position, height, coverage and landing position...she has excellent technique on her jumps. All of her other elements were solid and she did a great job of selling her "Bolero" program to the audience. She won the SP and went into the FS with a 1.84 lead.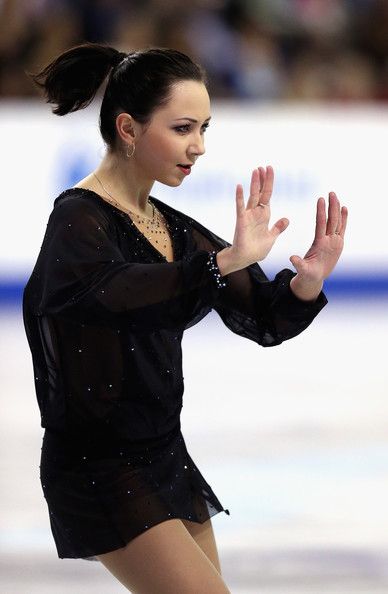 Liza T is back on her game
As I've said before, I really like Liza T's FS this year. It matches her style so well and really allows her personality to shine. Here, unfortunately, I don't know if the stress of competing at all of these events finally started to catch up with her or if she was a bit nervous, but this wasn't Liza T's best. She singled the 2L in her opening 3-jump combo and ended up doubling two other intended triples. It wasn't a disaster by any means but with Elena's stacked technical content and high score, Liza T didn't have much room for error. It wasn't her best but it was enough for her to place 2nd in the FS and 2nd overall. After two 4th place finishes last year, this silver medal shows that Liza T is back in the mix as a serious contender.
Hopefully the momentum from this competition will carry over into Liza T's next event. She's proven that she has the goods to be a gold medal threat again which should help her positioning in the judges' eyes. Her next event, Cup of China, is in two weeks. With any luck she'll be able to go home, rest up, and be ready to challenge for gold there too.
Gracie Gold (USA): 60.81 (SP) + 118.57 (FS) = 179.38 (3rd)
This was a big test for Gracie after losing to Liza T and Alena Leonova earlier in the season. She had yet to face off against Elena but most figured Gracie's maturity would help carry her over...
Gracie has gotten better at managing her nerves but they still cause her problems. She opened up her SP with her 3Lz-3T. The 3Lz was landed very tightly and though she was able to add the 3T on the end of it, she two-footed the landing which ended up costing her -1.60 points in GOE. Gracie recovered with a solid 3L, nice footwork and spins as well as a nice 2A. It looked like she'd pulled off a good program...until the last few seconds. She had a Mirai Nagasu-esque brain fart and messed up her combination spin which invalidated the element (zero points). That mistake cost her close to five points and left her in 3rd place. Frank's reaction to her missing the spin was hilarious; you can clearly see him saying, "Shiiiiit." We were all thinking it Frank...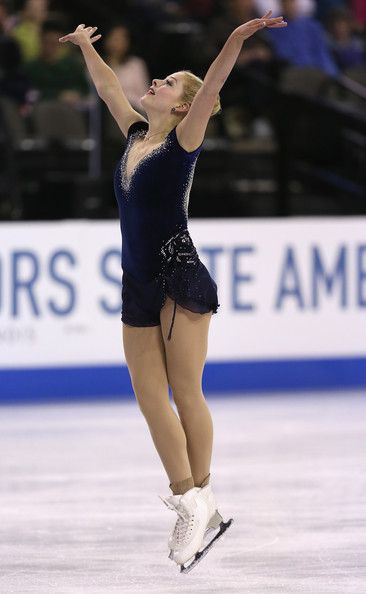 Still not Golden

I'm not really feeling this "Phantom" FS for Gracie. It's a bit boring and cookie-cutter but if that's the direction Frank and Lori insist Gracie goes...oh well. Gracie's nerves showed up again in the FS. She opened her program with a big 3Lz-3T but it was tight. That tightness carried into her next element, where she doubled the 3T in her 2A-3T combination which lost her quite a few points. An edge call on her 3F cost her points as well. (

Side note: Gracie's was the only

e

in the competition. Several

!

but only one

e

). Perhaps the biggest mistake she made was near the end: she doubled an intended 3S making the 3-jump combo 2S-2T-2T which exceeded the maximum amount of doubles allowed. That invalidated the entire combination which meant, like the missed spin in the SP, she netted zero points. Ouch. Overall Gracie left way too many points on the ice and had to settle for 3rd place in the FS and 3rd overall.

Losing to the Russians on home soil is not a good look for Gracie. Yes it's the beginning of the season and yes she made several silly mistakes that are easily correctable, but the fact of the matter is she lost badly here. Bronze isn't good enough. Gracie has yet to win an international title since becoming a senior. She has a nice long break between now and NHK Trophy, the final event of the season. Hopefully between now and then something will click. She'll need a gold medal there to even have a shot at making the Final. If she misses the Final this season...well, let's just hope she doesn't.

As for the rest...
Sammi Fierce!
Samantha Cesario (USA; 174.58, 4th):
I just adore this girl so much. Samantha is gutsy and sassy and full of fire and I love it! Her SP included a very ballsy attempt at a 3F-3L. She landed the combination cleanly but the 3L received a
<
. She finished out the rest of the program (which I loved by the way) very well and went into the FS in 4th place.
Sammi Fierce
(like
Sasha Fierce
) turned in a very solid performance of her fabulous revamped "Carmen" FS. Her opening combination got hit with under-rotation calls again (3L-1L(
<
)-3S(
<
)) but other than that, Samantha turned in a clean performance. In order to get her scores up Samantha needs to work on maxing her spin levels and adding a little more speed to her skating. Still, yet another top 5 finish for her. Go Sammi!!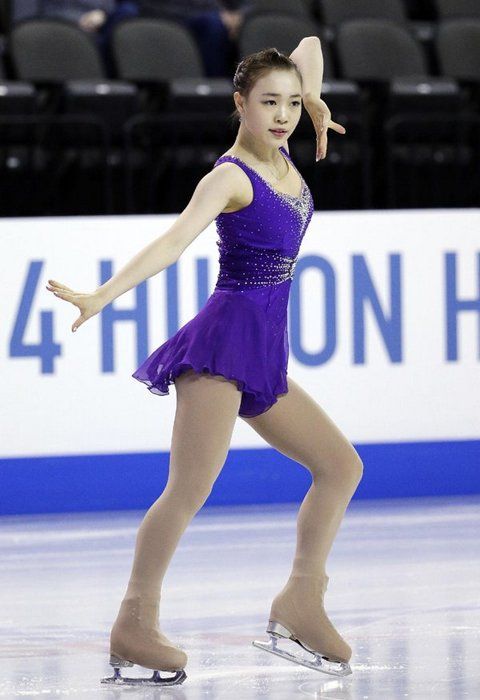 Top 5 in your first GP event, kudos!
So Youn Park (KOR; 170.43, 5th):
So Youn is such a lovely skater and I really think Korea has another contender on their hands. However, it's going to be very difficult for her to get a foothold in the standings if she can't get over her SP demons. She opened up with a lovely 3S-3T and then stepped out of her 3Lz which left her in 5th place. I thought So Youn's FS was lovely and she did a great job with the jumps (including a 3S-3T and 2A-3T). Even though she fell on her 3L (
<<
), she gave a very strong performance and maintained her 5th place spot overall. Top 5 in her first GP event...not too shabby!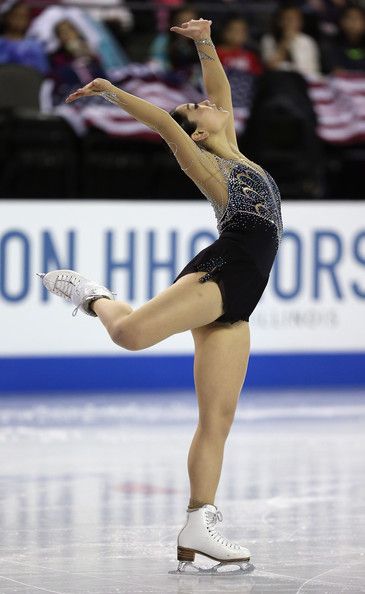 Under-rotations are killing her
Mirai Nagasu (USA; 158.21, 6th):
*sigh*
I think she psyched herself out going for the 3F-3T in the SP and ended up
eating it...
that was an ugly fall. Mirai finished the SP in second to last place. Like at Japan Open, Mirai really attacked and went for everything in the FS. She finally landed that 3S and went for all of the other hard content as well (3F-3T, 2A-3T)...but again, the
<
calls destroyed her. 4 out of 7 triples (and one 2L) received an under-rotation call. The low TES coupled with the extremely low PCS (only 52+) has me very worried about where Mirai will end up this season. The judges are starting to give up on her. She and Tom Z have to do something about the under-rotation issues...
fast
.
Lovely SP, meh FS
Elene Gedevanishvili (GEO; 158.10, 7th):
Elene's SP was very pleasant (except for those damn gloves) and it was great to see her skate cleanly. I don't think her 1997 level of technical content will take her far (3Lz-2T, 3T) but it did enough to get her into the final group. While I think she looked great in her FS unitard, I was
NOT
feeling her "Burlesque" program at all. Unless you're doing an exhibition, that music is not good for skating. She had two lovely lutzes but just not enough content overall.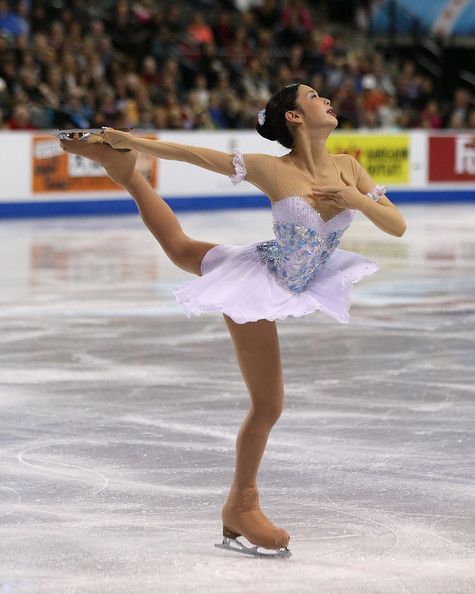 Such a lovely skater
Haruka Imai (JPN; 157.97, 8th):
I really liked her SP to "Malaguena" (with lyrics!) and her 3S-3T was excellent. Unfortunately she splatted on her 3L and that hurt her score. Haruka came back and delivered a beautiful FS. Her opening 2A-3T was hit with
<
as was a 3L, but overall it was a lovely performance. Haruka is still lacking the content she needs to be competitive at the top (no lutz, only one flip) but she's really lovely to watch.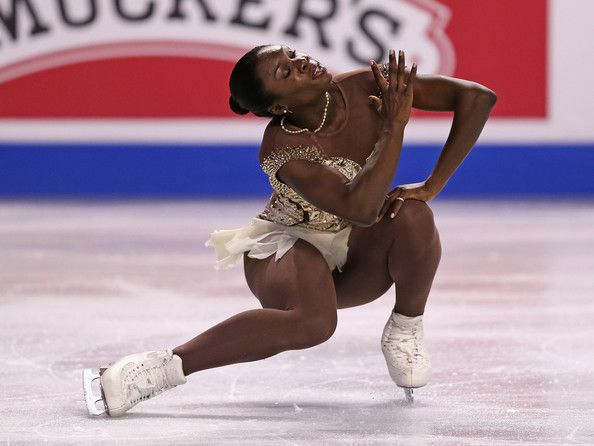 She had the crowd in both performances
Mae Berenice Meite (FRA; 152.71, 9th):
I really feel like Mae got hosed in the SP. No, her style isn't the most appealing or aesthetically pleasing BUT it is her style and she owns it. She had a strong SP but placed rather low in the standings. Mae struggled a bit in the FS but definitely seemed to have the crowd behind her. In order to get the judges behind her she will need to continue to work on her refinement and polish.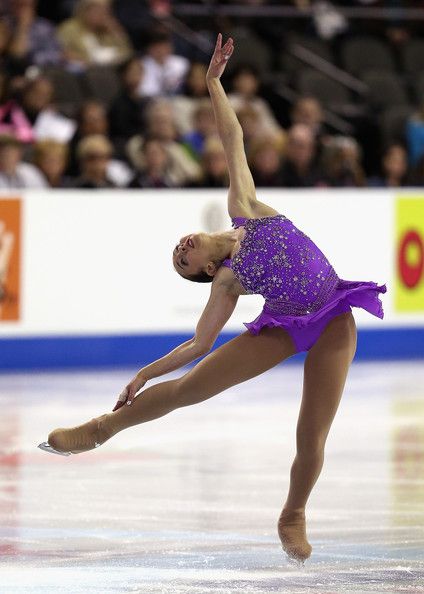 Picture perfect spin
Brooklee Han (AUS; 150.37, 10th):
Too many calls on her elements in the SP (
!
on the 3Lz,
<
on the 3L) left her all the way in last place. She fought back with a decent FS but as of now, she's just not doing enough to really make a splash at this level. I absolutely love her spins though.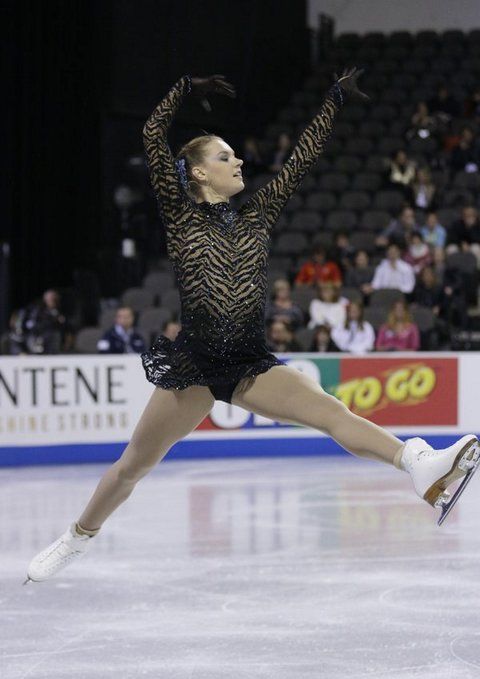 Same dress from last season?
Natalia Popova (UKR; 148.15):
Natalia is a decent skater but there just isn't that much about her that stands out. I very rarely remember her skating. She had a decent SP by her standards and was able to skate a decent (albeit) somewhat slow FS as well, but she's just not all that memorable for me.
So that's one competition down and five to go. This week is
Skate Canada
.
Ashley Wagner (USA), Satoko Miyahara (JPN), Anna Pogorilaya (RUS)
and
Alena Leonova (RUS)
are the top names battling for gold in this one. We'll also see
Brooklee Han (AUS)
in her second event, as well as the season debuts of
Alaine Chartrand (CAN), Veronik Mallet (CAN), Julianne Seguin (CAN), Rika Hongo (JPN), Hae Jin Kim (KOR), Viktoria Helgesson (SWE)
and
Courtney Hicks (USA).
Who do you think will win gold at this week's Skate Canada? Make sure to vote in the poll!