Things are starting to heat up! Lots of skating to cover again this week. The biggest pre-season competition took place this weekend (Japan Open) as well as another Senior B event (Ondrej Nepela Trophy)
and
we had another JGP event this week. Let's get to it...
Team Japan crushed the competition!
The final team result:
The ladies results: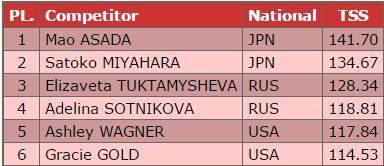 Mao Asada (JPN):
It joys the figure skating purest in me to see Mao Asada competing again. I watch her and this deep sense of contentment settles over me and I think to myself, "
This...this right here...this is why I love figure skating."
And
this
is what has been missing for the past year. Last season we had to choose between technical brilliance and lovely skating; no one skater could give us both. With Mao you get it all rolled into one: the technical proficiency (7 triples here including a clean 3A)
and
the aesthetics that make skating beautiful. I didn't realize until watching this just how much I missed Mao last year. She brings something to this sport that none of the other ladies in this field can.
I did not expect her to debut so strongly here. I'm thoroughly and completely impressed with what she did: 7 triples including that 3A (of which she is still the Queen of until further notice). She opened with it and it was very good. It wasn't as solid as some of the practice videos (there was a slight swing on the landing) but it was backwards and it was clean. No 3-3 this time but with the 3A off the top and 6 other triples (including a very nice 2A-3T in the bonus), it wasn't needed. Mao's "Madame Butterfly" program is classic Mao: light, soft, not overdone and very well-suited to Mao's style. I love the dress and I think she looked beautiful. I'm so happy she's back...
This was an easy win for Mao and if she skates like this all season long, all of them will be easy wins. Of course the scores at Japan Open are always a bit inflated but there's no denying she kicked ass here. If anyone had any doubts about her coming back, she just erased them.
Satoko Miyahara (JPN):
I just love this girl. Say what you will about her small jumps but she goes for the tough content (highest base value of the field) and she lands it. Her programs are beautifully choreographed and she delivers them with polish and finesse. Her only real weakness is the height of her jumps. Fact is she checks every single box in the PCS...yet that's where the judges choose to lowball her. Given her skills and the quality of her overall skating, Satoko should be closer to 64-65+ in PCS...yet here she only got 62+ which is likely around what she'll receive on the GP. Regardless of the low PCS, Satoko turned in a pristine performance of her FS with 7 triple jumps including a 3Lz-3T and 2A-3T. The scores were rather generous compared to what she usually sees outside of Japan but she definitely deserved the 2nd place finish overall. She was wonderful.
Satoko has her work cut out for her this season. Mao has resumed her spot as the #1 Japanese lady (as expected) which means Satoko is going to need to deliver the way she did here in order to keep herself afloat in the standings. She has the content but the discrepancy in PCS is what will likely hurt her the most this season.
Elizaveta Tuktamysheva (RUS):
This wasn't an excellent first outing for Liza but it was pretty solid. I admire her for going for the 3A but she's gotta work on a better setup for it than what she has...at least Mao attempts to disguise her setup. Liza just stalks it in a circle around the ice. Must do better...The jumps were decent here but not great (fall on the 3A and no 3-3) and that's fine. It's the beginning of the season and we know she's good for it. I'm not worried about the jumps so much as I'm worried about the program. In general, I find this FS to be lacking. The flair and fun of last year's program isn't here to distract me this season so all I see is the large number of crossovers and minimal transitions as Liza goes from one end of the rink to the other doing jumps. There's just not much else going on. I do like all of the energy she gives at the end during the choreographic sequence...but I just can't get behind programs that only interest me for the last 30 seconds and, as of now, that's all this program is: an energetic choreo sequence at the end. I expect more from the world champion...
Liza T is going to have to dig deep this year. I don't know if she'll be able to win it all based solely on her jumps this season, not with Mao back in the picture and skating strongly.
Adelina Sotnikova (RUS):
I will admit, I was expecting to see Adelina come out and tank spectacularly here. Turns out, she wasn't terrible. She wasn't
good
per se, but she wasn't terrible either. It's obvious Adelina still isn't at the technical level she needs to be at in order to really compete in this field, but she's not that far away either. The program isn't all that great but the improvements to Adelina's presentation definitely help to elevate it. There is more control, fluidity and polish to her skating now and, judging by her PCS, the judges definitely see it (2nd highest PCS). The jumps she landed were nicely done and her non-jump elements were solid too (level 3s and 4s). Overall, to say she hasn't competed since Sochi and is coming off of an injury a few weeks ago, Adelina wasn't that bad. Good for her...
We won't see Adelina again until Rostelecom Cup which means she has about 7 weeks or so to get her technical content up. It's clear from her favorable PCS here (and they
were not
in Russia, mind you) that she's still in good standing with the judges which means if she can add the content in, she's still very much a front-runner in this field.
Ashley Wagner (USA):
I'm not quite sure what happened here. More than anything it looks like Ashley lost a lot of points in base value thanks to under-rotations and lower levels on her non-jump elements (level 2s and 3s). In addition to that, I do think the judges were rather stingy to Ashley. They were not very generous with the +GOE, they were harsh with the -GOE, and they were definitely stingy when it came to her PCS. 62+ is pretty low compared to what she usually receives. I felt she deserved more in PE and IN. The fall on the 3L-1L-3S wasn't good but she still landed 5 triples and, though she didn't sell it as strongly as she usually does, she did give a solid performance. I think she deserved around 120-121+ rather than what she got.
That's gotta sting. Adelina beat her with only 4 triples and Gracie did 3 triples and was only about 3 points behind her. The good news is Ashley is probably
seething
right now which means she's going to come out looking to kick ass in a few weeks. If there is a silver lining, that's going to be it.
Gracie Gold (USA):
After all of the great things we've heard and the practice videos of the clean run-throughs of this program, it was very disappointing to see Gracie come out and deliver this kind of performance. I like this "Firebird" FS quite a bit. I think music edits are good, the choreography is nice and suits Gracie's style well, she looks lovely in the dress...finally, she's got the whole package. The only thing missing is the jumps. Gracie fell on both of her big jumping passes (3Lz-3T and 2A-3T), singled her flip and doubled her salchow. All in all she only landed 3 triples cleanly. I really don't know what else I can say that hasn't been said already. It must be so frustrating to know you can do something flawlessly in practice (we've all seen the video) and yet you cannot replicate it when it counts. I'd like to chalk this up to "debut jitters" but I know this isn't her first or even second competition of the season. Besides, this is Gracie's 3rd year as a senior so it's not like she doesn't know what to expect. It's just her nerves...it's always her nerves. She can't seem to get them under control.
I think I'm actually starting to pity her...
You can watch all of the videos on
Iceberg Up's YouTube channel
.
2015 Ondrej Nepela Trophy
Final results:
Evgenia Medvedeva (RUS): 63.68 (SP) + 120.26 (FS) = 183.94 (1st)
Welcome to the senior level newbie! Evgenia's first foray on the senior level was a successful one. Her SP was solid as usual (3F-3T, 2A & 3L all in the bonus) and I was happy to see the judges not go overboard with the +GOE or her PCS. I'm sure all of that will come in good time but for now, it was nice to see her receive a
non-ridiculous
solid score. Evgenia's FS was very strong as well even though she lost points on a slip and fall. She was setting up for her 3F and before she could pick in her feet just slid from under her. Luckily she jumped up and kept going like nothing ever happened. Evgenia finished 2nd in the FS and 1st overall. I'm expecting good things from her this season and this was a great start.
Anna Pogorilaya (RUS): 53.01 (SP) + 125.37 (FS) = 178.38 (2nd)
Anna's SP was a disaster. She had two hard and painful looking wipe out falls on her 3Lz combo and her 3L. Whenever Anna falls nowadays, she splays and slides all over the place. To her credit, she got up and kept going. I like the packaging of her SP: good music, nice dress and the choreography is good too. Anna looks more controlled (specifically in her upper body) and it helps her overall presentation. She finished the SP in 9th place but, thankfully, she came back in the FS. With the exception of yet another wipe out fall on her 3F at the end of the program, everything else was solid. I like Anna's "Scheherazade" FS and she did a good job with it here. She won the FS and leapfrogged from 9th to finish 2nd overall.
Maria Artemieva (RUS): 61.21 (SP) + 116.00 (FS) = 177.21 (3rd)
Maria played it safe in both programs and it paid off. She opened her SP with a nice 3T-3T and followed it up with a 3Lz. I liked Maria's "At Last" SP. She's not as exciting to watch as some of the other Russian ladies but she's no slouch either. Maria's FS was not as technically difficult but she still executed 5 clean triple jumps and earned level 4s on all of her non-jump elements. She finished 3rd in the FS and moved up to finish 3rd overall. Nicely done.
As for the rest...
Gabrielle Daleman (CAN; 171.72, 4th):
Gabrielle had two solid performances here. Slowly but surely she's getting better at controlling her jumps but she still needs to work on her rotations. I like both of her programs, especially her FS. Lori Nichol does a good job of giving Gabrielle programs that complement her style of skating.
A few other notables here:
Yuka Nagai (JPN)
placed
6th
with 165.17 and
Joshi Helgesson (SWE)
earned 161.07 and placed
7th
. I'm worried about
Mariah Bell (USA; 135.43, 13th)
...check out the videos on
Iceberg Up's YouTube channel
.
Final results:
Yuna Shiraiwa (JPN): 62.51 (SP) + 124.29 (FS) = 186.80 (1st)
Yuna's win at JGP Colorado was a bit of surprise for me. I wasn't sure if that was a particularly strong event for her or if it's just what she does...apparently, it's just what she does. Yuna had another very strong competition here, landing all of her jumps cleanly (+GOE on all of them) and performing well. This second gold medal gives her 30 points and qualifies her for the Final. Very well done!
Alisa Fedichkina (RUS): 66.16 (SP) + 120.22 (FS) = 186.38 (2nd)
I was so excited to see Alisa again. I just love her SP this season and it was wonderful to see her nail it again. Her "Cats" FS is really cute and she had a nearly perfect performance. She doubled her 3L and landed on two feet. Alisa lost gold here by only 0.42 points; had she just landed the 2L cleanly, she likely wouldn't have lost the 0.73 that two-footed landing cost her and she would have won gold. As of now, Alisa has a spot in the Final but whether or not she keeps that spot is dependent the results of next week's competition
Yura Matsuda (JPN): 65.71 (SP) + 113.27 (FS) = 178.98 (3rd)
Yura has been around since 2013 but this is the first time she's broken through to the podium. Her jumps are not big but boy are they mighty! Yura executed a 3L-3L in the SP that earned her +1.20 in GOE and helped her place 2nd in the SP. A fall and edge call on her lutz lost her points in the FS and she had to settle for 3rd. Yura's jumps are very Satoko-esque (i.e. they rely on quick rotation rather than height) so we'll have to see how she holds up. Good job here though!
As for the rest...
Brynne McIssac (USA; 162.25, 4th):
Very nice debut for Brynne. She struggled in the SP and placed 7th but came back much stronger in the FS, hitting 5 triples and placing 4th in the segment to move into 4th overall.
Tessa Hong (USA; 152.62, 6th):
Tessa started off roughly in the SP but turned in a better FS. She is absolutely beautiful to watch; lots of maturity, poise and polish in her skating...but those jumps need work. The good news is she has time and hopefully she'll continue to grow.
Serafima Sakhanovich (RUS; 152.46, 7th):
I was really shocked by this. I expected Serafima to be a front-runner here but she was off in both programs. Her Rippon-3F was really nice and earned a ton of +GOE in the SP (+1.50) but she missed the 3Lz combo. She finished 4th in the SP but fell apart in the FS: 3 falls, an edge call, two doubled jumps and a time violation...it was a mess.
As usual, the videos are
all here
.
Did this season fly by or what? We're down to the last event! The final event of the 2015 Junior Grand Prix season is
JGP Croatia Cup
which takes place in Zagreb, Croatia.
Serafima Sakhanovich (RUS)
will get a chance to erase this week's bad competition with a better one but regardless of where she places, she won't make the Final this year. However, a trip to the Final is still on the line for a few ladies. We'll see
Marin Honda (JPN), Diana Pervushkina (RUS), Wakaba Higuchi (JPN)
and
Paige Rydberg (USA)
and all of these ladies have a shot at making the Final.
That's it for now! Ta!