You know the season has officially begun when you find yourself scratching your head over the scores...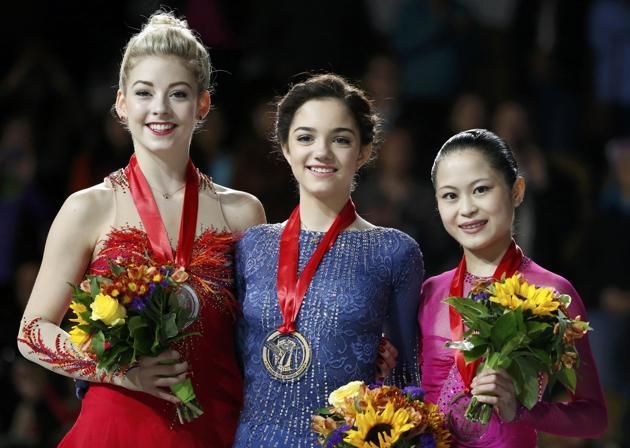 A new threat emerges
Final results:
Evgenia Medvedeva (RUS): 70.92 (SP) + 135.09 (FS) = 206.01
It seems like there's always some new Russian phenom to talk about. I think people will be talking about this one for a while...
Evgenia had a very strong debut and it all started with her SP. She is the master when it comes to milking the system and she squeezed every point available out of this program: all three jumping passes (3F-3T, 2A, 3L) were crammed into roughly 30 seconds in the bonus half of the program; she used the tano feature on her combo and 2A (it definitely boosted her GOE); and all of her non-jump elements were level 4. I can't even be mad at her. She knows how to work the system. Shameless point-whoring aside, Evgenia is genuinely a lovely skater. She pays attention to the music, her movements are complete and expressive...she's a strong overall skater. However, I don't know if the judges got caught in the hype or were smoking something but that 70+ SP score was just a bit too much. More on that in a minute...
Welcome to the senior level...newbie?
Aside from a surprise fall on her 2A, Evgenia was great in the FS. Again, I enjoyed her program and her performance. Her style is odd and a little quirky even, but it works for her. The jumps were solid: 3F-3T and 3Lz to start (she's a known flutzer but no call) and then 4 triples including a 3S-3T-2T in the bonus of the program. It was a great debut no doubt, but I still take issue with the
gargantuanly massive
scores the judges came up with. 135+ including 67+ in PCS, which is unheard of for a debuting senior. Mid to high 8s and even
9s
!
I've never seen the judges bypass the customary "PCS hazing" and jump straight to world champion level PCS for a debuting senior. Ever. Judging by the scores you'd think Evgenia had been competing at this level
successfully
for a long time. Even with the inflated scores Evgenia placed 2nd in the FS but her lead from the SP held up and won her the gold medal.
While I fully agree that Evgenia was amazing and deserved the win here, those scores were flat out
ridiculous
. If this is the kind of shitty scoring we can look forward to, it's not going to be a good season...
Gracie Gold (USA): 65.39 (SP) + 137.41(FS) = 202.80
Gracie came to this event looking to make up for her less than stellar performance last year. And with only one Russian in the way this time, she had a great shot...
All in all, this competition was another split for Gracie: one good program, one not so good program. However, the
not so good program
turned out not to be that bad. I like Gracie's SP this year and other than a total blond moment on her flip, I was pretty impressed with what she did. She opened with a great 3Lz-3T (+1.30) and it wasn't too close to the boards this time (yay!). The spins were nice and everything was floating along until the flip. I'm not sure how smart it is to go for the 3F; it might be better to stick with the loop. Gracie doubled the flip which resulted in zero points (the solo jump must be a triple) which really hurt her and made the difference between her finishing 2nd in the SP behind Medvedeva. Even with the missed jump Gracie gave more energy and pizazz to her program which was great to see. Her movements were sharper and she seemed to be connecting to the audience a bit more.
The FS has always been a tough test for Gracie. Luckily she managed to keep it together here. I really like this "Firebird" FS and she did a good job from a technical standpoint. A few jumps looked a little tight but she pulled off everything including a big 3Lz-3T (+1.40) and a 2A-3T-2T (+1.20) in the bonus. The only mistake was a doubled salchow at the end. The jumps were solid but I do want to see more from Gracie in the performance department. The choreography is strong and does 90% of the work for her but she needs to give that extra 10%. More face, more attitude...we saw it towards the end (as always) but she has to work on bringing it out for the duration of the performance. Gracie scored a massive 137+ (don't quite agree with her PCS being in the 68+ range either) and she won the FS. Unfortunately, it wasn't enough to overcome the deficit from the SP and she had to settle for silver.
Gracie seems to be off to a stronger start this season which is very good to see. I've always been a tough critic of Gracie but I will say I'm proud of what she did here and the improvements she's made. Hopefully she'll build on this performance and be even stronger at her next event.
Satoko Miyahara (JPN): 65.12 (SP) + 122.95 (FS) = 188.07
Sigh
. Oh Satoko...will they
ever
give you your due?
So I'm pretty sure this SP is going to be on my favorites list this year. This program is all kinds of fabulous and man oh man, did Satoko
kill
it here. The jumps are still small (that's not going to change) and they weren't as solid here as they usually are; she was a little swingy on the 3Lz-3T and she lost points on the 3F (under-rotated and dinged (
!
)). Still, this was the program of the night for me. She's doing a much better job of engaging the judges/audience and really selling her performance outward. There are a few moments in the choreography where she stops and just stares down the judges...I effing love it! The spins were gorgeous, the step sequence was lovely...I love this program. The judges were fair to her in PCS (31.98); however, having her just 0.72 above Evgenia was unfair in my opinion. Satoko finished 3rd in the SP.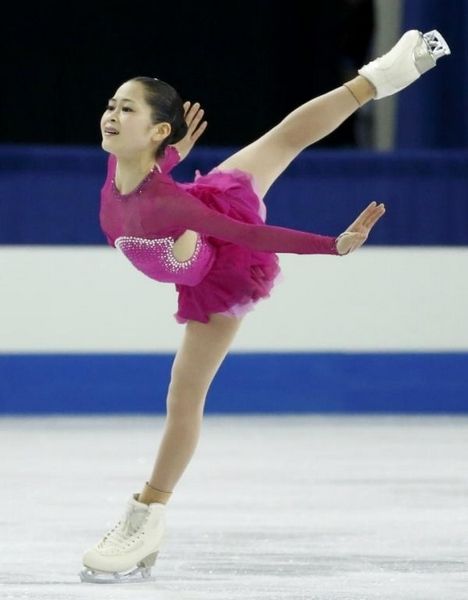 Line, extension, back position...gorgeous!
I love Satoko's FS and she definitely deserves some extra GOE for pulling off that fuchsia dress so perfectly. She did have a few issues here, however. She received another under-rotation on her 3F(
!
) and ended up falling on her second 3Lz(
<
) which cost her quite a few points. She also lost points on her step sequence (only level 2) and her flying camel spin (level 3 instead of 4). In all honesty, there was no way in hell she was going to catch Evgenia or Gracie so in the bigger scheme of things, it didn't matter. Even with the mistakes she was captivating and lovely to watch. Satoko finished 3rd in the FS and 3rd overall to win the bronze medal.
It's going to be a battle for Satoko this year to get the respect she deserves from the judges. With that being the case, she's got to clean up her under-rotation issues ASAP. She can't give the judges any extra excuses to keep her down.
As for the rest...
"Did I just place 4th at my first event?"
Elizabet Turzynbaeva (KAZ; 178.56, 4th):
Elizabet struggled a little in the SP with issues on her solo jump and her combo. She placed 7th in the SP but was able to fight back with a much stronger FS. She so tiny but there is something about Elizabet's skating that has me thinking she could be something special in the next few years. There's an innate grace about her that needs to be honed and polished and she really needs to work on cleaning up her jumps now before puberty gets her because they are kinda ugly right now...but I could see her being a contender down the road. She placed 4th in the FS and moved up to finish 4th overall.
Top 5 in her debut. Not bad at all...
Karen Chen (USA; 172.54, 5th):
Karen had a decent debut at this event. Her SP was solid though not perfect. She opened with a huge 3Lz-3T but lost points on the back end of the combo (under-rotation). Her spiral was the highlight of the program and received a very nice round of applause from the audience as did her layback spin. Karen finished in 4th place in the SP. The FS wasn't as strong as it needed to be. A step out and two falls lost her a ton of points and killed any shot she had of moving up. I was hoping Karen would be able to debut on the senior level and be an immediate threat, but it's looking like she's going to need a year or two before she's ready to contend...and that's fine. A top 5 finish at your first senior event is plenty to celebrate about.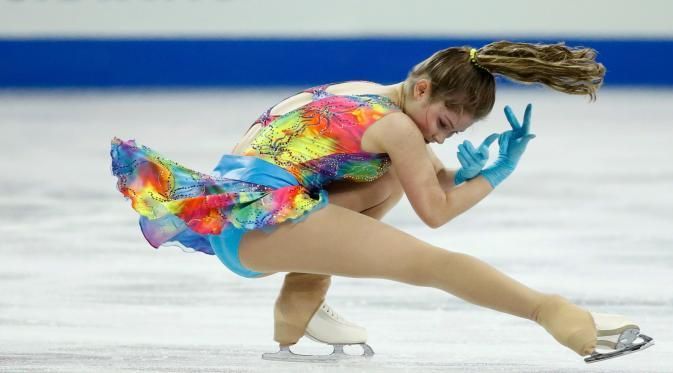 It's still not working...
Julia Lipnitskaya (RUS; 170.63, 6th):
Yet another disappointing outing for Julia. I'm still not a fan of Julia's Elvis SP but at least she did a slightly better job of selling it here. Unfortunately, there were still some issues with the jumps. Her 3T-3T was solid but she under-rotated her 3F and lost points there. Additionally, Julia's first three elements are all jumps which means she gives herself no opportunity for bonus points. Not the smartest strategy. She finished 5th in the SP. The FS was very weak: popped jump, two under-rotations, and only 4 triples total. Julia is still struggling. With a 6th place finish here (her first time missing the podium at a GP event) she has no shot at the Final. Something needs to be done quickly because whatever they have going on right now isn't working.
Nicole Rajicova (SVK; 167.32, 7th):
I have to give her a shout out. After finishing last in the SP, Nicole came back and totally kicked ass in her FS, nailing all 6 of her triples and finishing 5th in the FS to move up to 7th overall. Very nicely done!
Up next is
Skate Canada
which takes place this week in Lethbridge, AB, Canada. The headliners at this event will be the world champion E
lizaveta Tuktamysheva (RUS), Ashley Wagner (USA), Polina Edmunds (USA)
and also
Kaetlyn Osmond (CAN)
will make her return to the Grand Prix. We'll also see
Alena Leonova (RUS), Elizabet Turzynbaeva (KAZ), Kanako Murakami (JPN), Joshi Helgesson (SWE), Yuka Nagai (JPN), Gabrielle Daleman (CAN), Veronik Mallet (CAN)
and
Isabelle Olsson (SWE)
.
Time for another poll! Who will win gold at Skate Canada? Make sure to vote!