This went from being one of the worst competitions I'd seen since last year's NHK Trophy to rather interesting at the end. Put on your reading glasses and get comfortable. I have
a lot
to say about this one...
Gracie Gold: 62.50 (SP) + 147.96 (FS) = 210.46 (1st)
We get a lot of big talk from Gracie when it comes to being that warrior and skating with fire and being that champion she knows she can be. But that's all it is...talk. Very rarely do her actions match her words. For once, Gracie managed to walk it like she talked it...
She didn't do much walking the SP though. Ashley skated right before her so Gracie knew that the door was wide open for her to waltz through and take the lead. Unfortunately for Gracie, she is rarely able to grab the low-hanging fruit. Rather than seize the opportunity to put the competition away early, Gracie opened up her SP with a popped lutz. No 3-3 combination. She was able to finish out the rest of the program cleanly, hitting her 3F and adding a 2T for the combo points, but the damage was done. Somehow she managed to place 2nd despite receiving no points for an entire element. Ahh...U.S. scoring. Ain't it great? Gracie ended up in a virtual tie for 2nd place with Ashley and Tyler Pierce, nearly 8 points behind 1st place.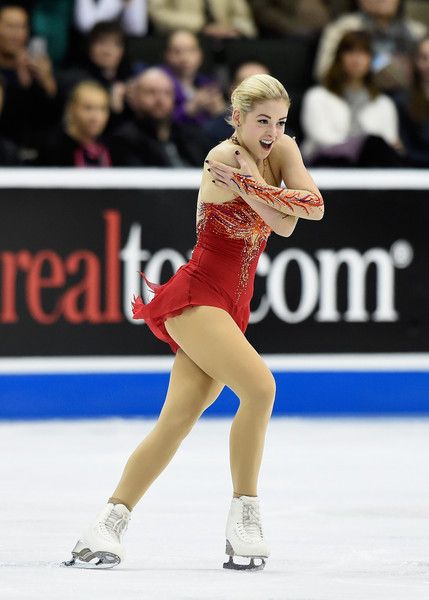 This Firebird's got some fire!
Gracie seems to be cursed. She's always the skater who gets stuck following an amazing performance. She had to follow Adelina Sotnikova's gold winning FS in 2014 in Sochi; Elizaveta Tuktamysheva's historic SP from last year's Worlds; Ashley's epic FS at nationals last year...she's always left skating after someone has brought the house down. That was the case for her here again. Polina had just taken the lead with a clean FS and the biggest score of the event. Gracie doesn't usually handle the pressure well so I figured she'd do her regular 1 to 2 error performance and walk away with a silver medal. What I did not expect was for Ms. Gold to put on her blinders and go for broke...but that's what she did. I've never seen her so focused and calm. There was an intense and quiet fire to her performance that really worked well with the program. When Gracie skates like that it's easy to imagine her winning Worlds this year. 7 triple jumps including a nice 3Lz-3T and 2A-3T-2T in the bonus, no mistakes, no misses... She really shocked me! Gracie finally managed to rise to the occasion and deliver flawlessly. After that display the judges did what they needed to do to make sure the title went to her. I felt Gracie's score was inflated by about 7 or 8 points (essentially, the deficit from the SP) but I'm not complaining. I'll be honest: I'd much rather see Gracie as the flagship skater for the U.S. at Worlds this year than Polina. Sorry, but it's the truth...
I'm very happy to see Gracie fight back with such a great FS. However, she's still in the same position she always find herself in: a 50/50 split on the competition. One half of the competition was weak, the other half was strong. She can't win a world medal like that. Gracie needs be present for more than just half of the competition. This win gives her priceless momentum and she needs to keep it going with some convincing skating at Four Continents next month. If she can build on these performances, she'll be in a prime position heading into Worlds. This year is the perfect storm for her to break the No Medal curse. Gracie will be skating as the U.S. champion...on home ice...
near home
(she was born in the Boston area). Gold medal. On a platter. All she needs to do is take it.
Polina Edmunds: 70.19 (SP) + 137.32 (FS) = 207.51 (2nd)
For the last couple of years this event has been The Ashley v. Gracie Show. No one really pays that much attention to Polina. Even though she's an Olympian and national medalist, she flies under the radar. Next to Ashley and Gracie, Polina doesn't stand out much. I don't think it's anything she does...she just doesn't pull focus the way those two do. Sometimes it hurts her but other times, it's an advantage.
It definitely worked to her advantage in the SP. Polina went out and nailed her "Moonlight Sonata" SP without a hitch. Her 3Lz-3T was solid, as was her 3F and 2A. Polina has suffered from under-rotations on the international level this season but she got no calls here. After the complete and utter splatfest that was the competition prior to her performance, finally seeing someone nail a program was a much needed relief. Polina posted a solid 70+ score that I was sure would hold up for the top 3 but ended up winning the segment thanks to some truly disappointing performances from Ashley and Gracie.
Polina's SP is wonderful. Great music, lovely choreography, great dress...it's the best she's ever had. Sadly, I love her SP as much as I despise her FS. This "Gone With the Wind" FS is pure melatonin. It's just not a captivating or interesting program at all. In addition to that she decided to go for ringlet curls complete with a little bow as her hairstyle for these championships. All together it was just a bunch of ugh. Boring program and styling aside, Polina threw down and skated cleanly. I seriously doubt she'll get the calls on some of those rotations internationally, but the judges here thought she did just fine. She still lacks the speed, power and charisma that make other skaters stand out, but at least she has that mental focus to get it done when it's on the line. Polina put up a big number and placed first with just Gracie left to skate. I totally thought the gold medal was hers but, shockingly, Gracie decided to skate like she wanted to win. With Worlds in Boston this year, you know the USFSA had Ashley or Gracie earmarked as champion; Polina wasn't on that shortlist. So when Gracie delivered, the judges knew who they wanted on top. Sadly for Polina, that meant despite being the only one to turn in two clean performances, she had to settle for silver.

I wouldn't be shocked if Polina was a little pissed with her silver medal. On paper, she should have beaten Gracie. Unfortunately for Polina, she doesn't have that star quality that Gracie and Ashley just ooze. Even at the press conference all of the questions were directed to Gracie and Ashley. Polina will likely never be a media darling, but she can kick some ass if she stays focused and continues to work on her speed, power and style. She has something in spades that Gracie and Ashley lack: killer instincts. Polina can learn to skate faster and she can develop her style...but those intangible competitive traits can't really be taught. You either have it or you don't. Polina has it. They don't.




Ashley Wagner: 62.41 (SP) + 135.47 (FS) = 197.88 (3rd)
If there's one thing we've learned about Ashley over the years it's that she's a fighter. It's one of the things I truly admire about her. She'll get knocked down but she will always fight her way back. However, based on how frequently she finds herself "down," I'm starting to wonder if that's where she prefers to be.
Ashley took the ice with her trademark confident smirk and it looked like she was ready to kick some ass. Unfortunately about 30 seconds into her program she was
on
her ass and my hopes of seeing her shimmy away with the lead disappeared. Kudos to her for going for the combo rather than bailing; however, this was a case where it didn't pay off. Had she bailed and went for a clean double instead of a downgraded triple, she'd have probably ended up with about 3 extra points when you factor in the points she lost for the downgrade, -GOE and the fall. To her credit, she hopped right back up and kept on kicking. Despite the fall, Ashley's "Hip Hip Chin Chin" performance was by far the most entertaining of the night. She didn't drop the performance at all and was able to nail the rest of her program without error. Still the damage was done. Ashley finished 4th in the SP, in a prime position to move up but still more than 7 points off of the lead.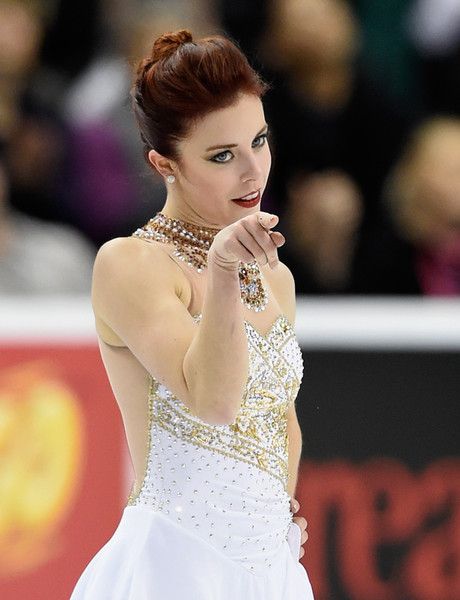 That damn lutz...
I honestly think Ashley was relieved to not be leading after the SP. Leads come with pressure and she doesn't hold up well under that kind of pressure. Ashley skates better when she's fighting for something rather than to hold on to something. It was the GPF all over again. Ashley took the ice looking focused and determined. She nailed the biggest 3F-3T we've seen all year and her 3L-1L-3S was excellent as well. Her one error came at the end when she popped her final jump. She lost focus for just an instant and it cost her. The pop didn't take anything away but there's something about hitting the final jump in a perfect program that really blows the roof of the building. Ashley wasn't able to blow the roof off...it just shook a bit. But, oh man, was her coach Rafael Arutunian
pissed
! He stared
icy daggers of
ultimate death
at Ashley as she got off of the ice. Yikes. That guy is terrifying. Missing the lutz hurt Ashley a bit but, in the end, I don't believe it would have made much of a difference. Even with an extra 6 points or so, she wouldn't have been able to overtake Polina's lead from the SP. Overall it wasn't enough and the champion (now former) had to settle for a bronze medal.
It sucks that Ashley wasn't able to defend her title and have another back-to-back run. She has passed that heavy crown over to Gracie who is now responsible for carrying it into Worlds this year. Everyone will be looking to Gracie to be #1 and expecting her to be the best. Come to think of it, Ashley missing this title may be the best thing ever. By taking herself out of the spotlight she's right where she wants to be...coming from behind. Well played Ms. Wagner, well played.
As for the rest...
Mirai Nagasu (188.84, 4th): I am the first one to complain about how stupid and pointless a pewter medal is but I am so damn happy Mirai won it this year! I swear, this girl has some of the worst luck when it comes to this event. In 2014 she was left off of the team; last year she fell and injured her knee; and this year she tore her boot in the SP. Just her luck...but thankfully, it didn't affect her performance much. Other than doubling the back end of her intended 3F-3T and receiving an edge call on the flip, Mirai was able to land the rest of her jumps cleanly. I thought she did a better job of performing in her SP at NHK Trophy, but she got the job done here well enough to finish 5th in the SP and make that crucial final group of skaters. I still think Mirai's "Great Gatsby" FS is a little bipolar; it swings from one tempo/mood to the next rather quickly. Still, all in all it's a solid program and Mirai gave it her best performance of the season. She hit her opening 3F-3T (though she did get an edge call again) as well as 4 more triple jumps and level 4s on all of her non-jump elements. Mirai placed 4th in the SP with the biggest FS number she's seen in years (129+) and finished 4th overall.

After the disappointment of finishing 10th last year, Mirai has rebounded very well and is back in the top 5. Slowly but surely she's looking more stable. The USFSA passed over Mirai for Four Continents, naming her as 1st alternate instead. Given that the World team (aka Gracie, Ashley and Polina) need to be in tiptop shape for Boston, I don't see any of them passing on an opportunity to work out the kinks at 4CC. (Update: Rumor has it Ashley is going to pass on 4CC which means Mirai will be heading to Taipei in her place. This is a great opportunity for Mirai to increase her international scores for next season. I don't know how smart it was for Ashley to pass on this though...hmmm...) Hopefully, we'll see her at more than one GP event next season. Very proud of her.
Tyler Pierce (188.50, 5th): Tyler is a strong candidate for Best Dressed at the event. Her team does a really good job of packaging her. Lovely dresses, great music choices and nice choreography as well. Tyler shocked everyone by placing 3rd in the SP. She has really great jumps! Lots of natural spring and elevation. She went for easier content (3T-3T, 3L) but she executed it cleanly. On a night where it seemed as though a skater couldn't buy a clean program, she got the job done and was rewarded for it. Tyler's "Danse Macabre" FS started off well with a nice 3Lz-3T (she's capable of the tougher content too) but then hit a snag when she fell on her 3F. Luckily, she didn't let that derail the program. She went on to finish cleanly with 4 more triples including a 2A-3T and 3S-2T-2L combination in the bonus. Tyler showed a lot of fight and grit by not letting the mistake throw her off her game. I enjoyed both of her programs and it was great to see her finish a very close 5th.



Bradie Tennell (181.33, 6th):
Bradie was rather impressive. She had a good SP though she did lose points on her 3Lz-3T(
<
) combo. However, her FS was one of the strongest technically in the field and she nailed everything. 7 triples including a 3Lz-3T and 2A-3T as well as all level 4 non-jump elements. Her only mistake was a ding (
!
) on her 3F. I was really impressed with the way she kept her composure throughout the program and just went for it. Stylistically she has some growing to do but I have to admire her focus and ability to turn in a clean program under pressure.
Karen Chen (168.75, 8th): After shrugging at the pressure last year, it looked as though Karen caved under it this year. She's had a so-so season up until this point but this competition was her worst. She just couldn't seem to get a rhythm going. Karen fell twice in the SP and ended finishing 12th. The FS was slightly better but a lack of focus really hurt her score. She did too many 2Ts (Zayak Rule) so her 3-jump combo (3S-2T-2T) did not count. That critical mistake cost her about 8 points. Karen's only downfall this year has been her inconsistency. She has big jumps, amazing skating skills, gorgeous spins, an engaging on-ice personality...it's just going to take her some time to put everything together. I'm keeping my fingers crossed for her.


Courtney Hick (168.04, 9th):
Coming into the competition Courtney was the heavy favorite for that 3rd and final spot on the World team. Maybe the added pressure did her in because she had a pretty rough go of it here. Two falls in her SP left her in 11th place heading into the FS. Like Karen, the FS was somewhat of an improvement but a fall and downgrade on her 3Lz-1L(
<
)-3S(
<
<
) combo as well as a bad stumble in her footwork cost her valuable points. Courtney keeps getting close to breaking through but she can never seem to seal the deal.
Other Thoughts:
I felt really sorry for
Mariah Bell (160.03, 11th)
. Damn Zayak Rule again. It's brutal! Mariah lost track of her jumps and did too many 2Ts. She earned zero points on
two
combinations (3Lz-2T-2T and 2A-2T) which cost her at least 14 points...I loved
Angela Wang's (163.17, 10th)
SP. Her Rippon-3L was gorgeous, even though the judges called it under-rotated...All around solid performances from
Hannah Miller (174.42, 7th)
. She lost points on under-rotations but she's always fun to watch.
Congrats to all of the medalists. It was looking pretty dire at the beginning but in the end it turned out to be a pretty good competition. For the third year in a row the World team will consist of Gracie Gold, Ashley Wagner and Polina Edmunds. In about a month
all three ladies
Gracie and Polina will be heading to Taipei for the
Four Continents Championship
which takes place on
February 16-21
. I'm expecting to see a nationals rematch at the competition, though they will have to compete with Japan's Satoko Miyahara and Rika Hongo. Either way, this will be an opportunity for all them to build up their momentum heading into Worlds.