Happy New Year everyone! While most of us were on a holiday hiatus, these skaters were not. A number of national championship battles were fought and won over the past few weeks. Here's my nationals round-up...
The final results: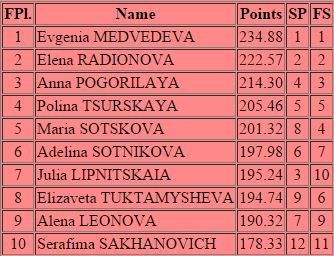 Evgenia Medvedeva: 79.44 (SP) + 155.44 (FS) = 234.88 (1st)
More of the same from Ms. Medvedeva. She's been 100% pretty much all season and she's showing no signs of slowing it down any time soon...she's actually gaining steam as we head into the second half of the season. This was a great victory but it wasn't necessarily an easy one. There was quite a bit of strong skating at this event which meant Evgenia couldn't back down. She delivered yet again and was rewarded with the biggest score we've ever seen under this system for a lady. Granted national events are always inflated so these are higher scores than we will see at an international event; however, at the rate Evgenia is going I wouldn't be surprised if she gets scores close to these later on in the season. Congrats to her on her first national title!
Elena Radionova: 76.69 (SP) + 145.88 (FS) = 222.57 (2nd)
Elena has been strong all season albeit a little shaky at times. She came into this event as the defending champion and put up an excellent fight to hold onto her crown. She appeared to be back to her old self, hitting all of her jumps cleanly and turning the charm on in both programs. Considering this was her first time as a defending champion, I'm very impressed with her. Elena did everything she could possibly do; unfortunately, it wasn't enough to catch Evgenia and she had to settle for silver this year. I can't help but admire the way Elena manages to keep herself at the top. This is her fourth consecutive medal at nationals and considering how cutthroat the Russian ladies field is, that says a hell of a lot about Elena and her ability to compete.
Anna Pogorilaya: 71.22 (SP) + 143.08 (FS) = 214.30 (3rd)
Evgenia winning and Elena coming in 2nd came as no surprise to me. I expected it. What I did
not
expect to see was Anna on the podium. I'm so impressed with what she did here and I was genuinely happy to see her finally deliver in both programs. Anna has struggled so much this season so for her to pull it all together and turn in back-to-back clean performances at one of the biggest events of the season earns her a lot of respect in my book. As much as I love Elena, in all honesty, I probably would have had Anna second here. Anna has really improved her overall presentation (much more control through her upper body) and her programs are stronger than both Evgenia and Elena's in my opinion. In addition to that when she's
on
, she's pretty damn good. Nice speed, great jumps, decent spins...she really impressed me. Anna placed 4th in the SP and 3rd in the FS to finish 3rd overall. Nicely done Anna!
As for the rest...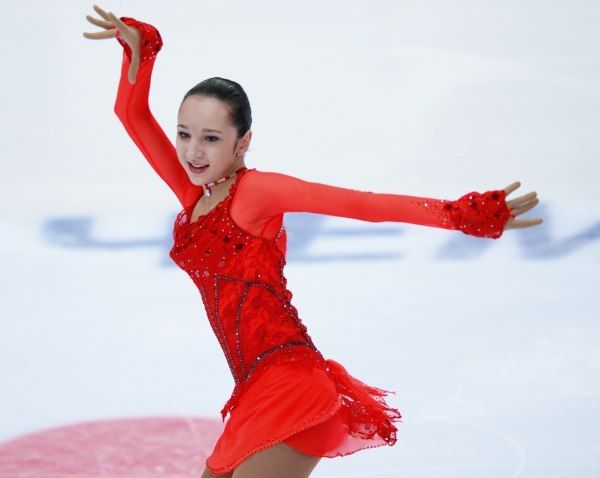 I could watch her jump all day...
Polina Tsurskaya (205.46, 4th):
Polina did very well here. She wasn't 100% flawless (she got a little sloppy at the end of her FS) but overall, she made a good impression. I'm not really a fan of Polina's style or her overall skating. There's not much musical connection or emotion, no real sparkle or excellent performance quality...but this chick can jump like nobody's business. Strong technique, lots of air, delayed rotation, speed and riding edges...I
love
to watch her jump! She makes it look so easy and effortless. It's really amazing. Hopefully someone will work with her to make her a complete skater rather than just an incredible jumper, but for now, it's getting the job done. Polina is the favorite for gold at junior worlds.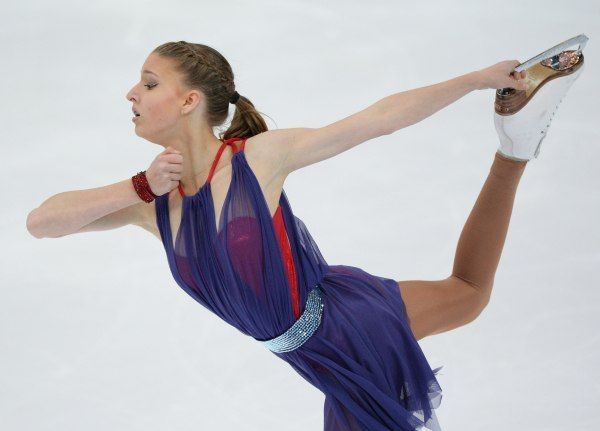 Nicely done Ms. Maria!
Maria Sotskova (201.32, 5th):
Maria did very well here. I thought the judges lowballed her a little in the SP but she didn't give them the opportunity to do anything but reward her in the FS. She turned in a clean performance with 7 triples and no mistakes. I was very happy to see her have a strong competition and a solid top 5 finish. I feel like she still has some things she can work on to really get her PCS up (speed, depth of edges, transitions) but she's a solid competitor with a full arsenal of jumps. It will be interesting to see if she makes the jump to seniors next year. As of now, she's a favorite for the podium at junior worlds.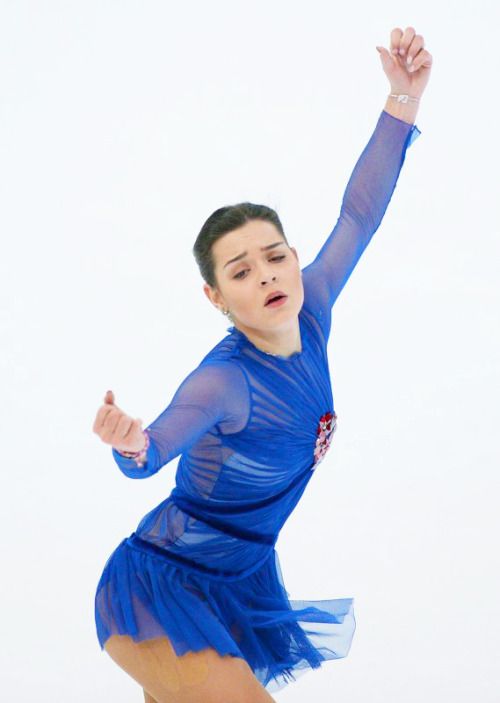 Give it one full season next year
Adelina Sotnikova (197.98, 6th):
It's obvious Adelina is still trying to get herself together. The programs are some of the strongest she's ever had (I really love her SP and her FS is lovely as well) but the jumps aren't where she needs them to be. She had falls in both programs but, again to her credit, she didn't back down and kept fighting. The judges totally gifted her with some of the scores she received. I'm not entirely sure she should have placed/scored as well as she did but she's Adelina Sotnikova...skating in Russia. Nuff said. I really hope she comes back and competes a full season next year. I love the overall improvements she's made to her skating and if she can get back some of that mojo she had around 2014 she could be a serious contender.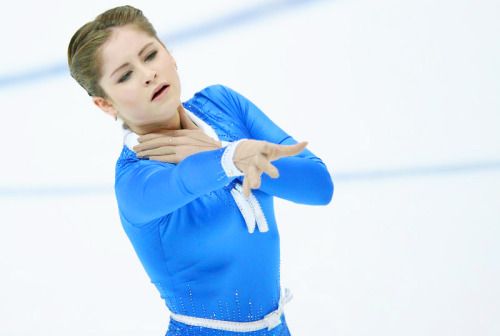 Keep working at it baby doll...
Julia Lipnitskaya (195.24, 7th):
Julia's SP was wonderful. The jumps were solid and she finally cut loose and really allowed herself to have fun while performing. She placed a strong 3rd in the SP and was in perfect position to stay on the podium. Unfortunately, she wasn't able to get past that damn FS. In terms of the disasters we've seen from her over the past few seasons, this one wasn't terrible. However, only 4 triples and one combination against the multitude of triples and combinations in the competition just wasn't enough. She finished 10th in the FS and dropped to 7th overall. I do think the coaching switch was a good one for her but it is going to take some time before the results stick completely. I hope she doesn't get discouraged and just continues to work.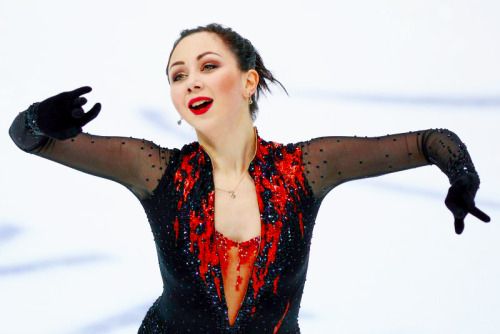 What's up with Liza T?
Elizaveta Tuktamysheva (194.74, 8th):
Liza T has been off all season long and that
off-ness
continued here. She struggled with her jumps in the SP and finished 9th, which has kinda been her M.O. this season. Liza bounced back somewhat in the FS but with the level of competition she was up against, she needed to be flawless and she was not. She finished 6th in the FS and 8th overall. I don't know if Liza T is still burned out from last season (which is totally understandable if she is), or if it's the pressure of having that world title around her neck. Whatever is going on with her, she's only a shadow of that Liza T who kicked ass left and right last season. The decision was made to send Evgenia, Elena and Anna to the European championships which means Liza won't get the opportunity to defend her title. The jury is still out on whether they are going to send her back to worlds...
Absolutely incredible competition overall. So many amazing performances and such a high level of skating. The Russian ladies are on another level when it comes to difficulty, consistency and execution. Moving on...
2016 Japanese National Championships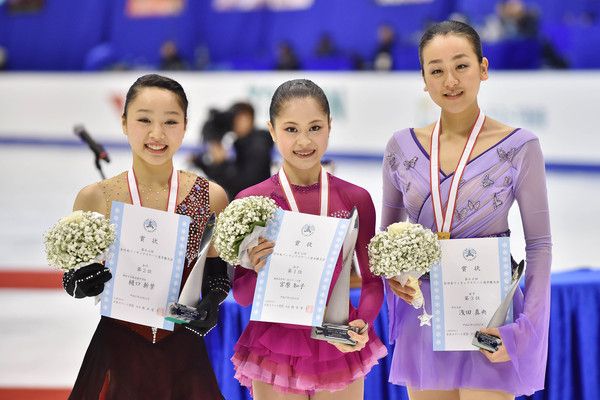 Tiny Queen goes back-to-back
The final results: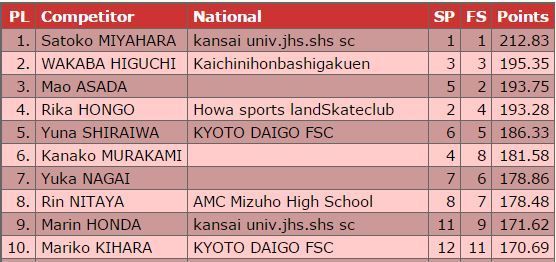 Satoko Miyahara: 73.24 (SP) + 139.59 (FS) = 212.83 (1st)
It's funny to think that earlier this year I was worried about whether or not Satoko would be able to maintain her positioning as Japan's #1. Not only has she maintained her positioning, she's strengthened it. She's definitely on a roll this season. I had my doubts about whether she'd be able to keep it up but she seems to be getting more and more focused as the season goes on. Her skating is simply gorgeous (tiny jumps and all) and her consistency is even better than last year. She left no doubt in anyone's mind that she came to play. Satoko was virtually flawless through both programs, won both segments by a sizable margin, and walked away with her second consecutive national title. Rock on Tiny Queen, rock on!
Wakaba Higuchi: 67.48 (SP) + 127.87 (FS) = 195.35 (2nd)
I've had my eye on Wakaba for the past two seasons. She had a few struggles this season on the junior level and missed the JGP Final, but she clearly came to nationals this year with the intent of making a statement. Well, I hear you loud and clear girlie! Wakaba is a natural born jumper: wonderful spring, tight rotations in the air, soft knees on her landings...she's another skater I love to watch jump. In addition to her amazing jumps and gorgeous skating skills (look at her edges!), Wakaba has worked on her expressiveness and reaching outward to the crowd. I really enjoyed the fun and energy of her SP and I thought she did a great job with the serious/mysterious mood of her "Zorro" FS. Wakaba finished 3rd in both segments of the competition and placed second overall and earning a silver medal.
Mao Asada: 62.03 (SP) + 131.72 (FS) = 193.75 (3rd)
Mao isn't where she needs to be but she's getting better. She was sick at the Final which explains her poor performances; however, sick or not, everyone was looking for her to step it up at this competition. The 3A, which was working so well for her at the beginning of the season, doesn't seem to want to come out and play now. Mao smartly changed up her SP layout, opting for a 3F-2L and doing a loop as her solo jump. Even with the slightly easier content, Mao struggled in the SP and finished 5th. Her FS started out roughly with her first two jumps (a fall on her 3A(
<
) and a fall out of her 3F) but she settled herself down and was able to finish the rest without any major mistakes. It wasn't her best but it's better than what we've seen recently. Mao is...well
Mao
. All it will take is one good performance for her to be right back in the mix. Hopefully this will help her right the ship and she'll start working toward those strong performances she needs for worlds.
As for the rest...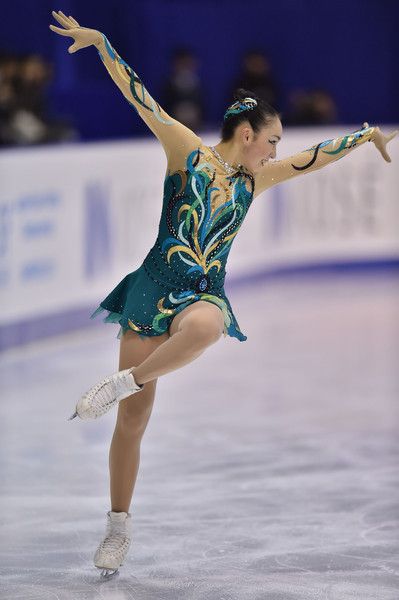 Just barely missed it...
Rika Hongo (193.28, 4th):
Rika started off really well in her SP but things didn't go as well in the FS. She ended up falling on her lutz at the beginning of the program and threw her off for the rest of the program. Rika fought the whole way through and didn't let it get away from her, but the program just didn't have the sparkle and excitement is usually has. In the end it wasn't enough and she missed out on medal by only 0.47 points. I felt so sorry for her. When her scores came up and she realized she'd missed the podium, you could see how devastated she was. I really hope she's able to bounce back. She had such a great start at Cup of China but she's been struggling to get back that level since.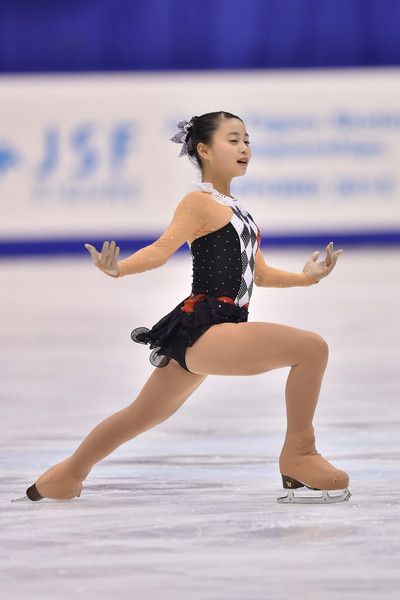 Top 5 finish
Yuna Shiraiwa (186.33, 5th):
Yuna had another solid outing here. I don't find her to be particularly exciting or interesting to watch but she is a consistent competitor and that will bode well for her in the long run. Even though she was up against a number of big names here, she kept her cool and was able to deliver her programs well. If Yuna can continue to skate well, she has a really good shot at top 5 at junior worlds.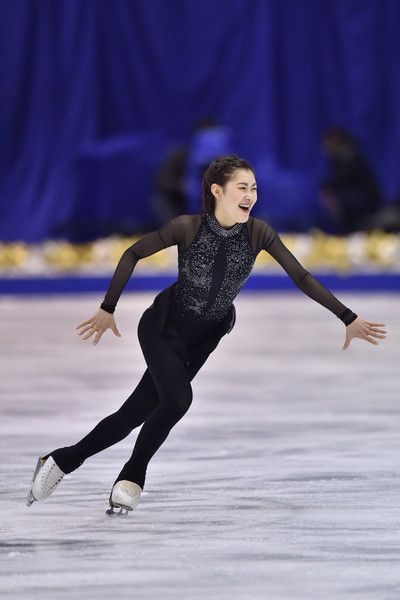 That's my girl! Still smiling!
Kanako Murakami (181.58, 6th):
This was a decent outing for Kanako. She had a good SP (lost points on the 3-3 but finally nailed that damn axel) and did okay but not great in the FS. Finishing 6th here is good but, looking at the bigger picture, it's not enough. Kanako is still a solid top 5 skater at Grand Prix events; however, in a stacked field (e.g. worlds) she's not going to hold up. I wonder how long she'll continue to compete past this season. Regardless, I still love her spirit (she's always smiling) and I totally dig her SP this year...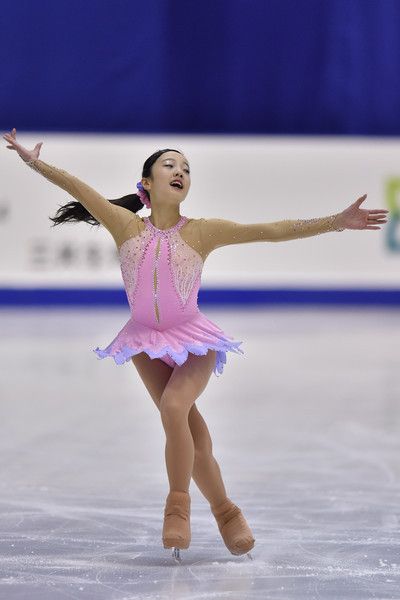 Consistency is key
Marin Honda (171.62, 9th):
Marin is delightful to watch. She's adorable, graceful, musical and definitely has that star power. Unfortunately, she struggles with inconsistency. When she's on she can be really amazing and gorgeous to watch but she's never
on
enough. She had troubles in both programs here (a fall in the SP, two falls in the FS). I really hope she's able to get herself together and start competing. She could really be the next big thing in Japanese skating but she's never going to get a foothold in the standings until she starts delivering consistently.
Swedish National Championships
With big sis Viktoria no longer competing,
Joshi Helgesson
is now the queen of Swedish figure skating. She ran away with the gold medal this year (
174.52
).
Isabelle Olsson
won the silver medal (
147.98
) and
Matilda Algotsson
won bronze (
144.48
).
Chinese National Championships
Last year's national champion,
Zijun Li
, withdrew from the competition this year in order to have more time to prepare for the National Winters Games that will take place later this season.
Ziquan Zhao
won the title this year (
147.19
) with
Xiangning Li
taking silver (
142.02
) and
Yunya Jiao
earning bronze (
131.00
).
French National Championships
Mae Berenice Meite
was able to recover from a bad SP in the FS to defend her national title (
160.66
).
Laurine Lecavelier
gave Mae a run for her money by winning the SP but was unable to hold on in the FS and had to settle for silver (
157.23
).
Alizee Crozet
finished with
132.15
and earned a bronze medal.
Italian National Championships
Giada Russo
is the new Italian national champion (
156.95
). She beat out surprise bronze medalist from Trophee Eric Bompard
Roberta Rodeghiero
, who finished second (
150.69
).
Sara Casella
earned the bronze medal (
146.24
).
Nicole Gosviani
, who used to compete for Russia, finished
4th
(
134.06
).
Finnish National Championships
Anni Jarvenpaa
is the Finnish champion this year (
154.91
). She edged out
Jenni Saarinen
for gold by only 0.15 points...ouch. Saarinen took the silver medal (
154.76
) and
Juulia Turkkila
earned bronze (
151.79
).