I picked a terrible time to go sail the seas! So much has happened over the past two weeks which means I have a lot to catch up on. I'll take a look at the Senior Grand Prix Final, then the Junior Grand Prix Final, and wrap it all up with Golden Spin of Zagreb. Here we go!
2016-2017 Grand Prix Final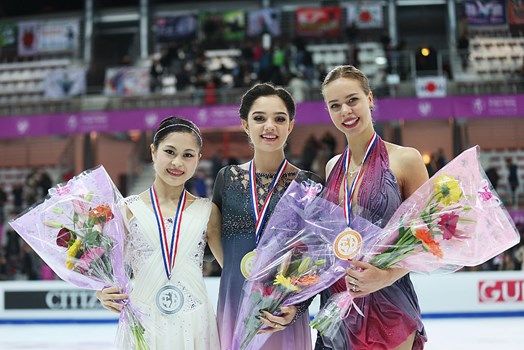 Back-to-back gold for Evgenia & silver for Satoko. Welcome to the podium Anna!
The final results:

Evgenia Medvedeva (RUS): 227.66 - 1st
No big shock here for anyone who has been paying attention this season. Evgenia has been
on it
all season and even when she's
off
, she's still
on
. She had a flawless performance of her SP here and broke the world record for highest SP score for a woman. She scored a
ridiculously
massive 79.21, giving her the world record over Mao Asada's 78.66 earned at Worlds in 2014. Evgenia now holds the world record for highest SP score and highest FS score, but not total score. Her total score at this event is the second highest ever but Yuna Kim still holds the world record at 228.56. Evgenia's FS was excellent but not error-free. She fell out of her opening 3F and didn't complete the combo. Of course in true Evgenia fashion she easily tacked the 3T on to the second 3F in the bonus. She easily won both segments of the competition and is now the back-to-back Finals champion.
Evgenia continues to skate lights-out event after event and her scores continue to climb steadily upward. She may not have reached the world record total score at this event but I don't doubt her name will occupy that top spot before this season is over.
Satoko Miyahara (JPN): 218.33 - 2nd
I am really shocked to see Satoko finish 2nd here. Honestly with the way the judges have been scoring her lately, I didn't expect her to make it to the podium. Let it not be said that Satoko at her best isn't capable of whooping ass. She was strong all around here, nailing everything in the SP and keeping her under-rotations to a minimum in the FS (only one on her 3F). I feel like the judges gave Satoko the PCS advantage she deserves but rarely receives from other panels, particularly in the FS. They had her ahead of Anna in each category and that combined with the small lead in the SP is what put Satoko over Anna and earned her back-to-back silver medals at this event.
I'm happy to see Satoko finally catch a break this season! Both performances were gorgeous and it's so refreshing to see her rewarded for the beauty and elegance she brings to the ice. I don't know if we'll see a repeat of this kind of scoring at Worlds but at least we saw it here.
Anna Pogorilaya (RUS): 216.47 - 3rd
I definitely think Anna had a case for silver here. She turned in a flawless FS and even beat Satoko in TES; however, I think it came down to the small mistake in the SP as well as the difference in PCS in the FS. Anna's SP was very strong but she turned out of the landing of her 3L which lost her a full point in GOE and left her 1.35 points behind Satoko in the SP. When all was said and done she missed out on a silver medal by 1.86 points, which likely could be attributed to that damn 3L. I do think Satoko should earn the overall edge in PCS (which she did) and that Anna should have the edge in TES (which she did). This was a close one to call but in the end even though Anna had a strong SP and great FS, she got edged out and had to settle for bronze.
Anna's Season of Resurgence is going very well. I'm still beyond impressed with the way she's managed to turn her skating around this season. She's skating well under pressure and seems to have found her stride as a competitor. I'm proud of her.
As for the rest...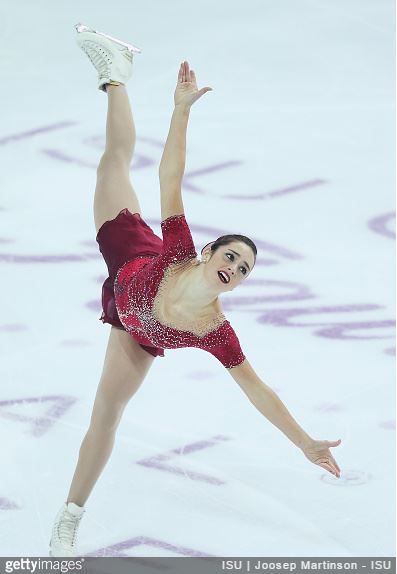 Steadily climbing upward
Kaetlyn Osmond (CAN; 212.45, 4th):
I'm very happy for Kaetlyn. I think that this was a successful outing for her even though it could have been better. Her SP was perfection. I was so happy to see her hit all of her jumps and execute the program without any tiny errors. The judges loved her as well; she earned a total of 8.09 points in
+
GOE. It's tough to make the judges love you and, based off of those scores, it's obvious the judges love Kaetlyn. It sucks that she wasn't able to carry all of that momentum into the FS. She left too many points on the ice but she did turn in a much stronger performance than we're used to seeing and that's a great sign as we head into nationals.
I feel like Kaetlyn is ramping up at a good pace to peak at Worlds. Her scores here were big and there's a lot of room for improvement which should be a very encouraging thing for her. If she can keep this up and continue to build her consistency, she'll have a great shot at the podium at Worlds this year.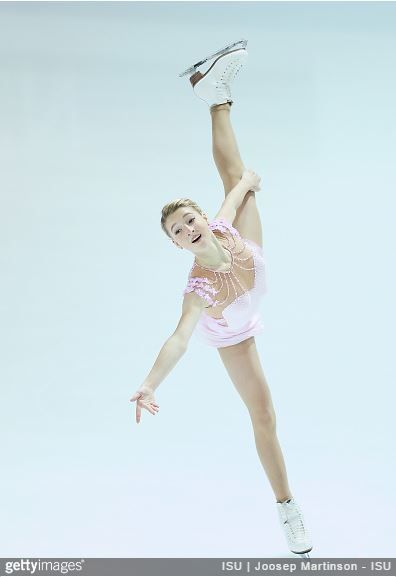 Nicely done newbie!
Maria Sotskova (RUS; 198.79, 5th):
Maria was the lone newbie at this event but I think she handled herself like a veteran. Her SP was solid but she lost several points on under-rotations (3F and 2A). She really needs to work on getting those jumps around consistently. Once you get a reputation as an under-rotater it follows you for the rest of your career. Maria finished 6th in the SP but turned in a stronger performance in the FS. She still under-rotated two triples (3F(<)-1L-3S(<)) which lost her points, but overall I think this was a success for her and just what she needed to give her momentum heading into nationals.
Maria's not the most flashy skater but she doesn't bore me either. She is just pleasant to watch and I think the judges agree. This was a solid finish for her debut senior season. Good job Maria!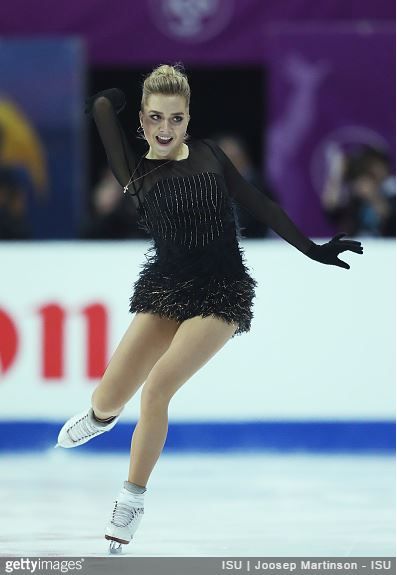 Not the finish she was hoping for
Elena Radionova (RUS; 188.81, 6th):
This was definitely not the kind of finish Elena wanted behind three of her Russian teammates two weeks before nationals. She shot herself in the foot in the SP with an under-rotated 3L. She scored well (68.98) but seeing as how 4 out of 5 of her competitors scored 73+ in the segment, she had a lot of ground to make up. Elena under-rotated and fell on her opening 3Lz which was supposed to be in combination. She added the 3T to the second lutz but under-rotated it as well. She also switched her layout mid-program to accommodate the 3T she missed by going back to her 3L-1L-3S combo but received a downgrade on the 3S. All in all this was not a good one for her.
Elena is definitely a fighter so I don't expect her to stay down for long. She'd maintained her #3 during the GP but with Maria beating her here, she has a lot to prove at nationals. Hopefully that will light a fire under her and she'll come out swinging.
That's it for the seniors! On to the juniors!
2016-2017 Junior Grand Prix Final
This was not the field we were promised at the end of the Junior Grand Prix but the competition was still solid nonetheless...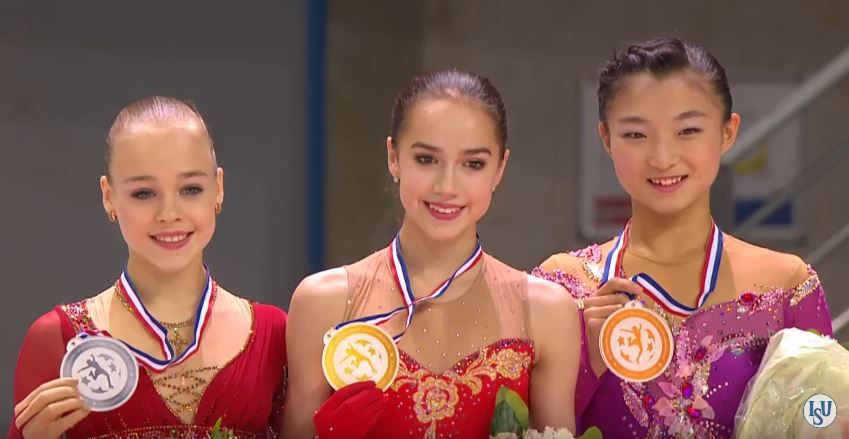 Russia goes 1-2 for the 4th year in a row!
The final standings:
Alina Zagitova (RUS): 207.43 - 1st
I have to say I was impressed with Alina at this competition. I usually find her obvious point whoring to be a bit of an annoyance mainly due to the fact that a lot of her jumps (particularly in the FS) suffer from bad/pitchy landings and lack of flow. I think she's been working on her conditioning for the past couple of weeks because all of her landings in both programs were solid, secure, upright and had good flow. Her only mistake was an under-rotation on an ambitious 3Lz-3L in the FS. I still hate how lopsided her programs are (100% backloaded) but I thought she was excellent here. She easily won both segments of the competition and ran away with the gold medal here.
Anastasiia Gubanova (RUS): 194.07 - 2nd
I think Anastasiia is hands down the most beautiful skater on the junior level right now. There's an elegance, maturity, polish and finish to her movements that you don't usually see from skaters her age. Additionally she brings it on the performance side of things as well. Anastasiia fell on her 3Lz combo in the SP and due to the rule that the solo jump must be a solo 3L, she was unable to add a jump to get the combo points. The FS was infinitely better: 7 triples including two 3Lz-3T combos, no mistakes and lots of +GOE on each element. Anastasiia scored 133+ and was able to pull up to finish 2nd in the FS and win the silver medal.
Kaori Sakamoto (JPN): 176.33 - 3rd
Kaori started off very well in the SP. She and Alina were the only two skaters to complete a combo in the segment; everyone else fell. I think Kaori got lowballed a bit in the PCS, in particular when it comes to skating skills. She accelerates effortlessly and skates with a ton of speed. I'm not too crazy about the program (very juniorish) but the overall performance was clean and easy. She placed 2nd in the segment and had a 4+ point lead over Gubanova heading into the FS. Unfortunately she lost some steam in the FS. She lost points on an edge call on her 3Lz and also under-rotated and fell on a 3F which cost her quite a bit and made it impossible to catch the two Russians. In the end she finished 4th in the FS and had to settle for a bronze medal.
As for the rest...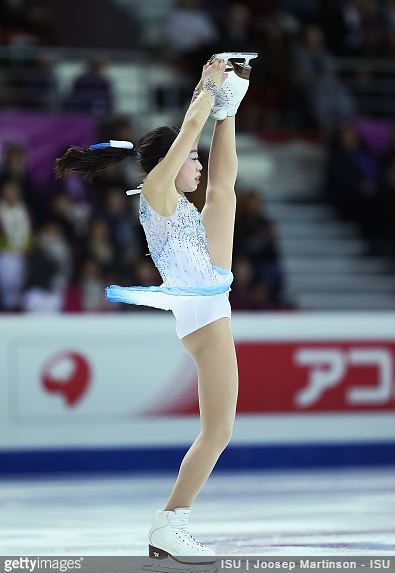 So close!

Rika Kihira (JPN; 175.16, 4th):
Rika got off to a slow start in the SP. She received a downgrade and fell on her opening 3Lz combo and ended up finishing last. Earlier this season Rika landed a gorgeous 3A on her way to making history as the first woman to land 8 triples in one program. She went for the 3A here but fell on it (3A(<<)). It took her a minute to get her feet under her but she got stronger as the program went on and finished strongly. Rika placed 3rd in the FS which helped her to move up and finish a very close 4th overall.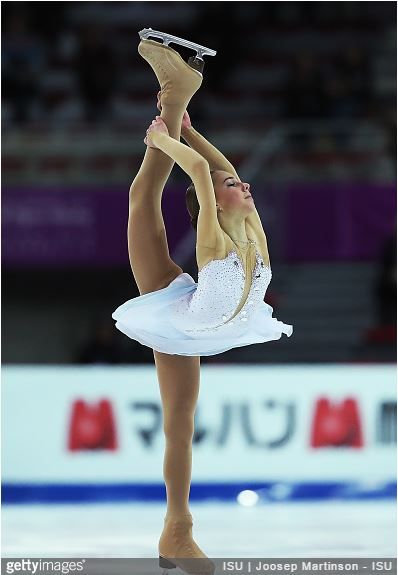 She gave it her best
Elizaveta Nugumanova (RUS; 170.08, 5th):
Poor Elizaveta had a lot of trouble here. She was one of many who missed the combo in the SP which left her in 4th place heading into the FS. Unfortunately she under-rotated and fell on her opening 3Lz and then fell again on a downgraded 3F. After the opening mistakes she gained momentum in the second half of the program hitting a nice 3L-3L and 2A-3T-2T, but the earlier mistakes hurt her and prevented her from moving up. She dropped from 4th to finish 5th overall.
Other Competition Notes: Polina Tsurskaya (RUS)
was a favorite to win here but withdrew before the competition. Not too sure if she's injured again (I hope not). She was replaced by Nugumanova. Also
Marin Honda (JPN)
withdrew from the competition due to illness.
And that wraps up another Grand Prix and Junior Grand Prix season. Now on to the other event which grabbed headlines last week...
2016 Golden Spin of Zagreb
This competition only gets recognition when someone interesting shows up. With so many well-known names slated to compete this year, I was as interested in the outcome here as I was for the Finals.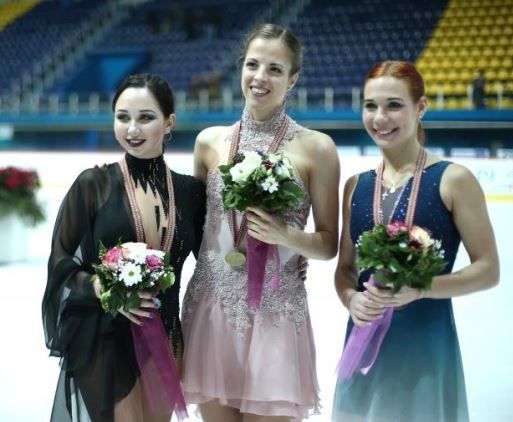 Carolina returnth and I doth swoon!
Carolina Kostner (ITA): 196.23 - 1st
Carolina's last competition prior to this one was Worlds back in 2014. I really had no idea what to expect from her here. I have to say she actually impressed me at this event. I expected her to be rusty and, to be fair, there was some rust...but not nearly as much as I would have thought. I love her SP. It's a very different kind of music and unlike anything in the field this year which definitely makes it stand out. She had trouble with the 3L but the 3T-3T was strong and so were her non-jump elements (level 4s and level 3 layback (loved the arm position)). She won the SP which helped her in the FS where the rust was a bit more apparent. Only 3 triples in the FS; the hardest jump was her opening 3F. It's clear she's pacing herself which, at her age, is very smart. No need to bust out the big jumps here. The FS is classic Carolina: elegance, line and grace. She needs to hold a master class on controlling long limbs...
gorgeous
. Her PCS and all level 4 elements boosted her score and gave her the win here.
Carolina will need to bring a lot more to the table if she hopes to medal at Worlds. Her PCS will help to carry her but her TES will need to be much much higher. Still, given what she displayed here I think she has a great shot at getting Italy 2 spots for Pyeongchang. I'm thrilled she's back and I can't wait to see more.
Elizaveta Tuktamysheva (RUS): 192.03 - 2nd
Liza T turned in a decent performance in both segments of the competition here. I kinda hate that she wore that horrible boobie dress again. I just don't think the flesh color works...it almost seems like she's wearing nothing on that side of her body. Also I'm not 100% sure because all of her programs look the same to me, but wasn't she skating to something else for her SP this season? When is she going to make up her mind and stop flip-flopping between programs? Anyhoo, her opening 3T-3T was great (+1.40) but then she spaced out on the lutz and singled it which left her in 5th place after the SP. Other than a fall on her 3L, the FS was really strong. I feel this program is rather boring choreographically and it's void of transitions; however, she ends with a nice "bang!" and that's a plus. She scored well here (129+) and won the FS which pulled her up from 5th to finish 2nd overall.
Unless Liza T breaks out the triple axel at nationals I don't see her making it on that World team this year. This was a step in the right direction...now she needs to take it farther...
Alena Leonova (RUS): 191.39 - 3rd
Alena has been a hot mess for the majority of the past few seasons so to see her come out and deliver in both programs was nice. I still can't stand either program (just
WTF
to both) but I always give her credit for her energy and performance level. Her SP was clean (3T-3T, 3F, level 4 spins) and aside from an edge call on her 3Lz, she nailed her FS as well. Alena had a moment at the end of her FS when she finished the program. It's been such a long time since she's had that kind of performance so it was good to see her achieve that victory for herself. Alena placed 3rd in the SP and 2nd in the FS to finish 3rd overall.
I don't know where Alena fits in when it comes to the unbelievably stacked Russian women's field...it is just too deep at this point. However, this bronze medal can serve as a testament to herself that she can still skate clean programs back-to-back.
As for the rest...
Amber Glenn (USA; 183.60, 4th):
Kudos to Amber for showing up for the US women here. I've always been impressed with Amber's technical abilities but she's actually improved them since the last time I saw her. She's added tano and Rippon features to her jumps. Her SP was great and placed her a close 2nd to Carolina (67.93) and even though she had some issues in the FS (two under-rotations and a fall on her 2A) she didn't let the program go, which used to be her issue. I'd like to see more
performance
from her but overall, I was really impressed. I think she just earned herself a "dark horse" stamp for nationals this year...
Other Competition Notes: Ashley Wagner (USA)
was supposed to compete here but withdrew to concentrate on training for nationals. Karen Chen replaced her...
Alexandra Avstriyskaya (RUS; 161.77, 5th)
had a decent debut here. I'm not seeing anything particularly special about her right now but she had a strong technical performance in the SP which helped to keep her in the top 5 overall...
Gracie Gold (USA; 159.02, 6th)
has me really worried now. This was yet another disastrous competition for her. I liked the choreography tweaks to the SP but the jumps are nowhere to be seen in either program. At the beginning of the season the prediction that she wouldn't make the World team was just conjecture. However, at this point she is seriously
--
like
legit
seriously
--in danger of not making the World team this year...
Karen Chen (USA; 155.63, 7th)
was disappointing again. I was hoping after her last performance she might turn a corner and give us some signs of impending awesomeness as we head into nationals but, alas, no.
Check back soon for my End of Grand Prix Rankings post where I'll rank the top 10 competitors of the season so far. With the regular season over, it's now time for nationals! The Russian national championships will take place December 20-25 and the Japanese national championships will take place December 22-25. I can't wait!