The last event of the season was a good one! With spots to the Final on the line it came down to who wanted it the most.
Another win for Anna!
The final scores: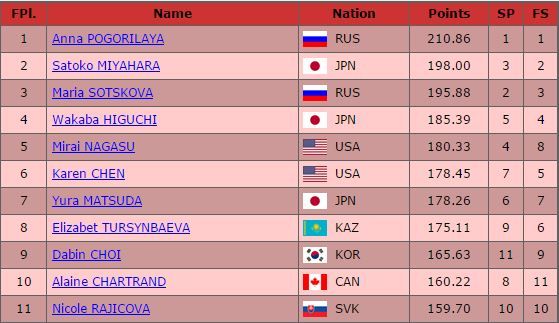 Anna Pogorilaya (RUS): 71.56 (SP) + 139.30 (FS) = 210.86 - 1st
Anna has been an entirely different skater this season compared to how she looked on the GP last year. With one win under her belt, she only needed to place 4th or better here to secure a trip to the Final.
Anna started off decently in the SP but it was not her best. Her opening 3Lz-3T combination was hit with an under-rotation on the 3T and she also lost levels on her layback spin (level 2 instead of level 4). The mistakes were not disruptive so the performance didn't suffer which is a good thing. I think Anna does a really nice job of selling the choreography and having fun with it. It's so refreshing to see her looking so happy after a performance, especially when I think back to how miserable she always looked last season. She wasn't able to top her score from her first event but Anna still scored well and went into the FS with a small lead.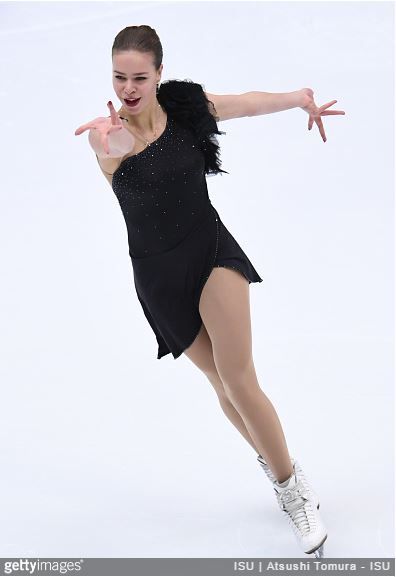 Time to battle for the top!
The FS was another strong outing for Anna. Aside from an edge call on her 3F, another lower level on her layback (level 3 instead of 4) and a rough landing on her final 2A, she was very good. She landed 7 triples including her 3Lz-3T (+1.30) and a 3Lz-1L-3S in the bonus half of the program. It seems like
PogoSplat(TM)
Anna has truly left the building. She's got that competitor's focus she had back during her junior days. I'd like to see her give a bit more to connecting with the judges and the audience in this program. I think she's so focused on the jumps in the FS that her performance goes in and out. If she really wants to get those scores up she'll need to engage the judges from start to finish. Anna earned the highest TES and PCS of the competition and basically cruised to another win. For the first time in her career she'll enter the Final as a top contender.
Anna's turn-around this season has been really remarkable. The consistency and confidence she has developed over the last season has launched her into that top tier of ladies. I think it's going to be very entertaining to see her battle it out with her buddy Evgenia at the Final.
Satoko Miyahara (JPN): 64.20 (SP) + 133.80 (FS) = 198.00 - 2nd
Satoko came into this competition trying to play catch up. She didn't have the best performance at her first event so in order to get to the Final, she'd have to come out swinging.
The SP did not go smoothly. She opened up with a lovely 2A and great level 4 step sequence that earned +1.30 in GOE. Satoko starts off the second half of her program with her combination but it did not go as planned. She went up for her 3Lz but appeared to rush the take off. Unfortunately she under-rotated the jump and fell. It was really weird! Satoko is so solid in competition and any mistakes she make rarely affect the program, so to see her go down on a jump was a bit of a shock. Satoko was able to hit her 3L with a 2T for the combination points and finish up the program cleanly but the loss of points hurt her score and she went in the FS more than 7 points out of the lead.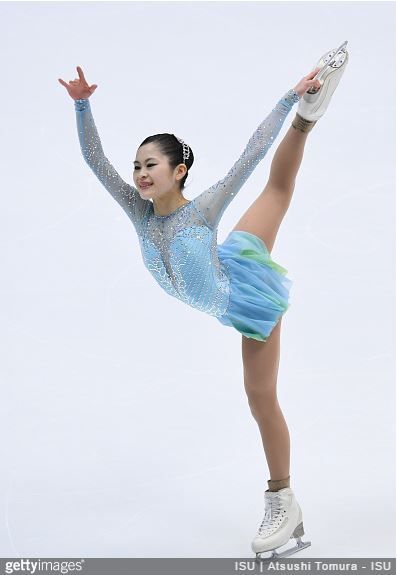 It ain't been easy this season...
Satoko had a lot of ground to make up in the FS. Her program is one of the strongest in the field this season from a packaged perspective (i.e. music, concept, choreography, delivery, etc.) and when she's
on
she can put up big numbers. She needed to be perfect if she had a prayer of catching up to Anna. She wasn't perfect. Satoko's under-rotation issues continued in the FS as well. 3 out of 7 triple jumps were called under-rotated which lost her quite a few points and killed any chance she had of finishing ahead of Anna. Even with the errors the performance was gorgeous and the crowd loved it. Satoko finished 2nd in the FS which was enough to move her into 2nd overall and qualify her in that last spot at the Final.
It's been a bit of a struggle for Satoko this season. The under-rotation issues have been a problem so far. If she hopes to stand on the podium at the Final this year, she's going to have clean up those issues and give the judges no reason to hold her back.
Maria Sotskova (RUS): 69.96 (SP) + 125.92 (FS) = 195.88 - 3rd
Maria hit the ground running in her first GP event. With a spot to the Final and some bonus points for Russian nationals up for grabs, Maria needed a good showing here.
She started off with a great effort in the SP. She hit all of her elements cleanly including a 3Lz-3T and 3F (no edge calls!), all level 4 spins and level 3 steps. It was a clean, controlled and pretty performance. Maria carries the music well and her performance is elegant and easy. I don't sense a ton of audience connection when she skates but she does a good job of illustrating the music and not throwing the movements away which you don't always see in young skaters. Maria's strong performance earned her a personal best score and left her less than 2 points off of the lead.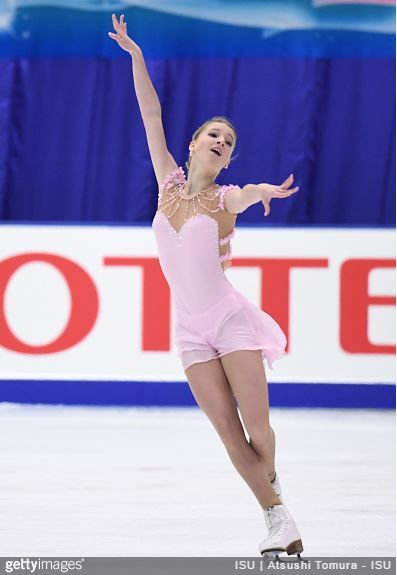 Senior debut: Success!
Maria's FS was not as successful. In terms of her performance she was lovely; however, the jumps in the second half of the program gave her some problems. She opened with a good 3Lz-3T and 3F as well as strong level 4 steps (+1.00) and a good 3L. Maria lost a bit of steam and ended up under-rotating all three jumps in her 3Lz-1L-3S combo. A downgrade on a 3Lz and another under-rotation on her final 2A cost her several points and hurt her technical score overall. The good news is even with the technical errors it's clear the judges like Maria. She earned 67+ in PCS which helped to boost her FS score overall and place her 3rd in the FS and 3rd overall. This bronze medal combined with her silver medal from Rostelcom Cup qualifies Maria for a trip to the Final in her first senior season.
I like Maria. There's something very pleasant, classical and elegant about her style. I think she's a strong bet for #3 in Russia right now but I don't doubt Elena Radionova is ready to give her a run for her money. It should be an interesting match up between those two...
As for the rest...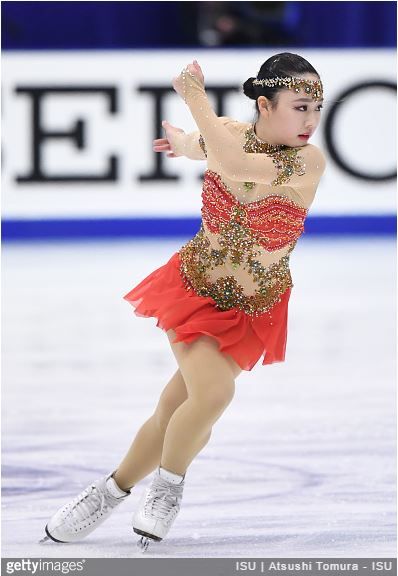 Her potential is staggering...I must see it fulfilled!
Wakaba Higuchi (JPN; 185.39, 4th):
Wakaba is so amazing but she's beginning to frustrate me in the way only skaters who have all of the potential in the world but keep screwing it up can frustrate me. The beginning of her SP was
gorgeous
! I love the program and the way she emotes and performs is something special that can really pay off for her...if she can back it up with the jumps. She stumbled out of her 3Lz and ended up adding a 2T to the end of her 3F(!). She finished the SP in 5th place but was easily within striking distance of the podium. Wakaba's FS was stronger, though she lost points on a doubled 3L and an under-rotated 3T in her second 3Lz-3T combo. If she can ever start knocking these jumps off she will be a top contender. Her jumps earn great GOE when they're clean and her PCS go up as well. She could be the next big thing...
could
be...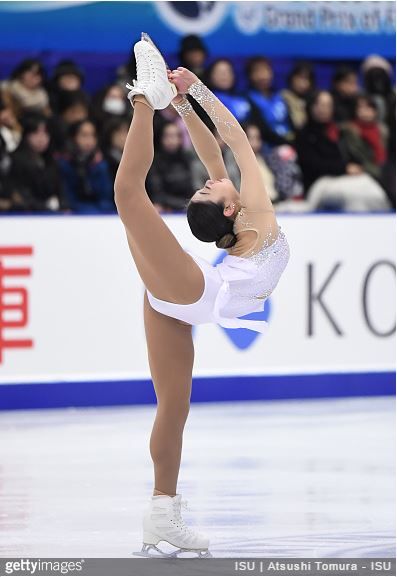 Still a long way to go...

Mirai Nagasu (USA; 180.33, 5th):
Mirai definitely put up a better fight here than she did at her first event. She under-rotated her 3F-3T(<) combo and also dropped a level on two spins (level 3s instead of 4s) but the rest of the SP was very solid. I'm not a fan of Mirai's FS...there's just not enough to it. I definitely credit her for going for all of the jumps here. I like to see that grit. Having said that the under-rotations are still very bad. 4 out of 7 jumps were called here. This is a performance Mirai can build on for nationals but she's got a lot of work to do.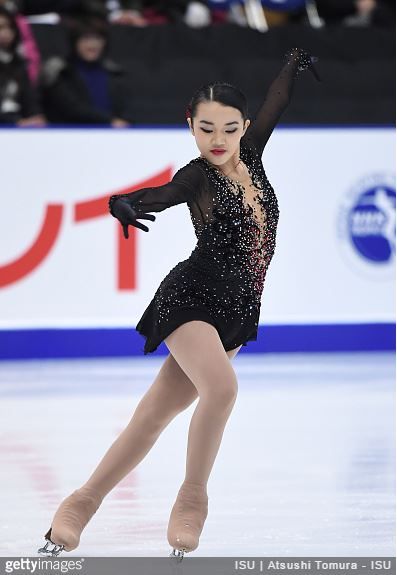 Fingers and toes crossed!

Karen Chen (USA; 178.45, 6th):
Karen, like Wakaba, makes me want to pull out my hair sometimes. She's such a gorgeous skater and I just know if she can nail her programs she'd be a top competitor. Karen opened up her SP with a big 3Lz-3T and even though the 3T was under-rotated, the program sailed along beautifully until the solo triple. She singled her loop which earned her no points and left her in 7th in the SP. Her FS was stronger. Karen under-rotated her combo again (3Lz-3T(<)) and one additional triple and also got an edge call on her 3F, but overall it was a much better effort. The program is great and she delivers it so well. She earned a season's best FS score and pulled up to finish 6th overall. I will continue to cross my fingers for both her and Wakaba...they are my dark horse picks for their respective national championships this year...
Other Competition Notes:
Alaine Chartrand (CAN)
continued to struggle here. She may get shut out at nationals this year...
Da Bin Choi (KOR)
had a strong performance in the FS. South Korea is still missing a star for 2018...
Yura Matsuda (JPN)
had a number of ambitious combinations (3L-3L in the SP, 2A-3T-3L in the FS) but had under-rotations in both attempts.
Once again, we come to the end of the Grand Prix season! Let's take a look at who we'll see in the Final this year...
2016-2017 Grand Prix: Final Standings
Evgenia Medvedeva (RUS)
easily won gold at both of her events. Those gold medals gave her
30 points
. She qualifies in
1st place
.
Anna Pogorilya (RUS)
turned her entire career around this season, winning both of her events and earning
30 points
as well. She loses the scoring tiebreaker to Evgenia so Anna qualifies in
2nd place
.
Elena Radionova (RUS)
continues her perfect streak of medaling at every GP event. She placed 2nd in Russia and won the China event which gives her a total of
28 points
. She qualifies in
3rd place
.
Kaetlyn Osmond (CAN)
had a strong comeback season winning silver in Canada and China. She earned
26 points
and has qualified in
4th place
.
Maria Sotskova (RUS)
had a strong debut on the senior level, earning silver in France and bronze in Japan. She earned
24 points
and qualifies in
5th place
.
Satoko Miyahara (JPN)
had to battle it out this season but she walked away with a bronze medal in Canada and a silver medal in Japan. She earned a total of
24 points
as well but loses the scoring tiebreaker to Maria. Satoko qualifies in the
6th and final spot
.
Ashley Wagner (USA)
had
20 points
. The gold medal she won at Skate America is heavily weighted so she is the
1st alternate
.
Elizaveta Tuktamysheva (RUS)
also earned
20 points
. Even though Elizaveta wins the scoring tiebreaker with Ashley, Ashley's gold medal gives her the edge so Elizaveta is the
2nd alternate.
Mai Mihara (JPN)
had the same finishes and points as Elizaveta (
20 points
). She lost the scoring tiebreaker by only 0.36 points. Mai is the
3rd alternate
.
The
Grand Prix Final
and
Junior Grand Prix Final
will take place on
December 8-11
in Marseille, France. Check back here for a
refresher on who we'll see in the JGPF
. It's going to be a good one!
I'll be out of town all next week so I'll be missing quite a bit. In addition to the junior and senior Finals, I'll also miss
Golden Spin of Zagreb
which takes place on
December 7-10
in Zagreb, Croatia. This is a lower level Senior B event that takes place the same time as the Final. It only gets attention when big names enter. Last time it had this much interest was back in 2013 when Yu-Na Kim used it as a test event before the Sochi Olympics.
This season the entry list has quite a few big names:
Ashley Wagner (USA), Gracie Gold (USA), Elizaveta Tuktamysheva (RUS)
, and most notably
Carolina Kostner (ITA)
who will make her return to competition at this event. Other notable names include
Elizabet Turzynbaeva (KAZ), Alena Leonova (RUS)
and
Amber Glenn (USA)
. With so many names and also Carolina's return, I wouldn't be shocked if Zagreb overshadows the Final.
I'll be cruising around the Eastern Caribbean while all of these events are going on next week so expect my posts some time that following week. I will do a review for all three events (junior and senior Finals, plus Zagreb), plus my End of Grand Prix Rankings will follow shortly after that. From there we move right into Russian and Japanese nationals. Man, December is going to be busy!
Bon Voyage!