I was hoping to see some good skating here from a number of the competitors. Luckily some of them didn't disappoint. Unfortunately, a few others did...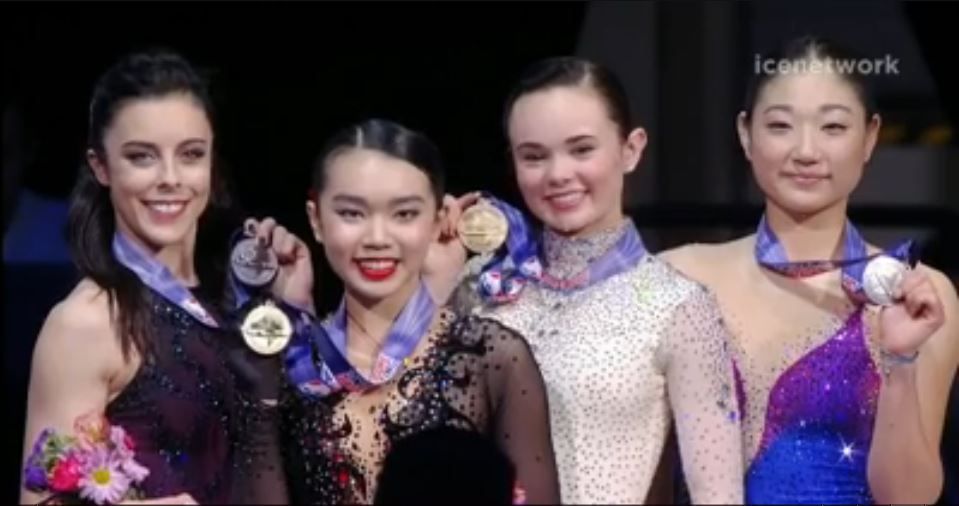 A brand new champion is crowned!
The final results: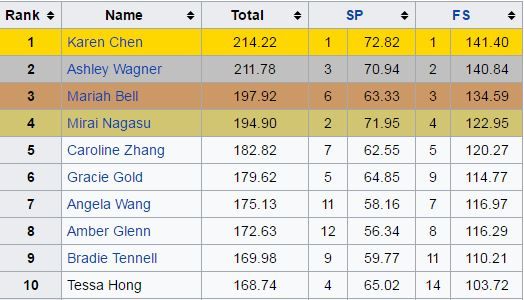 Karen Chen: 72.82 (SP) + 141.40 (FS) = 214.22 - 1st
I've been waiting on Karen to wake up and make something happen for a while now. It was really nice to finally see it happen for her here.
I thought she was wonderful in the SP. I really like this program (which she choreographed herself) but all season long she's struggled to deliver it cleanly. Everything finally came together for her at the right time and she turned in her best performance of the season. Karen has such wonderful speed, stretch, line and presence and her jumps are great as well. She opened with a big 3Lz-3T though I felt the toe was definitely under-rotated. The callers were extremely generous at this event especially in the SP. They called it rotated and she got full credit plus great GOE (+1.00). Karen nailed her 3L (+1.20) and 2A (+0.93) and earned level 4s on all of her non-jump elements. The judges rewarded her with the highest SP total ever at these championships (72.82) and Karen went into the FS as the surprise leader.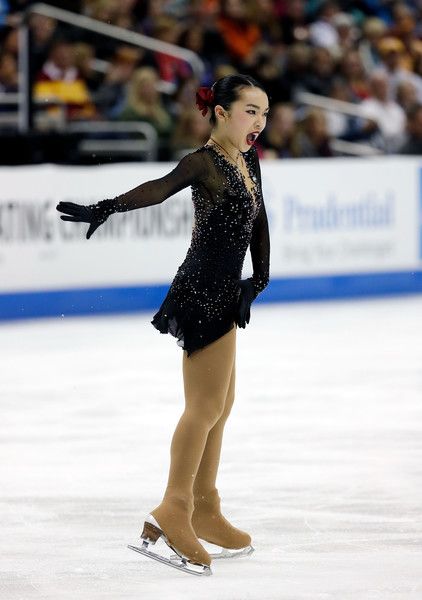 Face! Give me face!
In the past it always seems that Karen struggles in the SP but can turn it around and skate better in the FS. This was the first time in a long time she's been leading coming into this segment of the competition so I wasn't too sure what to expect from her. I don't really know what kind of stuff she's built of in this situation...turns out it's pretty tough stuff. With the exception of a doubled salchow in her 2A-1L-3S combination, Karen hit everything. Again I felt her 3Lz-3T combo was under-rotated and again they gave her full credit. I loved this FS for her and she performs it with so much tension, fire and attitude. I also love the fact that she went out there and attacked it rather than back off or back down like many others do when the door is open. She saw the opportunity and seized it tightly which earns her a lot of respect in my book. In the end Karen won the FS and held on to win her first national title.
It will be interesting to see how Karen responds to this victory. Some people feed off of success. It motivates them and pushes them to do more...others wilt under the pressure. It think Karen has it in her to be that flagship skater the U.S. will need once the older veterans retire. Congrats to her on her first national title!
Ashley Wagner: 70.94 (SP) + 140.84 (FS) = 211.78 - 2nd
Ashley came into this event on the heels of the worst performance of her GP career. It was a bit of a toss up as to what we'd see from Ashley here but she left no doubt in anyone's mind that she's still one of the best the U.S. has.
The SP was a solid outing for Ashley but not without error. On the performance side of things it was business as usual. Ashley is a performer through and through and she definitely delivered that aspect of her skating here. Even though it's not exactly my favorite program of hers I do love the confidence and sultry sass she brings to this "Sweet Dreams" programs. On the technical side of things she did well. Like Karen's combo, I felt Ashley's 3F-3T was under-rotated; however, she earned full credit and +1.20 in GOE for that element. Her 3L was great (+1.40) but she had a rough landing on her 2A which cost her a bit in GOE (-0.50). Ashley also lost points due to a level 3 spin and level 3 steps which is an area she often (needlessly) loses out on points. All in all it was a strong performance that placed her a close 3rd and had her perfectly positioned to make a run at gold in the FS.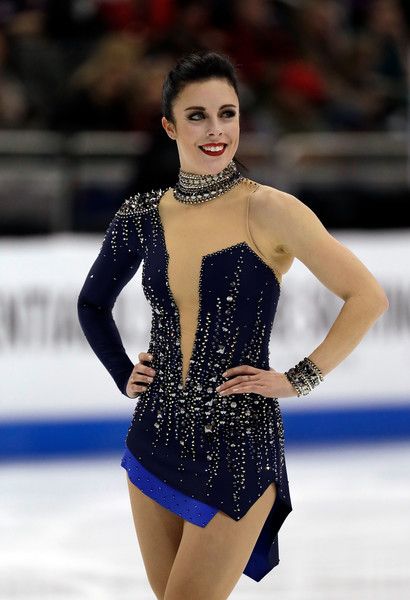 Right where she needs to be
This was definitely the best performance of "Exogenesis" we've seen from Ashley all season long. She skated right after Karen's nearly flawless performance so she undoubtedly heard the score and knew she didn't have any room for error. To Ashley's credit, aside from a singled toe loop at the end of the program, she went for everything. Again, like Karen's combo Ashley's opening 3F-3T was very close on the landing. However, unlike Karen, Ashley was not given the "look the other way" bonus which I definitely disagree with. If you're being lenient on the calls you should be lenient on everyone's calls. The back end of the combo was called under-rotated which lost Ashley key points. Luckily the rest of her jumps were clean including her 3L-1L-3S. She earned level 4s on everything except her final spin (level 3) and she performed the program beautifully...and on a completely shallow note, her dress was so gorgeous! The program scored very well but it just wasn't enough to overtake Karen. Ashley finished 2nd in the FS and 2nd overall.
Kudos to Ashley for yet another medal though I'm sure she wanted that 4th title. On the other hand coming in second might be a blessing in disguise for her. The pressure of defending a title is never easy and we know Ashley struggles with putting her best foot forward in an Olympic year (2014 nationals anyone?). With Ashley as the silver medalist she now has the ability to come into the competition chasing something rather than defending it. I think this silver medal will work out in her favor next year.
Mariah Bell: 63.33 (SP) + 134.59 (FS) = 197.92 - 3rd
I was secretly cheering for Mariah to walk away with the title here. I saw that "star" spark in her at Skate America this year and figured if she could nail her performances the judges would see it too.
The SP started off pretty roughly for Mariah. She went for her opening 3Lz-3T but under-rotated the back end and fell...and with that fall went my hopes of seeing her on top of the podium. However, to her credit Mariah regrouped immediately. She nailed her 3F and 2A without any issues and also maxed the levels on her non-jump elements. It's good to see that she's consistently earning all level 4s on her spins and steps as that was an area she used to struggle with. The early fall hurt her score but Mariah didn't drop the performance and was able to finish out strongly. This "Roxie" program is a crowd-pleaser: the choreography is great, the music is wonderful and Mariah does a great job bringing that fun and sassy flair to it. In the end she finished the SP in 6th place which was a bit of a disappointment but at least got her into that final group of skaters.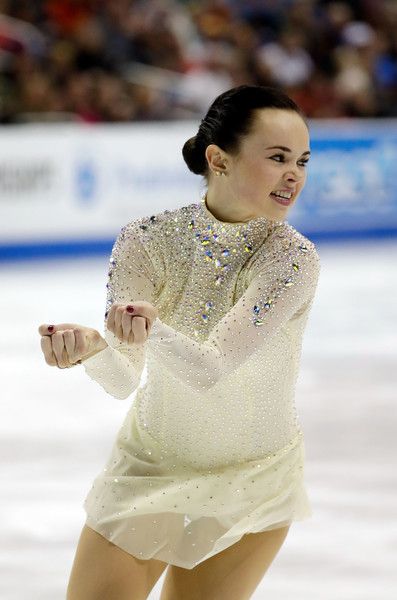 Mariah's time is coming
Earlier this season we saw Mariah deliver a nearly flawless performance of her "East of Eden" FS at Skate America and I was hoping to see some of that magic again. The first two elements of the program were not landed well. Her 3Lz-3T had a funky landing and she almost went down on her 3L. The good news was she didn't under-rotate any of those jumps which means she got full credit even though she lost points in GOE. Mariah then hit a nice 2A-2T which seemed to calm her down. After that she really settled into the program and into the jumps. She nailed four more gorgeous triples including a nice 3F-1L-3S combo in the bonus (+1.10). It started off shaky but ended very well which definitely helped the judges when it came time for scoring. Again, this is another lovely program. Rohene Ward's style meshes very well with Mariah's skating style which makes for some very beautiful programs. Even though the beginning was a little shaky Mariah's strong finish (and rotated jumps) earned a great score. She placed 3rd in the FS which was enough to move her up to 3rd overall and earn her the bronze medal.
I really love Mariah and I'm hoping to see her do well moving forward. She's gained a lot of confidence this year and I think she may be starting to find her stride as a competitor as well. Mariah has beautiful jumps, difficult content and a sparkling on ice personality. If she can introduce consistency to her skating I think she could be a real threat both nationally and internationally.
As for the rest...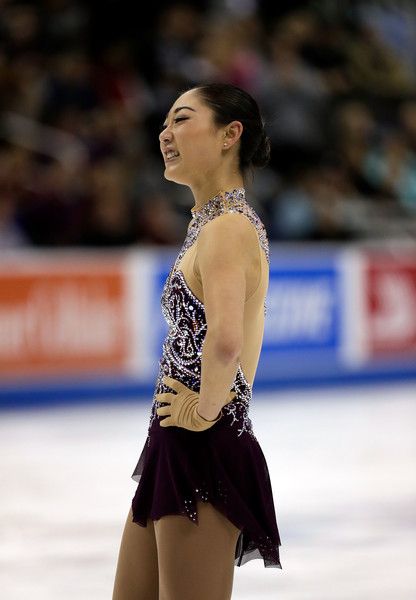 Almost there...
Mirai Nagasu (194.90, 4th):
Mirai started off well in the SP. Like Karen and Ashley, I thought her combo would have received an under-rotation call in an international competition. Luckily the caller was cutting people breaks so Mirai got one for her 3F-3T (+1.20). She had a little trouble on the lading of her 3L which cost her (-0.80) but overall it was a strong performance that placed her a surprising 2nd in the segment. Mirai skated last in the FS and had a real shot at making it to the podium. She opened with a solid (and mostly rotated) 3F-3T but things began going down hill after that. She fell on her 3Lz and under-rotated several jumps in the second half of the program. Even with the jumps not quite being there Mirai could have boosted her score by really selling her program...she didn't. I love the music of this "Winner Takes it All" FS but I just don't see the emotion or performance from Mirai. In the end she finished 4th in the FS which dropped her down to 4th overall, only 3.02 points away from the podium (again, pewter medals are ridiculous).
Mirai has made some improvements this year and is on the right track. She placed 4th last year as well which is a plus especially considering how sporadic her placements used to be. Mirai needs to keep working on her jumps (and that triple axel) if she wants to position herself for a shot at that team next year...assuming we have three spots when all is said and done.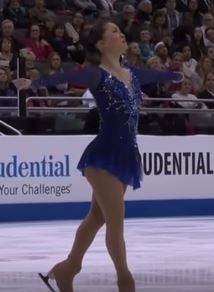 Couldn't find a good picture
Caroline Zhang (182.82, 5th):
I'm convinced Caroline is a phoenix. This girl keeps finding ways to come back, time and time again. I will admit it: I never expected to see her place top 5 at nationals again, especially after her surgery. I was hoping to see her skate well and maybe place top 10 but to see her come out and nail both of her programs so well is a testament to her focus as a competitor and her drive and heart as an athlete. With the exception of an edge call on her lutz in the FS, Caroline went clean in both programs. I think her 3L-3L (which was fully rotated and earned positive GOE in both segments) might be the best looking loop-loop combination in the field. Her 2A has gotten even better and she's added a solo 3T back into her arsenal. Caroline still needs work on her skating skills (her step sequence in the FS was done at a crawl) but I'm just so impressed with what she managed to accomplish at these championships.
I'm so proud of her. As always I have a soft spot for Caroline. She was one of the first skaters I fell in love with post-Michelle Kwan so she holds a special place in my heart. I'm so happy for her!
Dunzo!
Gracie Gold (179.62, 6th):
After her quick visit to Alex Ouriashev before coming to this event most were hoping to see a focused, stronger and more confident Gracie. Unfortunately a blast from the past couldn't fix whatever present issues are plaguing Gracie. Her SP started off well with a tight but clean 3Lz-3T...then that damn 3F that they insist on including. She doubled it which netted her zero points and left her in 5th place. Even though she was coming from behind everyone knows the judges would have moved heaven and earth to get her into the top 3 had she skated well. Gracie started off with a strong 3Lz-3T and followed up with a 2-footed 3L. After that everything began to unravel. She singled a 2A and then proceeded to double her next 3 triple jumps. In the end Gracie completed only 3 triples. She finished a disappointing 9th in the FS and dropped to 6th overall.
The day after the competition news broke that Frank Carroll and Gracie would be parting ways. Apparently Frank made the decision and announced it to the media before notifying Gracie. Damn. This is a move most people saw coming from a mile away. Frank did wonders for Gracie when it comes to her presentation and the cleanliness of her skating and together they accomplished a lot (two national titles, 4th at the Olympics and Worlds). However at this point in Gracie's career she needs something else. What that something is, I have no idea but I'm sure she'll find it. Gracie's season is over as of now which means she has the next eight months or so to find a coach and get herself together for this upcoming Olympic season.
Other Competition Notes:
Tessa Hong (168.74, 10th)
skated beautifully in the SP and placed a surprising 4th. Unfortunately she came apart in the FS and dropped in the standings. I think she's a lovely skater and I'm excited to see more from her in the future...
Courtney Hicks (165.19, 12th)
came into the competition as a favorite but had a horrible showing in the SP that took her completely out of medal contention. Nationals just doesn't seem to be her forte. This is the 3rd year in a row this has happened to her.
Congratulations to all of the medalists! It was announced that
Karen Chen
,
Ashley Wagner
and
Mariah Bell
have been named to the
World team
.
Karen Chen
,
Mariah Bell
and
Mirai Nagasu
have been named to the
Four Continents Championship team
. During interviews Gracie reportedly said that she should be included on the World team because she's "still one of the best skaters in the United States and in the world." While I don't necessarily disagree with that, nothing she's done in the last five months warrants her a spot on the team ahead of Wagner or Bell. I'm glad to see the USFS made the right decision and will be sending the top 3. Mirai was named as the first alternate for Worlds over Gracie, who is the second alternate. At this point I'm sure Gracie is getting the message loud and clear: the USFS isn't going to put any eggs in her basket until she can prove she's trustworthy again.
The truth is the results at Worlds will have a major impact on nationals next year. Placements at this year's Worlds will determine how many skaters we send to Pyeongchang. We've had three spots throughout this quadrennial; it would be a shame to lose them right before we need them most. Ashley, Karen and Mariah have a major task ahead of them. Let us pray...