More skating to cover this week! I'll take a quick look at the results of the European Championships and give my thoughts on the outcome of last week's Canadian national championships. Let's go!
2017 European Championships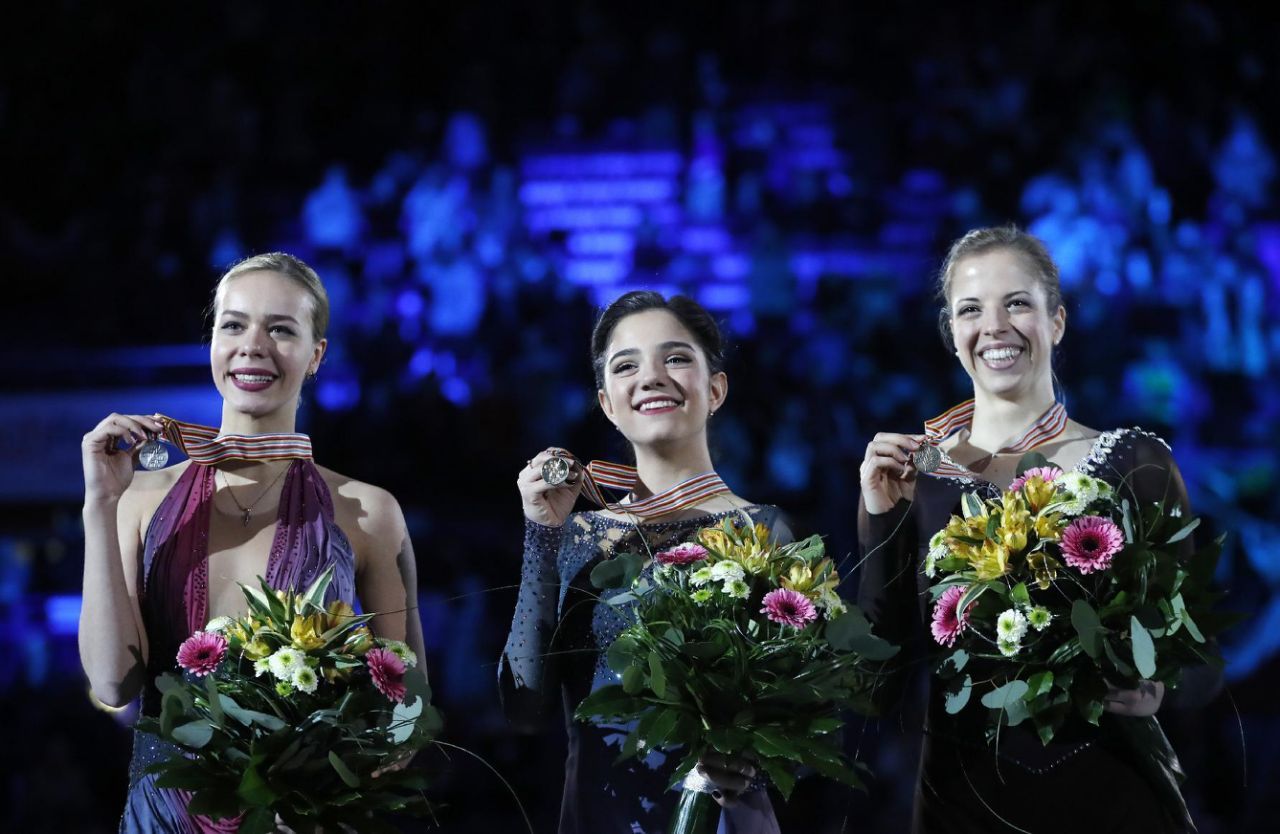 Back-to-back for Medvedeva
The final results:

Evgenia Medvedeva (RUS): 78.92 (SP) + 150.79 (FS) = 229.71 - 1st
Another flawless performance and another win for Evgenia. It's really remarkable. I've been watching skating since the early 90s and Evgenia is, hands down, the most dominant skater I've ever seen. It's not just the fact that she's beating everyone; it's that she's doing it while still delivering the goods. Most of the top names occasionally win an event or two based off of reputation scoring, meaning they had some trouble on the technical side of things but the judges boosted them to the win. Evgenia is winning everything but she's consistently hitting all of her jumps and then some, like she did here with an additional/invalid 3T on her 2A. Her consistency, focus and drive are unbelievable. There's really nothing more to say. Evgenia Medvedeva is
The Shit
.
Anna Pogorilaya (RUS): 74.39 (SP) + 137.00 (FS) = 211.39 - 2nd
Anna seems to have taken her 4th place finish at nationals in stride. She wasn't flawless at this event but she proved that she's not willing to roll over and play dead when things go wrong. Her SP was great. She nailed all of her jumps, maxed her non-jump elements and turned in the best performance of this SP I've seen all season long. She placed 2nd in the segment. The FS started off a bit shakily. Anna's opening 3Lz was off which prevented her from adding the 3T. She adjusted on the fly and changed up the second half of her program. Her second 3Lz has been in combination (3Lz-1L-3S) all season long. Here Anna went for a 3Lz-3T(<) instead and then changed her intended 3L-2T to a 3L-1L-3S combo. It was some extremely quick thinking on her part that worked out in her favor in the end. Anna just barely managed to edge Carolina for the silver medal by only 0.87 points. I loved her reaction in the K&C. This girl really wants it and I was happy to see her fight for it.
Carolina Kostner (ITA): 72.40 (SP) + 138.12 (FS) = 210.52 - 3rd
With Carolina being out for so long and the field being so competitive nowadays, I wasn't sure how she would match up with this new generation of women. Turns out she's holding her own fairly well. The SP is gorgeous (of course) and even though the content is easier (3T-3T, 3L, two level 3 spins) Carolina's quality is making up the difference and keeping her in the mix. She placed a solid 3rd in the SP. The FS was strong but not perfect. She hit another great 3T-3T to open (+1.40) as well as three other triple jumps. Carolina lost some points on an under-rotated 3L as well as two level 3 spins again. Additionally she does not have a lutz in the program at this time which may hurt her down the line. Still, Carolina hit five triple jumps and missed out on silver by less than a point. Considering the fact that she faced off against two of the top three women in the world and just barely came in 3rd is very impressive. If she can skate like this or better at Worlds, I wouldn't be shocked to see her on the podium...which is not something I ever thought would happen again. I'm thrilled she's back and I hope she kicks ass at Worlds.
As for the rest...
Best to get that out of your system now...
Maria Sotskova (RUS; 192.52, 4th):
Maria had a very strong SP and placed a close 4th, but unfortunately things unraveled after that. She's been so steady and strong all season long so it was a bit of a shock to see her struggle so much. I don't know if it was nerves or what but she had a mini-implosion in the FS. Two falls and a total of three under-rotations lost her a lot of points and placed her a distant 4th overall. Hopefully this was just a one-time thing and Maria will be able to deliver better at Worlds.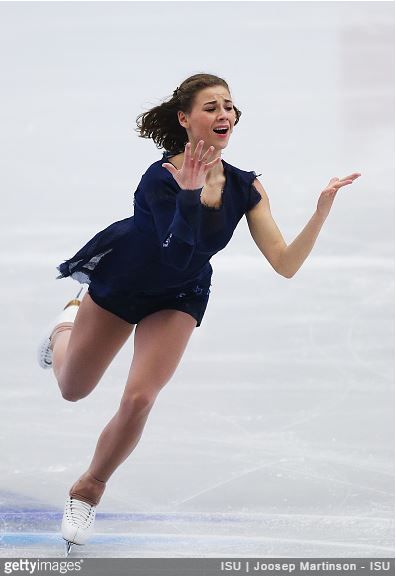 Loving the emotion!
Laurine Lecavelier (FRA; 188.10, 5th):
Laurine had a gorgeous SP, hitting all of her jumps (3Lz-3T, 3L, all level 4 spins) and placing a solid 5th. I really like her SP this season. It's heartfelt and honest and it was great to see her nail it on this big stage. Laurine delivered another good performance in the FS nailing six triple jumps and placing 4th in the FS with a personal best score (124.29) and 5th overall with her best total score. I like Laurine's skating a lot. I feel like she gives real emotion when she skates and that's something I love to see.
That's it for Europeans. On to Canada!
2017 Canadian National Championships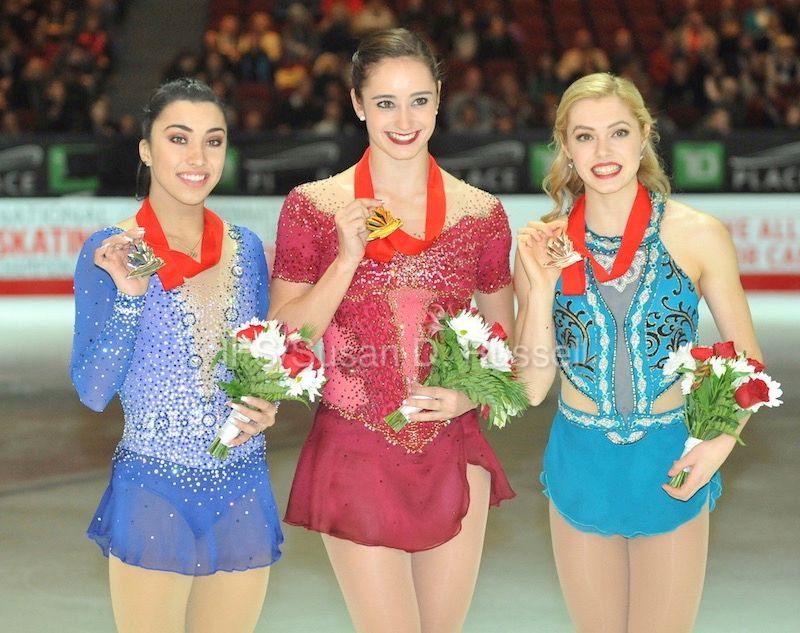 Photo credit to S. Russell
The final results: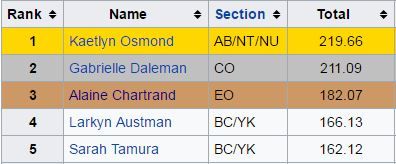 Kaetlyn Osmond: 81.01 (SP) + 138.65 (FS) = 219.66 - 1st
I love Kaetlyn to death but the judges gave her some Russian-level inflated scores. Her SP was the best it's been all year, so I will give her that. Everything was clean, the program is amazing and Kaetlyn delivered. I expected to see 77+ maybe even 78+...but
81+
? Come on judges. Then again, I'm thinking it was strategic scoring. Kaetlyn has been rocking the SP this season but has struggled to keep it together in the FS. By giving her such a large cushion going into the FS the judges left room for her to mess up in the FS (like she did) and still come out on top. Aah, I see what they did there...and it worked. Sure enough Katelyn struggled in the FS. She started off very well (gorgeous 3F-3T, 2A-3T, 3Lz) but the second half of the program went down hill. She had back-to-back falls and a bad landing on her final jump. Even with the issues she was able to win the FS and the title. Hopefully having the title back will boost her confidence going into Worlds. Kaetlyn has a real shot at the podium if she can keep it together for longer than half of the FS.
Gabrielle Daleman: 75.04 (SP) + 136.05 (FS) = 211.09 - 2nd
Gabrielle skated right after Kaetlyn's monstrous 81+ SP score. I have to give her major props for rising to the occasion and not letting Kaetlyn's performance intimidate her. Gabby responded back with a flawless performance of her own, nailing all of her jumps including her massive opening 3T-3T (straight +3s from the judges (+2.10)) as well as level 4s on all of her non-jump elements. Gabby scored well but was far back enough that she'd have needed to be flawless and then some to catch up to Kaetlyn. Unfortunately she had a few minor issues in the FS which cost her a bit, but she would have never caught up to Kaetlyn (which is what the judges wanted). Still, she put up one hell of a fight and delivered a very strong performance in the FS. In the end Gabby walked away with another silver medal and another trip to Worlds.
Alaine Chartrand: 67.41 (SP) + 114.66 (FS) = 182.07 - 3rd
Alaine came into this event as the defending national champion. In all honesty it's not a title she's carried very well. She had a poor showing at Worlds last year finishing way outside of the top 10, and she continued to struggle this season as well. With Kaetlyn back in the spotlight and Gabrielle also shining internationally, Alaine got left behind this year. The same thing happened at this event. Alaine under-rotated her combo in the SP which left her more than 7 points out of 2nd place. Sadly the FS was no better. She under-rotated four jumps and received an edge call which killed any chance she had of catching up to the top 2 and left her in 3rd place overall. Alaine won't make the trip to Worlds this year; however, if Kaetlyn and Gabrielle can deliver, the two of them could earn Canada a 3rd spot in Pyeongchang. If I were Alaine, I'd be cheering my ass off for those two...
That's it for now. Next up, Four Continents Championships!