Late Happy New Year everyone! I'm still playing catch up after the holidays and being sick with the flu but I definitely wanted to get my review in before U.S. Nationals kick off. I'll take a quick look at the two major national championship competitions from December (Russia and Japan) and give some updates on a few of the other countries.
2017 Russian National Championships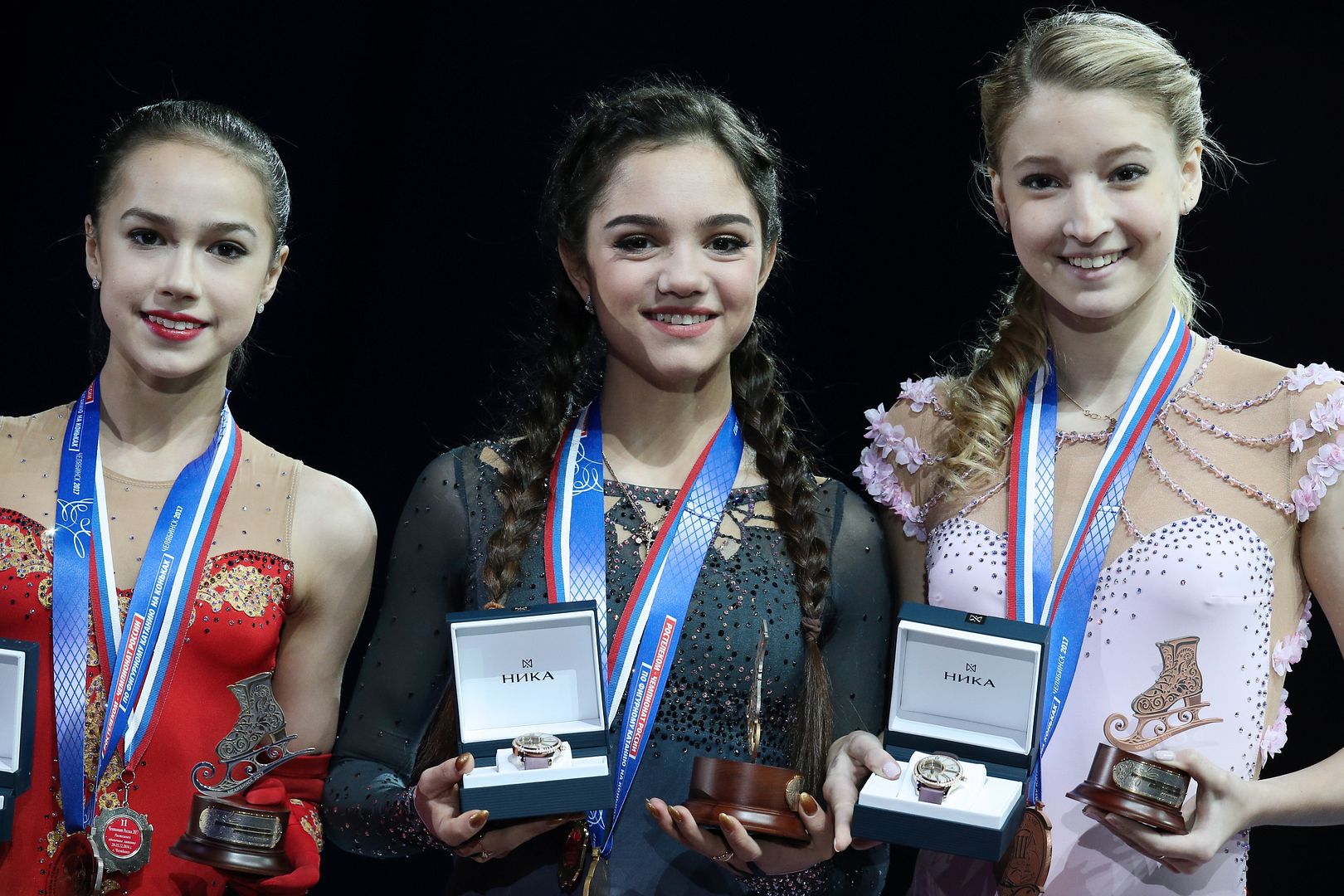 Team Tutberidze for the win!
The final results: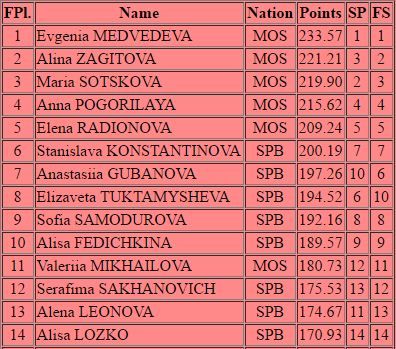 Evgenia Medvedeva: 80.08 (SP) + 153.49 (FS) = 233.57 - 1st
I honestly don't know what else I can say about Evgenia. Another competition, another home run. She makes it look ridiculously easy. I feel that the scores were high (which is always expected at nationals)...but the scary part is I'm fairly certain these are very close to the scores we'll see for her at Worlds this year. Evgenia is unstoppable at this point and I might die of shock if she doesn't repeat as a European and World champion this year.
Alina Zagitova: 74.26 (SP) + 146.95 (FS) = 221.21 - 2nd
Yet another Eteri student kicking butt. I really wasn't expecting to see Alina in second place here. I wasn't all that impressed with her the first time I saw her but she is growing on me. I do think the rotation on some of her jumps was questionable even though it's obvious the judges didn't. I still dislike the lopsidedness of everything but I have to give credit where credit is due. She went after both programs and delivered in both.
Maria Sotskova: 74.39 (SP) + 145.51 (FS) = 219.90 - 3rd
Maria has been slowly making her way up the ranks this season. She's been skating very well in her debut season and yet managed to somewhat fly under the radar. I figured she had a good shot at the podium but I didn't expect her to place ahead of Anna to be honest. Maria had strong performances in both programs and the judges rewarded her for it. In the end she edged out Anna for that final podium spot and shocked a couple of people in the process.
As for the rest...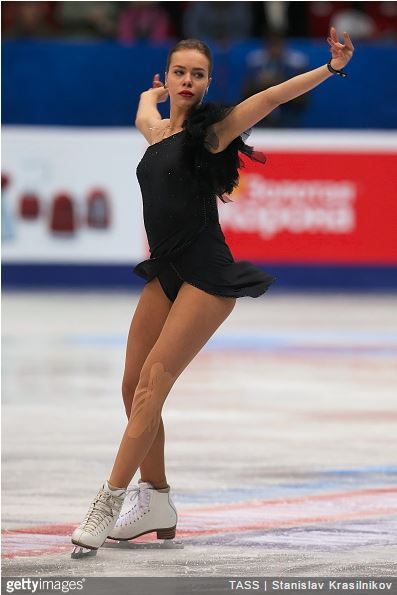 I'm kinda thinking she wuzrobbed...
Anna Pogorilaya (215.62, 4th):
I was very proud of Anna. I thought she gave two solid performances despite her knee injury and personally I'd have had her ahead of Maria. Maria is a lovely skater but I do think she lacks the overall maturity and presence that Anna has. I think the judges got this one wrong. Even though Anna missed the podium Alina is too young to go to Worlds so Anna will have a chance to defend her bronze medal.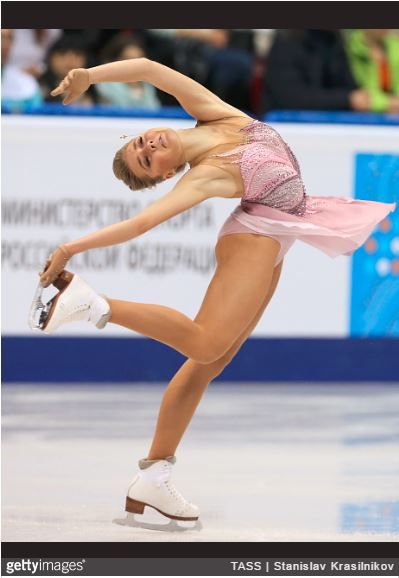 Time for a jump technician
Elena Radionova (209.24, 5th):
Elena turned in good performances here but, as has been the case this season, it just wasn't enough. The level of competition is leaving her behind due in large part to the issues she has with landing her jumps cleanly. She's skating well enough but her wonkiness of her jumps is now hurting her overall. Unfortunately she will miss Europeans and Worlds this year.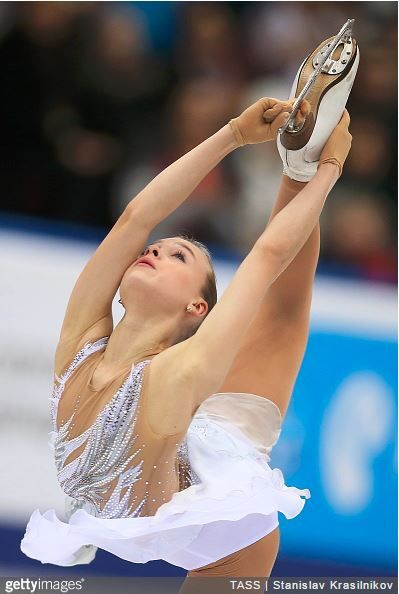 I lurves her!
Anastasiia Gubanova (197.26, 7th):
Anastasiia is a gorgeous skater. She's one of my favorites of the Russian juniors. I think her style is beautiful and she her presentation is amazing. She struggled a bit in the SP but was able to make up ground in the FS with a great performance. I'm looking forward to seeing more of her at Junior Worlds.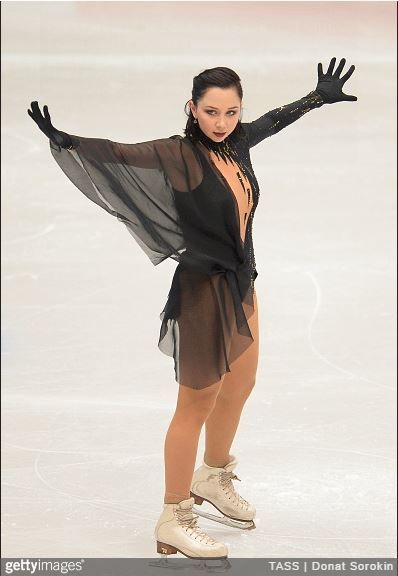 Lots of work to do
Elizaveta Tuktamysheva (194.52, 8th):
Liza T had decent performances as well. However, like Elena, Liza is continuing to lose ground against the other top competitors. For the second season in a row Liza will miss Europeans and Worlds. If she is hoping to make a push for the 2018 Pyeongchang Olympics she has a lot of work to do.
Again this was an amazingly skated event. Keep in mind that
Polina Tsurskaya
and
Julia Lipnitskaya
did not compete. Polina finished 4th at this event last year and had been looking great this season prior to an injury before the Final. Julia had also been gaining some momentum this year and may have been a factor here had she competed. One thing is certain: the level of competition in Russia is beyond insane and this event is going to be a total
bloodbath
next year.
Moving on...
2017 Japanese National Championships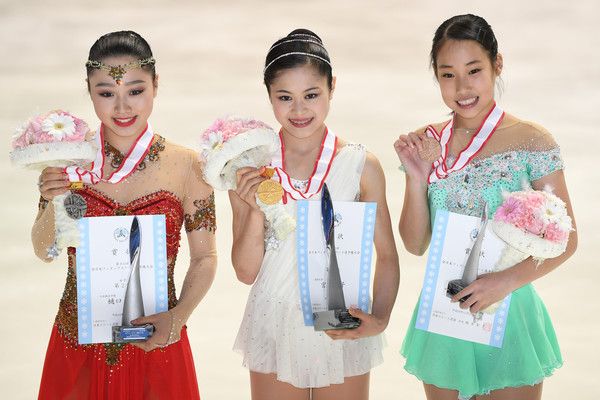 Tiny Queen rules 3 times in a row!
The final results: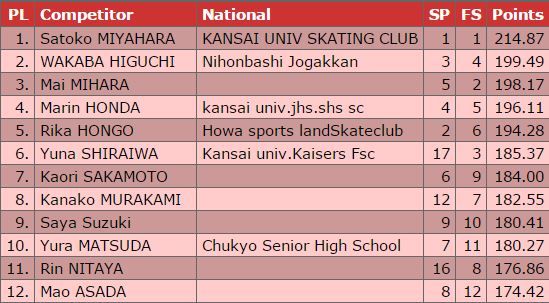 Satoko Miyahara: 76.49 (SP) + 138.38 (FS) = 214.87 - 1st
For the third year in a row Satoko takes the crown of Queen of Japanese skating. Her ability to perform with grace, nuance and elegance was on display (as always) and she ran away with the title here by more than 15 points. As great as Satoko was she did lose points on a few under-rotations in the FS. If she hopes to nab a spot on the podium at Worlds she is going to have to get those jumps around and give the judges no room to take points away.
Wakaba Higuchi: 68.74 (SP) + 130.75 (FS) = 199.49 - 2nd
It was great to see Wakaba finally deliver a clean SP here...well mostly clean anyway. She lost points from an edge call on her 3F which makes me wonder why she won't just go for a loop. A 3L in the bonus is worth 5.61 points; her 3F(e) is only worth 4.07. Her team seriously needs to consider the change. Despite a fall in the FS, Wakaba refocused quickly and was able to finish well and place 2nd overall.
Mai Mihara: 65.91 (SP) + 132.26 (FS) = 198.17 - 3rd
I don't find Mai to be particularly interesting as a skater. I think she still has a lot of left over junior dust on her that hasn't cleared yet. Even though she's not grabbing me, she's grabbing medals thanks to her strong technique and consistency. Mai delivered two flawless programs in both segments of the competition which is impressive considering the level of competition. It may take another year or so but she has the potential to be one of the go-to girls for Japan.
As for the rest...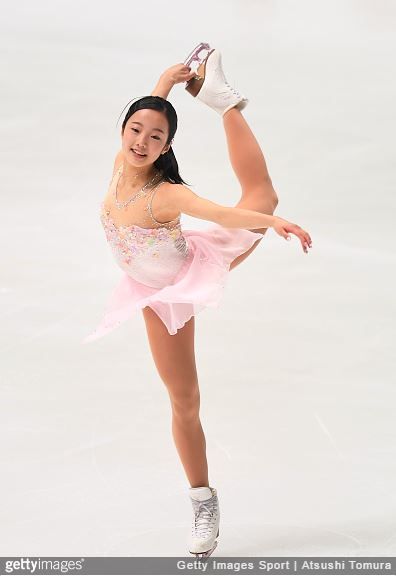 Finger crossed for this one
Marin Honda (196.11, 4th):
I was really hoping to see Marin on the podium here She turned in a lovely performance in the SP and, had it not been for a popped flip in the FS, she'd have edged out Wakaba for the silver medal. Overall this was a much better performance for her and hopefully it will help her confidence for Junior Worlds. If she can find consistency Marin may be the answer to this new crop of Russians.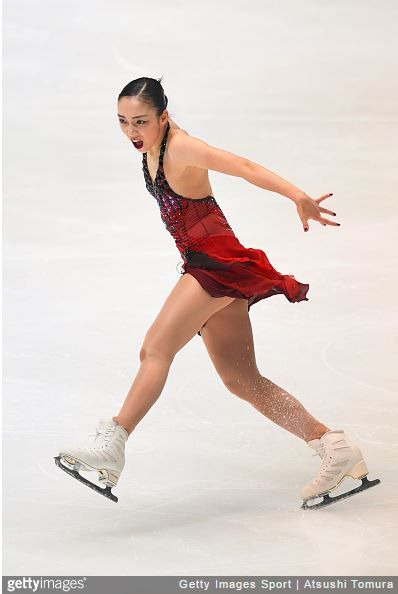 Just not enough in the FS
Rika Hongo (194.28, 5th):
Rika was great in the SP and finished 2nd in the segment. She nailed the jumps and gave a lot of energy and personality to the step sequence. For the FS she went back to her "Riverdance" program from last year. It was a good idea as her FS from this season wasn't producing results but unfortunately, the jumps weren't there and neither was the magic.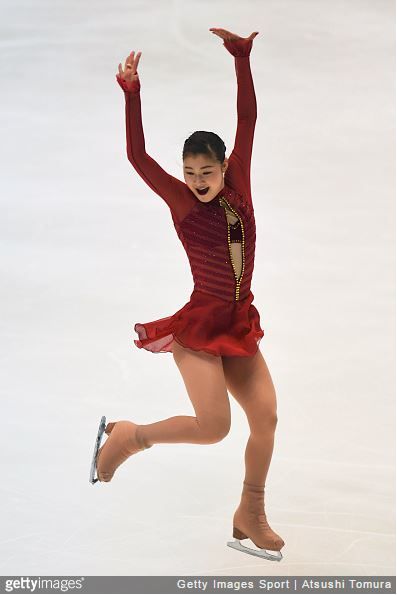 I don't care what anyone says. I love Kanako.
Kanako Murakami (182.55, 8th):
Kanako's jumps are nowhere near where they need to be for her to be competitive but I love the energy and passion she brings to her performances. The step sequences in both of her programs were wonderful.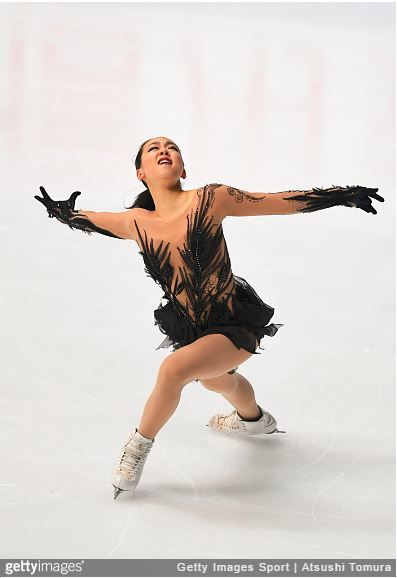 Gorgeous as ever...but not competitive
Mao Asada (174.42, 12th):
Mao continued to struggle here. Lots of jump errors in both programs but to her credit, she went for nearly everything in the FS. Her programs are beyond fabulous and she's more elegant and commanding than ever...but she is not competitive right now. She won't be making the trip to Worlds this year. If Mao wants to continue to skate with the intention of medaling she may need to look into hiring a technical coach who can get her jumps back. She should take advantage of the break between now and the beginning of next season. Rest, heal up and work on her jumps so that she can come into the 2017-2018 season healthy and ready to make a run at her third Olympic team.
This was a good event as well. I do find the difference in scoring with the Japanese versus the Russians to be very interesting in terms of the inflation percentage. There is going to be a major battle at this event next year as well especially between the newcomers and the veterans. Let's take a look at a few other countries and their results...
A Few Other Countries...
Italian National Championships
The Queen is back!
Carolina Kostner
won her eighth national title by a landslide (
210.97
). She had solid performances in both segments of the competition. Carolina's components will definitely keep her in the top 10 at Worlds but if she's hoping for a top 5 finish she will have to up her technical content.
Roberta Rodeghiero
earned the silver medal (
181.97
) and
Giada Russo
got the bronze (
175.74
).
South Korean National Championships
Eun Soo Lim
won her first title this year (
191.98
). Eun Soo really caught my eye on the JGP this year with strong finishes at her events (4th and 3rd). I see a spark in her similar to what I saw in Yuna Kim...she might be something special.
Ye Lim Kim
won the silver (
183.27
) and
Na Hyun Kim
took bronze (
181.78
).
Chinese National Championships
Ziquan Zhao
defended her national title (
157.35
). She was able to edge out silver medalist
Xiangning Li
(
156.11
) by only 1.24 points.
Yixuan Zhang
took home the bronze medal (
136.99
). Zijun Li did not compete.
French National Championships
Laurine Lecavelier
finally broke through this year and handily dethroned the 3-time defending champion
Mae Berenice Meite
. Lecavelier ran away with the event by nearly 25 points (
170.55
).
Mae
had to settle for silver this year (
145.60
) while
Alizee Crozet
rounded out the podium with bronze (
135.25
).
Swedish National Championships
Joshi Helgesson
defended her title and walked away with gold (
161.69
).
Matilda Algotsson
earned the silver medal (
154.17
) and
Anita Ostlund
won bronze (
145.09
).
As this post is coming so late in the month U.S. Nationals will begin this week. I'm going to work on my preview for that event and hopefully get that posted by Monday. Canadian Nationals also start this week. As usual I will do my review for that competition when I recap the European Championships. Off to start my next post! Laters!