I post at various figure skating forums and, like all figure skating fans at this time of year, I'm itching for the season to begin. This year brings a few newbies to the senior ranks, most notably the Russian 1-2 punch aka Adelina Sotnikova and Elizaveta Tuktaymsheva. Both are technically gifted skaters; however, there is something I find lacking in both of them...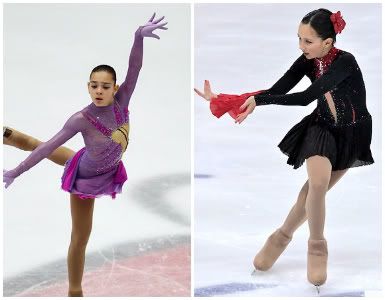 Adelina and Elizaveta, the Russian 1-2 punch
These young ladies are already the talk of the figure skating world and with good reason. Both entered the Junior Grand Prix last year and commenced to
whooping ass
at every competition, winning gold in each of their individual JGP assignments. Adelina and Elizaveta finished 1st and 3rd at Russian nationals and went 1-2 at both the Junior Grand Prix Final and the Junior World Championships.
Just by watching them, you can see that these young ladies are rather ahead of the curve when it comes to technical content. Elizaveta's name first caught fire last summer when a practice video of the13 year-old prodigy executing a kick-ass triple axel hit YouTube. This season both Adelina and Elizaveta delivered 3-3s that were (shockingly) not of the toe-toe variety; I'm talking 3lz-3lp and 3lz-3t, not to mention consistent execution of the 2a-3t. Their spins and spirals leave a lot to be desired but, overall, they get the job done.
Elizaveta (L) and Adelina (C) at 2011 Junior Worlds
But hang on, there is a downside to these two skating dynamos. For all of their technical prowess, both girls are lacking in the presentation area. While I find Adelina's posture and presentation to be superior to Elizaveta's, both girls are deficient when it comes to the concepts of artistry, musicality and believability in their movements...not to mention there's an overall lack of imaginative choreography on both sides.
At most of the boards I read, people aren't too bummed about the lack of presentation qualities. After all, Elizaveta is only 14 years old and Adelina is only 15 years old; they have time to grow into it, right? Well, yeah, that's true. But then I started to think back to a few other 14 and 15 year old skaters and the level of maturity, artistry, musicality, and overall polished presentation they displayed at such a young age...
Exhibit A:
Sasha Cohen
(14 years old)
Sasha had her faults as a skater
(the girl couldn't buy a clean program at a major event)
, but one thing you can't deny is that chick was
gorgeous
to watch from day one. In addition to her line and extension, she displayed a polish and maturity that most 14 year olds do not possess. She didn't skate like a junior in terms of her presentation. Excellent posture, gorgeous lines, no awkwardness...all things most juniors tend to lack at that age. There was a style and a presence about Sasha, even back then, that stayed with her throughout her career. Her musicality and relation to the music was good here but got even better by the time 2002 rolled around. Still, at 14 years old here, she's leaps and bounds better
presentation-wise
than any girl who competed on the JGP this past season.
Exhibit B-1
: Michelle Kwan
(15 years old)
And, lastly
Exhibit B-2
: Michelle Kwan
(still just 15 years old)
Michelle Kwan made the most mind-boggling transformation from 1995 to 1996 that I have ever seen in a skater. Gone was the fresh-faced girl with the ponytail and youthful exuberance. Left in her place was this stunning young woman with a level of maturity and depth of feeling that belied her mere 15 years of existence. True, the exceptional choreography deserves credit here, but it was Michelle who pulled it off. The polish, finish and conviction of each movement, the relation to the music, the musicality, the command of the ice, the emotion and maturity...it's simply remarkable for someone so young. These programs laid the foundation for the artistry, depth and expression Michelle became renowned for throughout her career.
So maybe I'm demanding too much from Adelina, Elizaveta and the rest of the girls in the sport who don't quite grasp these concepts that skaters like Michelle and Sasha understood much earlier. It's possible...I mean after all, skaters like Michelle and Sasha are rather rare in terms of their qualities. It just seems to me that once someone develops a model of success, those coming behind should follow suit. There are a number of skaters who tried very hard to insert artistry and feeling into their programs...a lot ended up falling tragically short. I guess it's not so easy to say, "Here, do this," and have it work to the same effect it did for someone else.
I do miss the good ol' days sometimes. After Michelle Kwan blew the world away in 1996 at 15 years old, age became a moot point when it came to artistry and maturity.
But
I suppose I can wait for these girls to grow into their own. The consensus among the boards is that both Adelina and Elizaveta, along with a number of other 14, 15, 16, and even 17 and 18 year olds is that they need time. Time to develop their artistry, their presence and presentation, their ability to relate to music and convey it convincingly...they just need time. They're young, so we shouldn't expect to see high levels of presentation, artistry, etc.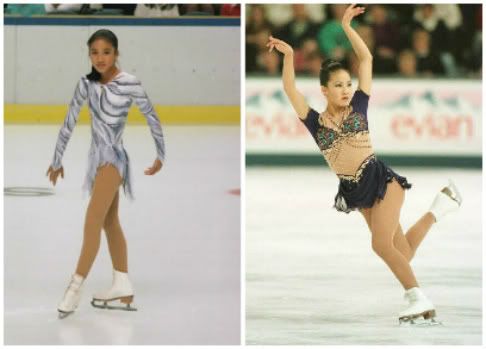 From little girl to young woman in one year...
So does that mean the Golden Era skaters were ahead of the curve? Possibly. Or perhaps it's the age restrictions imposed on younger skaters nowadays. Maybe forcing them to stay junior until 15 years old has stunted their growth from a maturity standpoint. After all, when a 14 or 15 year old skater is tossed into a competition with 18, 19 and 20+ year olds, they have to grow and evolve
fast
if they want to challenge for a top spot. That was Michelle's motivation: in 1995, Michelle missed the podium at worlds after two stellar performances that should have had her at least 3rd, if not 2nd. Her coach, Frank Carroll, said that they got the judges' message loud and clear. The next year Michelle came back a different, more mature skater...the rest is history.
So for now, I'll cut the girls some slack. Hopefully, Adelina Sotnikova and Elizaveta Tuktamysheva will catch up in another year or two...but for now, we wait.