What has happened to US ladies? I mean, once upon a time it was a rarity that an event went by and at least one American lady wasn't standing on the podium holding ugly flowers and waving when all was said and done. What happen to those days, huh?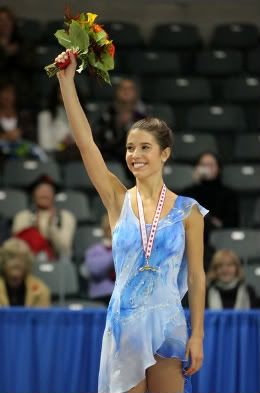 She's the only one...I'm not even kidding...
Check out these deplorable stats:
-
Highest international finish at worlds/Olympics since 2006
:
4th
(Mirai Nagasu, Vancouver 2010)
-
Last time a US lady stood on the world podium
:
2006
(Kimmie Meissner, 1st; Sasha Cohen, 3rd)
That stinks quite a bit, but wait...the Grand Prix stats are even more depressing:
Skate America
: Kimmie Meissner won gold in 2007; since then there have been two 2nd place finishes (both by Rachael Flatt; 2009 & 2010), and one 3rd place finish (Caroline Zhang; 2007)...
Skate Canada
: Alissa Czisny has won gold in this event twice (2005 & 2010) and has placed 3rd in 2008 and 2nd in 2009...
Cup of China
: This event began in 2003 and since then, no US woman has ever won. Of the current crop of ladies, Caroline Zhang finished 2nd in 2007. The only other US lady to medal in this event was Emily Hughes, who placed 3rd in 2006...
Trophee Eric Bompard
: Last to win gold in this event was Sasha Cohen back in 2003. Since then there has been one 2nd place finish (Mirai Nagasu, 2010) and three 3rd place finishes (Ashley Wagner, 2007; Caroline Zhang, 2008; Alissa Czisny, 2010)...
Cup of Russia
: Since it began in 1996, no US woman has ever won this event. Of the current crop of US ladies there have been three medals: Rachael Flatt placed 2nd in 2008; and Ashley Wagner placed 2nd in 2009 and 3rd in 2010...
NHK
: Since it began all the way back in 1979, no US woman has won this event. In the last ten years, only two have medaled: Ashley Wagner was 3rd in 2009 and Rachael Flatt was 2nd in 2010.
Grand Prix Final
: Alissa's win last year (2010) marked the first time a US lady has medaled at a GPF in
seven years
. The previous lady to medal was Sasha Cohen back in the 2003-04 season; she came in 2nd.
This current crop of US ladies (Alissa, Rachael, Ashley, Mirai) have won a grand total of
3 gold medals
...and all three belong to
Alissa
! You know, I'm realizing I might need to take back all of the bitching and complaining I did about Alissa.
Who will finally step up and be that sure bet podium finisher the US so desperately needs? I don't know, maybe I give our ladies too much credit. Maybe they aren't good enough to consistently finish ahead of the pack of international skaters...but I don't believe that. Our girls are talented! Unfortunately, this group is full of issues: headcase issues, packaging issues, technique issues, focusing issues. The sun is starting to set on this group of skaters, ushering in the next wave of US hopefuls who have their eyes set on the prize. So all of those issues Alissa, Rachael, Mirai and Ashley are housing better be resolved
tout de suite
because something tells me this new group of ladies won't be waiting around for the current group to get their shit together. If we crown a completely new US champion this year, I won't be the least bit surprised...