I'm not feeling much like posting a long in-depth review of the All That Skate Summer 2011 show, mainly because that would involve watching all of it and that ain't gonna happen...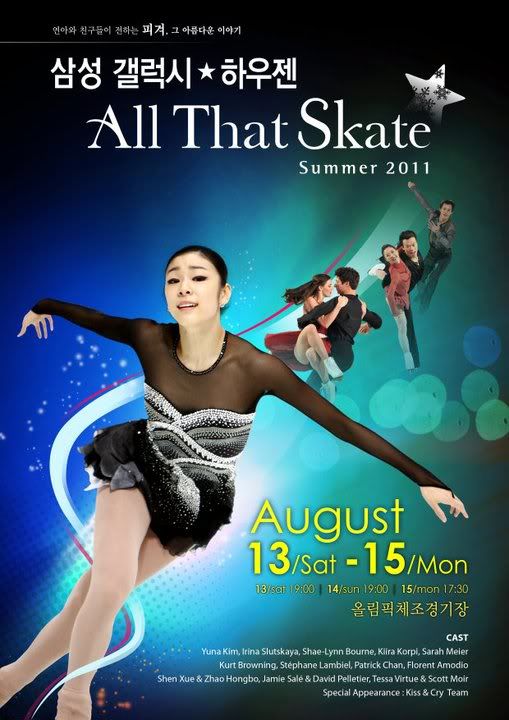 To be honest, I haven't been a fan of exhibition skating for a long time. As a Kwan-worshipper, I always looked forward to the exhibitions because it was a chance for Michelle
The Artist
to be on full display without the constraints of competition pressure. In those moments, Michelle was able to cast a magical spell in a way no other skater could. In my opinion, only one skater has achieved that take-your-breath-away kind of magic since (I'll post on that later this week). As a result, I don't bother wasting the time nowadays with exhibition shows, and with Michelle busy taking over Washington and unable to attend, my enthusiasm for ATS: Summer 2011 was woefully low.
There are certain skaters I like to watch and unfortunately, only one skater out of the entire ATS show made my list: Kurt Browning. I've always liked Kurt. His "Brick House" exhibition all those years ago (in those blue metallic shiny pants!) and watching him now, I realize why he's so special. He knows how to play with the crowd in a major way. Though he lacks a discernible amount of rhythm or dance prowess, he's still my number one favorite male skater. And for the record, Kurt Browning makes 45 years-old look damn good, I must say.
O-M-effing-G
, can we talk about his
footwork
? Holy shit, I got totally fan girl giddy watching him! Perfection! Kurt's footwork is the definition of blade mastery. It looks completely effortless: pure and clean edges, smooth turns, speed, skids and stops...
whoo!
okay, let me stop...I'm getting excited. I don't know if he's coaching right now, but I know a dozen or so skaters who would benefit immensely from a Kurt Browning's School of Blade Basics. Blade Master Kurt is the man!
I adore Kurt and I'm glad Yu-Na's people were able to get him out and introduce him to a new crop of skating fans--those in Korea, who didn't even know what ice skating was a few years ago, and those who have recently become fans and have never even heard of Kurt Browning. Everyone needs to be educated on the brilliance of this man. I love you, Kurt!!
I didn't bother with too much more of the show. I watched Irina Slutskaya for about 45 seconds before I remembered that I absolutely
loathe
her skating. Five years hasn't changed that. Don't get me wrong, I love Irina in the sense that she is a Golden Era skater who competed a long time and is the only other skater to seriously challenge the Kween. Regardless, I've never been a fan of Irina's skating so I don't know why I thought watching her flap around to "It's Raining Men" would do anything for me. I will say she looks good and it's great to see her back out on the ice...just don't expect me to stick around to watch.
I checked out Yu-Na's "Homage to Korea" revised reprise. It was very lovely and I'm glad she's treating the people of Korea to this special program. I adore Yu-Na, but she's not a skater I look forward to watching outside of competition. Her exhibition numbers don't do anything for me. Sorry. I think she looked lovely (as always) and it's obvious that touring is helping her become a stronger performer. I skipped her "Fever" performance. I love Yu-Na and I worship Beyonce, but I've seen it once and, therefore, don't feel the need to see it again.
That's about it. I'm sure Lambiel did his thing and P. Chiddy worked it out, but I just don't
give a shit
have the time to watch everyone else's performances. Hopefully for the next show, they'll be able to add a few more of my must-see skaters: The Kween, Kristi Yamaguchi, Oksana Baiul, Viktor Petrenko, Lu Chen, Rudy Galindo...those are the ones I'm ready to see back out on the ice.