One event down, five more to go. The next stop on the Grand Prix is Skate Canada and, with any luck, the level of skating will be much better than last week's...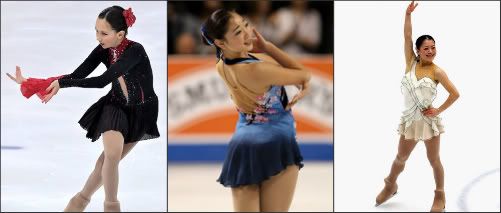 Maybe these three...maybe not...
As I sit here trying to think of a likely podium, I find myself at a loss. This one is really going to be a doozy to predict. Unlike last week where there were two clear cut gold medal contenders, there is a lot of talent at this event and each one is capable of winning on a good night. Nonetheless, I'll stick my neck out there and try to predict who will make the podium...or at least who I want to make the podium.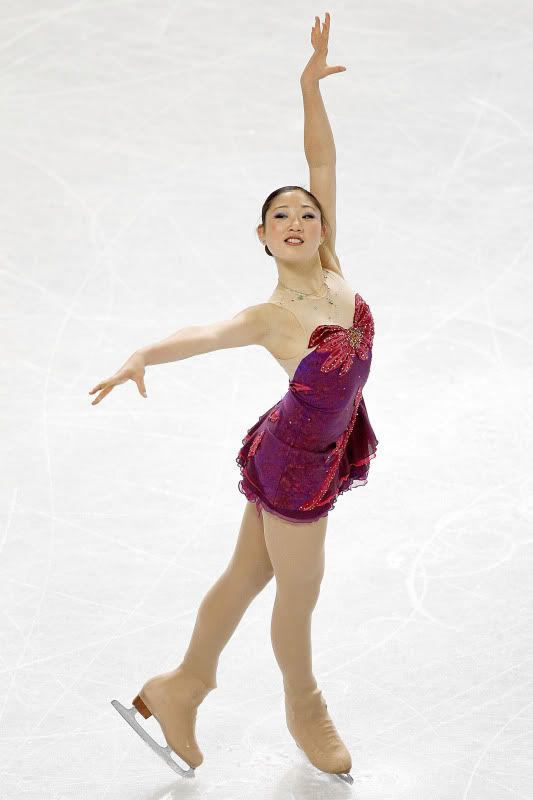 The definition of skating from head to toe
Mirai is US skating's will-she/won't-she skater. Of all of the skaters competing at this event, Mirai is the most complete: solid jumps, good speed, amazing spins, lovely presentation and lines, maturity, great flow, personality and that all important "it" factor. She is the total package. The only thing Mirai lacks is confidence and that has been her undoing in the past. Hopefully she's been working on her mental game because she'll need it against this talented field.
The good news for Mirai is this isn't her first competition of the season. She competed earlier in the summer at Glacier Falls and a few weeks ago at Nebelhorn where she won. The mileage on her programs should have improved her comfortability with them and her confidence as well. I like her SP quite a bit, but I have my doubts about her FS to "Spartacus." For one, I'm sick of that music. More importantly, I don't think Lori chose a good edit of it. It baffles me how Lori can create gorgeous programs for Mao Asada and Carolina Kostner, yet Mirai's programs look like they were thrown together during one of Lori's potty breaks. I really hope the program has evolved since Nebelhorn because I found it rather bland and boring...and Mirai is neither of those things.
If Mirai skates anywhere near as well as she skated last season at 4CC, there are only a handful of people who can beat her...and none of them are in this competition. I'm not that delusional though. I don't expect her to be perfect, but I'm hoping that she'll be strong here and deliver a good performance. So my hopeful prediction is that Mirai wins gold.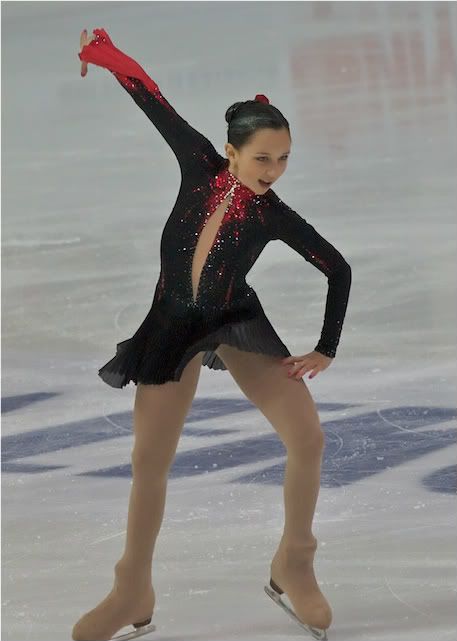 The little Russian diva has arrived
The first of the Russian babies is about to take center stage. The skating world has been buzzing about Elizaveta for the past two years now, ever since
footage of her hitting a triple axel
at only 13 years old hit YouTube. She's now just 14 (she'll be 15 in December), but she still has people talking. Elizaveta is a solid technician which puts her ahead of several of the established senior ladies, who frequently receive calls on their jumps. She's capable of a double-triple and various triple-triple combinations which automatically makes her a monster threat. However, Elizaveta is not without her weaknesses: her spins are acceptable, except for her layback, which is downright terrible; her posture is very odd (high, rounded shoulders); she doesn't have good lines; and, though she's not as Bambi-looking as other junior skaters, she lacks maturity and polish, which is expected at only 14 years old. Elizaveta is also rather tiny compared to other skaters which can affect the impact of what she does on the ice.
Regardless of her shortcomings, Elizaveta is very capable of scoring well. Like Mirai, Elizaveta has gotten some mileage out of her programs this season. She competed at Japan Open (and won the ladies segment) and at 3rd Cup of Russia. I have a strong feeling she will be on the podium here. She's very capable of winning this, but I'm gonna say Elizaveta will take silver.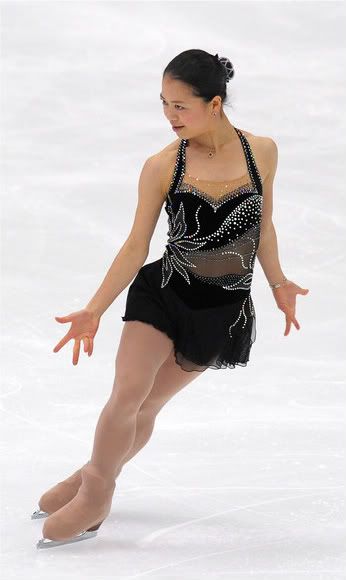 Loves her!
Remember, this is more about who I
want
on the podium than who might actually make it, though Akiko has a good shot at the podium here as well. Akiko looked extremely strong and fit at Japan Open which is a good sign. The main thing holding Akiko back is the judges. Despite her wonderful presentation, choreography, interpretation and solid jumps, she rarely receives the marks due to her. I don't know what the judges are smoking on, but it's about time this girl is given her due. She's a remarkable performer and she should be rewarded for that. She has two lovely programs this season (as always) and if she performs as well as she performed at Japan Open, she definitely will be in medal contention.
As I said, with this being more about who I want to see up there, I'm picking Akiko for bronze.
As for the rest, many of them are a possibility for gold, silver or bronze...that's why this crap is so hard to predict!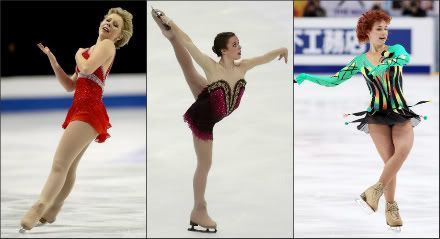 All three are medal threats

Rachael Flatt:

Rachael moved to sunny California over the summer. The Stanford freshman has new coaches and, with any luck, a new approach to her skating. It's very possible that Rachael may show up at Skate Canada as a new skater...then again, we might get the same Rachael we've been treated to for the last few years. Snoozer or not, Rachael is always a medal threat. The judges tend to score her well when she skates cleanly. However, it remains to be seen if there is any animosity left over from Rachael's

Tibiagate

scandal at worlds last year. Also, she lost training time because of her stress fracture and she's still adjusting to college life and classes, as well as new training conditions. I don't know what kind of shape she's in (she did no summer competitions) so it will be interesting to see how she fares at this competition and the rest of the season.

Ashley Wagner:

Ashley is the third, and sometimes forgotten, American. She's been a middle-of-the-pack skater for several years now despite having a decent amount of success on the GP. For some reason, she can never get a foothold in the standings because she has trouble at nationals and ends up dropping to the bottom again. This season Ashley switched coaches to the British octogenarian John Nicks. I actually think this was a good move. Ashley has really great qualities: good speed, big jumps, good spins, nice presentation...she's just never been able to put it all together. With Nicks' help, and two potentially awesome programs, I think Ashley can have a real breakout year...if she can hold it together.

Alena Leonova:

It's never safe to count Alena aka

Irina, Jr.

out. She's coming off of a fourth place finish at worlds and I'm sure she's motivated to do well now that her younger countrymen are on the senior level. Alena skates without a discernible amount of grace, elegance or finesse, but what she does have is oodles of energy and enthusiasm which I do appreciate. Her FS at worlds last year was the highlight of the event, in my opinion. Alena has good speed and big jumps and usually gets perplexingly high component scores. She has a great shot at that podium as well...possibly better than any of the other competitors due to her placement at worlds.

Cynthia Phaneuf, Amelie Lacoste and Sarah Hecken

all have the capability of scoring well, but I don't see them on the podium unless several of the aforementioned skaters have some problems...which isn't out of the realm of possibility.

So to recap, my hopes are:

GOLD

- Mirai Nagasu

SILVER

- Elizaveta Tuktamysheva

BRONZE

- Akiko Suzuki

As I said, there are so many contenders here that I'd be lucky if I got even

one

of those predictions right. I am sure of one thing though: this will be a

much

better competition than Skate America.