Damn, that was some terrible skating. As per usual, my predictions were off...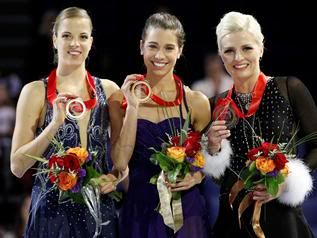 Alissa's got more than just Skate Canada gold now
The final standings:

Alissa Czisny: 64.20 (SP) + 113.28 (FS) = 177.48 (1st)
Alissa is definitely reaping the rewards of success. Those rewards include favor from the judges and a blind eye from the technical caller. I really enjoyed her SP; it's a very Alissa-like program and she delivered it very well, but she
was
gifted a bit. Her 3f was clearly URed--
she
even grimaced when she saw it on the replay--but no call was made. Thus, IMO, her 64.20 was a few points higher than it should have been. Come on though! She's the GPF champ and US champ, so Alissa gets the nod. Her LP was the same softy, nicey Alissa program with a little bit of grit thrown in. She went for the 3lz-3t and, just like at Japan Open, she stood up on it but the back end jump was downgraded. She followed that up with a fall on her 3f (also URed and got an edge call). Things were slowly unraveling for the rest of the program but she managed to stop it from completely falling to pieces. Alissa ended up with only three clean triples out of a planned seven.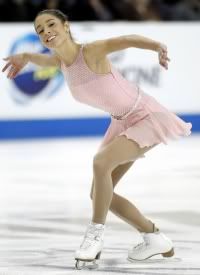 Pretty in pink
This wasn't a good performance by any standard, but it's what I expected. I said she was going to have to work her way up to that perfect performance and, as of now, she's got a long way to go. What I didn't expect was for her to be held up against Carolina Kostner with that kind of performance. It's happened before (2009 nationals anyone?) but I didn't expect it here. What this shows me is that Alissa is the new poster girl for US skating. Her skating is undeniably beautiful even though her jumps are lacking 80% of the time. Alissa is moving into Sasha Cohen territory IMO. Sasha was not known for clean performances...but that girl rarely missed a podium in large part due to the rest of her skating. Something tells me Alissa (barring an epic meltdown) will be on every podium this year. She's the new "it" girl for the US. That said, this performance sucked and I really hope she does better at her next event.
Carolina Kostner: 60.23 (SP) + 117.12 (FS) = 177.35 (2nd)
Carolina is looking pretty good. As expected, she's sticking with her easier jump layout (hardest jump was a 3f in the LP) but, again, it's paying off. I like the quirky quality to her SP. Ticky movements with the music...it worked. You know, that color of yellow she wore is very close to the color
Rachael wore in her "East of Eden" SP
. Funny, it didn't burn my retinas like Rachael's did though. I think it's because the color is more complimentary to Carolina's skin tone...I digress. Carolina had a big 3t-3t (the only attempt in the competition), a slightly scratchy 3lp and some wobbly footwork, but came out with a decent SP score. She followed up her decent SP with an even better FS. I was shocked with how clean Carolina was. She usually starts out the season a bit shaky, but aside from a slight problem on her three-jump combo, she was wonderful. Lots of speed, jumps that soared...I was very impressed. However, her final two spins only earned a level 1 which was the "justification" for her losing this competition.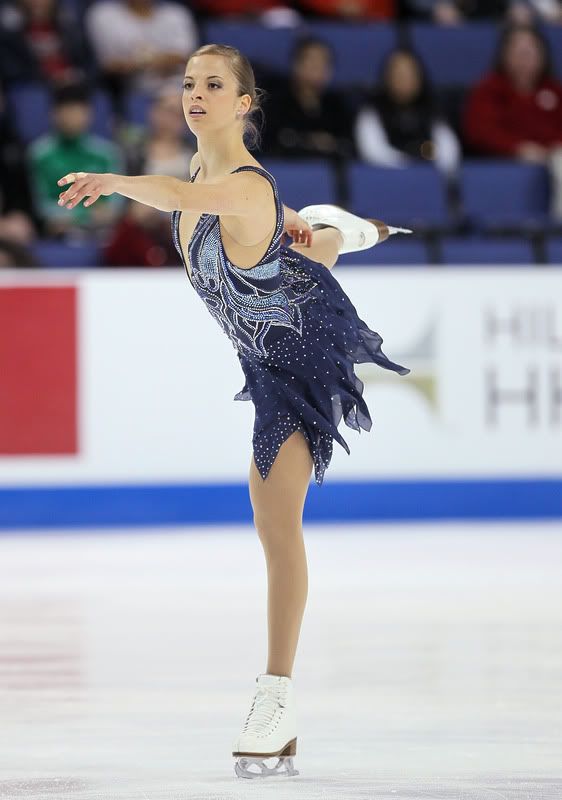 A consistent Carolina?!
I've never been one to get on the "Carolina wuz robbed" bandwagon mainly because it's usually Carolina doing the robbing. This was the closest I've ever come to hopping on board. I do think Carolina clearly outskated Alissa in the FS. Alissa's spins were stronger but Carolina's jumps were stronger (five clean triples to Alissa's three; not to mention speed, height, coverage, etc.). Both of them had lovely presentation and programs (though Alissa's was a bit emptier than usual), so it really came down to who the judges wanted in first place, and that person was Alissa. I'll except it without question at this point, but it will be interesting to see how this newly formed "rivalry" plays out during the rest of the season.
Viktoria Helgesson: 51.13 (SP) + 94.62 (FS) = 145.75 (3rd)
In no way did I see this coming but I can't say I'm surprised. Viktoria skated decently in a field of horrible skating. She placed fifth in both segments of the competition but still managed to capture a bronze medal and make history in the process. Viktoria is the first Swedish skater in history to medal at the Grand Prix. She did it with a junior level SP and only three triples in her FS, but she had nice choreography and appeared to be enjoying herself. I can't say I was
inspired
watching her, but it was nice to see someone in this sad field step up...
As for the rest...
Haruka Imai's
solid SP helped her to nab a
4th place
finish. I adored her SP but she struggled quite a bit in her FS. Haruka needs more mileage on these programs but once she gets it, I think she could be a dark horse in these competitions in the future.
Ksenia Makarova (5th place)
is obviously still on the mend after her Nebelhorn injury. She had two bad falls in both programs. Also her Marilyn Monroe FS, while brilliant in concept, does not translate well to ice. She needs to work on that.
Caroline Zhang
started off so strongly. Her SP was wonderful--big jumps, better speed, a happy smile. That didn't carry over into her FS. Multiple downgrades, under-rotations, and
three falls
placed her 10th in the segment. However, her strong SP held her up to finish
6th overall
. *sigh* Oh well...I doubt if she'll be getting another GP assignment any time soon.
Elene Gedevanishvili
...back to the drawing board. It's sad because most of the reports say she was kicking ass in practice. She flaked completely in the SP but came back a stronger in the FS to finish 3rd in the segment and
7th overall
.
ETA: You can view all of the ladies' performances here, courtesy of sprsumm of YouTube!
All in all, this was a terrible competition. The 30+ point separation between 2nd and 3rd place lets you know what kind of competition this was. I'm hopeful that next week's competition will be infinitely better and it should be. We'll see the debut of the little Russian diva,
Elizaveta Tuktamysheva
, as well as the wonderful skating of
Akiko Suzuki
, and the season debut of Americans
Mirai Nagasu, Rachael Flatt and Ashley Wagner.