Lots of skating and news this past week. I'll take a look at the ladies from JGP Minsk and Nebelhorn Trophy, and wrap up with a bit Gracie Gold and Yu-Na Kim news. Let's get started...
2013 JGP Minsk: Ladies Review
The final standings: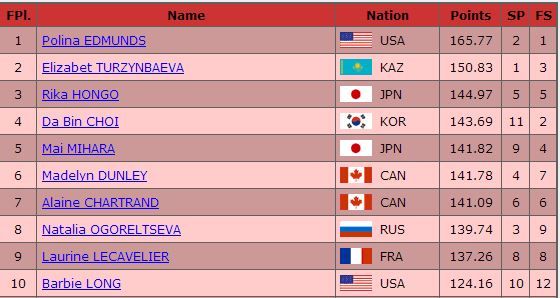 Polina Edmunds (USA): 52.49 (SP) + 113.28 (FS) = 165.77 (1st)
Polina started off her SP well with a full credit 3Lz-3T (looked
<
to me) before singling her 3L which earned -3s across the board. Polina finished out the rest of the program strongly and went into the FS less than a point out of first. All she needed was a decent skate for the win but she turned in virtually flawless 7-triple FS complete with two 3-3s (3Lz-3T and 3F-1L-3S). The only mistake was an
e
call on her second 3F. It was a light and lovely performance and I thought she was beautiful. I love her Kostner-esque length and smooth flow. Polina won the FS by almost 15 points, easily captured gold and secured herself a spot in the Final.
Elizabet Turzynbaeva (KAZ): 53.22 (SP) + 97.61 (FS) = 150.83 (2nd)
I'd never heard of Elizabet from Kazakhstan before this event but she was a pleasant surprise. Elizabet was pretty fearless in the SP, going for and nailing her 3S-3T combination and earning level 4s for everything except her flying spin (level 2). Her solid performance gave her the lead going into the FS. Elizabet held up fairly well under the pressure and delivered a solid FS: she popped her 2A into a single and two of her triples received
<
, but overall it was a solid albeit confusing FS. I wasn't sure what she was doing with her music. It went from new age to dubstep to Evanescence and ended in techno-Riverdance...no clue what was going on there. Regardless, Elizabet scored well enough to earn silver and, if I'm not mistaken, I think she may have made history. Has a woman from Kazakhstan ever won an ISU medal?
Rika Hongo (JPN): 50.10 (SP) + 94.87 (FS) = 144.97 (3rd)
I love Rika's speed and jumps but she still doesn't connect well when she skates. Regardless, she did her job here. She opened up her SP strongly with a nice 3T-3T but then doubled her 3L. She finished out the rest of the program well enough and was a little more than 3 points out of first place despite placing 5th in the segment. Rika ran into some trouble in the FS. An
e
on her 3Lz as well as three
<
triples lost her a lot of points; however, even though she placed 5th in the segment (again) she was able to secure a bronze medal here.
As for the rest...
Da Bin Choi (KOR; 143.69, 4th)
placed 11th in the SP but thankfully the competition was a very close race after the SP. Da Bin had a solid FS and placed 2nd which moved her up to 4th place overall.
Natalia Ogreltseva (RUS; 139.74, 8th)
placed 2nd at JGP Mexico Cup and I fully expected her to be in the running for a medal here. She was in the mix after placing 3rd in the SP but two falls and multiple
<
s in the FS killed her chances of making the JGPF.
You can watch all of the ladies on the
ISU JGP YouTube channel
. Next week is JGP Czech. We'll see
Alexandra Proklova
and
Maria Sotskova of Russia, Angela Wang of the USA
,
Riona Kato of Japan
and
Hae-Jin Kim of South Korea.
2013 Nebelhorn Trophy: Ladies Review
The final standings:

Elena Radionova (RUS): 64.69 (SP) + 123.52 (FS) = 188.21 (1st)
I've gone from
like
to
love
this year...I
love
Elena! I absolutely love the way she gets into her music and the character when she performs. She makes me smile and I really feel her performance when she skates...and oh yeah, she lands a bunch of triples too. Elena dusted the field in her first senior international event, winning by more than 25 points. I loved her SP: 3Lz-3T, 3L, 2A and level 4 everything. I really loved the program, especially the footwork and all of the transitions. Elena had a comfy lead going into the FS but didn't back down at all. Another 7-triple FS? No sweat. Elena's only mistake was a fall on her 2A but it barely made a dent in her 120+ score. Amazing performances and scores for her first senior event.
I'm thinking Elena could have a very strong senior debut on the GP this year. Unlike others who are looking a little shaky and uncertain, she's looking confident and at ease. We'll have to see if that changes between now and her debut at Skate America, but I'll say it now: I won't be surprised if Elena pulls off the upset and wins SA ahead of both Mao Asada and Ashley Wagner.
Miki Ando (JPN): 59.79 (SP) + 103.07 (FS) = 162.86 (2nd)
This marks Miki's first time on competitive ice since 2011. And the verdict is...meh. Just meh. To say she just gave birth six months ago she looks great, but the skating is what counts here; not her postpartum figure. The skating was so-so. No major errors, she easily surpassed the necessary TES to qualify to go to Sochi, but there was nothing great or even promising about her programs. I'll cut Miki some slack simply because this was a
get-the-job-done
kind of competition. I'm hoping that both of her programs as well as her skating overall will improve dramatically in the future.
I'm still not sure where Miki fits into this picture. Based off of what we saw here, in my opinion, Akiko and Kanako's spots in Sochi are safe for now. Miki has a lot to improve upon between now and nationals if she hopes to do enough to bump one of them off for a spot.
Ashley Cain (USA): 57.87 (SP) + 104.52 (FS) = 162.39 (3rd)
It was nice to see Ashley do well here. I've always thought she was a lovely skater with very nice presentation and it was great to see her deliver that. Ashley went for it in the SP with a 3F-3T. Even though the 3T was
<
it was good to see her putting it out there. Her 3L and 2A were clean and she earned level 3s and 4s for the rest of her elements. She started off shakily in the FS, falling on her opening 3Lz and then landing roughly on her 3F(
<
)-2T. Ashley regrouped well and landed three more clean triples (her second 3F was also
<
). The program was very pleasant and she delivered it well. Ashley placed 2nd in the FS and narrowly missed silver by 0.47 points.
Elene Gedevanishvili (GEO)
placed 6th with 144.80 and earned herself another trip to the Olympics for Georgia.
Now on to the news...
Gracie Gold to Train with Frank Carroll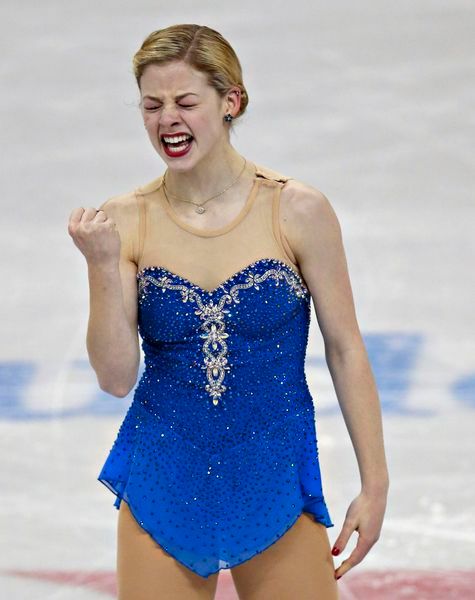 This is the USFSA's reaction when it became official...
After weeks of hearsay and speculation, the Gracie-Frank thing is
now a done deal
. Last week the official announcement came from the USFSA (undoubtedly the masterminds behind this blockbuster deal) that Gracie Gold will indeed train with the legendary Frank Carroll for this upcoming Olympic season.
In the long run this should be a good move for Miss Gold. The issue, however, is the short term. How much can they accomplish between now and Gracie's debut at Skate Canada? So many things need to be addressed: her SP (I say dump it immediately), her stiffness, her samurai sword arms, her lack of connection to the music...and of course her tendency to skate nervous which, truth be told, is the biggest issue. Let's be honest, the judges won't care if Gracie goes out there, ignores the music and windmills her way through a crappy program as long as she lands the jumps. The technical score would be massive which would boost the PCS score without her having to make any improvements.
Hopefully improvements can be made to things like Gracie's stiffness and the way she rushes her programs between now and her debut. I'm expecting that competitive focus and mental toughness to develop somewhere down the line, assuming Gracie has/can learn those things. Usually it takes the mental lessons a little time before they stick but hey...maybe Frank is a miracle worker and we'll see an entirely new Gracie by Skate Canada. We'll have to see. Gracie is now a favorite for gold at SC thanks to this next bit of news...
Yu-Na Kim Out of the Grand Prix Series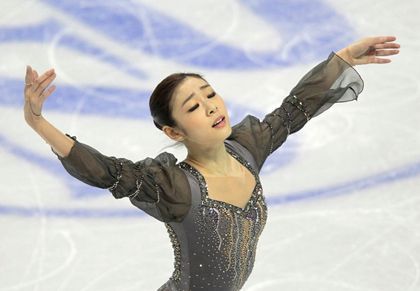 Down but not out...
This was pretty shocking news. It sucks so much because I was really looking forward to seeing her back in competition for the season. Last week the news came that Yu-Na will be out for roughly six weeks while she recovers from an injury to her metatarsal in her right foot. According to
Wikipedia
, metatarsal bones are a group of five long bones in the foot. Specifics haven't been given as to which metatarsal is giving Yu-Na problems or exactly what the problem is. I don't know if it's stressed or broken or what, but the story remains the same: six weeks rehab time with additional time needed for physical therapy.
The good news is this isn't a strain or tear; bone injuries can and do heal well as long as they are given the proper amount of time. I speak from experience with this: I suffered a fracture in my fifth metatarsal back in 2000. I was in a cast and on crutches for six weeks. After the cast came off, the joints in my ankle were very stiff from lack of movement and the muscles were weak as well. It took about a week before I was able to walk without a crutch and I was not allowed to run for about a month, but in the end I healed completely and am fine now.
I say all that to say as long as Yu-Na rests and doesn't try to push herself to get back onto the ice before she's ready, she should be fine. In the meantime, anyone not named Yu-Na Kim should be happy. Everyone slated to compete at Skate Canada and Trophee Bompard just got bumped up a spot. Now the fields have opened slightly and the gold medal (which we all knew Yu-Na would win) is up for grabs. Skaters like Mao, Carolina, Ashley, Akiko and the rest now have a little more time to try to get themselves together. There's a little less pressure but (I hope) these ladies don't get lazy in Yu-Na's absence. The 3-3s and 3As still need to be on display. Even though Yu-Na isn't competing on the GP this season, she will still come in as the reigning world and Olympic champion...everyone else will need all of the GP cred points they can get.
Courtney Hicks (USA)
, who has had a few very good summer competitions and who many were hoping would get a spot this year, will be replacing Yu-Na at Skate Canada.
Amelie Lacoste (CAN)
, who was assigned to compete at Skate Canada only, will replace Yu-Na at Trophee Bompard.