The "regular season" of skating all comes down to this: the Final. We saw two great competitions and lots of amazing skating in both the senior and junior ladies' events. I'll take a look at the seniors first...
2014-2015 Grand Prix Final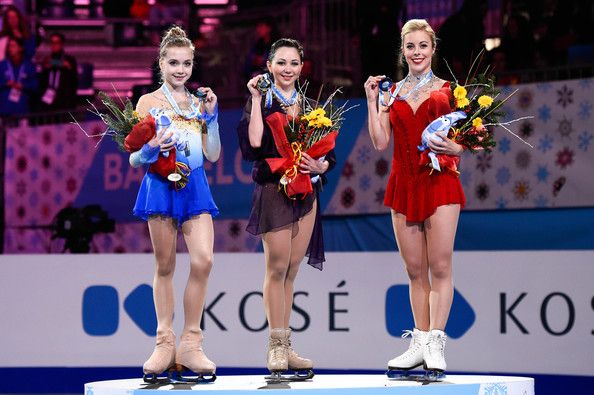 No Russian sweep this year!
The final results:

Elizaveta Tuktamysheva (RUS): 67.52 (SP) + 136.06 (FS) = 203.58 (1st)
I am so in awe of this girl. Liza T has had one of the quickest and most monumental turnarounds I have ever seen. It's amazing to think that at this time last year, people were actually suggesting she retire...
Liza T had a strong performance of her "Bolero" SP, though it wasn't her best. She opened up with a massive and gorgeous 3T-3T with the tano feature on the second jump that earned 1.90 points in GOE. Her only mistake was a turn out on the landing of her solo 3Lz. The mistake cost her -1.10 points but she didn't let it shake her. Liza T finished out the rest of the program with her usual pizazz and flair. She earned level 4s for all of her non-jump elements except her layback spin (level 3). Liza T won the SP and went into the FS with a 1.28 point lead.
I wasn't 100% sure if Liza T would hold up under the pressure of skating last. After all, she had the lead going in but with the scores put up before she took the ice for her FS, she needed a strong performance to win. And that's exactly what she delivered. Liza T sailed through her FS, nailing all 7 triples jumps, including a 3T-3T which she finally moved to the bonus portion of the program. I think it was always meant to be in the bonus but she always did it a tad too early. Liza T earned level 4s across the board and performed her program with the same ease and calm she's had all season long. She's in such a great place competitively and it really shows when she's out there. Liza T earned the highest PCS of the night (65.16) and tied for the highest TES (70.90). She won the FS as well and walked away with the title.
Liza T has won 6 of the 7 international competitions she has entered this season. Her grueling schedule and hard work has paid off in a major way. The first half of the season is over but there are still several major competitions left to go. Hopefully this win will give Liza T her second wind and she will maintain this pace through the second half of the season. I'm so proud of her...
Elena Radionova (RUS): 63.89 (SP) + 134.85 (FS) = 198.74 (2nd)
Elena has been on fire all season long and most people figured she was the odds on favorite to win gold here. The girl is a rock but even the best have an off night...
Elena skated last in the SP. She opened with a great 3Lz-3T (+1.00) and got the crowd going with her fun and energetic footwork. Then came the 3L...and down she went. It was a huge shock! It's been
a year
since Elena fell in a competition...almost to the date. Her previous one was in the FS at last year's Grand Prix Final. I was shocked to see her go down but in a way, it had to happen at some point. You can't be perfect all the time. Even though Elena fell, she popped right back up with a smile on her face and finished out the rest of the performance as though nothing had happened...a true performer til the end. The fall cost her several points and she also lost points on her flying sit spin and her step sequence (level 3s instead of 4s). Elena finished the SP in 3rd place.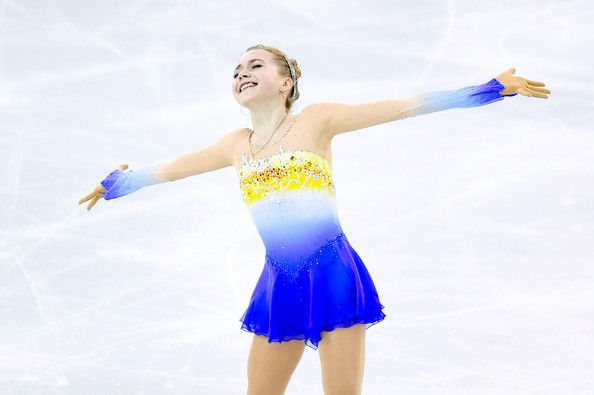 That moment when you know you NAILED IT!
For the first time all season, Elena found herself chasing a leader. She took the ice looking much more relaxed and stylish in her new FS costume (love it). Elena may have broken her clean SP streak, but her clean FS streak is still alive and kicking. For the 4th time in a row this season, Elena delivered a flawless FS. She threw down a 7 triple gauntlet (including a 3Lz-3T and 3L-1L-3S) and all level 4 spins. Her only "mistake" was earning a level 3 for her step sequence instead of her usual level 4. Elena tied for the highest TES of the night (70.90) and placed 2nd in the segment. In the end Elena's strong FS moved her up to 2nd overall and earned her the silver medal.
This competition proved that Elena isn't invincible. It also proved that she's a fighter and knows how to rebound quickly after a mistake. She's had an amazing season so far and isn't showing any signs of slowing down. Going into the second half of the season she's still one to watch out for.
Ashley Wagner (USA): 60.24 (SP) + 129.26 (FS) = 189.50 (3rd)
Coming into this competition no one (including me) thought Ashley had a shot of making the podium. Ashley against
four
Russians? No way it could happen...
The SP did not help to change anyone's opinion of Ashley's chances. She intended to open up her program with a 3F-3T but ended up falling out of the 3F. She thought quickly on her feet and was able to add a 2T to her solo 3L and gain the points for the combination, but the damage was done. Luckily Ashley's strong spins (all level 4s) and wonderful performance helped to cushion some of the blow to her score. She placed last in the SP but was only 3.65 points away from the podium. However, to reach the podium two unlikely things would have to happen: (1) Ashley would need her absolute best skate of the season with the increased difficulty of a 3-3, and (2) at least two of the Russian would need to have several mistakes.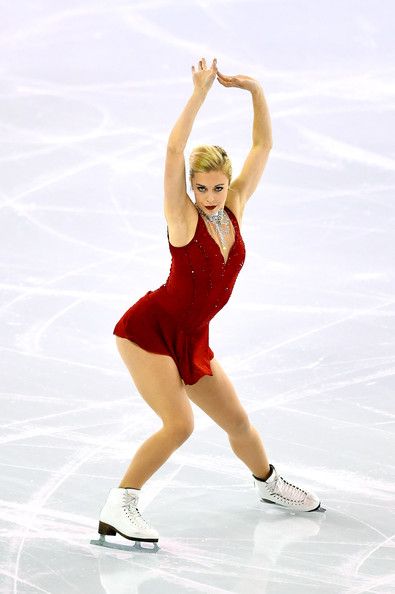 #DivaWagner is back!
It seemed almost impossible but, as luck would have it, the stars aligned and that is
exactly
what happened! Ashley skated first off of the warm up and ended up delivering the best FS I have ever seen from her. For the first time since the Final last season, Ashley went for a 3F-3T and landed it cleanly. It was high, easy and undoubtedly rotated which has not been the case for a while. Ashley then shocked everyone by going for another 3-3 in the second half of the program: 3L-1L-3S. Unfortunately, she two-footed the landing and under-rotated the 3S, but she went for it and stood up on it. Ashley finished out the rest her "Moulin Rouge" FS brilliantly, even hitting a clean (no edge call) 3Lz at the end. I haven't really cared for the program much this season but this performance definitely helped my opinion of it. Ashley did lose a few points on her spins, but overall she was amazing. She finished 3rd in the FS and, thanks to a few stars aligning, was able to leapfrog from last place to finish 3rd and earn her 3rd consecutive medal at the Final.
Ashley has shown tremendous fight and determination. It had been looking kinda dicey for her this season but this FS performance shows that she does have what it takes to keep herself in medal contention with all of the Russians. For the 3rd season in a row, Ashley finishes the GP season as the #1 US skater.
As for the rest...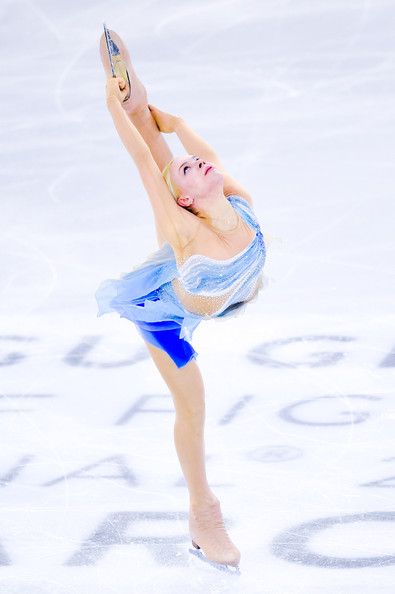 Cheer up, Anna. It wasn't that bad...
Anna Pogorilaya (RUS; 180.29, 4th):
Since her win at Skate Canada everything has been a bit out of whack for Anna. Her SP was a bit of a hot mess. She landed forward on her opening 3Lz and couldn't add the 3T, but decided to add it to her solo triple. It was a ballsy move but she under-rotated it and fell (3L-3T(
<
)), which really took her out of the program. Thanks to her
bullshit
high PCS, she placed 4th in the SP. Anna opened her FS with a beautiful 3Lz-3T (+1.50) but fell on her 3L-1L(
<
)-3S combination. Once again, the fall took her out of the performance completely. She needs to take a page from Elena's book and learn how not to drop the performance because of a mistake...get up, shake it off, keep performing. By the end of the program, Anna seemed really out of it. She fell out of her final two spins and finished ahead of the music. Anna cried as she awaited her scores and looked
utterly distraught
after they came up. 118+ is actually a really good FS score. Maybe she was unhappy because she wanted to skate better...maybe the Russian federation threatened to kill her puppy if she didn't medal here...I don't know, but her reaction was a little disturbing. After all of the dramatics she ended up placing 4th which probably isn't where she wanted to place, but is still an improvement over her 6th place finish last year.
Is her "Romeo & Juliet" FS cursed?
Julia Lipnitskaya (RUS; 177.79, 5th):
I never would have guessed in a million years that Julia would place 5th at this event. She's had her issues but...whoa. Julia started off with a great SP. She reintroduced her 3Lz-3T to the program and got full credit for her lutz (no edge calls). Unfortunately, fixing the lutz seems to have messed with her flip. Julia received an edge call on her 3F which dropped 1.76 points off of the base value and cost her an additional 1.40 points in -GOE. Even though she lost points on the flip, the rest of the program was wonderfully delivered. She finished 2nd in the SP, only 1.28 points off of the lead. Sadly, Julia's FS woes are killing her this season. She opened with another great 3Lz-3T (no edge call) before falling on a 2A(
<
). That was a bit of a shock. As crappy as her axel technique is, I don't think I've ever seen her fall on one. The second half of the program started well (3L, 2A-3T-2T) but then immediately took a nosedive: a singled flip (
e
), a fall on a 2F(
!
) and a 2S. It just was not her night. Julia placed last in the FS and 5th overall. Poor thing...I don't know what's going on with her this season. It's shocking to see her go from skating so brilliantly in the SP to imploding in the FS. I really hope she can get herself together. At this rate she is danger of missing the podium at nationals.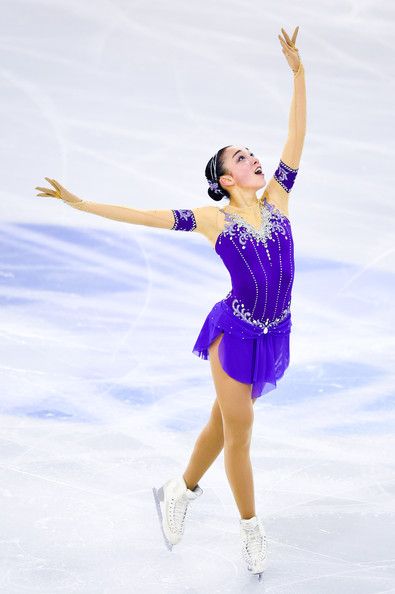 Two strong performances on the big stage
Rika Hongo (JPN; 176.13, 6th):
Japan should be very proud. Rika delivered a very strong SP, highlighted by her opening 3T-3T (+1.00). I love how steady she has been this season. She's doing a better job of connecting with the audience during her performances and the judges see it too. Rika scored a personal best in the SP (61.10) and placed 5th in the SP, though I think she deserved to be ahead of Anna whose inflated PCS held her up. Rika delivered another very strong FS though she did lose points: 3F-3T(
<
), 3Lz(
e
) and a singled axel. Rika was a long shot to place well due to the depth and reputation she was up against, but she did exactly what she needed to do: deliver strong programs on a big stage. That will definitely help her international reputation as she moves forward in the second half of the season.
That's it for the senior ladies...now, on to the juniors!
2014-2015 Junior Grand Prix Final
It has been a while since we saw these juniors back in October, but they came out ready to roll. This year only two countries qualified entries for the Final: Russia (duh!) and Japan.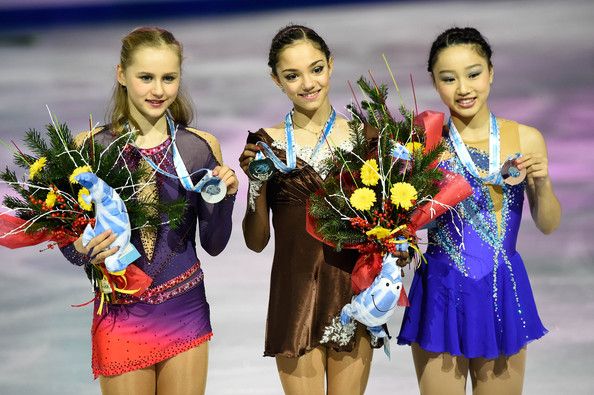 Not the podium I expected but I'll take it!
The final results:

Evgenia Medvedeva (RUS): 67.09 (SP) + 123.80 (FS) = 190.89 (1st)
I have a soft spot for Evgenia. I remember people sorta trashing her on the forums last season, saying that she was the weakest of the Russian juniors...well, they can't say that now! Evgenia is undefeated so far this season. She nailed her SP (3F-3T, level 4 everything) and won the segment by a little over a point which meant she'd have to bring it in the FS. Again, Evgenia nailed it: 7 triple jumps and level 4 everything. Her only issue was a swingy 3S that was supposed to be a 3-3 combination. The landing prevented her from adding the intended 3T on the end, but luckily she improvised on the fly and turned her final 2A into a 2A-3T combination. That gutsy and smart move saved her score and won her the gold medal. She's improved so much in the last year and it was wonderful to see her deliver so well and walk away with the gold medal.
Serafima Sakhanovich (RUS): 66.05 (SP) + 119.96 (FS) = 186.01 (2nd)
Serafima qualified in first place coming into the Final and was the overwhelming favorite to win. Her SP was solid but not perfect. She landed a bit forward on her solo 3Lz and also gave away points on her non-jump elements (level 3 on the step sequence and a spin) which left her in 2nd place. Serafima turned in another solid performance but, again, there were issues. She had a few pitchy landings including one on her opening 3Lz which was supposed to be a 3-3. Like Evgenia, she improvised and added a 3T to her final 3Lz. It wasn't pretty but she got full credit for the combination. Serafima's use of the tano feature in just about every jump is impressive, but it's not that attractive for her style of jumping. She's a bit wild in the air and the tano feature doesn't help that. By comparison, Evgenia does tano jumps too but her jumps are much neater and cleaner in the air and on the landing. Serafima lost points on her non-jump elements again and in the end finished in 2nd place (her second JGPF silver medal).
Wakaba Higuchi (JPN): 60.37 (SP) + 117.72 (FS) = 178.09 (3rd)
Wakaba started off with an excellent SP. She skates with so much speed and attack! She flew into every jump and landed everything cleanly. I fully expected her to score very well...so when her score came up I was just as shocked as she was. Wakaba got an edge call on her 3F which dropped the value of the jump and she got hit with -GOE. The new edge call rules are harsh but I do think they're fair. Unfortunately for Wakaba though, that edge call left her in 5th place after the SP. She stormed back in the FS and nailed 7 triples in her Gershwin program. Wakaba's spins aren't that great but her jumps are amazing. She earned the most +GOE of anyone else in the competition (+8.27 points; +7.79 for Evgenia, +6.69 for Serafima) and the majority of that came from her huge and effortless looking jumps. Wakaba's only error was her last jumping pass (3F(!)-1T) but it didn't hurt the program at all. She finished 3rd in the FS and was able to move up and capture the bronze medal.
As for the rest...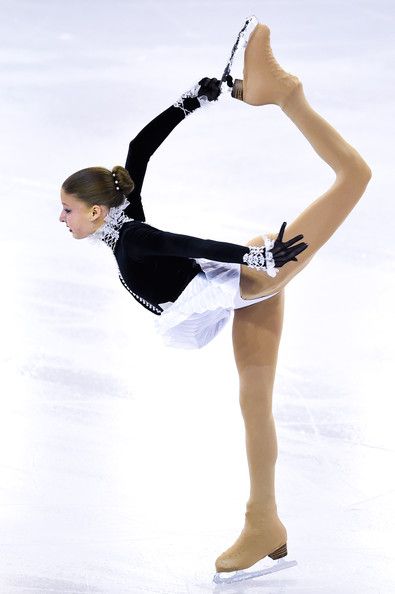 Loved both of her programs
Maria Sotskova (RUS; 175.99, 4th):
Maria was the winner at last year's Final but she wasn't able to replicate that success here. She had a very nice SP (3F-3T, 3Lz, level 3s and 4s) but didn't score as high as her compatriots. Maria lacks the ease and flow of Evgenia and the speed and power of Serafima. Still, I really enjoyed her SP performance. Maria had a strong performance of her lovely FS, with her only mistake being an under-rotated 3L towards the end. Even though she had a ton of technical content (3F-3T, 3Lz-1L-3S) her lower PCS and lack of stronger GOE left her in 4th place.
Massive potential for Japan
Yuka Nagai (JPN; 172.34, 5th):
Yuka started off beautifully with her "East of Eden" SP. She hit a soaring 3T-3T (+1.40) and a huge 3Lz (+1.10) and really wowed the judges with her lovely presentation. She placed 3rd in the SP and was in a great position to stay on the podium. Yuka opened her FS with a lovely 3Lz-3T and hit a great 2A-3T-2T in the second half of the program; however, a popped lutz and an under-rotated 3L lost her too many points and she ended up slipping to 5th overall.
Fosse!
Miyu Nakashio (JPN; 144.44, 6th):
Miyu was the surprise winner at JGP Tallinn Cup this season but she wasn't one of the top ladies this season in terms of points. She had issues in the SP (spun out of her 3T-3T and got an edge call on her lutz) and lots of issues in the FS (two downgrades, an edge call and an under-rotation). Even though Miyu finished last in both segments, she did fight through both of her programs and that's always a plus.
And now the Grand Prix season is officially over! There is still plenty of skating to come before the end of December. The highly anticipated
Russian National Championships
will take place
December 24-27
. The
Japanese National Championships
will take place
December 25-28
. I can't wait to see how both competitions turn out. Ta for now!