This final event started off as a real nail biter but, like so many of the competitions this year, turned out to be a little less thrilling than I expected it to be.
Gracie Gold (USA): 68.16 (SP) + 123.00 (FS) = 191.16 (1st)
Gracie has been everything but Golden since becoming a senior. With the field slightly depleted at NHK this year, this was the perfect opportunity for Gracie to step up and snag her first international gold medal.
I'm still a bit bored with this SP (I've just seen it too many times at this point) but when Gracie performs it like she did here, it does help my opinion of it. She is so naturally talented on the technical side of things that when the jumps fall into place, everything else looks about five times better. She opened with a solid 3Lz-3T and earned level 4s on all of her spins. I'm still not seeing that real connection to the music and choreography but her performance here was a great example of fake it until you make it. Everything flowed very easily and she looked calm and relaxed, which is something we haven't seen from her so far this season. Gracie's superb SP landed her in 1st place with only a 0.05 lead over Alena heading into the FS.
More performances like this, please
Gracie skated last, knowing that Alena had left the door open with a sub par performance. The path was clear for Gracie to convincingly lock up the title. The good news is she did lock up the title; the bad news is the performance was hardly convincing. She doubled the 3T in her opening 3Lz-3T, doubled a 3F and fell on her 3S (no 3-jump combo)...only 4 triple jumps total. Every other medal favorite struggled in the FS as well and, given Gracie's strong SP, I do agree with her win; however, I feel that 123+ FS score was overly generous for what she delivered. When Gracie's scores came up she looked genuinely shocked to see that she'd won. In the end Gracie won the FS as well and earned the first international gold medal of her senior career. The gold here coupled with her bronze medal from Skate America means Gracie has finally earned her first trip to the Grand Prix Final.

This win was a step in the right direction but it's clear Gracie's nerves are still a problem for her. In a tougher field that FS performance would not have held up for gold. Hopefully this win will be a confidence boost and help Gracie as she heads into the Final. She has a great shot at a medal but she can't back off when the pressure is on. With four Russians to square off against, Gracie has to find that killer instinct and attack if she wants to get on that podium.
Alena Leonova (RUS): 68.11 (SP) + 118.29 (FS) = 186.40 (2nd)
Alena has struggled quite a bit this season. She's turned in a number of very lovely SP performances but has not been able to hold herself together through both segments of the competition.
Alena's SP has grown on me. Again, I'm not the biggest fan of her campy over-the-top style but I do think it works very well in her "Charlie Chaplin" SP. Lots of performance and personality throughout the program and she really embodies the music and commits to the character. The technical side of Alena's program was excellent as well. She opened with a big and easy 3T-3T which earned several +3s and +2s from the judges (+1.70 in GOE). The rest of the jumps were solid and she earned level 4s on every element except her layback spin (level 3). Alena scored big in the SP and was only 0.05 points behind Gracie.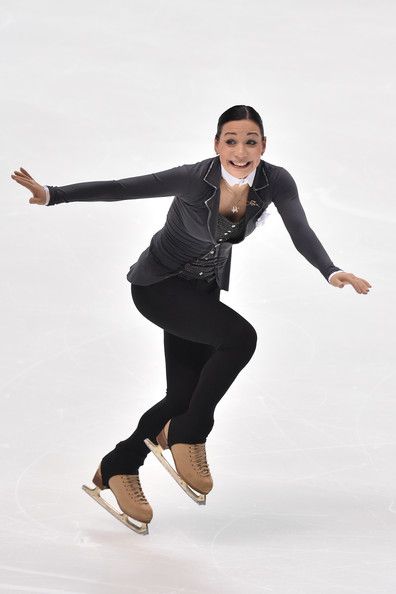 100% committed to the character
Alena had a real chance to win gold here (especially once we saw Gracie's FS performance) but once again her FS woes came back to haunt her. I'm not sure what it is about this program but she has not had the best of luck with it so far this season. Alena opened up with another lovely 3T-3T, then everything started going downhill after that. Alena had several wonky landings and step outs throughout the program which really disrupted the flow of the entire performance. Even though she got credit for 6 triple jumps, the overall delivery was sloppy and ended up hurting her score. I think the program has the potential to be strong but Alena's inability to deliver it well makes it hard to get a feel for the impact of it. Alena's messy performance left her in 3rd place in the FS which kept her in 2nd place overall.
Alena's silver medal here is definitely a win for her after the way she struggled through some of her other events this season. She has not earned a trip to the Final this season but still has a very difficult competition coming up: Russian nationals. She'll need to be on top of her game if she hopes to secure a spot to Europeans or worlds this year.
Satoko Miyahara (JPN): 60.69 (SP) + 118.33 (FS) = 179.02 (3rd)
Even though Satoko hasn't been the biggest threat this season, her consistency and content has been enough to keep her in the mix. With the hometown advantage of skating in Japan, most felt she had a shot at gold here.
Satoko started off roughly in the SP. The 3Lz in her 3Lz-3T combination was under-rotated which really hurt her score. Though Satoko has some of the best skating skills and programs in the field (in my opinion anyway), she rarely gets any love from the judges when it comes to those aspects of her skating...and getting hit with under-rotations does nothing to help her case. The rest of the program was clean though she did lose points on her flying camel spin (V1) and lost 0.10 points due to a "
!
" on her 3F. Satoko placed 4th in the SP but still had a chance to move up in the FS.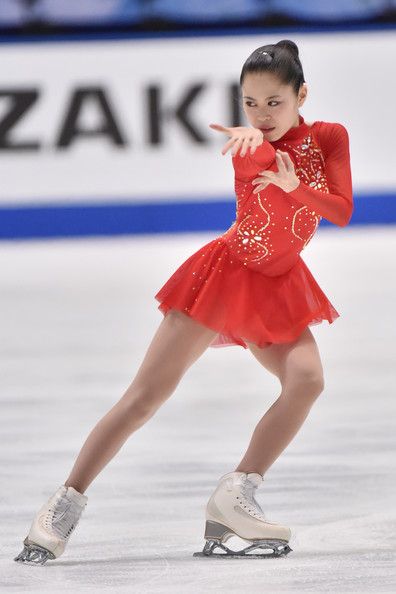 Wuz robbed? Maybe.
I really love Satoko's "Miss Saigon" FS. Sadly, this was not her best performance of it. Technically, she had the strongest performance of all of the medalists. She completed 6 triple jumps and only had one under-rotation (3Lz(
<
)-2T) in the performance. However, like the rest of the medalists, Satoko was a little off here. She was tilted in the air on the majority of her jumps which caused her to have a few wonky landings and even put her hand down on one. Even though she struggled, she fought for every landing and managed to stay upright. It wasn't her best but I do think Satoko deserved to score higher than she did, especially compared to the sloppy performance of Alena and the weaker performance of Gracie. Satoko got hosed in PCS (again, as always) and had to settle for 2nd place in the FS which moved her to 3rd place overall.
Satoko won't make the Final this year but she did put up a great fight in both of her events. I don't want to jump on the
wuz robbed
train but I do feel as though Satoko may have had a case for silver here at NHK and she definitely had one at Skate Canada. Unfortunately, Satoko's small size and small jumps give the judges license to screw her over. I'm having flashbacks of Akiko Suzuki...it's going to take the judges a long time to realize how incredible Satoko really is.
Kanako Murakami (JPN; 173.09, 4th):
I feel really bad for Kanako. I thought her "POTO" SP was gorgeous. She got dinged on her opening combination (3T-3T(
<
)) but the rest of the program was spectacular: clean jumps, level 4s for everything and beautiful delivery. Kanako was within striking distance after the SP but she had some issues in the FS. She fell on a 3F and became yet another victim of the new Zayak rule: she doubled her 3L earlier in the program which negated her 3S-2L-2L combo at the end of the program and cost her a ton of points. In the end Kanako finished 7th in the FS and 4th overall.
Riona Kato (JPN; 168.38, 5th): I really like Riona's SP though she didn't have the best performance of it here. A fall on her 3F left her in 8th place after the SP. However, she shocked everyone in the FS by delivering the only clean 7 triple performance of the competition. She included a nice 3F-3T as well as a 2A-3T in the bonus. I've watched Riona since her junior days and I've always thought she has the goods to be a contender. Once she really develops her personality on the ice, I think Japan could have a possible medal threat on their hands. Riona placed 4th in the FS which moved her up to 5th overall.




Gabrielle Daleman (CAN; 164.74, 6th): I love that Gabrielle is really attacking her programs but she seems to be slipping back into the issue she's had in the past with her jumps: control. She's such a powerful skater but sometimes it gets away from her. Gabrielle struggled on all of her jumps in the SP but fought back with a much stronger performance of her lovely "Aranjuez" FS. The girl definitely has potential. Canadian nationals will be between her and Alaine Chartrand this year.
Zijun Li (CHN; 162.90, 7th):
Zijun is still having issues finding her stride. I think she has so much potential but she's definitely struggling to find her way this season. In the SP she went down hard on her opening 3F-3T(
<
). Even with the fall Zijun placed 5th after the FS and was in a good position to move up. Her performance in the FS wasn't terrible (she got credit for 7 triples) but she lost a lot of points in GOE. The opening 3F-3T lost 1.40 points due to her stepping out of the landing, her 3Lz lost 1.40 points because of an edge call...little mistakes, including lower levels on her spins and an under-rotated 2A, chipped away at her score and left her 8th in the FS and 7th overall.
Polina Edmunds (USA; 161.79, 8th):
Polina's SP demons are really killing any chance she has at getting a foothold in the standings. She went down on her opening 3Lz and then singled her flip. She placed a devastating 11th in the SP but managed to fight her way back (yet again) in the FS. Polina was able to hit on her two money maker combinations (3Lz-3T and 3F-1L-3S) but she did receive a "
!
" on both flips in her program as well as under-rotations on her solo 3Lz and both 2As. Polina placed 5th in the FS and was able to move up to 8th overall. This hasn't been the kind of debut season people were expecting from Polina but she has a chance to redeem herself at nationals.
Christina Gao (USA; 147.51, 9th): Christina had stronger performances here than she did at Cup of China though her placement was the same (9th). She's staying upright but her TES and PCS have taken a nosedive since last season. She doesn't have enough content to be competitive anymore (no lutz, only one 3F in the FS). I'm not sure what the future holds for Christina past this season...
Elene Gedevanishvili (GEO; 142.96, 10th): I really like Elene's SP but she had her issues here. A doubled 3T and a fall on her 2A left her 9th after the SP. Her FS wasn't terrible but, like so many of the lower placed skaters, there just wasn't enough content in her program to get a strong score.
Anna Ovcharova (SUI; 132.32, 11th): Anna isn't strong when it comes to the technical side of skating but I really appreciate the energy and enthusiasm she brings to her performances. I thought both of her programs were well-choreographed and she brought a lot of personality and character to them, especially her FS.
Anne Line Gjersem (NOR; 125.17, 12th): Anne had a shaky SP and then imploded a bit in the FS (3 falls). She's a lovely skater and I like her style, but her technical shortcomings will make it hard for her to ever break through.
Just like that, the 2014-2015 Grand Prix comes to a close. Is it just me or does it feel like the Grand Prix season flew by this year? With this event in the books, the positions for the Grand Prix Final are set...
2014-2015 Grand Prix Final Standings

Elena Radionova (RUS)
qualified for the Final in 6th place last year. This year she takes the
top spot
with
30 points
and is the only skater to win both of her events (SA and TEB). Elena also had the highest overall score (399.39). She's one of the favorites to win the title this year.
After only managing 18 points and 10th place last year,
Elizaveta Tuktamysheva (RUS)
has rocketed back to the top, capturing silver at SA and winning COC. This year she qualifies in
2nd plac
e with
28 points
. Liza T is a co-favorite for gold at the Final this year.
Anna Pogorilaya (RUS)
won her second GP title this year (SC) and got silver at COR which gave her a total of
28 points
. She tied in GP points with Liza T but lost the overall score tiebreaker (365.24 vs Liza T's 386.22). She qualifies in
3rd place
this year.
Gracie Gold (USA)
earned bronze at SA and was able to capture gold at NHK which qualified her for her first trip to the Grand Prix Final. She and Julia Lipnitskaya both earned a total of
26 points
, however Gracie's gold medal is weighted heavier than Julia's two silvers which qualifies her in
4th place
.
(Update: Gracie has withdrawn from the Final citing a stress fracture in her left foot.)
Julia Lipnitskaya (RUS)
hasn't had a great year by her standards but her two silver medals at COC and TEB earned her a total of
26 points
. She qualifies for the Final this year in
5th place
. Julia has qualified for the Final three consecutive times, though this will be only her second appearance (she withdrew with an injury her first year).
Ashley Wagner (USA)
proved that she can still hang around with the young'uns. Ashley's silver at SC and bronze at TEB earned her
24 points
which earned her the
6th and final spot
. This is Ashley's third consecutive trip the the Final as well.
Rika Hongo (JPN)
is the
first alternate
with
22 points.
(Update: Due to Gracie Gold's withdrawal, Rika has qualified for the 6th spot in the Final.)
Satoko Miyahara (JPN)
is the
second alternate
, also with
22 points
. Rika's gold medal from COR gives her the edge over Satoko even though Satoko medaled at both of her events (Rika did not) and beat Rika in the overall score tiebreaker (360.77 vs 349.47).
Kanako Murakami (JPN)
is the
third alternate
with
20 points
. This season breaks a 13 year streak of at least one Japanese woman making the Grand Prix Final.
The
2014-2015 Grand Prix Final
(and Junior Grand Prix Final) will take place in Barcelona, Spain on
December 11-14
. If you need a reminder of who we'll see in the JGPF, check out my recap
here
. It's time for another poll, well, two actually:
Who do you think will win the Grand Prix Final this year? Who do you think will win the Junior Grand Prix Final this year?
Make sure to vote! I can't wait!