Happy New Year everyone! It's time for a fresh new start in 2015, and that goes for figure skating too. Several countries held their national championships over the past couple of weeks including two of the major ones: Russia and Japan. New champions were crowned in many of the competitions. So here's my national championship round-up...
2015 Russian National Championships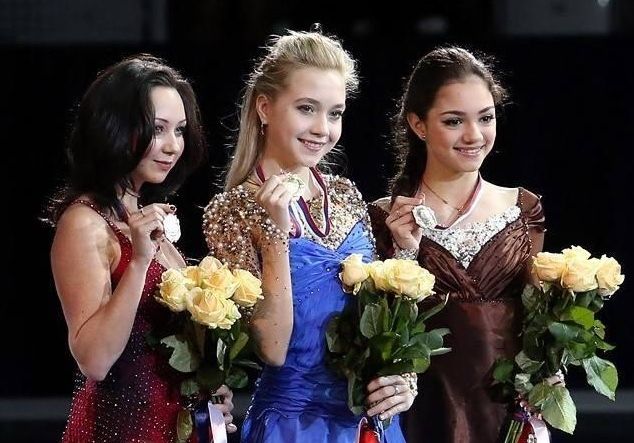 A new Russian Queen is crowned!
Final results: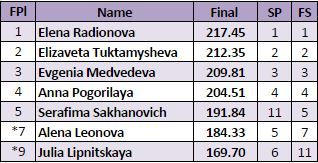 Elena Radionova: 74.13 (SP) + 143.32 (FS) = 217.45 (1st)
Not a big surprise here. Elena has been so steady, so calm, and so incredibly consistent all season long. Once again, she was flawless in both programs. Her jumps looked bigger and cleaner and she performed with the same ease and confidence we've come to expect from her. I'm so blown away by this girl. In addition to having the content and the personality, she has that mental toughness to go out there and deliver the goods when everything is on the line...you can't teach that. It was a close race but Elena won both segments of the competition and is now the Russian national champion.
Last season I went on and on about Julia Lipnitskaya going into
BEAST MODE
during competitions. Elena is definitely a beast when it comes to competition, but I think she needs a moniker that's a little sweeter and more suited to her special and pizazzy style of ass kicking. I'm going to call it
LENA MODE
. Yeah, that works nicely. Elena has been named to the European team and will undoubtedly head to worlds after that. I fully expect to see
LENA MODE
on display at both events...you should too.
Elizaveta Tuktamysheva: 73.62 (SP) + 138.73 (FS) = 212.35 (2nd)
Liza T has had an impossible schedule this year. This was her eighth competition of the season and yet she's still going strong. She's definitely channeling the Energizer bunny this season and even though she had some minor knee issues here, she was able to turn in two amazing performances yet again. Liza T had a perfect SP and though she received the highest PCS of the segment, she was 3rd in TES. The layout of her SP along with the easier combination and less GOE on spins makes the difference when both she and Elena skate cleanly. Liza T was less than half a point off of the lead and definitely had a chance to win the title. Unfortunately, she made a few minor mistakes that probably ended up costing her gold. She omitted the third jump in her opening 3-jump combo and she doubled the first triple in her 3T-3T combination. The rest of the performance was solid and strong, but it just wasn't enough to overtake Elena and Liza T had to settle for silver.
Liza T has to rally for these last two competitions. I'm sure she's feeling the effects of this long season but as long as she can push through and continue to skate the way she has been, she's in the perfect position to medal/win at both Europeans and worlds.



Evgenia Medvedeva: 72.57 (SP) + 137.24 (FS) = 209.81 (3rd)
Evgenia is having such a great year. She's really found her stride and it's carrying her straight to the top. Evgenia turned in another great performance of her SP. She did lose points on her solo 3Lz ("
!
") but thanks to her maxing all of her elements and putting all three of her jumping passes in the bonus section of the program, Evgenia earned the highest TES of the segment (40.09). She skated last in the FS and other than an edge call on her 3Lz, she was perfect. I really love her light and easy style and, like so many of her compatriots, she has that mental focus and toughness to put it all out there when it counts. Evgenia placed 3rd in the FS and 3rd overall to win her first senior national medal.
Evgenia has momentum on her side which means she's in a great position to become the new world junior champion. She's definitely the favorite this year...suck on that haters!
As for the rest...


Anna Pogorilaya (204.51, 4th): Anna turned in a much better performance here than she did at the Final. She wasn't perfect in either program but she did enough to redeem herself and renew the judges' faith in her. Anna has been named to the European team. No news yet whether Adelina Sotnikova will be granted a spot to Europeans but if she is, Anna and her team have already made peace with it. Personally, I think Anna deserves to go...but that's up to the Russian federation.
Serafima Sakhanovich (191.84, 5th): Serafima was a favorite coming into this competition but she had a rough time in the SP. She fell on her combination, received an edge call on her lutz and messed up her axel as well. The mistakes left her in 11th place heading into the FS. Luckily, she fought back hard and delivered a strong performance that placed her 5th in the segment and moved her up to 5th place overall.

Alena Leonova (184.33, 7th): Like so many times this season, Alena started off pretty well in her SP. All of her jumps were solid but she messed up on her layback spin (only level 1) which cost her several points. Even with the mistake she placed a strong 5th after the SP and was in a position to move up. Unfortunately those same FS demons that have been haunting her all season long came out to play and she ended up placing 7th in the segment and 7th overall.
Julia Lipnitskaya (169.70, 9th): Julia's season culminated in her worst placement ever. She fought through her SP and managed to stay on her feet; however, she lost several points on two under-rotations which left her in 6th place. Even though she was 6th, Julia had the ability to move up with a strong FS. Sadly, it was yet another disastrous skate: two falls, a downgrade, edge call, popped jumps... Julia placed 11th in the FS and 9th overall.
I admire Julia for toughing it out but I truly think this was a season she could have done without. I don't know where she goes from here. Julia is very young and assuming these issues are more mental and less her-technique-has-utterly-failed-her, I do think she will be back. For now, I hope she takes some time off to rest and relax.
That's it for Russian nationals. Check out the rest of the videos
here
on Brau Avitia's YouTube channel. Moving on...
2015 Japanese National Championships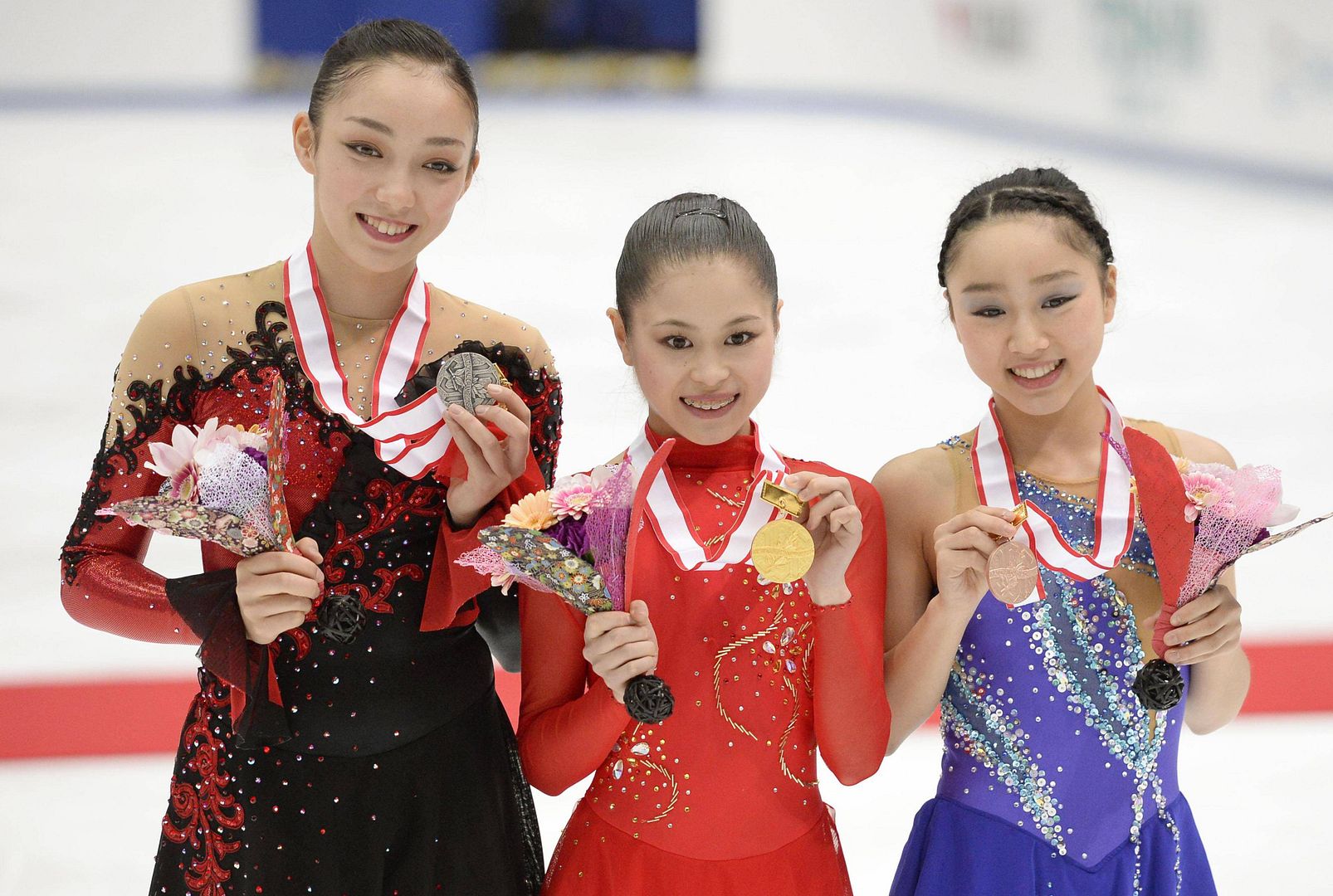 A new Japanese Queen is crowned!
The final results:
Satoko Miyahara: 64.48 (SP) + 131.12 (FS) = 195.60 (1st)
Most people figured Miyahara was a lock for the national title this year but this was one she had to battle for. The SP was a bit of a disaster. Both jumps in her 3Lz-3T combo were under-rotated and she even received a "
!
" on her 3F (the tech caller was
hella strict
this year). Thanks to her strong non-jump elements (all level 4s) combined with her strong PCS, she was still able to score well but trailed Hongo after the SP. Miyahara changed up her strategy in the FS. Rather than going for the 3-3, she opened with a 3-jump combo and put two 2A-3T combinations in the bonus half of the program. Even though she lost points from under-rotations again (two triples and one 2A), the performance was visually clean and wonderfully delivered. Miyahara easily won the FS and earned her first national title.
I like this strategy of going for two 2A-3Ts instead of the 3-3. Miyahara will have to work on rotating all of her other jumps as well, but I do think this new layout may work better for her at Four Continents and at worlds.
Rika Hongo: 66.70 (SP) + 121.93 (FS) = 188.63 (2nd)
Rika has really come into her own this season. After doing so well on the GP and at the Final, I figured she had a really great shot at the title here. She started off very well, hitting everything in her SP and winning the segment. Rika skated first off of the warm up in the FS and turned a very inspired performance; however, despite its clean appearance (according to the tech caller) the performance was quite flawed. Rika under-rotated 4 triple jumps and received an edge call as well. Those mistakes cost her several points and dropped her technical score below 60 points. Luckily, the rest of Rika's performance saved her score. I think she's really improved her when it comes to connecting to her music and selling her program to the audience. Rika's higher PCS helped to offset some of the TES loss and place her 2nd in the FS and 2nd overall.
I'm proud of what Rika has accomplished. She still has a ways to go (gotta work on those under-rotation issues) but she's definitely on the right track. I think she'll be instrumental in helping Japan retain its three spots at worlds this year.
Wakaba Higuchi: 64.35 (SP) + 117.47 (FS) = 181.82 (3rd)
Wakaba started off decently in the SP. I love the speed and energy she carries through her programs, but she did have issues with the jumps. Wakaba under-rotated her 3-3 (3Lz-3T(
<
)) and got dinged on her 3F ("
!
"). Even with the mistakes she scored a season's best and was well positioned to challenge for the podium. Wakaba popped her opening lutz but regrouped quickly and hit three more triples including a huge 2A-3T. She went for the lutz again, spun out of it, but then tacked a 3T to the end of it. The jump was under-rotated but I liked that she went for it. Other than another ding on her 3F, the program was pretty solid but you could tell at the end she knew it wasn't enough to move up. Wakaba placed 3rd in the FS and 3rd overall to earn the bronze medal.
Wakaba has a great shot at getting on the junior world podium this year. She has the jumps and the momentum going for her.
As for the rest...
Yuka Nagai (168.55, 4th):
Yuka started off very well in the SP, hitting a gorgeous 3T-3T and 3Lz before spacing out and singling her axel which cost her several points and left her in 6th place. She opened her FS with a beautiful 3Lz-3T and 3Lz-2T before she started spacing out again. She popped her flip and lost points on two other triples. Overall, the performance was enough to move her from 6th place to finish 4th overall. If Yuka can get her nerves under control (and improve her spins) I think she could be a big factor in the years to come. She's a gorgeous skater with huge jumps but she frequently lets her nerves get the better of her. Yuka has been assigned to compete at Four Continents in February.
Kanako Murakami (168.29, 5th):
It was really sad to see Kanako miss the podium this year after such strong performances last year. The SP was pretty terrible; all three of her triple jumps were under-rotated and she lost levels on all three spins (two level 3s, one level 1). Kanako placed a devastating 9th in the SP. The FS was slightly better but still very bad. Kanako only got credit for 2 out of 5 triple jumps. She's always had issues with under-rotations but she usually rights the ship around this time of the year...I'm not too sure what the future holds for Kanako as we move forward. Despite placing 5th she has been named to the world team. Hopefully she'll be able to rebound with some better skating there.
You can watch all of the videos
here
on Japan Figure Skating's YouTube channel.
2015 French National Championships
Mae Berenice Meite
easily defended her national title (
163.14
).
Laurine Lecavelier
won the silver medal (
148.42
), just barely edging out
Lea Serna
(
148.12
) who earned bronze.
2015 Finnish National Championships
After missing out on nationals last year,
Kiira Korpi
came back and won her fifth national title this year (
168.00
).
Jenni Saarinen
won the silver medal (
157.00
), while
Viveca Lindfors
took bronze (
147.08
).
2015 Chinese National Championships
Zijun Li
regained her title this year (
161.88
), but it's clear from the scores that she is still struggling to get herself together. Most felt she had the goods to be a real force in this post-Sochi crop of ladies but, so far, it's not happening.
Ziquan Zhao
defended her silver medal (
137.93
) and
Xiangning Li
(
136.19
) earned the bronze medal.
2015 Swedish National Championships
The Helgesson sisters still reign supreme in Sweden.
Viktoria Helgesson
defended her national title (
171.07
). She was able to edge out her sister
Joshi
, who had to settle for silver (
170.06
).
Isabelle Olsson
won bronze (
157.49
).
There are more national championships to come.
South Korea, Canada
and the
United States
will hold their nationals championships later on this month. Ta for now!