All of the promos for this event centered on one thing: Gracie vs. Ashley. This is the new "it" rivalry in U.S. skating.
Both want the crown...only one can wear it.
Drama, drama,
drama
! Everyone was expecting a big showdown and, thankfully, that's pretty much what we got.
Diva Wagner reclaims the throne!
The final results: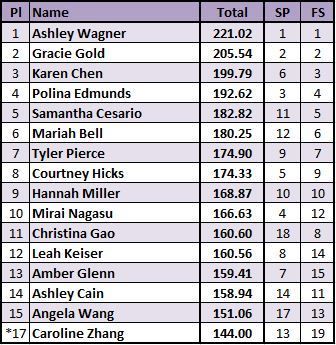 Ashley Wagner: 72.04 (SP) + 148.98 (FS) = 221.02 (1st)
Historically, nationals have not been Ashley's strongest event. Even with the momentum she had coming into this competition, Ashley still had a small chip on her shoulder. To silence her critics, she needed to deliver when it counted.
There's never been any doubt about Ashley's ability to perform: she exudes confidence and presents herself with so much maturity and poise. The issue has always been the technical side of things. Luckily, the technical issues were few in the SP. Ashley opened up with a 3Lz-3T, upgrading it from her usual 3F-3T. The lutz was a little unsteady and she two-footed the landing of the 3T, but the technical panel deemed the combo fully rotated. She did lose 1 point in -GOE but she didn't receive an edge call (only "
!
"). Ashley followed up her combo with a nice 2A and a big 3F, again another upgrade from her usual 3L. By this point it was clear that Ashley wasn't playing games. She maxed all of her non-jump elements and really sold every second of her program. Initially her 72+ score seemed rather high to me, but aside from it being nationals (where inflation is tradition), this was the most technically complex program Ashley had done in years. She pretty much maxed her technical content and delivered it well; I'd say 72+ is a fair score. Ashley earned the highest PCS and TES of the segment (shocked!) and went into the FS with a 5 point cushion.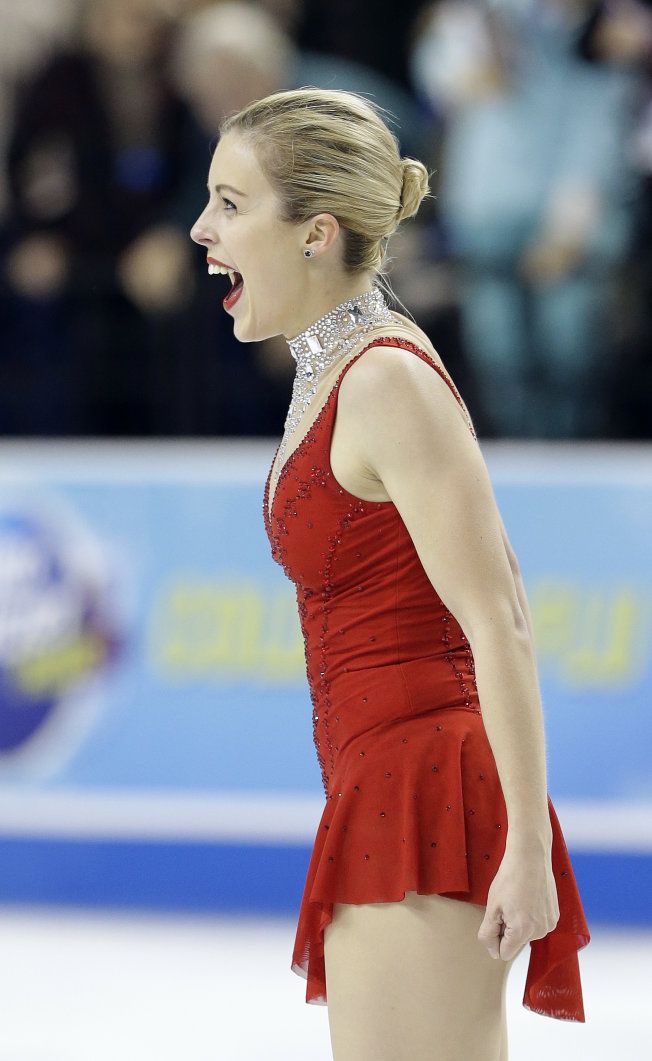 Diva Wagner tore the roof off the mutha!
After two straight nationals of bad FS performances, Ashley had to be feeling the pressure. This was her chance to put her skate where her mouth was and deliver...and deliver she did! Ashley was
incredible
! I thought her Grand Prix Final FS was amazing but this performance blew that performance out of the water! Ashley opened with a big 2A before tackling the first of her two 3-3s. Again, she upped the technical difficulty by going for the 3Lz-3T and, again, she landed it only this time it was clean. No two-footed landing or questionable rotation...not even a ding on the edge (though I do think the callers were rather lenient with edge calls here). Ashley went into her second 3-3 (3L-1L-3S) and nailed it too along with three other triple jumps--a clean 7-triple performance. I didn't really get this program earlier in the season but I have to say, it's
extremely
effective when the jumps are all there. Ashley really performs her ass off and without mistakes to break the spell, the program builds this amazing energy and just explodes at the end...she gave me chills! Ashley smashed the record for the highest FS score and total score at nationals. No one had a prayer of catching her after that show stopping performance. Ashley won her 3rd national title by a landslide and definitely gave her haters something to talk about.
Ashley said this victory is her sweetest. After all of the doubt and criticism that's been thrown her way for the past year, winning this title in this grand fashion is the best revenge imaginable. But...she's only halfway there. Ashley has conquered the national stage and reclaimed her title...now she has to bring that same kind of intensity and determination to the world stage. If she can keep this momentum going for the rest of the season, not only will she finally make that world podium, she may very well be the one standing at the top.
Gracie Gold: 67.02 (SP) + 138.52 (FS) = 205.54 (2nd)
Gracie is no stranger to skating under pressure but even I must admit the deck was stacked against her
twofold
this competition. The pressure of defending her title, the nervousness of coming back from her injury, and the force that is Ashley Wagner tested Gracie more than she's ever been tested before.
Gracie truly needed to grab every point she could in her SP in order to give herself some breathing room in the FS. For the most part she skated well...but she was not perfect. She opened up with her 3Lz-3T combo but over-shot the lutz and "ran out of real estate" (i.e. got too close to the boards) which caused her to double and double-foot the second jump. She recovered well with a 3L and finished out the rest of the program cleanly. In addition to the combo, Gracie lost points on her flying camel spin (level 3) and on her solo 3L. The jump was clean but she lost 0.50 points because it wasn't completed in the bonus section of the program. Overall, it was a solid skate but next to the cleaner and more difficult content delivered by Ashley, Gracie found herself in trailing Ashley by 5 points heading into the FS.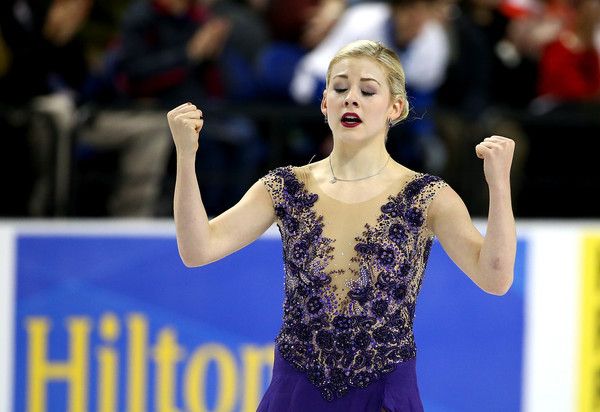 It was good...but not good enough
I do feel a bit sorry for Gracie. She had the misfortune of having to follow Ashley's record-setting FS performance. Gracie likened it to last year's Olympic FS when she had to skate her program after Adelina Sotnikova's arena shattering performance. No doubt Gracie heard the monster number Ashley put up and knew she had to be 100% perfect and then some if she wanted to keep her title. She opened her program with a great 3Lz-3T, a tight 2A-3T and nice 3L. Unfortunately, the jump that always seems to do Gracie in got to her again. She went down on her 3F (
<
, "
e
") but she fought back and finished out the rest of the program without any further mistakes. Gracie was very focused throughout the program but it was to the detriment of the performance. She's never been the best performer but since going to Frank Carroll, she's done a much better job of giving more attention to those aspects of her skating. Here it was obvious she zeroed in on the jumps and forgot about everything else. The result was a technically solid but emotionally flat performance. She scored well but it wasn't nearly enough to come close to Ashley. In the end Gracie placed 2nd in the FS and had to relinquish her U.S. crown and settle for silver.
Under the circumstances I think Gracie held up rather well at these championships. She may have lost her title but hopefully this will be motivation for her to push herself and take it back next year. Like Ashley, Gracie still has her work cut out for her. The world championships are coming up and her chances of making it to that podium are good if she can stay focused and deliver.
Karen Chen: 64.66 (SP) + 135.13 (FS) = 199.79 (3rd)
I have been singing Karen Chen's praises for the past two years and now people finally get to see why I'm so enamored with her. She was one of my dark horse/potential spoiler picks for this event. Now I'm sure you see why...
Karen started off very well in SP. She opened up with a 3Lz-3T and while the 3Lz was gigantic, she didn't get enough air on the 3T and received an under-rotation. Luckily she continued the rest of the program with no issues, hitting a big 3L and a nice 2A. Karen has so many qualities that give me happy piddles: gorgeous jumps, a tremendous amount of speed and flow across the ice, amazing spins, a sparkling personality and a knack for selling her programs and drawing the audience into her performance. "Requiem For a Dream" is not an easy piece of music to skate to, but she matched the energy of the music brilliantly and delivered a great performance. I loved the musicality of her step sequence (level 3) and all of her spins were great (level 4s), especially her layback which received straight +3s in GOE. Karen finished 6th in the SP but was only 1.38 points off of the podium.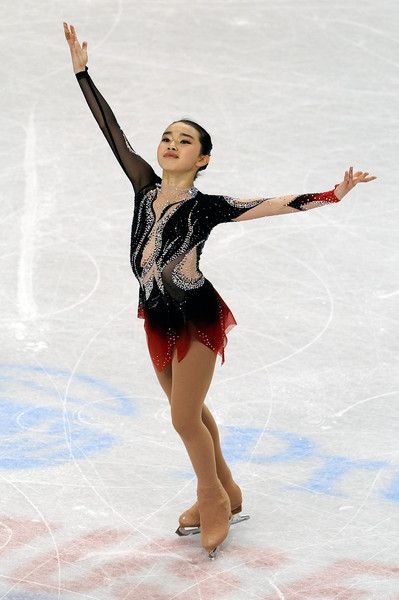 My little star has finally emerged
Even after her great performance in the SP, I don't think anyone really thought Karen could make it to the top 3. Tara Lipinski even said Karen's expectations of making it to the podium this year were "unrealistic." Just goes to show that
unrealistic
does not equal
impossible
. Karen had a goal in mind and she did everything in her power to make it happen. She set the bar extremely high early in the final group and put the pressure on everyone who came after her. Karen opened with her 3Lz-3T and again got hit with an under-rotation on the 3T. Her only other "mistake" was a ding on her 3F, but other than that, she was flawless. Karen zoomed around the rink as if she had rockets strapped to her skates and landed all of her jumps with ease. She maxed the levels on all of her non-jump elements and delivered her "Godfather" FS with lots of energy and flair to boot. Karen received a standing ovation from the appreciative crowd and received
monster
scores from the appreciative judges. In the end Karen finished 3rd in the FS and 3rd overall, earning the bronze medal in her first trip to nationals. BOOM!
Karen was the breakout star of this year's nationals. She managed to turn a lot of heads here and she will be on everyone's radar from now on. Hopefully she'll manage the pressure well. Karen is too young to go to worlds this year but I think she has a great shot at making the podium at junior worlds, especially if she skates like she did here. I'm so proud of her!
As for the rest...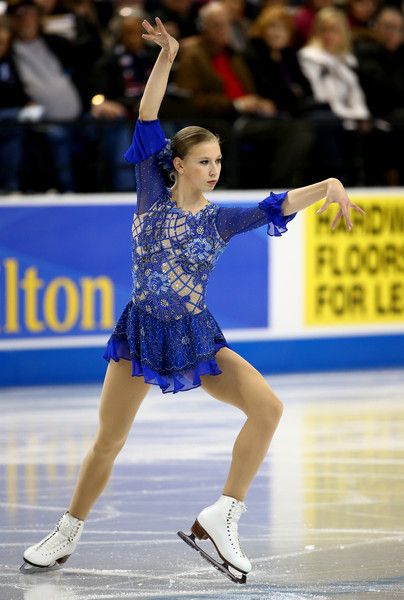 More of this Polina, please
Polina Edmunds (192.62, 4th):
Polina had a much better showing here than she's had all season long. She got through her SP cleanly, finally hitting her 3Lz-3T and the rest of her jumps. She finished 3rd in the SP, less than 1 point out of 2nd place. Skating last is never easy but Polina did a fairly decent job. She hit her opening 3Lz-3T and 3F(
!
)-1L-3S and seemed to be sailing along until her 3Lz. She went down on the jump but bounced back with a good 3F(
!
) and finished out the rest of the program cleanly. I really like Polina as a skater and I do think she's grown this year; however, there is something about her skating, particularly in the FS, that is lacking. I think her "Peter Pan" FS is lovely but, to be honest, I was a bit bored watching her. After all of the excitement and energy that preceded her, that program just sort of fizzled out. I know she can be fiery and exciting; just watch her SP from this year and last year. To stand out in a field of big performers (Ashley), big jumpers (Gracie) and fresh faces (Karen), Polina is going to need to step up her game.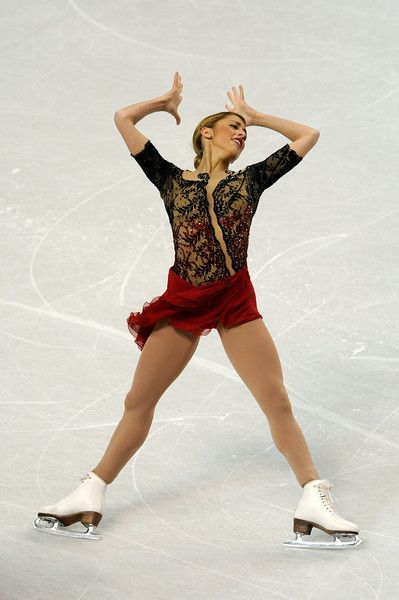 She's still #SammiFierce
Samantha Cesario (182.82, 5th):
Samantha had a bumpy start in the SP. She went for the 3L-3L and got hammered by the technical panel. They downgraded the second 3L which really hurt her score and left her in 11th place in the SP. Samantha took the ice for her FS looking very determined and slightly
pissed
. Undoubtedly she was upset over her placement after the SP and was ready to show the judges what she was made of. Samantha opened with a 3L-1L-3S but lost points on the 3S(
<
). Other than an edge call on her lutz, the rest of her program was clean...and
hella fierce
! I can't get over how much I love to watch this girl perform! Samantha severely lacks speed and I do think that will probably be what holds her back from advancing in this sport, but she can sell "Carmen" better than anyone I've ever seen. She's fiery and sultry and powerful...she truly embodies the character of the music. The choreography is fabulous, her delivery is perfection and, most importantly, Samantha knows how to bring it when everything is on the line. Her consistency and ability to
rock
an audience earns her major points in my book. Samantha finished 5th in the FS and moved up to finish 5th overall.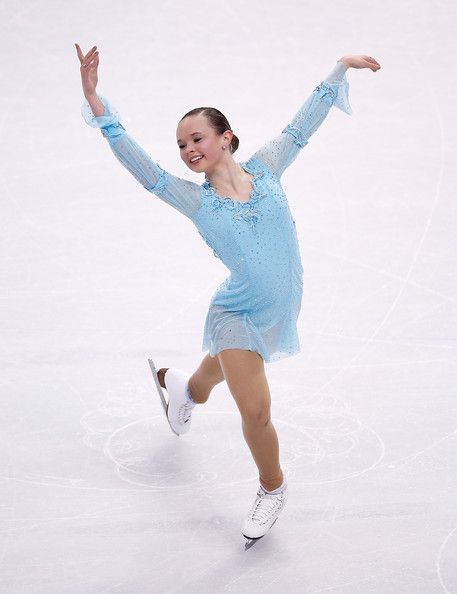 She was a breath of fresh and sweet air
Mariah Bell (180.25, 6th):
Mariah is such a joy to watch and I absolutely adored her SP. She has such a happy and effervescent personality on the ice and her SP matched that perfectly. Unfortunately, she hit a few technical snags. She under-rotated her 3T-3T(
<
) and also lost points on her 3Lz(
!
). Mariah placed 12th in the SP but was able to fight back with a lovely FS. She completed 6 triple jumps, including a great 2A-1L-3S in the bonus. Mariah's light and easy performance of her "Titanic" FS really won the crowd over. She was able to place 6th in the FS which moved her up to finish 6th overall.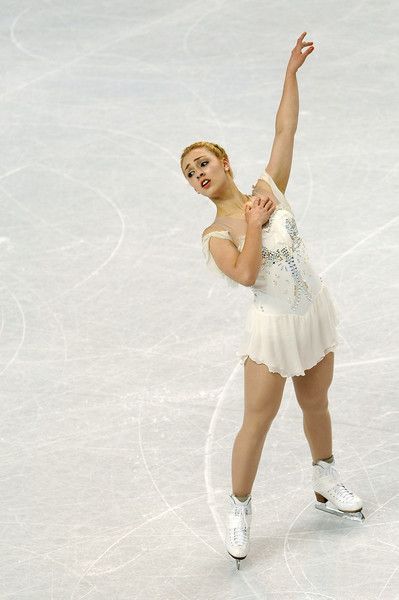 I guess it's not her year
Courtney Hicks (174.33, 8th):
This had to have been such a disappointing nationals for Courtney. I really felt she had the best shot at bronze and, for a minute, it looked as though she was well on her way. Courtney finally delivered her SP cleanly. She opened with a soaring 3F-3T (+1.40 GOE) and finished with her excellent combination spin which earned her 1.14 points in GOE. She placed 5th after the SP but only 1.03 points out of 3rd. Courtney took the ice after Karen Chen's monster 135+ score. Courtney's lead over Karen was only 0.35 points which meant Courtney would have to be flawless to beat that score. She opened with a 3F-3T but got downgraded on the 3T, doubled one triple, popped one of her axels, had a few messy landings...it just wasn't her night. In the end Courtney placed a disappointing 9th in the FS which dropped her down to 8th overall. Oh well...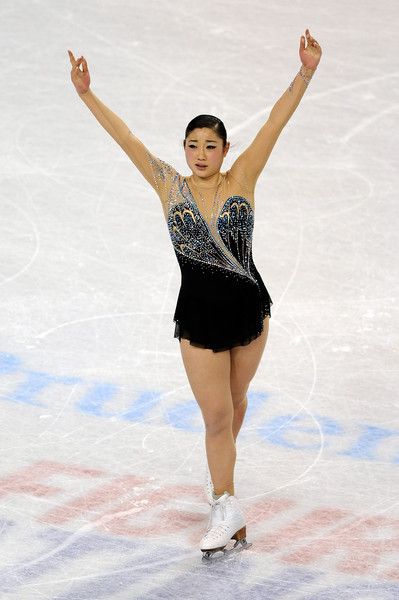 My heart goes out to her
Mirai Nagasu (166.63, 10th):
Mirai started off pretty well in the SP. She under-rotated her opening 3F-3T but was able to finish out the rest of the program cleanly. Even with the under-rotated combo, the judges finally showed Mirai some love and placed her 4th in the SP, only 0.76 points out of 3rd place. Mirai opened her FS with a 3F-3T(
<
)-2T(
<
) which cost her several points but recovered well with a good 2A-3T. As she was coming around the side of the rink to set up her next jump, she got too close to the boards. The back of her blade caught the siding and she fell, landing hard on her knee. Mirai got up and kept going but it was obvious she was hurt. She fought through the rest of the program but she lost levels on some of her elements, fell on her 3S(
<
) and lost points on her 3Lz(
<
). At the end of her program Mirai burst into tears and immediately went over to her coach. After the event Lynn Rutherford tweeted that Mirai hyper-extended and bruised the cartilage in her knee. I give her major props for toughing out the performance and not quitting, but I feel so sorry for her. Mirai placed 12th in the FS and dropped to 10th overall. Hopefully this injury isn't too bad but I know she has to be so disappointed. I'd like to think that she would have held up well and finished in the top 5; thanks to that injury we'll never know. Poor girl can't catch a break...
Christina Gao (160.60, 11th):
Christina struggled through her SP here, placing 18th but rebounded well with a solid FS. For me, it wasn't so much about the technical content as it was the overall skating. Christina delivered two really lovely performances and judging by the tears at the end of her FS, I think this might have been her final appearance at nationals...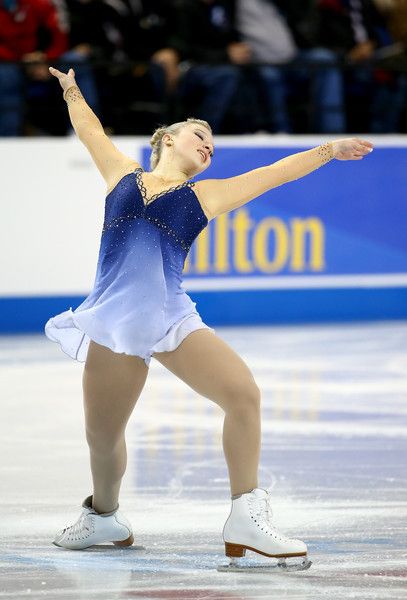 So much talent...too many nerves
Amber Glenn (159.41, 13th):
Amber was my other pick for potential spoiler at this event. She proved to be one of the big surprises and had everyone talking after the SP. She nailed all of her jumps (3F-3T, 3L) and placed a strong 7th. Unfortunately, as I warned, her nerves ate her alive in the FS. Amber debuted a new FS here and I'm not sure how wise that was. She just seemed off the entire time. She popped several jumps and even had a few long and awkward pauses. Looking at the protocols, the only jump done in the bonus was a 2A. Now that's either some ridiculously
stupid
jump placement or she was rushing a lot. Either way, it was not a good performance. Amber finished 15th in the FS and dropped to 13th overall.
Caroline Zhang (144.00, 17th):
Caroline is still competing. She got full credit for her 3L-3L in the SP, though she lost points for stepping out of it. Still, that's impressive in my book. Caroline had a semi-decent FS by her standards (two popped flips, 3 triples total) and placed 19th in the FS and 17th overall. Caroline is still coach-less but she's doing well enough to continue to get herself to nationals every year so she must be doing something right...
It was an absolutely amazing event! Congrats to all of the medalists. There are still several big events to go this season. The international teams for the remaining events have been named:
2015 Four Continents Championship
- Gracie Gold, Polina Edmunds, Samantha Cesario
Note: Ashley Wagner was named to the team but declined the spot. The first alternate was Samantha Cesario, so she will take Wagner's place.
(Alternates: Mariah Bell, Courtney Hicks)
2015 World Championships
- Ashley Wagner, Gracie Gold, Polina Edmunds
(Alternates: Samantha Cesario, Courtney Hicks, Mirai Nagasu)
2015 Junior World Championships
- Karen Chen, Tyler Pierce
(Alternates: Bradie Tennell, Hannah Miller, Leah Keiser)
Still plenty of skating left to go this season. The European Championships are just a couple of days away!! We'll get to see all of our favorite Russians battling for gold...I'm excited!