The junior ladies have been relatively easy to predict this season but I always refrain from making predictions because the ice can be slippery. Shockingly (or not shockingly, depending on how you look at it), there weren't too many surprises here...
No Russian sweep this year
The final results
Evgenia Medvedeva (RUS): 68.48 (SP) + 124.49 (FS) = 192.97 (1st)
More of the same from Evgenia. She's really been on her game this entire season and she won this competition, thanks in large part to her SP. Evgenia delivered a clean and easy SP complete with a 3F-3T, 3Lz(
!
...totally should have been an
e
), and 2A all done in the bonus half of the program. I don't like the fact that she crams all three jumps into about 30 seconds of the program but it's what gets the most points. She maxed the levels on all of her non-jump elements and went into the FS with a 5.39 point lead. I do think she was a bit over-scored but I absolutely agree with her placement. Even though Evgenia had a nice cushion going in, she didn't back down at all in her FS. Other than a slightly swingy 3F in her 3F-3T combo and an edge call on her 3Lz, she was solid as a rock. Evgenia won the FS as well and walked away with the title.
Serafima Sakhanovich (RUS): 63.09 (SP) + 123.06 (FS) = 186.15 (2nd)
Serafima has been a little off of her game recently so I wasn't quite sure what to expect. She struggled a little in the SP. Her opening 3F-3T was off balance and she had to fight very hard to land it on one foot. The rest of the program was clean though she did lose points on her 3Lz(
!
...again, should have been an
e
). She finished the SP in 2nd place more than 5 points off of the lead. I will say this for her: she fought hard in the FS. Other than an edge call on her 3Lz, she was clean. As I've said many times before Serafima's wild air position and jerky landings of her jumps leave a lot to be desired, but she managed to get full credit for them. She scored well but was unable to make up enough ground to overtake Evgenia and had to settle for her second silver medal at junior worlds.
Wakaba Higuchi (JPN): 61.27 (SP) + 124.30 (FS) = 185.57 (3rd)
Wakaba has emerged as a very viable threat and one of the few people who may be able to challenge this crop of Russians as we move forward. She started off decently in the SP though she did have issues. Wakaba spun out of her 3F(
!
)-3T combo which cost her nearly a point in -GOE. Luckily she recovered with a beautiful 3Lz and was able to max all of her non-jump elements. She went into the FS in 3rd place but less than 2 points out of 2nd. Wakaba's FS was amazing from a technical standpoint. She skated with wonderful speed and all of her jumps were big, airy and landed with lots of flow. Wakaba's spins and overall presentation isn't as strong as the Russian girls. She doesn't sell her programs and I think that's why she scores so far below the others in PCS. Regardless, Wakaba earned the highest TES of the night and nearly won the FS (only 0.19 behind Evgenia's score). In the end she was edged out for silver by only 0.58 points, but went home with a junior world bronze medal.
As for the rest...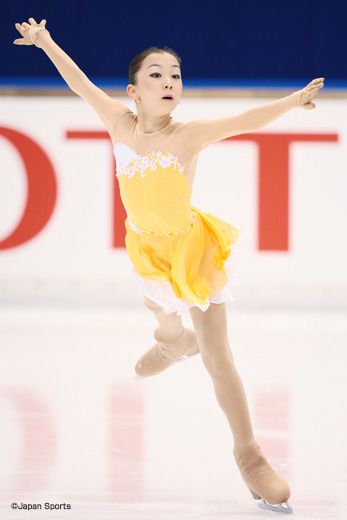 Photo credit to Japan Sports
Elizabet Turzynbaeva (KAZ; 173.44, 4th):
Very big surprise to see Elizabet take 4th place here. She's been skating decently this year but she really turned on the afterburners here. Elizabet struggled a little in the SP (wonky landing on her 3S-3T and her 3Lz was under-rotated) and placed 7th, but she stormed back with a clean 7 triple program in the FS. She placed 4th in the FS which moved her up to 4th overall. I'm very impressed!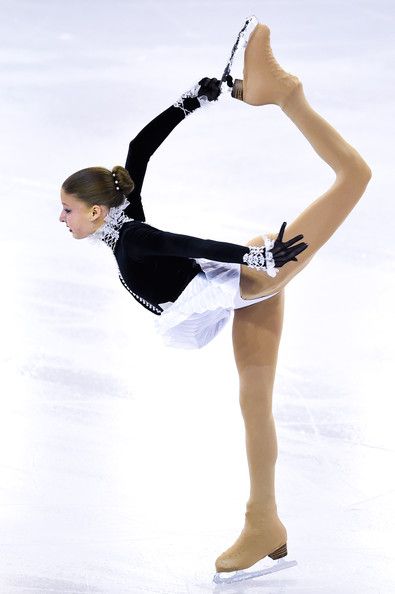 Good come back
Maria Sotskova (RUS; 169.04, 5th):
Maria continued to struggle here. She fell on her opening 3F-3T(
<
) and also lost points on her 3Lz(
<
). She finished a disappointing 10th in the SP and even though she turned in a clean 7 triple FS, she wasn't able to make it to the podium. I do think she should be proud of herself for making it into the top 5 after that start.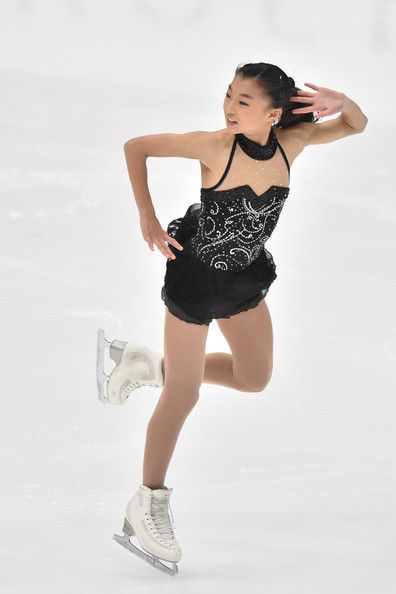 Nicely done
Kaori Sakamoto (JPN; 166.25, 6th):
I didn't expect Kaori to be that much of a factor here but she was another pleasant surprise. She delivered a pretty strong SP (3F-3T, 3Lz(
e
)) and finished the segment in 4th place. A fall on her 3L as well as another edge call on her lutz lost her several points in the FS but overall I was impressed with her.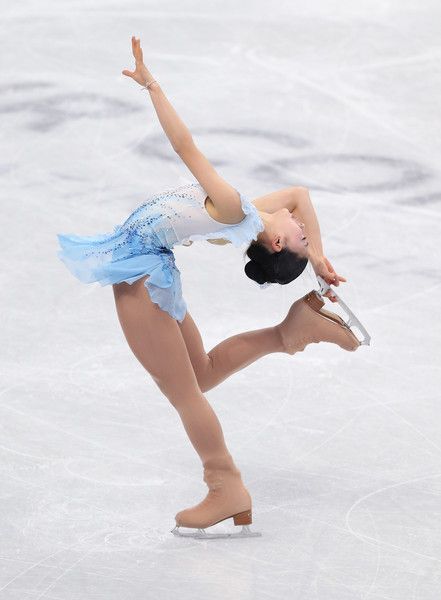 Must do better
Yuka Nagai (JPN; 163.93, 7th):
I just know Yuka can skate better than this. She has such nice jumps but she struggles when it comes to focusing. Yuka lost several points when she doubled her 3T-3T combination in the SP but she was in a good position to make a run at the top 5. Unfortunately, a popped lutz, an edge call and an under-rotation lost her too many points and she dropped after the FS to finish 7th overall.
Couldn't hold it together
Karen Chen (USA; 157.30, 8th):
After Karen's strong performances at nationals, I was hoping to see her do much better here. She opened her SP with a huge 3L that was supposed to be in combination with a 3T, but was unable to control the landing. With the lutz being the required solo jump this year, she couldn't add another jump to complete the combo. Karen finished the SP in 12th place. She started off her FS with a lovely 3Lz-3T (+1.10) and a nice 3F. It looked like she was on track until she ran into trouble in the second half of the program. A fall and downgrade on her 3S and another fall on her 2A killed any chance she had of getting into the top 5.
And with that, the 2014-2015 junior season comes to a close. Congrats to the medalists! Only one event left to go. It's almost time for the senior ladies to take the stage and battle for gold. I'll have a preview of that event very soon. Ta for now!