Down to the final major event of the season: the 2015 World Championships. I had a good idea of what to expect at this competition...or at least I thought I did. Man oh man, was I wrong.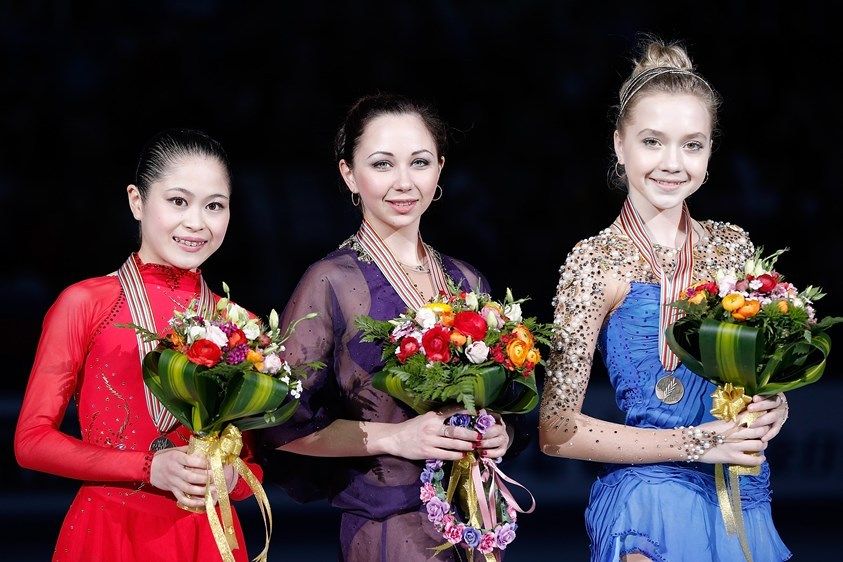 The 2015 World Medalists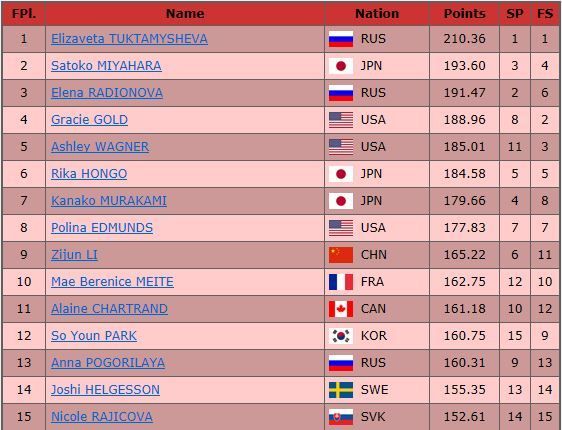 Elizaveta Tuktamysheva (RUS): 77.62 (SP) + 132.74 (FS) = 210.36 (1st)
Liza T has competed twice as much as everyone else this season and yet she's still going strong. She came into this competition poised for the win, but she had to step up and claim her prize.
Everyone was excited to see Liza T perform her SP. There had been talk in the weeks leading up to the competition that she was going to try for the 3A, though it was reported the element
was not listed
in her SP. Well, Liza T decided to go all or nothing and went for the 3A...and boy did it pay off! The jump was
excellent
: nice height, tight rotation, strong landing. Liza's 3A earned her 10.07 points. You could see the focus on her face as she approached her 3Lz. She nailed that jump (+1.30) and went on to hit her 3T-3T in the bonus (+1.00), and made history as the first woman to land 4 triple jumps in the SP. Liza T poured everything she had into her step sequence and finished out her "Bolero" SP with a flourish. It was an historic night for her as she became only the sixth woman in history to land a triple axel
and
she posted the third highest SP score ever (behind record holder Mao Asada and Yu-Na Kim). I do feel Liza's PCS were a bit too high (too many mid 8s) but she was the clear and rightful leader after the SP, with a fluffy cushion of 8.11 points.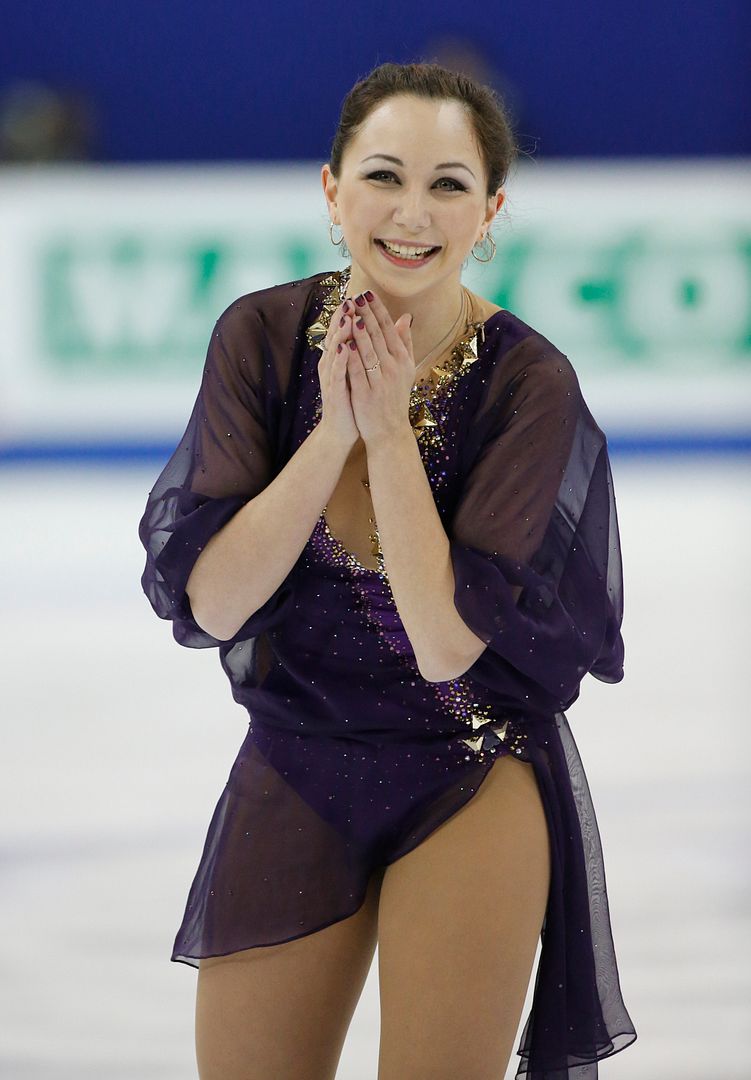 She DID that!
There was very little doubt in my mind (or anyone else's) that by the time we got to the FS, Liza T already had the gold medal in the bag. Still, she needed to bring it on home and she managed to do that; however, she wasn't perfect. Liza T opened with a big 3Lz but spun out of the landing before adding the 2T and 2L. She regrouped well but hit another snag with her 3T-3T combo, spinning out on the landing of the first jump and putting her foot down on the landing of the second. Her spins weren't as fast as they've been in the past and overall it wasn't the same kind of ease and 100% confidence we're used to seeing from Liza T. Even so, her mistakes weren't horrible and in the end they didn't make much of a difference anyway. Liza T won the FS with a solid score and won the event by more than 16 points. After struggling so much last year and all of the doubt and naysayers proclaiming she was washed up and would never be a factor in Russia again...Elizaveta Tuktamysheva is the new world champion.
Liza T's journey has been such an amazing one. She went from being an afterthought last year to running the show this year and winning all of the major titles. I'm so proud of her. Having that 3A elevates Liza T to a new level--one that may make her untouchable next season if she does it regularly. This quad just got very interesting...
Satoko Miyahara (JPN): 67.02 (SP) + 126.58 (FS) = 193.60 (2nd)
Satoko came into this event with a little bit of momentum from 4CC but to capitalize on it in this field, she'd have to deliver.
She started off very well in the SP. There's always been some question/doubt about Satoko when it comes to her jumps. She does not get much height or spring but instead relies on very fast rotation. Depending on who the caller is, sometimes her technique goes over well and other times it doesn't. Shin Amano is known for being one of tougher/stricter technical callers in the sport, so I have to admit I was pretty worried about how Satoko would fair here. Luckily, Shin was in a pretty good mood. Satoko's 3Lz-3T and 3F were called fully rotated in the SP. Though a valid argument can be made about Satoko's habit of pre-rotating, it seems that the technical callers tend to focus on the landing rotation rather than take off rotation and here, all of Satoko's jumps appeared to be backwards on the landing. I love her Mozart program and she delivered it beautifully. She earned level 4s on all of her non-jump elements and earned a season's best and personal best score. Satoko placed 3rd in the segment and set herself up nicely to land on the podium in the FS.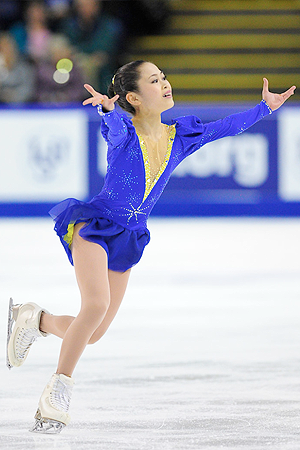 R-E-S-P-E-C-T! Finally!
Satoko was the first of the top 3 from the SP to take the ice for her FS. A few weeks ago Satoko had a golden opportunity to snag the title at Four Continents but was unable to keep it together and had to settle for silver. With a chance at a medal on the line, Satoko couldn't back down...and she didn't. Aside from a near miss on her 3Lz(
<
), she was great. She turned in 6 triple jumps total, including two 2A-3T combinations in the bonus section of the program. Satoko's FS to "Miss Saigon" is the best FS in the ladies field this season and, though I do think she's had better performances of it, she turned in a lovely performance here. Her strong performance earned her another season's best and personal best FS score and earned her a personal best overall score. Satoko finished 4th in the FS and was able to spoil the projected Russian 1-2 by beating out Elena Radionova by 2.13 points and winning the silver medal in her first trip to worlds.
I'm very proud of Satoko. I've always viewed her as one of the less appreciated skaters in the field. Her small jumps detract from the overall effect of her skating but I think she's amazing. She has a lovely and polished style, gorgeous programs, wonderful spins and excellent skating skills and transitions. It was really great to finally see her be rewarded for that. Thanks to Satoko, the Japanese women's podium streak has been increased to 10 years straight.
Elena Radionova (RUS): 69.51 (SP) + 121.96 (FS) = 191.47 (3rd)
Elena has been killing it all season long. She's been the most consistent skater in the field in terms of delivering her programs and most people had her penciled in as the favorite for silver at this event.
Elena had me a little worried at the start of her SP. She'd taken a spill earlier in the warm-up and it'd been a long wait since then. Turns out, I had no reason to be worried: Elena was as solid as ever. She landed her 3Lz-3T with no problems and followed it up with a solid 3L, 2A and all level 4 elements including her step sequence which earned her +1.20 points in GOE. Elena wasn't as on fire as she usually is and that probably has to due with the fact that she was ill. She revealed in
an interview after the SP
that she had been sick leading up to the competition and felt very tired. Still, to be running a fever and manage to hit her elements and turn in a strong performance is a testament to that girl's focus and mental toughness. Elena scored well and went into the SP in a prime position to earn silver.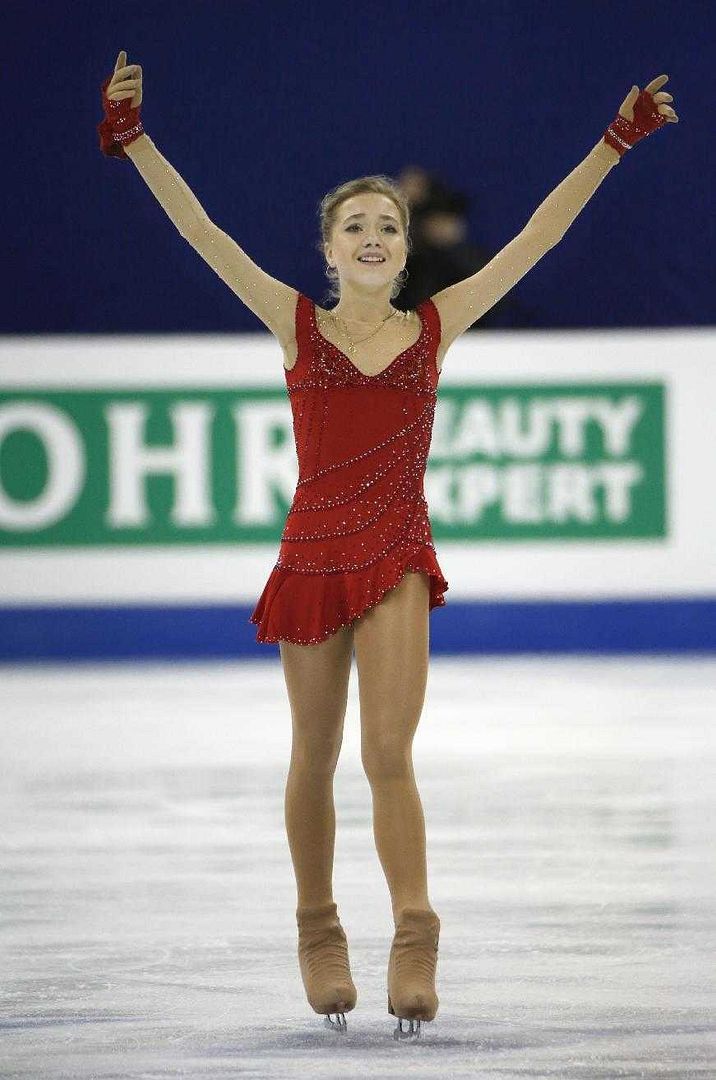 That which does not kill us...
Elena has managed to deliver her Rachmaninoff FS at least 95% cleanly every time she's skated it this season. Given the rest of the field and the scores she's capable of receiving, I figured the silver medal was in the bag for her. Unfortunately, that did not happen. Elena opened up with a shaky 3Lz and was unable to put the 3T on the end. She recovered with a solid 3F(
!
) and then smartly improvised on the fly and added the 3T to her second 3Lz. The beginning of the program was okay but it was clear she ran out of steam in the second half. Elena lost points on her 3L-1L-3S(
<
), stepped out of a 2A, and doubled the 3L in her final jumping pass (2L-2T). None of her errors were majorly disruptive but they cost her a bunch of points in base value and -GOE. The effects from being sick definitely took a toll on her stamina and the energy she usually brings to her performance. Elena looked sluggish and exhausted but she continued to fight and didn't give up. Unfortunately, she just gave up too many points. She placed 6th in the FS but thanks to her strong SP, she was able to hold on for a bronze medal.
I hate that Elena's health cost her a better placement here but a medal in your first trip to senior worlds is wonderful no matter how you slice it. She's an amazingly tough and consistent competitor and I'm so happy she was able to fight through it and stay on the podium.
As for the rest...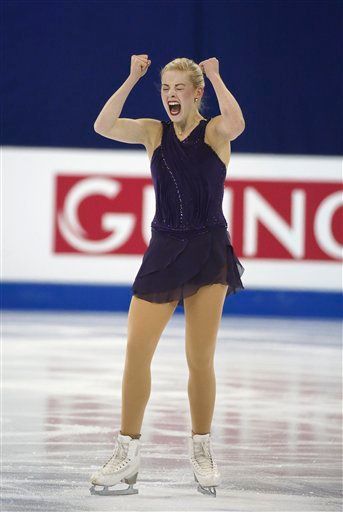 We don't see this enough
Gracie Gold (USA, 188.96; 4th):
I felt really sorry for Gracie in the SP. It seems like she always gets stuck skating after a roof shattering performance. She had the misfortune of skating after Liza T's historic SP performance and ended up crumbling under the pressure. She lost control on her 3Lz combo and had to step out of it and then got too close to wall on her 3L and had to fight for the landing. Overall it was a lackluster performance that placed 8th, but the judges were merciful and kept her within striking distance. Thankfully, Gracie was able to pull herself together and skate a strong FS, her first really strong one of the season. She got hit with an edge call on her 3F but other than that and a few tight landings, she did very well. I was on the fence about Gracie's new FS dress (I liked the color and the back, but the front was kinda weird/ineffective) but I still hate this program for her. It does nothing for her but at least Gracie was able to deliver her elements solidly. She placed 2nd in the FS with a season's best score and was able to leapfrog from 8th all the way to 4th.
I'm very happy Gracie was able to come back strong but I have to say, it really bothers me that we only seem to get these kind of strong performances when Gracie is out of medal contention. She was nearly 17 points off the lead and nearly 9 points out of 2nd after the SP. With less pressure on her in the FS, she was able to just let go and skate. She has got to learn to do that when the pressure is on...had Gracie managed to have a clean SP, she would have ended up on the podium.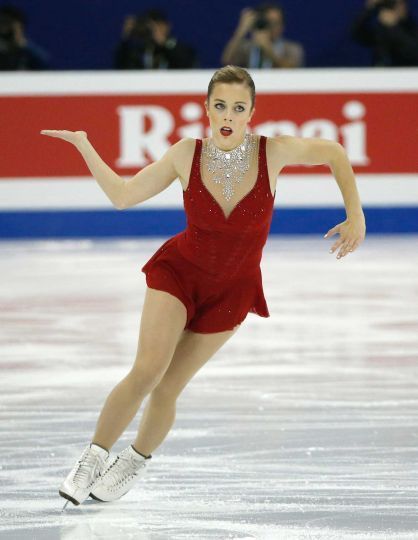 Not quite #DivaWagner status but close
Ashley Wagner (USA, 185.01, 5th):
Ashley put a lot of pressure on herself in this event and it seems as though she psyched herself out in the SP. She went for the 3Lz-3T but under-rotated the 3T and fell on it. The silver lining to that combo: no edge call. She tried to get herself back on track but couldn't regroup fast enough. She spun out of her 2A and had issues on the 3F(
<
) as well. Ashley looked a bit dazed and was not able to bring the same amount of life and performance she usually does. Unfortunately, the judges let her have it. She finished the SP in 11th place, behind both of her American teammates. The FS has always been Ashley's stronger segment and she took the ice for her "Moulin Rouge" program looking very determined. All in all, it was a strong performance. It wasn't nearly the amazing display we saw at nationals this year but she went after and fought for everything. She did have some issues: both combos were under-rotated (3Lz-3T(
<
) and 3L-1L-3S(
<
)) and both of her lutzes received "
!
" but no edge calls. Ashley earned level 4s on all of her spins and received the second highest PCS of the night. In the end Ashley finished 3rd overall in the FS (only 1.03 points behind Gracie's score) and was able to jump from 11th to 5th overall.
Just like Gracie, I'm very happy Ashley fought back in the FS but this was a missed opportunity for her as well. She imploded in the SP and it ended up costing her a medal. Had she skated better there's an excellent chance she'd have finished on the podium. Our U.S. ladies have got to get their shit together...given the FS scores of Miyahara and Radionova, both Americans could have easily landed on the podium this year.
*sigh*
Rika Hongo (JPN, 184.58; 6th): It's been such a great season for Rika. She's another one who has been so consistent and strong all year long and she managed to put together her two best performances of the season here. I really like Rika's SP. The program is very musical and well-choreographed. She has amazing timing and is able to hit her jumps right on the accents of the music. Rika hit a nice 3T-3T and 3F and was able to max the levels on all of her non-jump elements as well. She scored a season's best and finished the SP in 5th place. Rika's FS was as strong as it's been all season. She did lose some points (two under-rotations and an edge call) but overall, she turned in a great performance and the audience loved it. Again, she scored a season's best and personal best score, finished 5th in the FS and 6th overall in her first trip to worlds.
Some people don't want to give Rika credit but those people need to wake up and get a clue. This girl has made major strides over the last year in terms of her presentation and performance, and she's proven herself to be a steely and consistent competitor. Give Rika Hongo her due people...she's earned it.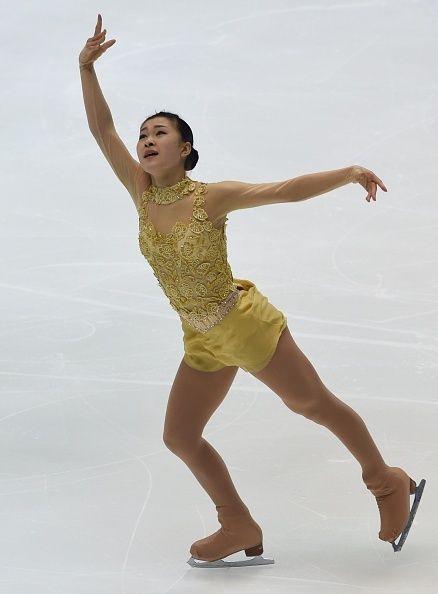 Just gorgeous!
Kanako Murakami (JPN, 179.66, 7th):
It was great to see Kanako turn in the best SP performance we've seen from her all season long. I'm sick to death of everything "Phantom of the Opera" this season...except for Kanako's SP. In terms of the song selection, edit and version, it's the best in my opinion. Kanako opened with a huge 3T-3T (+1.00) and a solid 3F. All of the elements were level 4 and beautiful, especially her footwork and final layback spin timed very well with the music. Kanako was so expressive and committed to the choreography...she was
gorgeous
! It was hands down the best SP of the night for me. I think the judges were rather stingy with her scores (I thought she should have been 3rd) but she still earned a season's best and place 4th going into the FS. Kanako skated last in the FS and even though she had some issues (an under-rotation, a doubled 3T, a popped 3S, only 4 triples total) she turned in one of her better performances of the season. She finished 8th in the FS and 7th overall.
It's been a rough season for Kanako and I'm not too sure how long she'll continue to skate, but it was really great to see her show up at these championships and put forth her best. I wasn't sure where she would place but she proved that she's still a solid top 10 skater.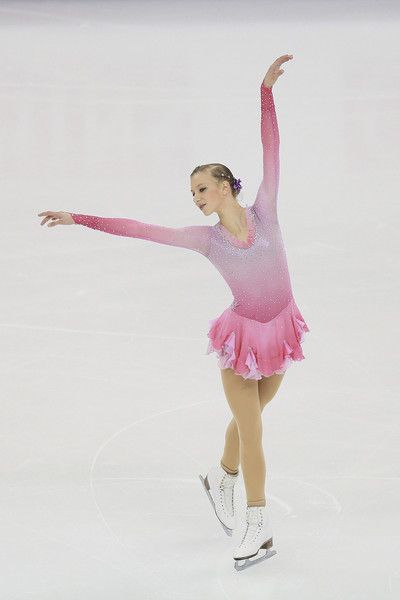 This isn't working. Something needs to change.
Polina Edmunds (USA, 177.83; 8th):
Polina was very confident coming into these championships and, as she promised, she delivered two solid performances. Polina had a strong SP and was the only American to do so. Her 3Lz-3T was slow but clean and her 3F was solid but got dinged ("
!
") again which cost her -0.70 in GOE. I really think had she just switched out her 3F for a 3L she would have scored better here and probably would have made the final group of skaters. Polina skated well in the FS too but she did have issues: both flips got dinged again and she lost points on three under-rotations including a 3L and a 2A. Polina finished 7th in the FS (same as the SP) which left her 8th overall.
Polina's PCS did go up slightly in the FS but they still aren't at the level they need to be. For one, I think Polina needs to work on her telegraphing. She stalks her jumps and almost looks like she's jumping in slow motion sometimes. Additionally, I really hope she goes for a more mature look next year. The judges' message is clear at this point: we want more. Hopefully she'll take that implicit advice and step her game up next year.
Zijun Li (CHN, 165.22; 9th):
It's been a struggle for Zijun over the last year and a half but it seems like she's getting herself back together. Her SP was strong but not without error. She under-rotated the 3T in her 3F-3T combo but bounced back with a nice 3L and all level 4 elements. The crowd absolutely loved her and the judges seemed to love what she did as well. Zijun placed 6th in the FS and nabbed that last spot in the final group of skaters. Unfortunately, the home crowd pressure seemed to get to her in the FS. Zijun opened up with a nice 3F-3T but just about everything else went downhill after that. Multiple errors (including a fall, an under-rotation and edge call) cost her too many points and she fell in the standings, finishing 11th in the FS and dropping to 9th overall.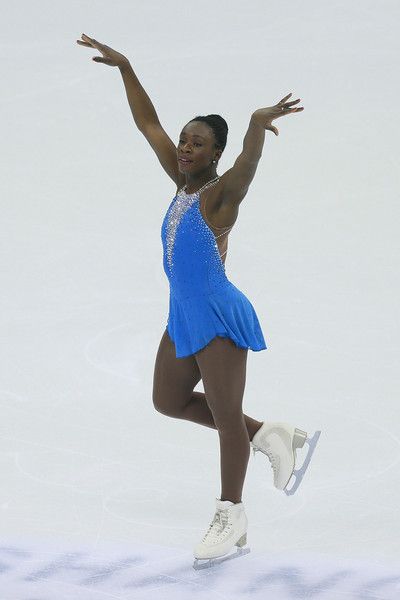 Top 10!
Mae Berenice Meite (FRA, 162.75, 10th):
Mae started off well with a strong SP. She delivered a solid 3T-3T, decent 3F and all level 4 spins. The judges rarely show Mae much love when she skates well so I wasn't surprised to see her place 12th in the segment. Mae turned in a 7 triple FS (including 3Lz-3T and 2A-3T in the bonus) though she did struggle through some of the jumps and lost several points in -GOE...but she did stay upright! Mae finished 10th in the FS which was enough to move her up to 10th overall. It wasn't a perfect outing for her, but I think Mae can be proud of her first top 10 finish at worlds.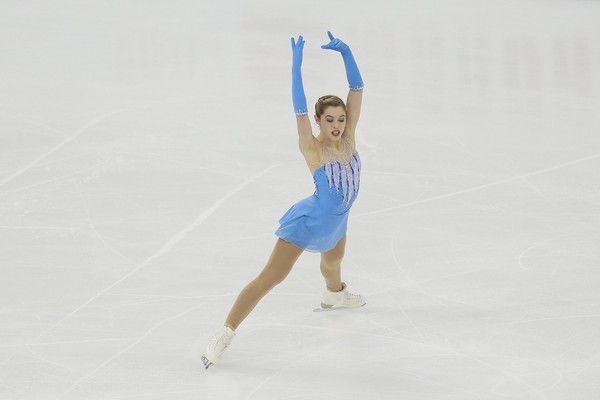 Two spots, thanks to you kid!
Alaine Chartrand (CAN, 161.18; 11th):
Up until Alaine took the ice for her SP, the event had been a total and utter splatfest. It was refreshing to see someone stand up and fight for all of the jumps. Alaine opened with a solid 2A and followed it with a 3Lz-3T. The 3T was under-rotated and cost her 1 point in -GOE, but she finished out the rest of the program cleanly (3L, all level 4 elements). Unfortunately Alaine's FS was a bit of a disaster (5 under-rotations, a downgrade and an edge call). She lost a ton of points in base value and finished 12th in the FS. Even though it wasn't her best, Alaine's performances here were enough for Canada to maintain its two spots for worlds next year.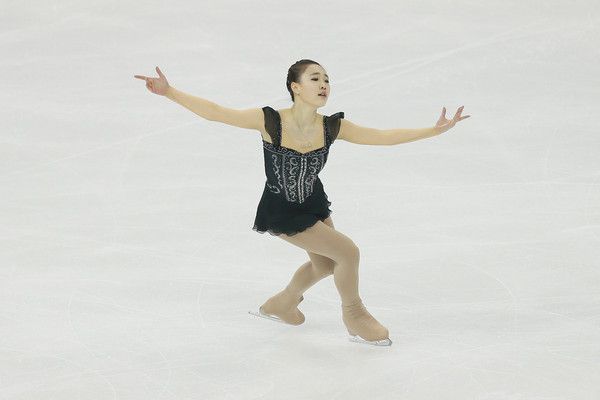 One day So Youn...one day
So Youn Park (KOR, 160.75; 12th):
So Youn is so frustrating! She has really gorgeous jumps and presentation...but she can't get through a SP cleanly to save her life. So Youn opened her program with a
gorgeous
3S-3T that soared across the ice (+1.00)...and then shot it all down by falling on her 3F. She finished the SP in 15th place. A popped jump, doubled jump and under-rotation lost her several points in the FS and prevented her from moving into the top 10. So Youn has all of the talent but her inability to get through a competition cleanly costs her dearly. The judges are never going to take her seriously if she can't get it together.
Get better soon Anna!
Anna Pogorilaya (RUS, 160.31; 13th):
Anna struggled so much here. It was
reported that she had a partially torn ligament in her ankle
and that she'd only had a matter of days to prepare for this competition. Rather than withdraw, Anna decided to compete through the pain. She started off well in the SP, hitting a nice 3Lz-3T but then she took a very hard and painful looking fall on her 3L. Amazingly she was able to regroup immediately and hit her 2A. Anna landed in 9th place going into the FS. The FS, however, was a scary disaster: she popped her opening lutz, got an edge call on her flip, fell on her second lutz and then fell on an improvised 2A-3T(
<<
)...and these weren't little sit down-pop back up falls; they were hard, slide on your belly across the ice falls. It was really sad to see. Anna placed 13th in the FS and dropped down to 13th overall. I wish her lots of rest and a speedy recovery.
A few other notable placements:
Joshi Helegesson (SWE, 155.35; 14th), Hae Jin Kim (KOR, 136.24; 19th), Gabrielle Daleman (CAN,133.57; 21st)
and
Elene Gedevanishvili (GEO, 132.25; 22nd).
Congrats to the new world medalists! Well, we're done with all of the big events of the season. There's just one more event left to go: the
World Team Trophy
competition which will take place in
Tokyo, Japan on April 16-19
. The countries competing will be Russia, the United States, Japan, Canada, France and China. No entries have been named yet but there's a good chance we'll see several of the top skaters from this event there. Til then!