Half of the season down, half to go. Based on what we've seen in the first half of the season and what we can expect to see in the second half, here are my Power Rankings for the top 10 ladies...
Courtney Hicks wins the edge over Polina Edmunds for #10 this season (I had Polina as #11). Courtney's season started out in mediocre fashion at Cup of China where she placed 6th, but thanks to some overall better skating from her and some incredibly crappy skating from some of the top names, she walked away with a silver medal at NHK Trophy. The jumps have always been Courtney's forte but she struggles when it comes to controlling them. Her skating style isn't very appealing but she can rack up big numbers when she hits her jumps and spins. If Courtney can build on the momentum of that silver medal in Nagano, she has a very good shot at that third spot on the U.S. team.
9. Julia Lipnitskaya (RUS)
Julia's season started off pretty roughly at Skate America where she placed 6th, more than 17 points away from the podium. However, it appeared as though she was beginning to turn things around during her SP at Trophee Bompard. Julia delivered a much stronger performance there and even appeared to be enjoying herself, which is something we haven't seen from her in a while. She placed a comfortable 2nd in the SP but, unfortunately, she never got the opportunity to back up that performance with her FS. For that reason, Julia comes into nationals with a bit of a question mark. New coach, new Julia? Who knows? Given the unbelievable depth in Russia, I don't think Julia will get a spot at Worlds even if she skates well; however, I could see them giving her a trip to Euros as a consolation prize.
Rika really grabbed people's attention early in the season with her 15 point victory at Finlandia Trophy. She continued to build up her momentum at Cup of China where she earned a silver medal with the best two performances of her life. Rika posted personal bests in both segments and forced a lot of people to finally take notice of the strides she's made as a performer over the past two years. Unfortunately, Rika's second event did not go as smoothly. She had issues in both programs and placed a disappointing 5th. Nationals will be Rika's chance to bounce back after that disappointment. She's still Japan's clear #3 but she will be up against some new talent that could beat her out for that spot if she doesn't deliver.
Mao gave us a glimpse of her brilliance at the beginning of the season at Japan Open but she hasn't been able to follow up that performance since. Interestingly enough her 3A has been her saving grace so far. She has landed it 4 out of 5 attempts on the season. Unfortunately, she's struggling with her other jumps. Mao has never been one to go the easy route and I totally dig that side of her "never back down" personality; however, she needs to reevaluate her current layout. Aside from her 3A, the difficult content is not materializing. She's attempted the 3F-3L five times and has only received credit once (in Japan); and her three attempts at the solo 3Lz in the SP has resulted in one edge call and two pops. Mao placed 3rd at NHK Trophy (behind Miyahara and Hicks) and placed dead last at the Final. Even though Mao has been steadily trending downward these past few weeks, a strong performance at nationals is all she needs to get herself back in the medal conversation.
6. Elizaveta Tuktamysheva (RUS)
After basically ruling the world last season Liza T took quite a tumble this season. She started off with a mediocre performance at Japan Open and a rough SP at Skate Canada. Luckily, she rebounded nicely in the FS in Canada and had most people thinking she had gotten over her beginning of the season slump. Unfortunately the same mistakes crept back in at Trophee Bompard where she finished 5th in the SP. Without the opportunity to pull up in the standings with the FS, she was shut out of the Final. Since missing the Final Liza has competed in two events (Golden Spin and Warsaw Cup) and won both. She's still a top 3 contender for Euros and the World team but it's not going to be a cakewalk. If she hopes to defend her titles she's going to need to get her jumps back (including that 3A) and start delivering the way she did last season.
Ashley's season has been a roller coaster: down at Japan Open, up at Skate Canada, down again at NHK Trophy and down and then up at the Final. She's had highs (personal bests at two events this season) and lows (missing the GP podium for the first time since the 2011-2012 season). Her season has been a little all over the place but the good news for her is that her last performance was a strong one which gives her momentum as we move into nationals. However, Ashley has never been good at defending her title. She likes to be the hunter rather than the hunted, and she's the hunted this year which makes me worry about what we'll see from her. If Ashley can nail her content and skate with the fire, sass, emotion and razzle-dazzle she excels at, she can defend her title. With Worlds in the States this season, the U.S. champion will get all of the spotlight and shine. If Ashley wants that crown and the special perks that come with it this year, she can't back off at all.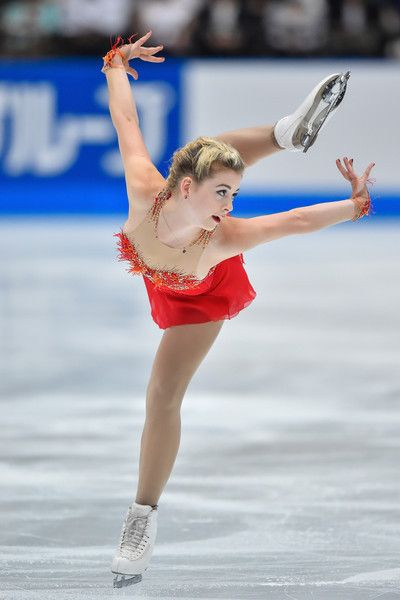 On one hand, this has been a good season for Gracie. She finally has two strong programs that do a good job of showcasing her strengths as a skater, she put up a good fight at Skate America in the FS, and she turned in the best SP of her life at Trophee Bompard which earned her a trip to the Final. On the other hand despite all of these good things, Gracie is still under-performing. Everyone is waiting for her to wake up and start delivering...but it hasn't happened. Gracie's rather poor performances at the Final destroyed all of the momentum she started in Bordeaux which means she'll have to come out swinging at nationals. The one upside for her is she's not the defending champion this year. Without that load of pressure on her shoulders, she may be able to finally relax and just skate...or not. With Gracie, you never know.
Life has been beating Elena with the puberty stick but she refuses to go down. Despite growing several inches over the past year and half Elena is hanging in there. Her clockwork consistency took a hit this season but, ever the fighter, she found a way to keep herself in the mix. Elena started off with shaky performances and a third place finish at Cup of China, but then stormed back with a gold medal at Rostelecom Cup. She made her third consecutive trip to the Final and landed on the podium for the second year in a row. Elena isn't as solid as she was last year but she's still a force to be reckoned with. She goes into nationals as the clear #2 but will have to put up a strong fight if she wants to retain her national title this year. Strong performances will help but she may need a little luck to get past Medvedeva.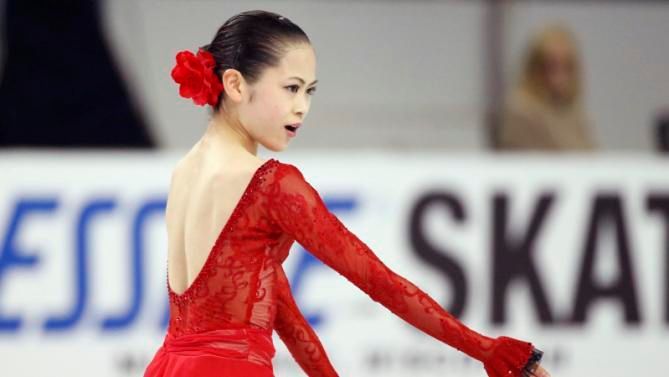 At the beginning of the season I don't think anyone would have predicted that Satoko would be in the position she's in. Despite the naysayers Satoko has risen in the ranks and is now a strong #2 as we head into the second half of the season. She started off with solid performances and a bronze medal at Skate America before shocking everyone and taking the gold medal in grand fashion at NHK Trophy. Satoko's great scores and silver medal at the Final have lifted her into the top tier of ladies. I never thought it would happen but I'm glad it has. The judges have learned to look past the one deficiency in her skating (her small jumps) and see the truly gifted and gorgeous overall skater she actually is. Satoko plays to her strengths smartly (particularly her layout in the FS) and skates with great consistency. With so many of the top skaters struggling to get it together, Satoko's ability to deliver time and time again has boosted her in the judges' eyes. I do wonder how the judges will score Satoko if some of the other big names start delivering...but for now, Satoko is the favorite going into nationals and is a strong World podium threat if she can keep this momentum going.
1. Evgenia Medvedeva (RUS)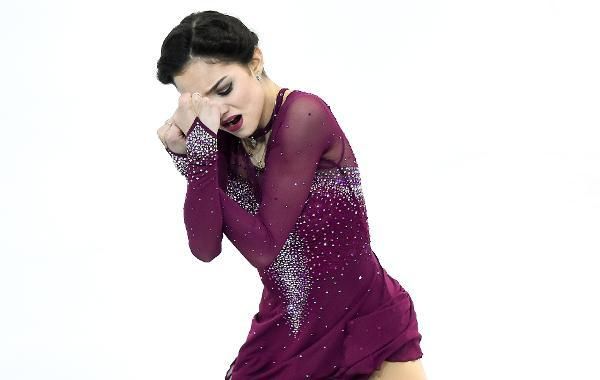 Evgenia fast-tracked her way from newbie status to World champion favorite in record time. As I've said several times this season I've never seen a skater come onto the senior level and receive established senior scores immediately. There's usually a "hazing" period of at least one competition where the judges force the newbies to work their way up to top level PCS. Not for Evgenia. She cracked the 200 point mark in her first event and has scored 200+ in every event since. Evgenia's gold medal at Skate America and silver at Rostelecom earned her a trip to the Final in her first year. Granted Liza T won both of her events in her debut senior season but she failed to medal at the Final; Evgenia won the Final by 13+ points. Her skating is graceful, elegant and easy...it's not hard to see why the judges are so enamored with her. Add to that her difficult content, brilliant manipulation of the scoring system, competitive mindset and consistency, and you've got a skater who is on her way to being damn near untouchable. Evgenia's score from the Final (222.54) was only 2.05 points lower than Adelina Sotnikova's score at the Sochi Olympics (224.59). Admittedly, the scoring this season has been a little out of hand. At this rate we may see Evgenia break the world record by the end of the season. She's the clear favorite to win nationals, Euros and Worlds.
That's it for now. Russian nationals and Japanese nationals are later this week. I can't wait!