The Grand Prix season comes down to this: the Final. For the junior ladies, it was the Russians versus the Japanese; for the senior ladies, it was
Teens
versus the
20-Somethings
. I'll take a look at the senior ladies first and then the juniors.
2015-2016 Grand Prix Final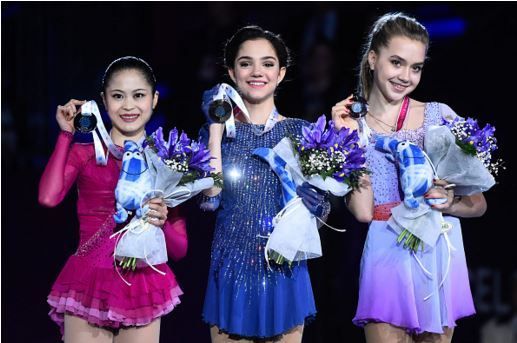 The Teens win it!
The final results:
Evgenia Medvedeva (RUS): 74.58 (SP) + 147.96 (FS) = 222.54 (1st)
I cannot recall the last time a skater won the Final in their debut senior season. It's a bit unheard of really...but it happened here. Evgenia has been on a monster tear this season and she's showing no signs of slowing down. She pretty much decimated the competition here. Her SP was clean, easy and full of back-loading and tanos glaore. As I've said, I can't even be mad at her...she plays the game very efficiently and very well. As a result, Evgenia pulled down the highest SP score of the season. Aside from a ding (
!
) on her 3Lz in the FS, she was picture perfect. The judges are simply enamored with her. She earned tons of +GOE (+2s and +3s) on nearly every element and her PCS have gone through the roof...I'm talking Sochi numbers here! Evgenia is fast-tracking her way straight to the top of the sport in record time. She won both segments of the competition and walked away with a 13+ point victory and the gold medal.
After this win Evgenia is the clear front-runner as we head into the second half of the season. With her consistency, presentation, technical abilities and the fact that the judges love her, Evgenia is damn near untouchable at this point. All of the people who
could
challenge the scores she's getting are struggling right now. If they can't get it together, Evgenia is going to run away with the world title this year.
Satoko Miyahara (JPN): 68.76 (SP) + 140.09 (FS) = 208.85 (2nd)
It's taken a while for Satoko to earn her respect but it seems as though the judges are finally giving it to her. Satoko has been so steady and focused this season and the judges are starting to realize the little sparkling gem that is Satoko Miayahara. She had a solid performance in the SP but lost points on an edge call on her flip. The crowd was not happy to see her place 4th (lots of angry rumbling when the scores came up...don't you just love the Barcelona audience? They're awesome!). Even though she placed 4th in the SP, Satoko was less than a point out of 2nd place. It was great to see her seize the opportunity and skate well. She doesn't get the same kind of GOE for her jumps that some of the other skaters do (nor should she), but the judges did reward her for her gorgeous spins and step sequence (all level 4s) and have finally put her in the top tier of PCS (67+ here). She scored a huge 140+ in the FS and moved up to finish 2nd overall, earning a silver medal in her first trip to the Final.
It's been a long time coming for Satoko but she's finally established herself as a legitimate gold medal threat. Her consistency combined with her gorgeous skating has her positioned well to find herself on that world podium again.
Elena Radionova (RUS): 69.43 (SP) + 131.70 (FS) = 201.13 (3rd)
Elena isn't operating in the same
LENA MODE
she had last season but she's still managing to get the job done and land on the podium. Her consistency hasn't been as unshakable as it was last season and we saw that here again. The had issues on her lutz in the SP but adjusted on the fly and added a 3T to her loop which worked out well. Doing her combo in the bonus gave her as many base points as her 3Lz-3T would have earned. She placed 2nd in the SP, virtually tied with Satoko and Mao. The FS was a little shaky and not her best (lutz issues again and an under-rotation and fall on her loop) but she still did enough to score 130+. The FS program is still an eye (and ear) sore to me. I'd love to see her go back to her "Rachmaninoff" from last year or even "Frida" from the year before. However, even though most of us cringe at the program, cheesy Titanic is scoring decently so I doubt if it's going anywhere. Elena placed 4th in the FS but her strong SP score was enough to hold on for bronze.
It's not been an easy road for Elena but she's made it through the Grand Prix season without missing a podium. She's solidly the #2 Russian right now but she still has her work cut out for her at nationals this year.
As for the rest...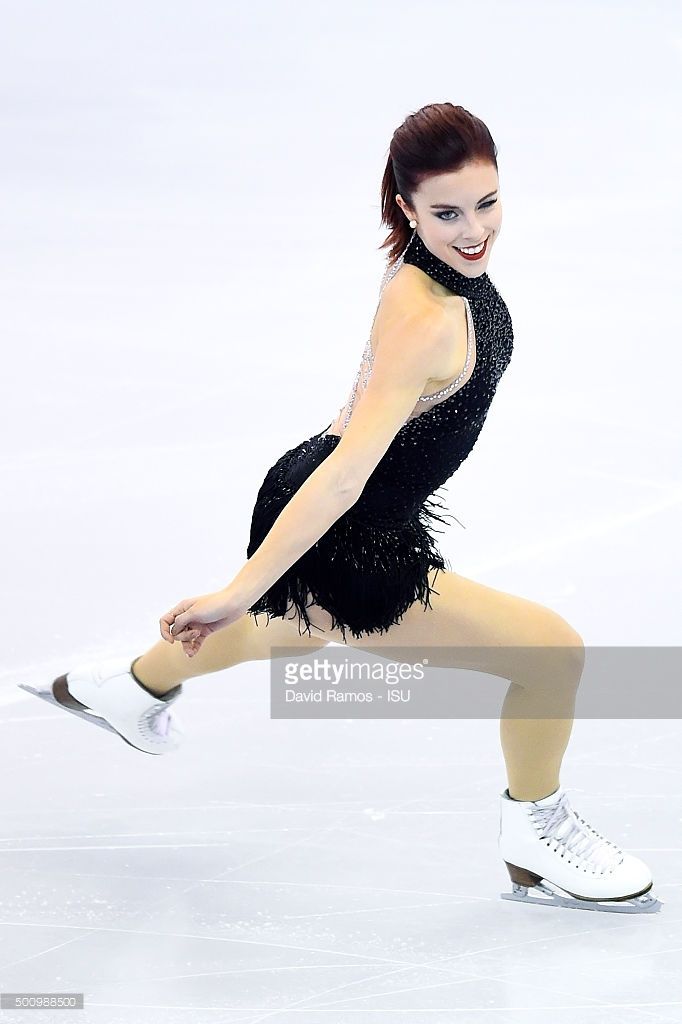 This is a bad pattern she's establishing
Ashley Wagner (USA; 199.81, 4th):
Ashley loves to toy with our emotions. That's the conclusion I've come to. She had a flat out terrible SP but then came back to set a personal best FS score and miss the podium by only 1.32 points. It's a testament to her resiliency that she almost repeated the same feat she accomplished last year and I'm very proud of her. However...this is getting old. It's really frustrating when this happens because it's clear that had Ashley managed to have a strong SP, she'd have likely come in 2nd here. If you take that 70+ SP she had in Canada and add it to her FS score here, she'd have beat out Miyahara for silver. The judges are giving Ashley the green light but she's not seizing the opportunity. She's never going to get the results she wants if she continues to flub one section of the competition.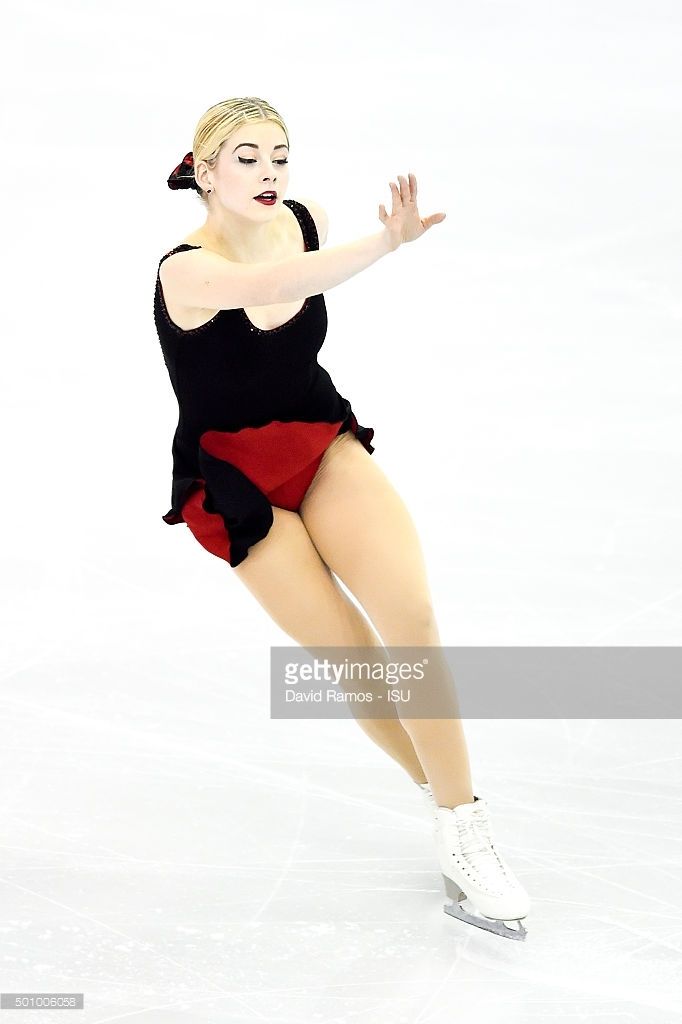 Still not there yet...
Gracie Gold (USA; 194.79, 5th):
As much as I wanted to hope that Gracie has turned a corner in terms of her nerves and ability to stay focused, it's obvious she's not quite there yet. This was not a very good outing for her. Looking at her score, she did very well; but comparing her to everyone else, you see where she's coming up short. I seriously think she and Frank need to reevaluate the decision to include the flip in the SP. I'm all for challenging yourself but she's hurting herself by missing that jump. She can earn nearly as much (if not more) by including a nice loop instead. As for the FS, that was all nerves. No falls but two-footed landings, popped jumps and hands down lost her lots of points and buried her chances at a medal. This was not the kind of performance she wanted to carry into nationals next month...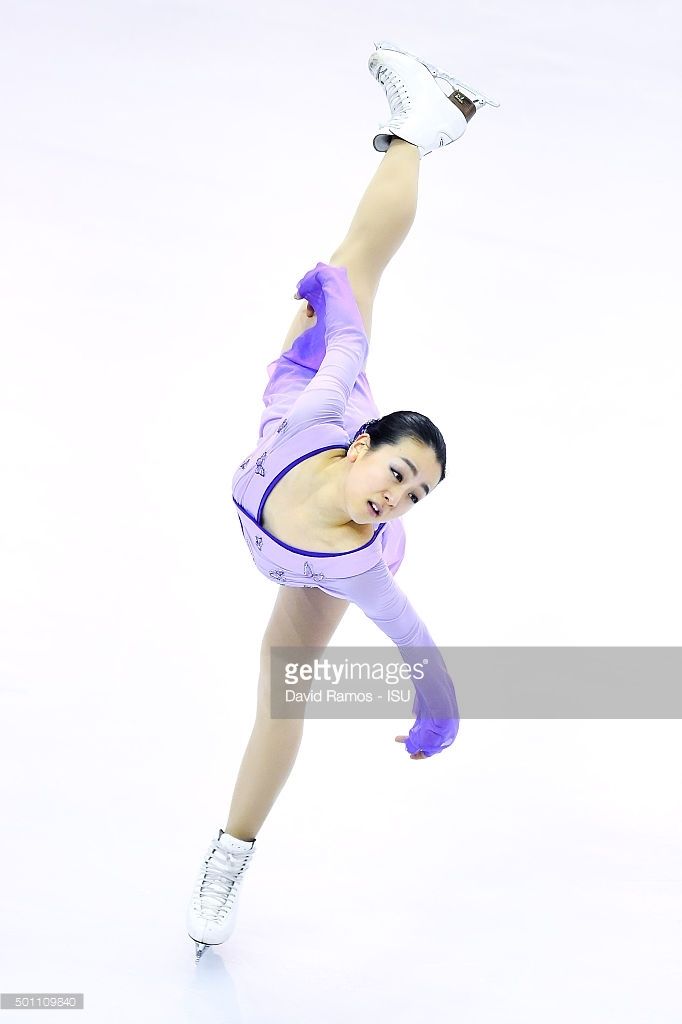 Back to the drawing board
Mao Asada (JPN; 194.32, 6th):
Mao's comeback has been a little disappointing so far. Our first glimpse of her at the beginning of the season had me convinced she was 100% ready, but now I'm not so sure. The 3A in the SP was gorgeous but, like Gracie, she and Sato need to reevaluate the decision to include the 3F-3L and 3Lz in her SP. She received under-rotation calls on both jumps in the combo and, again, she popped the lutz. The FS hasn't been strong since Japan Open. The axel wasn't working and neither were any of her other difficult combinations. That said, her overall skating was still gorgeous...that's something no one can take away from her. Having said
that
, the truth of the matter is she's going to have a hard time getting on a podium if she can't get these jumps to materialize. Her PCS aren't going to carry her very far, especially now that several other skaters are getting comparable scores. Lots of work left for Mao to do...
On to the juniors!
2015-2016 Junior Grand Prix Final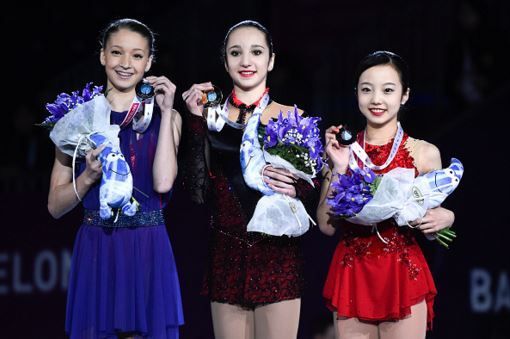 The final results:

Polina Tsurskaya (RUS): 66.69 (SP) + 128.59 (FS) = 195.28 (1st)
I haven't been so impressed with someone's jumps since Adelina Sotnikova circa 2011. Sotnikova has excellent spring to her jumps but she's always lacked control. Polina Tsurskaya's jumps are not only springy and big, they're effortless looking, have lovely air and landing position, and have wonderful speed and a great running edge. In my opinion she's the most impressive jumper in the field, junior or senior. She's the only Eteri Tutberidze skater who I feel won't have too much trouble adjusting her technique once puberty sets in. We all know what's going on with Julia and, as brilliant as Evgenia is right now, I'm worried about her muscled jumps down the line as well. But not Polina...that girl is a natural. She made short work of everyone here, winning both segments of the competition without much of fight from anyone. She's undefeated so far this season.
Maria Sotskova (RUS): 62.64 (SP) + 121.37 (FS) = 184.01 (2nd)
Maria has really grown and matured over the past few years and I'm happy to see her doing so well. She turned in a clean SP but found herself in 4th place thanks to slightly lower PCS and not as much +GOE as some of the other ladies. Even though she was 4th she was only 1.53 points out of 2nd place. Maria threw down in the FS and hit all of her jumps including a nice opening 3Lz-3T (+1.00) and a 3F-1L-3S in the bonus as well as all level 4 spins and level 3 steps. She placed 2nd in the FS and moved up to finish 2nd overall.
Marin Honda (JPN): 63.69 (SP) + 114.95 (FS) = 178.64 (3rd)
It took Marin a while to get her feet under her this season but it looks as though she's starting to get the hang of competing. She turned in a lovely and clean SP that placed her a close 3rd. Her FS wasn't as smooth as she'd have liked (a doubled 3-3 and a fall and under-rotation on a flip) but she did make up some ground with nice bonus half combinations (2A-3T and 3F-2T-2L). Marin skates with a lot of speed and covers the ice well (she received the 2nd highest Skating Skills score) but she does need to work more on drawing in the audience and really performing. Even with the mistakes she managed a solid score and was able to edge out Alisa for the bronze medal.
As for the rest...
Just missed it
Alisa Fedichkina (RUS; 178.11, 4th):
I'm sure Alisa is kicking herself. She missed out on making it a Russian sweep by only 0.53 points. Alisa had a great SP and was in 2nd place going into the FS. Overall she gave a strong performance but a downgraded combo (2A-3T(
<<
)) and an under-rotation on her loop cost her critical points and made the difference between a medal and one step off of the podium. Even with the mistakes, I really enjoy her skating. She's one of my favorite junior ladies when it comes to performing.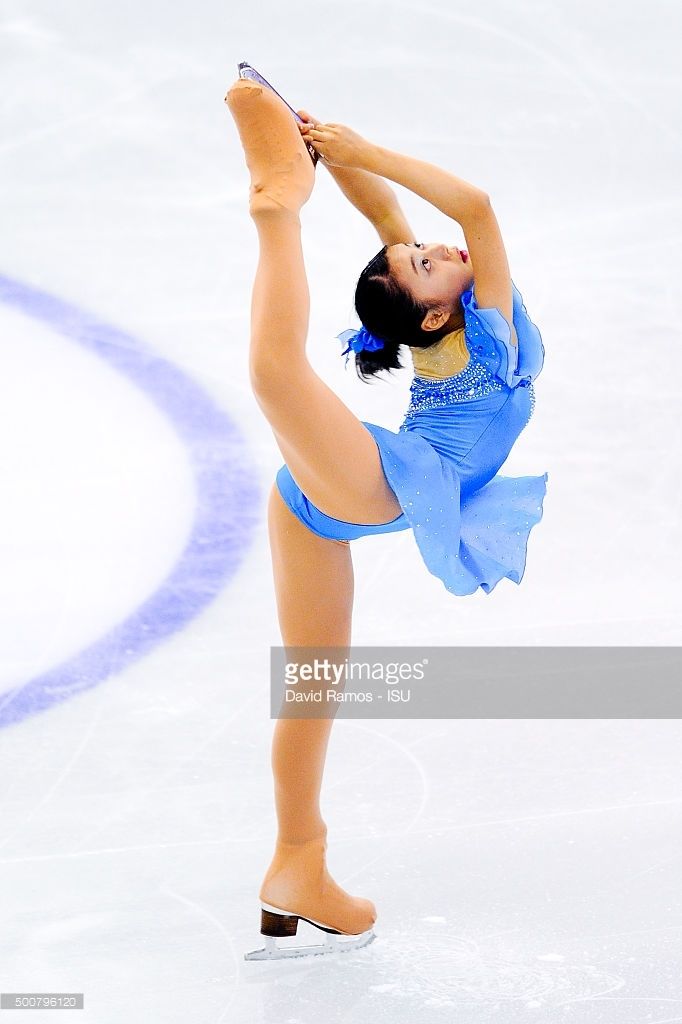 A solid outing
Yuna Shiraiwa (JPN; 173.82, 5th):
Yuna had a solid competition overall. Her SP was strong technically (3Lz-3T, 3F) but she does lose points by not maxing out the levels on her spins and steps. I think she has excellent speed across the ice and is nice but not necessary entertaining to watch. Like Marin, she needs to work on really performing. Yuna had a solid FS as well, with a fall on an ambitious 3S-3L(
<<
) as the only major mistake. Overall it was a good first Finals appearance for Yuna.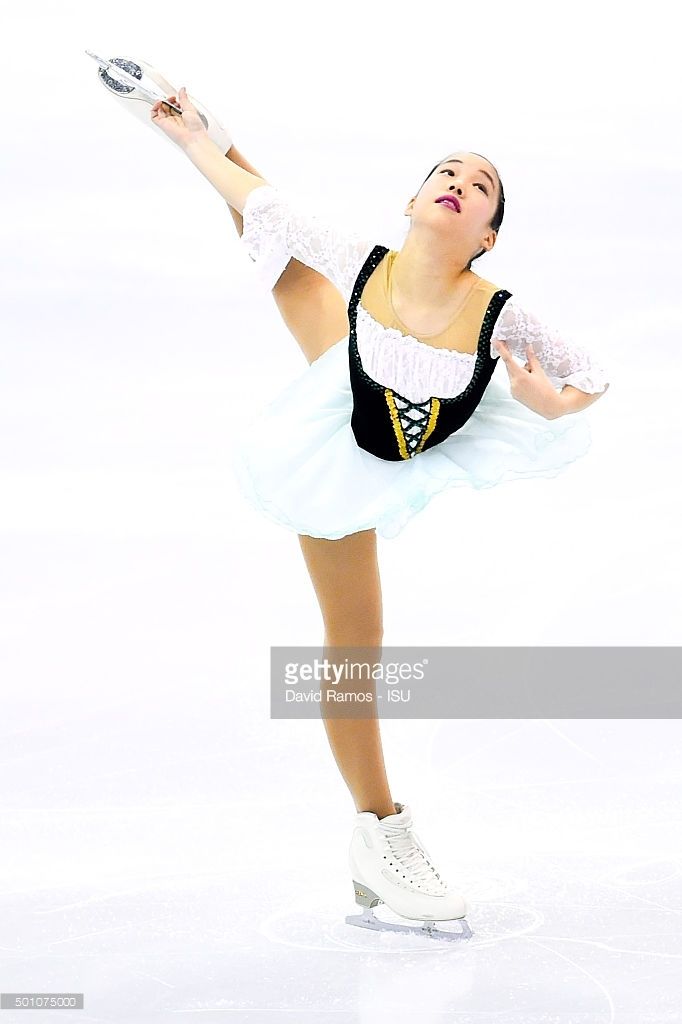 Must get that 3-3
Mai Mihara (JPN; 166.25, 6th):
Unfortunately, Mai dug herself into a hole in the SP by being the only skater who did not execute a 3-3 combination. She started off the FS more than 5 points behind the rest of the field. Luckily she turned in a much more respectable FS with a nice 3Lz-3T to open and all level 4 elements. Her only mistake was a downgrade on her 2A-3T.
And that, as they say is that. The 2015-2016 Grand Prix season is officially over, but there's tons of skating left to go. As we close out the first half of the season, we move into nationals season! Two of the three major national championships are right around the corner. The
Russian National Championships
take place
December 23-27
and the J
apanese National Championships
on
December 24-27
. There are going to be some interesting match ups at both of these event. I can't wait!