Another week, another event. The fourth stop on the JGP brought a few surprises...but not too many. Also, I'll take a look at the standings thus far in the series and make my predictions for who we'll see in the final later this year...

Polina Shelepen: 50.63 (SP) + 106.98 (FS) = 157.61 (1st)
Polina S. was the first of the new wave of Russian ladies who caught my eye two years ago at the JGPF. Since then, it's been a bit of a struggle for her. She's every bit as talented as her teammates Adelina and Elizaveta: she has the speed, big and difficult jumps, lovely spins and a nice presence on the ice. The main thing that has held Polina S. back has been her consistency. She was a snowballer when it came to mistakes--she'd make one mistake, and then another and another... This year she's still having a few problems getting through her programs cleanly (two falls this competition); the good news, however, is that she's managing not to let the mistake unravel the rest of the program. Her FS was chock full of difficulty including two 3-3s, back-to-back (3lz-3t, 3s-3t), both receiving full credit. Aside from the jumps, which were fabulous, I can't say this was a good program. It was a skate, jump, skate, jump, skate, jump program, with not much else in between. She delivered it nicely though, minus the silly fall on her final 2A at the end.
I'm noticing something about Polina's skating that's troubling though. I watched her FS closely and noticed that she doesn't appear to have mastered multi-directional skating; all of her crossovers/back crossovers are right which keeps all of her skating going counter-clockwise. For a counter-clockwise skater, of course turning counter-clockwise is the easiest. Go back and watch. You can count on one hand the number of direction changes she had that consisted of more than a simple turn between stroking. I wondered why her PCS tend to be low, though she did improve that score by 0.98 since Volvo Cup. Still, this is something she and her coach need to address and fast.
Polina Korobeynikova: 48.87 (SP) + 101.00 (FS) = 149.87 (2nd)
I'm really liking Polina K., I must say! She's definitely a total package skater: her jumps are big, her spins are nice, and her programs and presentation don't leave me with a bad taste in my mouth. Polina K. looked more relaxed this time out and her results reflected that. At JGP Brisbane she looked a bit tense and unsure of herself. Here, she had a few minor problems (popped lutz in the SP and a doubled salchow in the FS), but she looked much stronger and more confident overall. I enjoyed her skating quite a bit and I hope she's able to build on this performance. With Adelina and Elizaveta not eligible for senior worlds, it's likely that nabbing a spot on the junior world team will be a long shot for Polina K., as well as quite a few deserving Russian ladies. Even so, Polina K. is a delight to watch and I hope to see more of her in the future.
Hae-Jin Kim: 44.78 (SP) + 99.83 (FS) = 144.61 (3rd)
"Little Yu-Na" has bounced back in a big way. Hae-Jin started off rather badly, receiving an edge call on her 3f-2t and several -GOEs on her 3lz. In addition to her jump element problems, she received no credit for her flying sit spin. At first glance, it looked like a good spin. Upon closer examination, you can see that she does not get down far enough for it to count as a sit spin, so she received no credit at all for the element. That mistake combined with her jump problems left Hae-Jin in 6th place at the end of the SP. Last time at JGP Brisbane, Hae-Jin was first heading in the FS and imploded big time under the pressure. With no pressure this time and undoubtedly some anger over her performance in the SP, Hae-Jin went out and delivered a solid, error-free FS: no URs, no falls, not even an edge call, which I find fascinating because I cannot distinguish between her flip and lutz...it doesn't matter because the tech caller can and that's what counts. Hae-Jin's third place FS score pulled her up from 6th place all the way to third and her first JGP medal. It's good to see that this girl has the goods and the guts to be a tough competitor. She is still in need of some work, but I think Korea's skating future is much brighter with "Little Yu-Na" in the picture.
2011-2012 JGP Standings So Far...
This fourth event marked the official halfway point of the JGP events (seven total). By this point, all of the heavy hitters have one event under their belt. The top six finishers will earn a trip to the Junior Grand Prix Final in Quebec City, Canada on December 8-11. As of now, the standings are: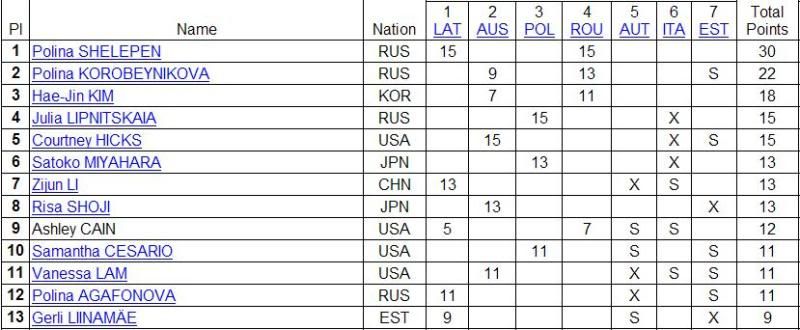 It's pretty safe to say that Polina Shelepen's two gold medals have secured her a place in the final as one of the top scorers of the series with 30 points. Julia Lipnitskaya will face off with Courtney Hicks and Satoko Miyahara at JGP Lombardi in Italy next week Given the competition, it will most likely a battle between those three for those podium spots. I think Julia will end up in first place, but I'm not sure about second place. At first, I figured it'd be Hicks for silver...but then I looked at the scores. Miyahara's 162.20 total is second only to Lipnitskaya's 172.51. Hicks' best total score is more than 10 points lower than Miyahara's. One can argue that Brisbane was not Courtney's best (URs, DGs, edge calls, multiple falls...yet she still won) which means she's capable of scoring better. I think it will be a toss up for who comes in second between those two.
Zijun Li, Vanessa Lam and Polina Agafonova will be squaring off this week at JGP Austria. Zijun has 13pts, while Vanessa and Polina A. both have 11pts. If Zijun medals her chances are good to make the final (28 points if she wins gold, 26 if silver, 24 if bronze). For Vanessa and Polina A., their best bet to secure a place in the final would be to place either first or second, which would give them a total score of 24 or 26 points. A third place finish would give them 22 points total, but it would also put them in a tie breaker situation with Polina Korobeynikova who also has 22 points. Anything lower than third and their chances to make the final get a little murkier.
Risa Shoji shouldn't have trouble securing a gold medal at JGP Tallin Cup, the final event of the series. Her toughest competitor will be Gerli Liinamae who placed fourth at JGP Volvo Cup. Risa's total score at JGP Brisbane was more than 10 points higher than Gerli's total score from Volvo Cup. So as long as Risa skates decently, she should win. A win will give her a total score of 28 points, 26 points with silver...either way, as long as she doesn't have a meltdown, she should make the final.
To recap, my predictions for the top ladies' Junior Grand Prix are:
1. Polina Shelepen (RUS)
2. Julia Lipnitskaya (RUS)
3. Risa Shoji (JPN)
4. Zijun Li (CHN)
5. Courtney Hicks (USA)
6. Satoko Miyahara (JPN)
7. Polina Agafonova (RUS) (Substitute)
8. Vanessa Lam (USA) (Substitute)
I'll check my predictions against the actual list in a few weeks. I'm rarely right when it comes to predicting things, but I might be right here...I think...maybe...we'll see.