Oh boy, here we go! This was a massively busy week in the skating world. Four competitions! I'll take a look at Japan Open, JGP Tallinn Cup, the Autumn International Classic and Ondrej Nepela Memorial.
Japan Open is a bit of cheesefest that doesn't really count for anything, but it is a competition that gives us a sneak peek at where some of the bigger names are just a few weeks before the start of the Grand Prix season.
(Side note: It was super-weird not seeing Mao Asada here...)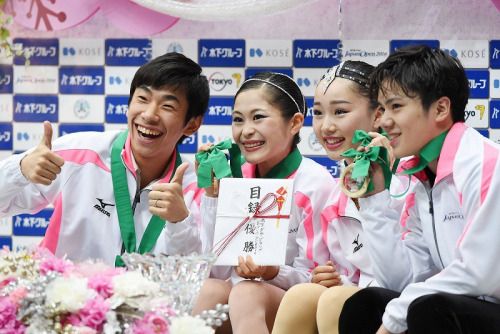 Team Japan is still #1
Here are the final team results: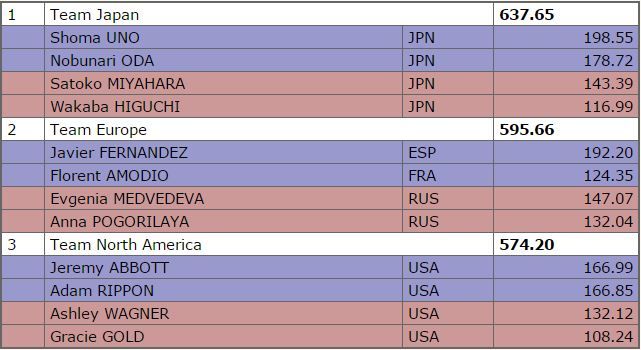 And the final results from the ladies' event: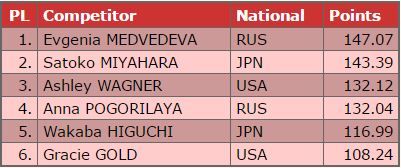 Evgenia Medvedeva (RUS)- 147.07
Same ol', same ol' and I mean that in both a good and bad way.
Good
in that Evgenia hasn't lost a step in terms of her jumps. Everything looked easy and secure even though she does look a bit taller, and that's great for her.
Bad
in that, as I mentioned when I
reviewed the Russian test skates
, this FS is like a carbon copy of her FS from the last
two
seasons. I still don't like all of the noise in the step sequence and phone ringing at the end is just odd. I feel like I'm going to get bored with this midway through the season. I'm not a fan of her program but she'll kick major butt as long as she lands her jumps like she did here.
Satoko Miyahara (JPN)- 143.39
Again, same ol', same ol' and I mean that only in a good way. Satoko is still as steady as ever. She's one of (if not the) most consistent competitors in the field and I admire her so much for that. The jumps looked good here. Dare I say a few even looked a little higher than I remember? Either way I love her "Star Wars" FS. The music is wonderful and iconic and her program is thoughtful, complete and very well done. It was nice to see her score so well here, though I'd have had her even closer to Medvedeva in PCS. This should be another good season for Satoko.
Ashley Wagner (USA)- 132.12
Solid start for Ashley. To be honest it was much better than I expected. The under-rotation issues on the bigger combinations are still there but for her to score 130+ despite losing around 10 points lets me know that the judges will score her 140+ easily if she nails it. I like this "Exogenesis" program: it's starts quiet then picks up in intensity and then gets quiet again. I really love the feeling and emotion of the step sequence and I'm loving the packaging of this program as well (hair, makeup, gorgeous dress, the whole nine). This is very different from Moulin Rouge and that's a great thing. Hopefully she'll build on this performance and really wow everyone at Skate America in a few weeks.
As for the rest...
Anna Pogorilaya (RUS; 132.04, 4th
):
Love this program for Anna and this was very a solid start for her as well. I think that World medal has given her confidence and it's doing great things for her skating. I adore Anna's speed. She skates so fast and it leaves a really great impression on the ice, especially when she performs well. If she can stay on her feet and limit the
PogoSplats
this season she'll see her PCS climb into that 1st tier. I'm cheering for her!
Wakaba Higuchi (JPN; 116.99, 5th):
I like Wakaba's program and I love that she's improved her presentation and her connection to the music and choreography. Her jumps are
fantabulous
...when she lands them. Wakaba's problem has always been maintaining her focus throughout the program. She'll get midway through and start making mistakes. She's one of the strongest jumpers in the field but in order for her to establish herself in the senior ranks, she's gotta stay focused and finish cleanly.
Gracie Gold (USA; 108.24, 6th):
Damn
. Poor Gracie...that was a tough one. I wonder if it would have been smarter to send Polina or some other North American skater? Chartrand is at the Autumn Classic but maybe Daleman was available? I don't know but I can't imagine a poor performance like that does anything to help Gracie's already fragile confidence when it comes to competing. The program is generically pretty I guess. It may look stronger when it's skated better but my first impression of it is just
meh
for now. Unfortunately this performance didn't give me any good feels towards what Gracie will do this season. Hopefully she'll rebound quickly...Skate America is right around the corner.
Moving on...
Tallinn Cup was the second to last event of the JGP season and places to the Final were on the line.

Polina Tsurskaya (RUS): 194.02 -1st
Polina came into this one with a win under her belt from her first event but she wasn't happy with the way she won. Needless to say she completely made up for it here. Aside from a ding (!) on her 3F in the FS, she was flawless. I definitely like Polina's SP more than her FS, though she did turn in a very strong performance in the FS this time around. Polina won this one easily thanks to her great SP score and she will go into the Final as one of the favorites for the title.
Elizaveta Nugumanova (RUS): 188.43 - 2nd
Elizaveta is so cute and it was great to see her have stronger performances here. She under-rotated both jumps in her 3Lz-3T combo in the SP but she fought back in the FS and only had one under-rotation (3Lz). She nailed her 3L-3L and a nice 2A-3T-2T as well. I can't tell if Elizaveta's under-rotation issues are nerves or just lack of rotation but I am worried about how she'll hold up once puberty sets in and she grows. For now though she's lovely and I enjoy her skating. Unfortunately Elizaveta won't make it to the Final but she should be proud of what she accomplished in her debut season.
Mako Yamashita (JPN): 184.06 - 3rd
I was wondering if Mako's great debut in Yokohama had more to do with the hometown support or just her abilities. Well, it looks like it was her abilities! With the exception of an under-rotation on her opening combo in the FS, Mako was great. I really love the spring she gets into her jumps and I can tell she will be a lovely all-around skater once she matures a bit more. Like Elizaveta, Mako won't make the Final but she should be happy to have medaled at both of her events in her debut season.
As for the rest...
Rin Nitaya (JPN; 150.48, 4th):
Rin made costly errors in both programs and finished a very distant 4th. I love Rin's style but she needs more if she wants to make a real splash in this field of juniors.
Tessa Hong (USA; 143.90, 5th):
Tessa's posture reminds me of Sasha Cohen. Her back stays so straight throughout her program. Her presentation is really lovely. Technically, however, she suffered from both under-rotations and downgrades.
One event left!
JGP Pokal
is the last event of the season and spots to the Final are still up for grabs. The main two skaters with a shot at the Final are
Anastasiia Gubanova (RUS)
and
Stanislava Konstantinova (RUS)
. Silver or better will get Anastasiia into the Final. Stanislava can guarantee herself a spot with a gold medal; a silver medal will put her into a total score tiebreaker with
Alina Zagitova (RUS)
and
Marin Honda (JPN)
, both of whom have 26 points.
And the review train moves on...
2016 Autumn Classic International
This was one of two Challenger Series competitions that took place this week. There were a couple of noteworthy skaters at this event as well and a number of really great performances.
The final results: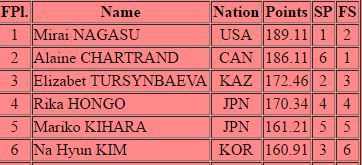 Mirai Nagasu (USA): 189.11 - 1st
It was amazing to see Mirai deliver her SP so well. It really does show what she's capable of when she's at her best. Mirai earned a massive 73.40 and had a nearly 12 point lead heading into the FS. Turns out she needed nearly every point... I don't know if it was nerves or what but Mirai had a ton of trouble in the FS.
Four
under-rotations and a downgrade cost her major points but thanks to her SP lead she was able to hold on and walk away with gold here. I think that's the first time she's been in the lead after a SP in quite some time so I guess some of those old nerves came back. She's gotta get that under control and stay focused if she wants to make a case for herself this season. Still, congrats on the win!
Alaine Chartrand (CAN): 186.11 - 2nd
Alaine is trying to get herself back on track after last season and she took some good steps here. She started out really roughly in the SP, falling on her opening jump and receiving a downgrade on her make-up 3L-3T combo. Luckily she found more of a stride in the FS and delivered a really strong program. Both of Alaine's programs are really well-done and she's skating with more confidence and command which should help her this season. She placed 1st in the FS and leapfrogged from 6th to finish 2nd here.
Elizabet Turzynbaeva (KAZ): 172.46 - 3rd
I'm glad Elizabet kept her "I Got Rhythm" SP. It's a great program and she performs it well. She had some trouble on the solo jump but still scored well enough to go into the FS in 2nd place. Elizabet lost some ground in the FS but she still turned in a solid program. To be honest I'm waiting on her to mature...she still looks like a 12 year old even though she's 16 years old. Unfortunately, appearance does make a big difference on the ice in terms of the impact of the skating and the impression on the judges. I'm also worried about her air position and how that might affect her rotation when/if she has that growth spurt I'm looking for.
As for the rest...
Rika Hongo (JPN; 170.34, 4th):
I like the version of "Carmina Burana" Rika uses. It's got the intensity but it's not as overwhelming as the more popular version which is good for her. I do think she should go back to the the 3T-3T in the bonus as she has a hard time getting the 3F-3T around in the SP. The FS isn't as interesting as last year's but she had a decent performance. Obviously she's got work to do but she can build off of this.
OMG, I'm almost dead...just one left to go...
2016 Ondrej Nepela Memorial
The second of the Challenger Series competitions had a few noteworthy skaters as well.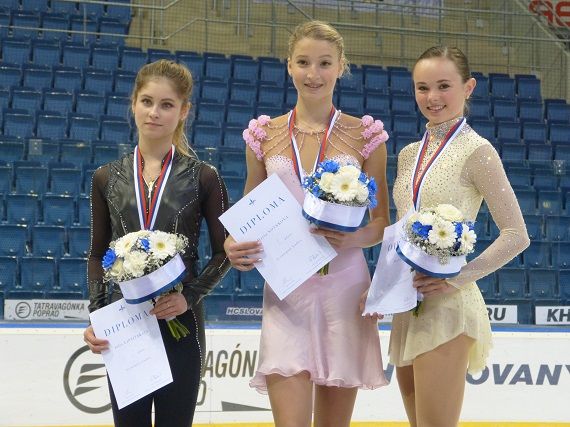 The final results:

Maria Sotskova (RUS): 189.96 - 1st
Maria is definitely one of the skaters I think people should look out for this season. She spent several years on the JGP and seems to have gotten most of her growing up/awkward phase out of the way during that time. There are still aspects of her skating that will mature with time but I do think she will make a decent splash this season on the GP. She wasn't flawless here (doubled her combo in the SP and had an under-rotation in the FS) and she will need to continue to work on her PCS, but this was a great senior debut and a strong way to start her season.
Julia Lipnitskaya (RUS): 165.46 - 2nd
Most people are hoping Julia is on the upswing this season. I'm not too sure if these performance are a good measure of said upswing... Julia got hit with all kind of calls at this event. She under-rotated her combo and got an under-rotation and ding (!) on her 3F in the SP. Despite the errors Julia managed to go into the FS with a lead, though that quickly deteriorated. She had a myriad of problems in the FS: four under-rotations, an edge call, another ding (!), an invalid element, only level 1 for her step sequence, a doubled jump...but no falls, so I guess that's a plus. I was hoping to see better from Julia here considering she'll be at the first GP event of the season. This kind of skating won't land her anywhere near a podium.
Mariah Bell (USA): 161.72 - 3rd
Mariah has managed to land on the podium at her summer events and that's a definite plus; however, her overall scores and skating are not inspiring much confidence right now. I think Mariah has all of the makings of a star but she is having a hard time putting it together. She had a rough time in the SP earning zero points for her step sequence and had problems in the FS too (a fall, dings (!), invalid elements). I really want to see Mariah breakthrough at some point this season. Hopefully she'll get stronger as the season goes on...hopefully.
As for the rest...
Da Bin Choi (KOR; 160.62, 4th):
Da Bin has the content to be competitive but she struggles with consistency. She had a lot of trouble in the SP and finished a disappointing 10th but I was really impressed with the way she rallied in the FS. Other than an under-rotation on her 2A-3T combo, she nailed everything including a nice 3Lz-3T and a 3Lz-2T-2L combo. She lost points on her non-jump elements (gotta get those levels up) but placed a strong 2nd in the FS and jumped from 10th all the way up to 4th, only 1.10 points out of 3rd. Nicely done!
And that's all. I'm going to go ice my wrists now...all this typing has my carpal tunnel acting up. Ta!