The second event of the season was packed when it came to medal contenders. Of course this one was pretty much decided before the competition began but there were a few surprises along the way.
One down for Evgenia. Five more to go...
The final results: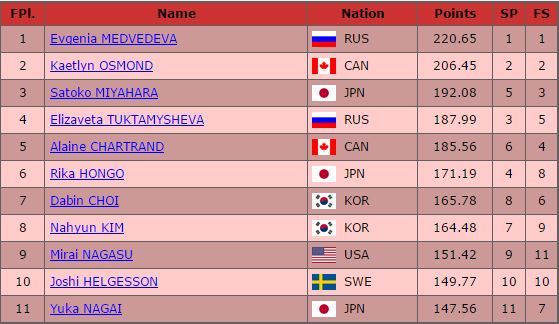 Evgenia Medvedeva (RUS): 76.24 (SP) + 144.41 (FS) = 220.65 - 1st
The challenge here is to see if Evgenia can go undefeated this season. She lost once last year to Elena Radionova at Rostelecom Cup but hasn't lost a competition since. Judging by this competition it looks like she's well on her way to a perfect season.
Evgenia's SP was easy and effortless as usual. She maxed all the levels on her non-jump elements, nailed her jumps (tano 3F-3T, tano 3L, tano 2A) and earned positive GOE on everything. The girl is a master at squeezing every available point out of every single element. Her "River Flows in You" program looks like her last few SPs. It's the same kind of music, the tone is the same and the style is the same. It would have been nice to see Evgenia branch out a bit and change up the style of the music to bring a different kind of feeling/look to her skating. I'm not a fan of all the pantomiming either. It's too literal (jumping rope, laughing, etc.) and comes off a little hokey and comical to me which I doubt is the intention. A lot of Ilya Averbukh's choreography is story driven and pantomime based. I am not a fan...but the judges sure are. Evgenia earned her highest SP score to date and went into the FS with about a 1.91 point lead.
No signs of slowing down
I'm not really a fan of this "Extremely Loud and Incredibly Close" FS either. I think it's remarkably similar to last year's program but I think the biggest turn off for me is all of the 9/11 audio used over the music during the step sequence. In my opinion it's unnecessary and distracting, plus 9/11 doesn't bring up good memories for anyone. I heard the "story" behind the program is a girl's lover is taken from her by a tragic accident...I've also heard it's about terrorist attacks in general. I really don't know but using the 9/11 audio kills this one for me. Crappy audio choices aside, this was another strong skate for Evgenia though she did have some minor troubles on her last few jumping passes. She had a less than perfect landing on her 3S-3T and she under-rotated her final 2A which lost her a few points. Even with the mistakes Evgenia won the FS and the competition to secure her first (of many) gold medals this season.
I'm disappointed with Evgenia's programs this year but it doesn't matter. If she continues to throw down way she did here there's no one who can touch her. She's one of those few skaters who controls her own destiny: as long as she skates well, she'll win. It's looking like puberty might be the only thing possible of slowing Evgenia down at this point.
Kaetlyn Osmond (CAN): 74.33 (SP) + 132.12 (FS) = 206.45- 2nd
Kaetlyn came into this competition with one international win under her belt already. She earned gold at Finlandia Trophy a few weeks ago and was looking to continue her medal streak here.
Kaetlyn started off with a pretty big bang. For once, she nailed her SP. It's been a while since she's turned in a technically difficult and clean program so it was a welcomed change as far as I'm concerned. Kaetlyn opened with a massive 3F-3T (+1.60) and followed it up with a gigantic 3Lz (+1.30). She skates with
so
much speed into, through and out of her jumps it's amazing. Like Gabrielle Daleman, Kaetlyn is a powerhouse jumper who sometimes struggles with reining it in and keeping it under control. It was nice to see her finally nail it. In addition to hitting the jumps Kaetlyn maxed the levels on all of her non-jump elements and received positive GOE for all of them. I enjoyed her "Sous le ciel de Paris" program and I thought she delivered it nicely. It's upbeat and mature and when Kaetlyn skates well it makes for a really entertaining program. The judges agreed and she earned a personal best score. Personally I think the judges were on the money with the scores. Huge jumps, great spins, speed for days, tons of transitions, personality and performance...yeah, that score was fair as far as I'm concerned. Kaetlyn went into the FS less than 2 points off the lead.
Finally!
I really like this "La Boheme" FS for Kaetlyn. In her time away from competition she's done a great job of smoothing out her skating and adding that bit of refinement she was missing. I think this program is nicely choreographed (lots jumps and moves on the accents of the music) and she performed it well. The jumps were not perfect here but Kaetlyn delivered much better than we're used to seeing from her. She opened with another huge 3F-3T (+1.60) but turned an intended 2A-3T into a 2A-2T which lost her some points. She landed a nice 3Lz(!) before going down on an under-rotated 3L. Usually Kaetlyn is a snow baller when it comes to mistakes: she makes one, then another, then another. Luckily Kaetlyn re-grouped immediately after the fall and hit her final three jumping passes without mistakes. All of her non-jump elements were level 4 and well done and she really sold her program to the audience and judges. In the end she ended up with a personal best FS score and total overall score and her first GP medal since the 2012-2013 season.
I really hope Kaetlyn has turned a corner. She's a very dynamic skater with gigantic jumps, lots of speed and a great on-ice personality. If she can skate like this consistently she could definitely be a World contender. Even if you account for a bit of hometown inflation, those scores and what these scores could potentially be put her in that World podium contender group of women. Hopefully she can keep this going at her next event.
Satoko Miyahara (JPN): 65.24 (SP) + 126.84 (FS) = 192.08- 3rd
Satoko came into this event as a co-favorite for gold...or better yet the favorite for silver. She's been as steady as ever but her results can vary based on the mood of the technical caller and judges.
Satoko appeared to be flawless in the SP. Her jumps looked good, her spins were gorgeous, the delivery of her "Musseta's Waltz" program was nothing short of gorgeous. Beautiful use of the music, elegant and graceful presentation and all of the jumps looked fine. I thought she nailed it...then the scores came up. The technical panel really went after her here. They hit her 3Lz-3T with an under-rotation on the 3T; her 3F received an edge call which lost her points; and her usual level 4 step sequence only received a level 3. You could hear the audience's disappointed/angry reaction when her scores came up. I know that Satoko's jumps can be close so I won't call bullshit on the technical panel, but it is really upsetting to see her skate so beautifully and then find out there were errors. All of those "invisible" deductions cost her several points and left her in 5th place.
It might be a tough season...
Unfortunately Satoko's technical issues continued in the FS. Despite a strong skate to her beautiful "Planets" FS she lost several points on two under-rotated triples and a few doubles, as well as a ding on her lutz edge. Additionally she earned no points for her step sequence. I'm really not too sure what happened there, though in most cases it has to do with the area covered not being big enough. Whatever the case earning zero points for an element that usually earns 4 to 5 points was a blow to her score especially with the other deductions. I don't know if this was a particularly tough technical panel or if Satoko is having some under-rotation issues. I guess we'll find out at her next event. Even with the loss of points Satoko placed 3rd in the FS which was enough to move her into 3rd place overall.
This might be a tough season for Satoko. I'm hoping that the issue was with the caller and not with her jumps. It's a real shame because jumps aside her skating is absolutely beautiful and her consistency is incredible. Oh well...with a bronze medal at this event she'll need to win her next event if she hopes to make the Final this year.
As for the rest...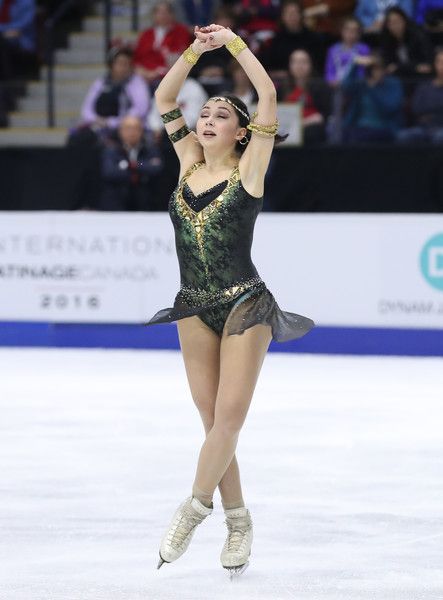 We're seeing some progress...
Elizaveta Tuktamysheva (RUS; 187.99, 4th):
Elizaveta looked to be back to her old self in the SP. Her 3T-3T and 3Lz were solid and she did a good job with her program. Unfortunately it's going to take her longer to get the judges behind her when it comes to PCS. She finished 3rd in the SP and was in a great position to land on the podium. The FS was stronger but nowhere near what she used to be capable of. The jumps were solid aside from a singled axel and an intended 3T-3T that only ended up being a 3T. Everything else was good but the level of difficulty was not there which prevented her from earning enough to land on the podium.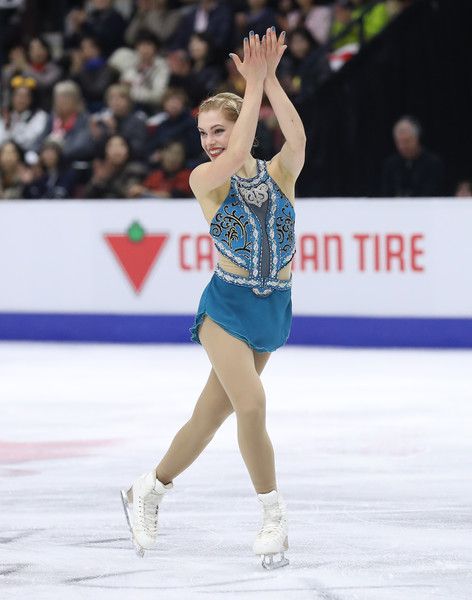 Not too shabby
Alaine Chartrand (CAN; 185.56, 5th):
Alaine is the reigning Canadian champion so this was definitely an opportunity for her to soak up the home ice advantage. Her SP was a bit of a struggle. She under-rotated her 3Lz-3T combo and the landings on her 3L and 2A were really stiff. Still, she maxed the levels on her non-jump elements which helped to keep her in the running. Her FS was a much stronger effort though she did have a few under-rotations and an edge call. Even so it was much better than what we're used to getting from Alaine. All of the Canadian women have stepped up their game so far this season. It will be interesting to see where everyone is by the time nationals rolls around.
Other Competition Notes:
Rika Hongo (JPN)
placed 6th. She had a great SP but multiple downgrades and under-rotations killed her score in the FS...
Da Bin Choi (KOR)
finished 7th and
Na Hyun Kim (KOR)
finished 8th. They were separated by only 1.30 points. Both of their total scores were better than So Youn Park's (KOR) from last week's event...
Mirai Nagasu (USA)
tanked pretty badly. She had rough skates in both programs and finished a distant 9th.
This week is
Rostelecom Cup
which takes place is Moscow, Russia. The headliners at this event are all
Russian
: the reigning World bronze medalist,
Anna Pogorilaya
; 2015 World bronze medalist,
Elena Radionova
; and 2014 World silver medalist,
Julia Lipnitskaya.
We'll also see
Courtney Hicks (USA), Zijun Li (CHN), Elizabet Turzynbaeva (KAZ), Roberta Rodeghiero (ITA), Kanako Murakami (JPN), Nicole Rajicova (SVK), Angelina Kuchvalska (LAT), Yura Matsuda (JPN)
and
Anastasia Galustyan (ARM)
. This is not a very stacked event in terms of competition. It's very possible there may be a Russian sweep.
If the Russians sweep, who comes out on top? Anna, Elena or Julia?
Make sure to vote!