The first competition of the season was touted as being another Ashley v. Gracie showdown. The media loves to drum up the drama between these two stars but in the end, there wasn't much to be had. Instead we saw a few new stars emerge and that's always something to talk about.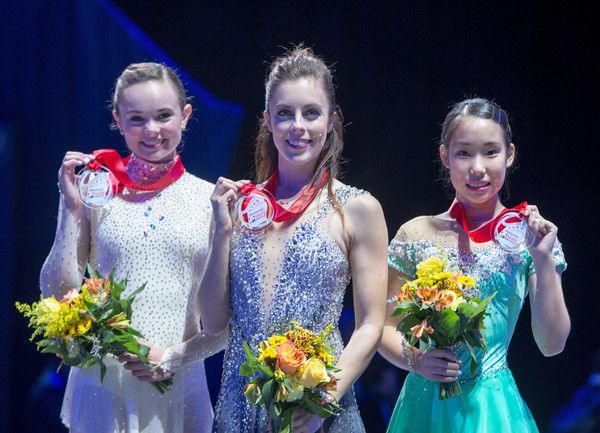 The Americans go 1-2!
The final results: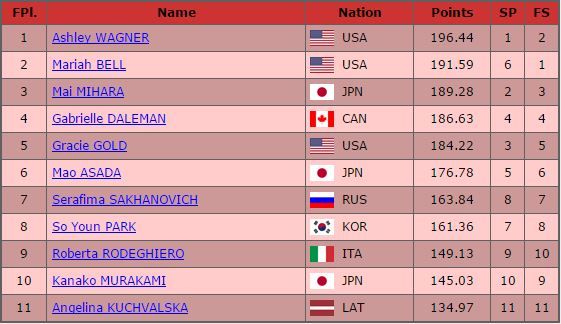 Ashley Wagner (USA): 69.50 (SP) + 126.94 (FS) = 196.44 - 1st
Despite the media's insistence that this was all about Ashley versus Gracie, most people knew that Ashley came into this event as the favorite. She was coming off of her World silver medal and a strong performance at Japan Open. Now the real test would begin: could she deliver when she was expected to?
In the SP the answer was a resounding "hell yeah!" When Ashley took the ice you could see and even feel the confidence coming off of her in waves. There's definitely a swagger about her and the way that she carries herself that makes you take notice. It's been there for a while now but it's even stronger now. Her "Sweet Dreams" SP feels much more like a show program than a competition program and she skated it that way which is rare to see in a competition setting. Her opening 3F-3T was good though she did under-rotate the back end. The loop was strong (+1.30), I loved the spiral she adds after the 2A (+0.93) and the footwork was very strong as well (+1.21). The spins weren't that great here (all level 3) but apparently she may be having some back issues. You can hear her speaking to Rafael in the Kiss & Cry about being afraid to do the Biellmann in the FS. Biellmann or no, she rocked that program. That look at the end was priceless! Ashley won the SP and went into the FS with a small lead.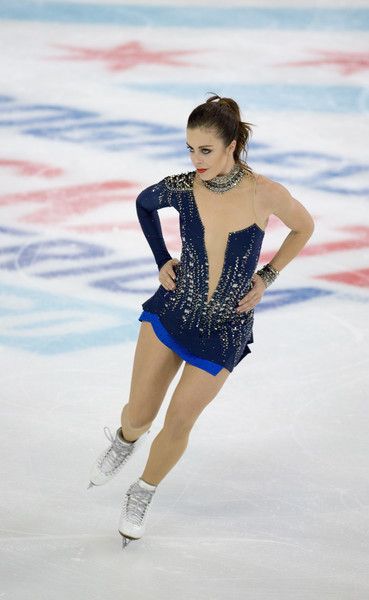 Diva Wagner owned that stage
I really like Ashley's "Exogenesis" FS. I think it's a great contrast from her SP and helps to highlight her range. Her dress is gorgeous (as always) and I really love the quiet and introspective feel of the program. There are some lovely moments in there, in particular the footwork. The steps really build with the music and she gives a lot of feeling and emotions to the movements which always helps to bring a program to life. In terms of jumps this wasn't her best. She went for her 3F-3T but received an under-rotation again; her planned 3L-1L-3S ended up only being a 3L which lost her points; she received an under-rotation on her second 3F; and she lost points on an edge call on her lutz. In the end she only earned 56.88 in TES but she was saved by her 70+ PCS score which helped to make up the difference and keep her in 1st place to win the title overall.
This was a good start for Ashley. The FS was a little shaky but to say she was in unfamiliar territory (skating as the favorite while being in the lead), she held up well enough. The jumps weren't as solid but she stayed in the moment and really sold the program and that does make a difference. Hopefully she'll build on both of these performances as the season goes on. Nicely done Diva Wagner!
Mariah Bell (USA): 60.92 (SP) + 130.67 = 191.59 - 2nd
Mariah Bell was a last minute replacement for Angela Wang so no one had any expectations of her coming in. She medaled at both of her early season competitions but her overall skating wasn't at its best so I wasn't sure what we'd get from her here.
Mariah started off with a very lively
bang!
. I adore her "Chicago" SP. I think the music edits are great, her dress is
blingalicious
and the choreography was wonderful as well. She skates with a lot of joy which makes it easy for her to get the crowd behind her and that's what she did here. Mariah's opening 3Lz-3T was landed but received an under-rotation which lost her some points. She followed it up with her solo 3F and 2A which were both solid. She earned a level 4 for her layback (+1.00) but she lost points on her other spins (level 2 and 3) and her steps were only given a level 2 as well. In order to maximize her score she needs to work on getting all of her non-jump elements to 3s and 4s. Overall the program was dynamic and very entertaining and Mariah finished 6th in SP, a little less than 5 points off of the podium.
You betta werk Ms. Bell!
I think this "East of Eden" FS is a good one for Mariah. Like Ashley's FS it gives you a good look at her ability to pull off a different kind of music and cast a different spell on the audience. To put it simply Mariah nailed this performance. She hit her opening 3Lz-3T (+1.10) as well as four other triples. Her errors were minor and did not disrupt the flow of the program at all (doubled the end of her 3-3 sequence and a ding on her second lutz). The levels of her non-jump elements were still all over the place (level 2, 3 and 4) but it was a very strong performance overall. Mariah blew past her personal best with a 130+ score (her reaction was hilarious) and ended up winning the FS. In the end her monster FS score moved her from 6th all the way to 2nd to take the silver medal.
I think Mariah's choice to switch coaches to Rafael Arutunian was a great choice. She has an excellent technical coach who is slowly transforming her jumps and she has an excellent training mate in Ashley Wagner. I feel like Ashley's confidence is rubbing off on Mariah and that can only be a good thing. I'm crossing my fingers she gets another GP event this season. I really feel like she's going to have a breakout year...
Mai Mihara (JPN): 65.75 (SP) + 123.53 (FS) = 189.28 - 3rd
Mai was the surprise winner at Nebelhorn Trophy a few weeks ago but no one knew exactly what to expect from her either. This was her debut on the Grand Prix and we didn't know how she would handle being on the big stage.
Mai came out looking focused but still relaxed and managed to throw down pretty well in the SP. Her opening 3Lz-3T was light and easy (+1.10). She followed that introduction up with three level 4 spins, a nice 2A and level 3 step sequence. Mai's solo triple (3F) is left for the very end of the program. It's a gutsy move that almost didn't work. Mai had a wonky landing on the jump and had to fight to hold on to it. She managed to stay upright but the bad landing cost her (-1.00). Even with the mistake Mai did a fabulous job. Her program was a generic "Rondo Capriccioso" which is to be expected. She's young and is still finding her style but she has great basics, soft knees and killer jumps which means she'll find her style in time. Mai placed 2nd in the SP.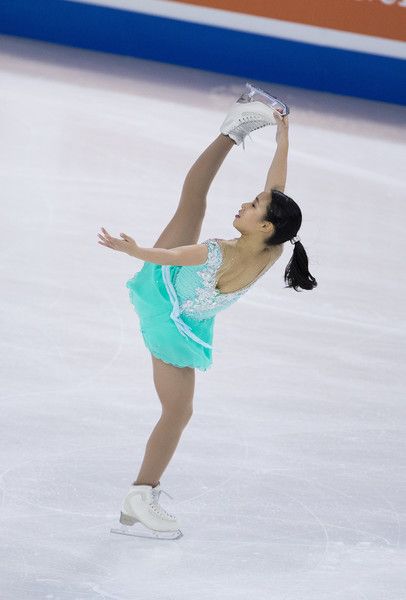 Welcome to the senior level newbie!
Mai opened up her FS with another gorgeous 3Lz-3T (+1.30) as well as a nice 2A and 3F. After her step sequence she went for what was supposed to be a 2A-3T but ended up doubling the back end of it. She tried to improvise on the fly and add the missed 3T to the end of her second 3Lz but she ended up receiving a downgrade on it. A doubled salchow at the end lost her several more points as well. With Mai being so young and lacking the maturity and presence of the more established skaters, she had to rely on her technical goods to make up ground in that area. The mistakes definitely cost her but she was still able to place 3rd in the FS which left her in 3rd place overall.
I think Mai has a great base to start with. She'll need a lot of work on the program components side of her skating if she hopes to move up. For now having those jumps will keep her afloat while she sorts out the other stuff. Very well done and congrats to her for earning a bronze medal at her first GP event.
As for the rest...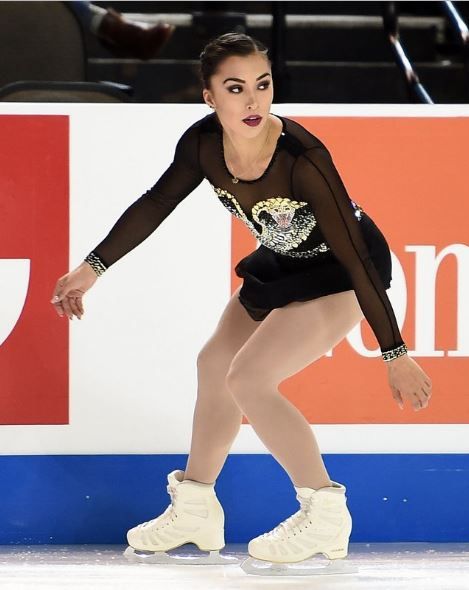 Nearly there!
Gabrielle Daleman (CAN; 186.63, 4th):
Gabrielle is getting better every time I see her. The judges have taken notice of her speed and massive jumps and it's helping her to get the kind of scores she needs to be competitive with the rest of the field. Gabby went for the harder content in the SP (3Lz-3T) but received a downgrade on the 3T. The rest of her jumps were solid and she was the only skater in the field to maximize the levels on all of her non-jump elements. She placed 4th in the SP, nearly tied with Gracie Gold and Mao Asada. Gabby opened her FS with a gigantic 3T-3T (+1.70) but then fell on an attempted Rippon 3Lz. She bounced back well after the fall with her only mistake being a doubled 3L. Overall it was a good performance and something to build on. She placed 4th in the FS and finished 4th overall. I think going for the 3T-3T in the SP would serve her better especially with the GOE she can gain. This was a near miss but she's getting closer!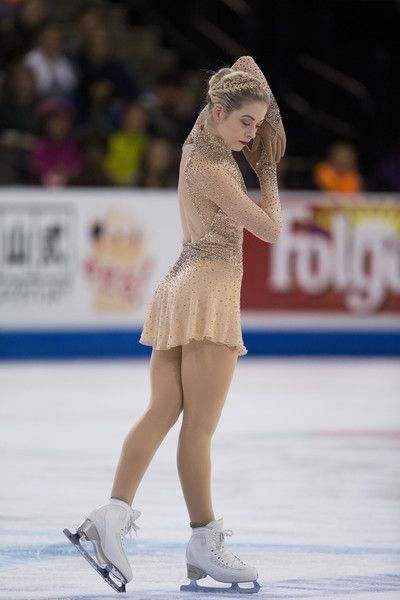 Physically and mentally she's not there yet...
Gracie Gold (USA; 184.22, 5th):
It's been a hard couple of months for Gracie and this event did nothing to help. She nailed a gorgeous 3Lz-3T (+1.40) in the opening of her "Mr. & Mrs. Smith" SP and looked to be sailing along until her 3F. She under-rotated and fell on it which really knocked the intensity out of the performance. She finished up the program without error but you could tell that fall hurt her already fragile confidence. Gracie took the ice for her FS looking beautiful (that dress is gorgeous) but, unfortunately, it turned out to be another rough one: two falls and two doubled jumps. I still can't really gauge what (if anything) this program does for her. She looks gorgeous but we're back to generic pretty music and choreography. I don't think she's feeling this program at all and it shows. She finished 5th in the FS which dropped her to 5th overall.
In the Kiss & Cry Gracie made a comment to the effect of, "that's why they don't have fat skaters." Afterwards with the media she revealed that she was struggling with some weight issues. She stopped training for a period of time over the summer and she hasn't quite gotten herself into optimal shape for this season. Skating is tough sport when it comes to weight. A few extra pounds can really throw off a skater's ability to land jumps. It's disturbing to see someone as thin and fit as Gracie make a comment like that. My hope is that her team is watching out for her and will get her back into shape the healthy way. However, for someone who is already struggling with self confidence issues to have to deal with body issues on top of that does make me worry for her. I think she should drop her next GP event (she can't make the Final anyway) and focus on getting herself where she needs to be for nationals. It's obvious her head and her heart are not in it right now. She needs to step back, get herself together, and come back ready to fight at nationals.
Jumps or no jumps, she was stunning
Mao Asada (JPN; 176.78, 6th):
Mao struggled with some knee issues at this event. For the first time in a long time she did not go for the 3A in either program. The SP was brilliant from an aesthetic standpoint. Beautiful choreography, wonderful delivery...simply brilliant. The jumps were iffy. She received an under-rotation on her 3F-2L combo and she didn't max her levels on her non-jump elements either. Mao still scored well and was basically tied for 3rd going into the FS. The FS wasn't great: under-rotations, doubled and singled jumps and only one combo. Mao earned only 46+ in TES. Again, the program was gorgeous and I could watch her do step sequences all day long...but without the jumps she can't compete. Hopefully by next even she'll be feeling better and can put forth a better effort.
Other Competition Notes:
Serafima Sakahnovich's (RUS)
debut wasn't great but it wasn't as bad as I thought it might be. She still needs a lot of work if she hopes to move up. Her sloppy skating and wild jumps won't get much love on the senior level...
So Youn Park (KOR)
is still not wowing anyone. I'm hoping next week Na Hyun Kim will light a fire under her ass to step it up...
Kanako Murakami (JPN)
had a really bad showing here. Multiple under-rotations and downgrades took her completely out of the running.
One event down, several more to go! This week is
Skate Canada
which takes place in Mississauga, Canada. The headliners at this event include World champion
Evgenia Medvedeva (RUS)
and Japanense champion
Satoko Miyahara (JPN)
. We'll also see the season debuts of
Rika Hongo (JPN), Elizaveta Tuktamysheva (RUS), Kaetlyn Osmond (CAN), Mirai Nagasu (USA), Alaine Chartrand (CAN), Na Hyun Kim (KOR), Yuka Nagai (JPN), Veronik Mallet (CAN), Joshi Helgesson (SWE)
and
Da Bin Choi (KOR)
.
I want to do a poll but I don't see the point. No offense to any other skaters but I'm almost positive Evgenia will win. I might actually die of shock if she doesn't win...but by how much? Oh, there's my poll!
How many points will Evgenia Medvedeva win by?
Make sure to vote!