The second to last event of the season looked as though it would be a pretty good one. I figured there would be some competition but I have to admit, this was not the outcome I expected.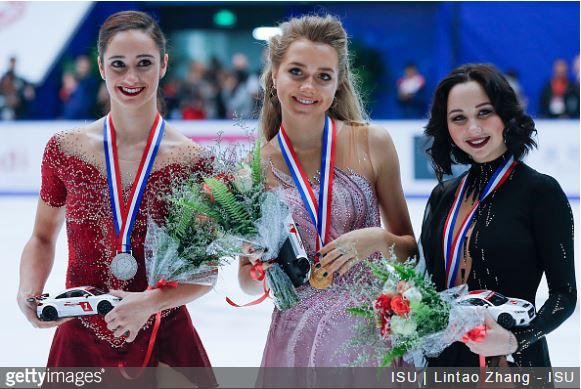 Not what I was expecting but I'll take it!
Final scores: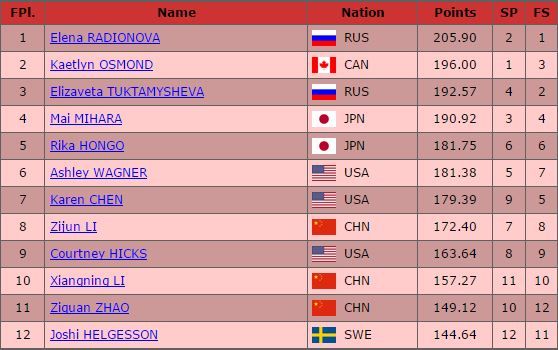 Elena Radionova (RUS): 70.75 (SP) + 135.15 (FS) = 205.90 - 1st
Elena continues to hang around whether people like it or not. Personally, I love her and thanks to her better programs this year I don't feel bad about admitting it!
Elena gave a very strong performance of her "Porgy & Bess" SP. In case you missed it in my last review, I love this program. It puts Elena back in her element, having fun and playing to the crowd and the judges. Even though the performance was strong she actually had a bit of trouble here. Elena rarely gets under-rotation calls on her combos. They usually look a little eeked out but somehow she gets them around...until now. The tech panel deemed the 3T in her 3Lz-3T combo under-rotated which cost her a few points. Not too many of the judges caught it; only two gave her -1 in GOE. As mentioned her combos are always a little close so the judges usually give her the benefit of the doubt. Elena's 3L and 2A were solid and she maxed all of the levels on her non-jump elements including her step sequence which earned a level 4. Her step sequence is entertaining, difficult, has good musicality and is full of personality, and the judges agreed. She earned +1.70 in GOE for that element. Elena put up the second best score of the segment and went into the FS less than 2 points behind 1st place.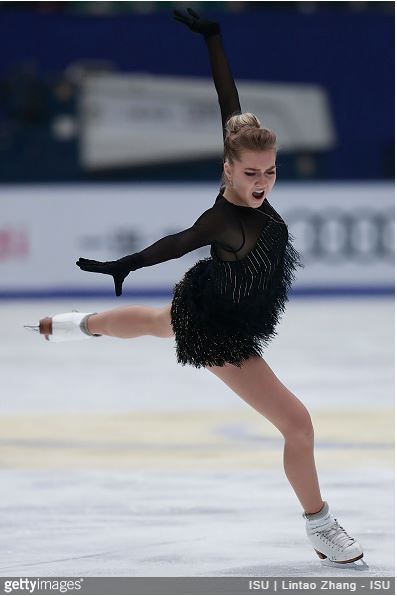 Back on top!
Elena is known for her consistency and slightly wonky jumps, and both of those things were on display in the FS. Aside from yet another under-rotation call on her 3Lz-3T combo (uh-oh...) and a ding on her 3F(!), Elena was very strong. She hit 6 triples total including that 3Lz-1L-3S in the bonus half of the program. She gave up a few levels on her non-jump elements (only two were level 4s, the other two were level 3s) but in the end it didn't matter much. Elena stayed on her feet and got through the program without any major errors. She scored a season's best in both the FS and overall score and ended up walking away with the gold medal which combined with her silver medal from Rostelecom qualifies her for the Final for the fourth year in a row.
Just to put it in perspective
Elena has medaled at every Grand Prix event she's ever been in
. That's
eight events in a row
and
she's won four of those eight events
. Say what you will about Elena but this girl is one hell of a competitor...
Kaetlyn Osmond (CAN): 72.20 (SP) + 123.80 (FS) = 196.00 - 2nd
After the success Kaetlyn had at Skate Canada a lot of eyes were on her to see a few things. Namely if the scoring she received there would travel, and also if she could keep up her momentum.
Well the answers to those questions were "yes" and "yes" for the most part. Kaetlyn turned in another solid performance of her "Sous le ciel de Paris" SP. I'm completely floored by this girl's speed and power. Her jumps are
so massive
and huge and it seems like she's gotten the hang of controlling them. Her opening 3F-3T earned +1.50 in GOE and her 3Lz earned +1.20. Tons of speed, height, power and ride out on both jumps. The only mistake in this performance was a slight loss of control on the landing of her 2A which cost her -0.36 but didn't mar the program. She's still trying to get the hang of maintaining her focus throughout the program. Even with the small mistake the performance was great. She maxed the levels on her non-jump elements and earned good +GOE, including +1.50 on her steps. Kaetlyn won the segment and went into the FS with a small lead.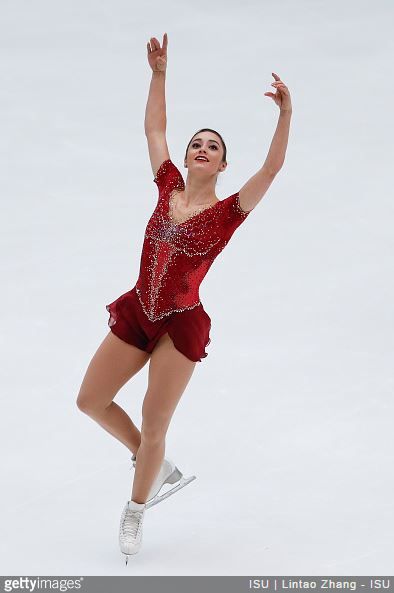 Gotta learn to do it consistently!
Kaetlyn started off her FS very well with a big 3F-3T and 2A-3T (+1.30 and +1.40 respectively)...and then things went a bit sideways. She completely lost her timing on her 3Lz, received a downgrade for the rotation and had to step out of it; she fell on an under-rotated 3L; and finally she lost points on an under-rotated 3S in her 3S-1T-2L combo. It wasn't a disaster but it was not what you wanted to see from someone who legitimately had a damn good shot at winning gold. Even though she gave this gold medal away she did enough to keep herself ahead of the rest of the pack and was able to walk away with a silver medal. This silver and the silver from Skate Canada has earned Kaetlyn her first trip to the Finals.
I think it's clear from the scores and reception Kaetlyn has received this season that if she can get herself together she can challenge for gold against the best. It's going to come down to her nailing down that consistency and being able to deliver under pressure.
Elizaveta Tuktamysheva (RUS): 64.88 (SP) + 127.69 (FS) = 192.57 - 3rd
Liza T is on her way back. It's probably taking her longer than she'd like considering where she came from about a year and a half ago (World champion) but she's making progress.
Liza turned in a solid SP. This program is like many of her other SPs (i.e. nothing really special), but it works for her nonetheless. She opened with a big 3T-3T but had a bit of trouble on the landing and did an extra turn before checking out of the jumps. With the 3T-3T being an easier combo, Liza needed that +GOE to boost up her TES. Unfortunately that tiny turn ended up costing her -0.20. She followed it up with a solid 3Lz and 2A, level 4 spins and level 3 steps. All in all in was a good one for her. The lack of a tougher combo and the fact that her non-jump elements don't garner much in terms of +GOE left Liza with a good but not great score. She ended up finishing the SP in 4th place, a little less than 4 points out of 3rd.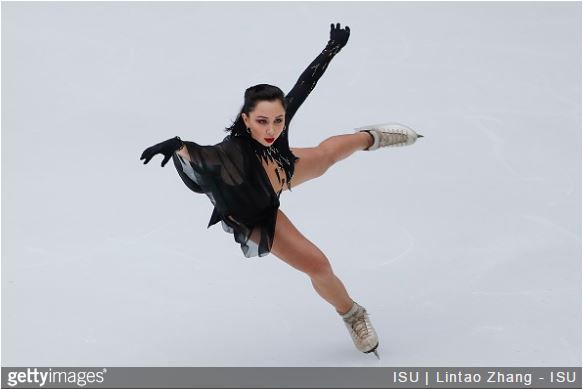 Magic half-muumuu?
Liza has gone back to her "Peer Gynt" FS from last year. I didn't particularly care for this program other than the final thirty seconds or so...but for whatever reason, Liza and her team felt this was the best move for her to make this season. She's comfortable with this program so it was probably easier for her to focus on nailing the jumps. So far it looks like it was a good move. With the exception of a doubled lutz and a rough landing on her 3S, this was the best we've seen from Liza in quite some time. She landed 6 triples including a nice 3T-3T at the beginning and a nice 3Lz-2T-2L in the bonus. The highlight of Liza's program is the choreographic sequence at the end which earned her +1.30 in GOE here. I'm not too sure about the dress for this one. It's kinda like a half-muumuu or something. Well whatever it was it worked. Liza earned a season's best and finished 2nd in the FS which placed her 3rd overall.
It's good to see Liza getting back on track but the fact of the matter is she's not going to be able to compete at the top unless she gets harder 3-3 combos or she brings the 3A back. Her PCS are slowly improving but she has a long way to go to catch up to the top ladies. Still, this was definitely a step in the right direction for her.
As for the rest...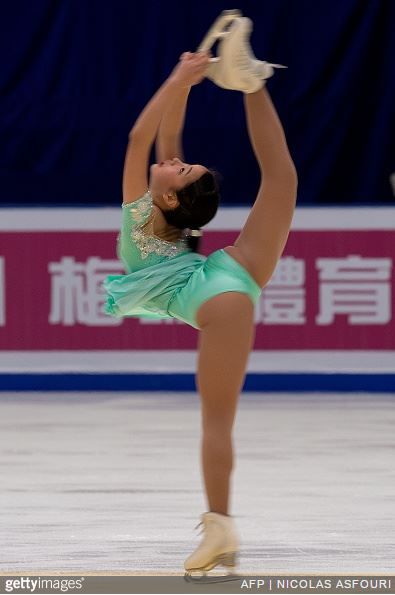 Solid debut on the GP
Mai Mihara (JPN; 190.92, 4th):
Mai did well here. She started off much better than last time in the SP. She was able to hit all of her jumps without issue, including that final 3F at the very end of the program. The clean performance earned her a personal best score and left her in a perfect position to medal. With Mai lacking reputation with the judges and the maturity of the other skaters, she has to rely on her technical score to carry her over. Unfortunately she was unable to hit all of her elements cleanly in the FS and ended up missing a bronze medal by a few points. Still, this was a successful debut season for her and she should be proud of herself.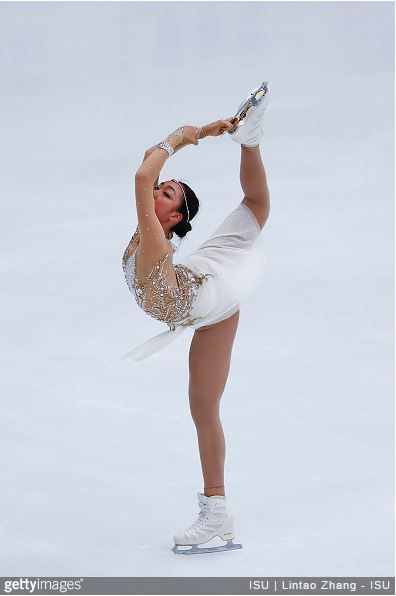 Just not enough this time...
Rika Hongo (JPN; 181.75, 5th):
Rika had what appeared to be a solid SP but ended up losing points on her 3T-3T(<) combo. Other than that mistake I really enjoyed her program. She gives so much energy and commitment to her performance it's hard not to enjoy it. Rika finished 6th in the SP. Her FS was solid but she lost too many points on a few under-rotations and a botched jump to catch up. She finished 6th in the FS as well but 5th overall. Rika has a way to go if she wants to make it to the podium at nationals. Competition is going to be pretty fierce this year...
Damn girl...what happened?
Ashley Wagner (USA; 181.38, 6th):
I'm pretty shocked to see Ashley finish so low here. I didn't expect her to come into the competition firing on all cylinders but I expected way more than what we got here. She just looked off in the SP. The jumps weren't really working and the program lacked that fire and sureness she had at Skate America. Even with the lower score she was in a prime position to move to the podium. Her effort in the FS was better than Skate America, but the results were much worse. Ashley under-rotated 6 out 7 triples...whoa. In real time I didn't think she did that badly (I counted about 3) but the tech panel nailed her to the wall. Ashley earned the second highest PCS of the event but only earned 48.46 in TES. Ouch. To qualify for the Final Ashley needed a medal here. As of now she only has 20 points and there's one event left to go. It's highly unlikely she'll make the Final this year unless she gets called as an alternate.
*sigh*
Other Competition Notes:
Karen Chen (USA)
fought back hard in the FS and put up some good numbers to finish 7th overall. I'm still waiting for her to recognize her potential...
Zijun Li (CHN)
and her two teammates all put in solid showings for the home crowd...
Courtney Hicks (USA)
wasn't able to build off her her performances in Russia. She finished a distant 9th here.
That was so fast! We're at the final event of the season,
NHK Trophy
which will take place in Sapporo, Japan. There are 4 competitors at this event who can make it into the Final but only 3 will. The headliners here are
Anna Pogorilaya (RUS), Satoko Miyahara (JPN), Maria Sotskova (RUS)
and
Wakaba Higuchi (JPN)
. All four women have won a medal so far this season. The easy way to look at it is whoever medals here will also earn a trip to the Final. Whoever doesn't is out of luck. We'll also see
Alaine Chartrand (CAN), Elizabet Turzynbaeva (KAZ), Karen Chen (USA), Dabin Choi (KOR), Mirai Nagasu (USA), Alena Leonova (RUS), Nicole Rajicova (SVK)
and
Yura Matsuda (JPN)
. With the spots to the Final on the line, this should be a good one.
So, poll time! Who will NOT make it to the Final this year? Make sure to vote!