Everyone was expecting this to be a battle of the Russians but in the end that's not what we got...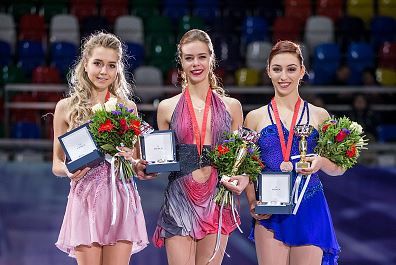 Anna is stepping it up!
The final results: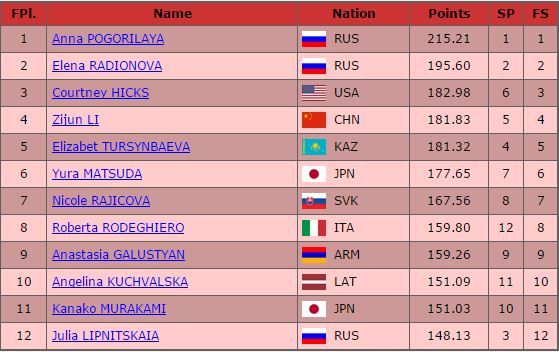 Anna Pogorilaya (RUS): 73.93 (SP) + 141.28 (FS) = 215.21- 1st
Thanks to her bronze medal win at Worlds last season Anna came into this one as the favorite. Of course the pressure of being expected to win can be a challenge. I didn't know how Anna would respond...
I love Anna's "Scent of a Woman" SP. This program is choreographed by Misha Ge and I think he did a wonderful job of giving Anna something that really makes her shine. She is a gorgeous girl and when she turns on the performance and gives attitude, sass and fire, she can make some magic. When you add all of that to her technical abilities, you have a damn good combination. Anna's 3Lz-3T (+1.00) was great and her 3L and 2A were strong as well. Her spins were strong (two level 4s and one level 3) and her steps were level 4 and fabulous. Anna skates with so much speed and she has great edges too which really helps her step sequence fill the ice and leave a great impression (+1.70). She really sold this program and I loved it. Anna scored a personal best and went into the FS with a 2 point lead.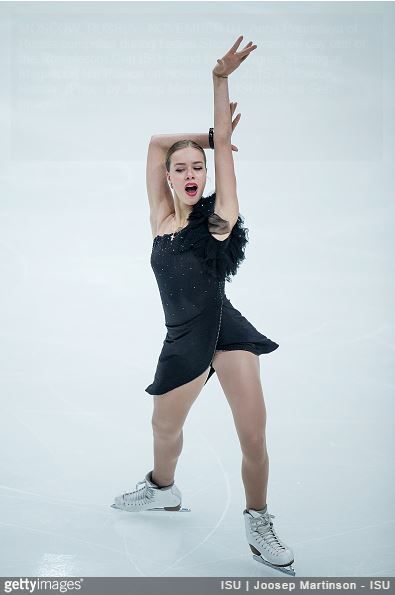 Werk it gurl!
At Finlandia Trophy earlier this season Anna held the lead going into the FS but faltered and dropped all the way down to 3rd. Here, Anna was the last to skate and the door was wide open for her to run away with the title. Rather than back down or ease up, she went for the kill: 7 triple jumps including a great 3Lz-3T, 3Lz-1L-3S and level 4s on everything except the layback (level 3). Her only error was an edge call on her 3F. I really like this "Modigliani Suite" FS. It's choreographed by Nikolai Morosov and I'm not usually a fan of his work; however, his work with Anna is pretty good. The maturity and polish I noticed last season is still there but now there's confidence as well and that really does make the difference. Anna scored another personal best in the FS, a personal best total score and ran away with the title here by more than 19 points.
I'll be honest, I'm feeling Anna more than I'm feeling Evgenia this season. If she can keep this kind of skating up her scores will continue to improve and she will really be able to challenge Evgenia. This season just got a little more interesting...
Elena Radionova (RUS): 71.93 (SP) + 123.67 (FS) = 195.60 - 2nd
Elena has been a constant for several seasons now. We see a lot of Russians come and go but somehow despite the odds she always manages to stay in the mix.
I will say I love this "Porgy and Bess" SP. This is my favorite Elena program since her "Flamenco/JLo" program from 2014-2015. I was okay with her "Je t'aime" program last year but it was just so angsty and dramatic...I like Elena more when she's having fun and this program was all kinds of fun. She opened with a 3Lz-3T (+1.10) that had better control on the lutz landing than we've seen previously. Elena followed it up with a nice 3L but stumbled out of the landing of her 2A which cost her -0.93 points. She got it back on track with her level 4 step sequence which I absolutely loved. Lots of personality, great steps and you can tell she had a blast performing it. Two of her spins earned level 4s and her combo spin got a level 3. The combo spin earned positive GOE (+0.43) but the centering on that spin was all over the place. Overall it was a strong performance and Elena scored well and went into the FS in 2nd place, only 2 points off of the lead.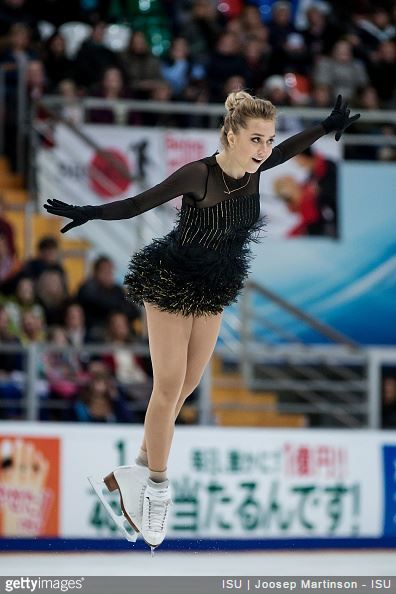 I love this program!
When they did the Russian test skates back in September Elena was sick and did not participate in the FS so we hadn't had an opportunity to see her FS beforehand. She's skating to "Nessun Dorma" this season which is a very
overused
popular piece. She opened up with a wonky landing on her 3Lz. It was supposed to be in combination but the bad landing prevented it. Elena improvised and turned her solo 3F into a 3F-3T. In real time I didn't think she got the toe around but in slo-mo you can see she did so she got full credit (but not +GOE). Her step sequence received good GOE (+1.00) but was only level 2 which lost her some points. Elena usually goes for a 3L-1L-3S in the bonus but this year she's upgraded that combo to 3Lz-1L-3S. Unfortunately after the combo she had some issues. She stepped out of the landing of her 3L and then under-rotated and fell on her second 3L. Overall it was a good but not great skate. I think the program is solid and will work well for her...let's be honest, literally anything would be better than last year's "Titanic" disaster. In the end Elena placed 2nd in the FS and 2nd overall to earn the silver medal.
Elena's jumps are still as wonky as ever but she's still landing them. Overall she looks better this year than last year. Her programs are stronger and her higher technical content should help her stay on the radar and retain that #3 spot.
Courtney Hicks (USA): 63.68 (SP) + 119.30 (FS) = 182.98- 3rd
Courtney has been slowly finding her way on the Grand Prix every season. No one ever really bets on her to medal but she has a way of doing her job and seizing opportunities when they come her way.
Courtney has found her niche when it comes to picking music and choreography that work well for her skating. She's not a graceful or lyrical skater; she's fast and powerful and choosing music that highlights those traits is one area her team excels at. I like this "Maleficent" SP for her. It's big and powerful and when she skates it well, it works for her. Courtney opened up with a big 3F-3T (+0.40). In the past it had become a bad habit for her to add a turn between the two jumps but she avoided that here, though the landing was a little abrupt. Same with the 3L: big and nicely done but again, a split second check of the free leg on the landing. I'd really like to see her extend the free leg and hold that edge for a moment like she did in her 2A here. It shows control of the jump and can even get her extra GOE. Courtney had a small stumble in her step sequence (level 3) but all of her spins were level 4s and well done, especially her final combo spin. It had nice positions, speed and centering and that final forward scratch spin was gorgeous (+1.07). She scored decently and was in 6th place heading into the FS.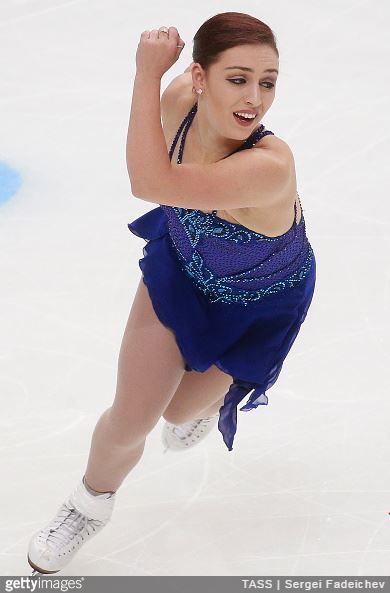 Opportunity knocked and Courtney answered
This "Hunchback of Notre Dame" FS is another win for Courtney. I think the music edit is really strong. There's a nice rise and fall to the program. If she nails it at nationals, I could see her bringing the house down. Courtney opened with what was supposed to be a 3F-3T but ended up doubling and landing badly on the second jump. She can be a snow baller when it comes to mistakes but Courtney immediately refocused and hit a nice 3S as well as four more triples. Her only other mistake was the singling of a 2T in her 3L-2T combo. The non-jump elements were solid (levels 3 and level 4s) and she did a good job of delivering the program. I'd like to see her extend her movements and add a bit of finesse to the moments in the choreography. Hopefully that will come with time as she settles into the program more. Still, this was an excellent debut. Courtney set a new personal best and finished 3rd in the FS which was enough to move her from 6th all the way to 3rd overall and the bronze medal.
Hopefully starting off strongly at this event will give her confidence in her next event. That #3 spot on the U.S. women's team is somewhat up for grabs this season. This strong performance by Courtney firmly puts name in that discussion.
As for the rest...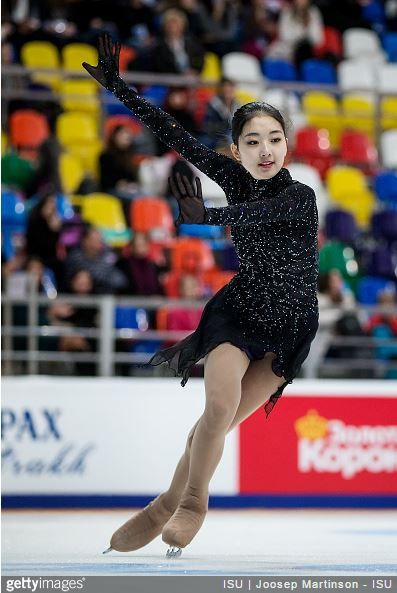 Much improved!
Zijun Li (CHN; 181.83, 4th):
Zijun looked like a different skater. She's always been lovely but there was something very flat and lifeless about her skating in recent years that made her kinda boring to watch. Well she completely woke me up in her SP. Nice 3T-3T and 3F and strong non-jump elements as well, plus the program itself was awesome. I can't remember the last time I saw her give that kind of energy and
performance
to a performance. The FS was a solid effort as well. She's reworking her lutz technique and it's paying off. She only did a 2Lz but it was a clear edge and that's progress. It looks as though she may be taking lessons from Alexei Mishin. During the warm-up he was instructing her. Her FS needed a tad more energy but it's a lovely program and she delivered it well. Zijun was only 1.15 points off of the podium. Hopefully she'll build on this performance and do well at her next event.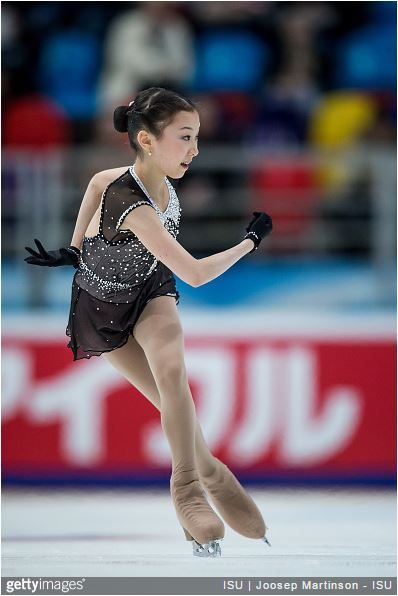 Oh puberty, where art thou?
Elizabet Turzynbaeva (KAZ; 181.32, 5th):
Elizabet started off her SP really well. Her 3Lz-3T and 3L were strong as were her non-jump elements. Unfortunately she slipped off the landing edge the 2A and fell pretty hard which marred an otherwise lovely SP. Her FS was strong but she made a number of small errors that added up and hurt her score. Still she was less than 2 points off of the podium here. This is an odd topic but I do hope Elizabet hits puberty at some point. She's 16 years old but she still looks 12. Her small stature and juniorish appearance can affect the way the judges score her next to some of the other more mature looking skaters.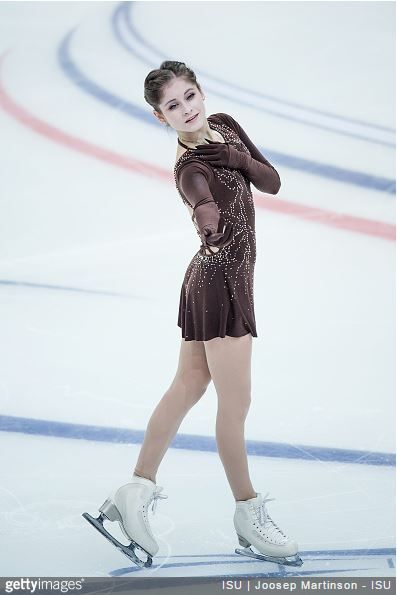 Get well soon Sunny!
Julia Lipnitskaya (RUS; 148.13, 12th):
This was a total heart breaker. I've never been the biggest Julia fan but I always find myself rooting for the underdog. After the past few seasons she's had I was really hoping to see Julia bounce back here. She started off really well in the SP. Other than a ding on her 3F edge and some centering issues on some of her spins, she was great. It was so nice to see her looking so happy after her performance. She placed 3rd and was set to medal with a solid FS.
During the warm-up Julia went over to the boards and her coach, Alexei Urmanov, was seen massaging her calf muscle. Julia's first three jumping passes in her FS were strong but then the problems started. She went for a 2A but bailed before the take off. You could see the pain and uncertainty in her face as she contemplated continuing. She finished the end of her choreo sequence and went for another jump before bailing out of it and stopping the program. It took several minutes but in the end, according to Twitter reports, Julia wanted to continue. She did the step sequence and went for a 2A but had a bad fall before finishing up the program with a spin. The program scored only 78.88 which dropped Julia from 3rd to last place.
This was a case where I think Urmanov should have stepped in and pulled her out. Yes, she would have been upset but it was obvious she was hurt. It was really tough to watch because everyone knows how much of a struggle it's been for her to get back and she really did look like she was back...and then this. Fans in the arena were literally in tears as they watched. Julia held it together in the K&C but you could tell she was devastated. I really hope she has a speed recovery and is able to have a strong showing at nationals this year. My heart goes out to her.
Other Competition Notes:
Yura Matsuda (JPN)
had a solid debut here and finished 6th...
Roberta Rodeghiero (ITA)
had a disastrous SP and placed 12th but was able to pull up to 8th after the FS...
Kanako Murakami (JPN)
continues to struggle. She placed 11th overall.
Just that fast we're halfway through the season! This week is
Trophee Eric Bompard
which will take place in Paris, France. The headliners at this event will be
Evgenia Medvedeva (RUS), Gracie Gold (USA)
and
Mao Asada (JPN)
. We'll also see the debut of two senior newbies:
Maria Sotskova (RUS)
and
Wakaba Higuchi (JPN)
. If those two deliver they can shake up the podium. We'll also see
Gabrielle Daleman (CAN), Yuka Nagai (JPN), Mae Berenice Meite (FRA), Alena Leonova (RUS), So Youn Park (KOR), Laurine Lecavelier (FRA)
and
Anastasia Galustyan (ARM)
. I'm not doing a "who will win?" poll only because it seems like a waste of a good poll with Evgenia in the competition. I've got a better idea.
Who will have the better GP debut? Maria Sotskova or Wakaba Higuchi? Make sure to vote!