This competition was a strong one for quite a few skaters but, unfortunately, it was a bit of a disaster for quite a few as well.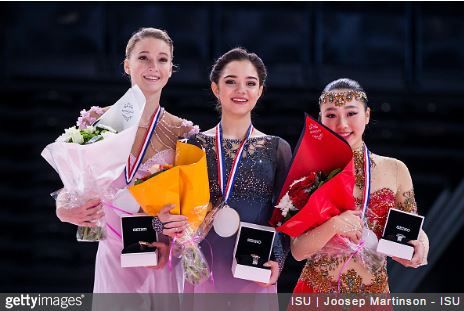 The new generation has arrived
The final scores: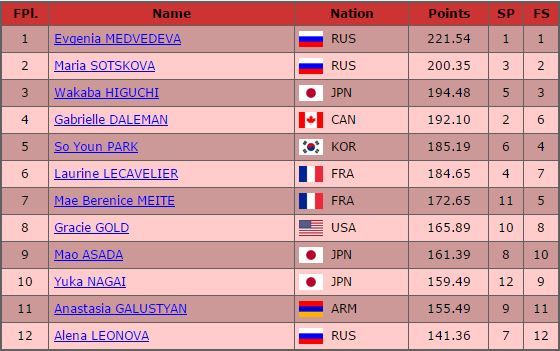 Evgenia Medvedeva (RUS): 78.52 (SP) + 143.02 (FS) = 221.54 - 1st
Evgenia deals with quite a bit of expectation. It's a lot of pressure to always be expected to win, yet she deals with it quite well. It's rare that we see any cracks in her armor...
She was fully armored in the SP. Yet another clean performance of her program. The judges are really giving it to Evgenia this year. They seem to be as impressed and blown away by her insane consistency as most of the fans are and, as a result, her scores continue to inch up competition to competition. Evgenia earned
at least
one additional point from positive GOE on every element she completed which boosted her TES. Plus the judges put her PCS in the high 8s and low 9s overall. Her SP score was only 0.14 off the the World record score held by Mao Asada (78.66). Evgenia now holds the record for second highest SP score (previously held by Yu-Na Kim, 78.50). Naturally she went into the SP with a comfy lead.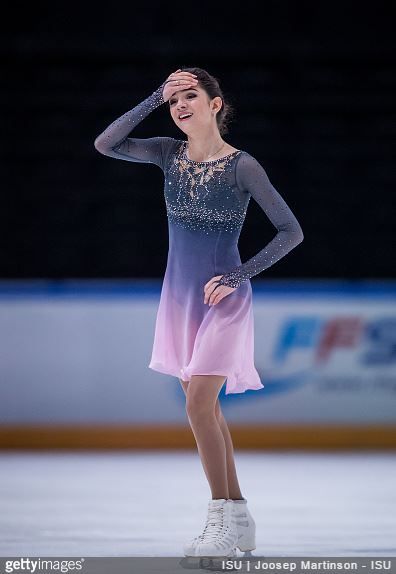 Lo and behold! She is human!
Evgenia's FS was as strong as ever with the exception of one minor hiccup. It's been a while since we've seen her have a fall in a competition but that's what happened here. She opened with a nice 3F-3T (+1.80) but fell on her lutz. I was really shocked! It's just not something you see happen with her. The fall was shocking to me (and probably everyone else) but Evgenia was unfazed. She got up and continued on, nailing all of her remaining jumps and maxing the levels on all of her non-jump elements. Afterwards she looked pretty pissed at making the mistake but, hey...it happens. Even with the fall she scored 140+ in the FS and won this one easily.
It's nice to see that Evgenia is not a skating robot and that she's not perfect. Plus having that fall takes some of the pressure off of her and let's her know that she can make a mistake and still wipe the floor with everyone else. This second gold secures Evgenia a spot in the Final which she is favored to win again this year.
Maria Sotskova (RUS): 68.71 (SP) + 131.64 (FS) = 200.35
- 2nd
I've had my eye on Maria for the past several seasons as she made her mark on the Junior Grand Prix. I have to admit I was pretty excited to see her make her senior debut.
Her first impression was a very good one. I like Maria's "Agitato & Waltz of the Farwell" SP. I think it suits her style very well and she does a lovely job performing it. I also love that dress! It's very beautiful and the stained glass look is gorgeous on her. Maria's long arms and legs give her a striking look on the ice and she worked both her presence and program to her advantage in this one. Her 3Lz-3T combo looks better this year (more lift and height) and the rest of her elements (3F, 2A) were solid. She earned level 4s on all of the non-jump elements and also got positive GOE on each element as well. Maria scored very nicely and finished the SP in 3rd place.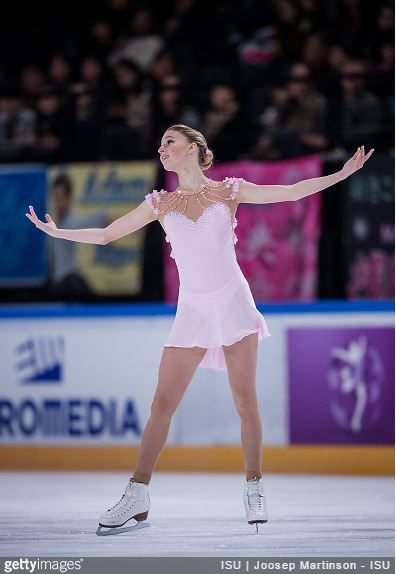 Welcome to the senior level newbie!
I also like Maria's "At the Manilovs" FS, though I'm not so crazy about the dress. I think it'd be much prettier if it didn't have all of the flowers on the shoulders. Anyhoo, Maria was in a prime position to earn a medal in her first Grand Prix event and, for the most part, she capitalized on it. Some of her jumps weren't as clean as they could have been but with the exception of an under-rotated lutz, she hit all of her elements including a 3Lz-3T and a 3F-1L-3S. Maria is one of the few skaters who doesn't get edge calls and appears to have solid technique on both her lutz and flip. She earned all level 4 elements again en route to a very nice FS score. She broke the 200 point mark (in her first senior event) and ended up walking away with a silver medal.
Maria's first outing went the way I expected it to. It's clear from her performances here that she's going to be a threat to some of the other senior competitors as the season continues on. Nicely done Maria!
Wakaba Higuchi (JPN): 65.02 (SP) + 129.46 (FS) = 194.48 - 3rd
Wakaba is another skater I was very excited to see debut here. There's so much I loved about her while she was on the junior level but I was pleasantly surprised to discover some new things to love about her here.
Wakaba really blew me away with her "La Cena" SP. I noted earlier in the season during her exhibition skates that she really seems to have matured a lot over the last season in terms of her performance. I have to say she had me spellbound. I think this program is gorgeous and she's improved so immensely in terms of her grace, finesse, attention to detail and actually feeling the movements of the choreography. She was gorgeous! Wakaba opened with a lovely 2A but saved her tougher jumping passes for the bonus. Her 3Lz-3T was fantastic (+1.20) but she spaced out and ended up popping her 3F which netted her zero points for the element. Even with the missed element Wakaba still scored well and went into the FS in 5th place.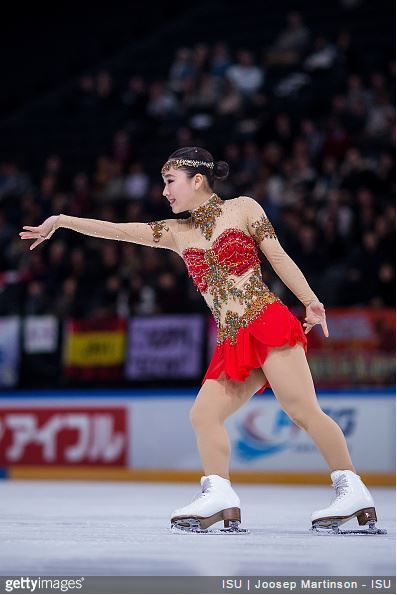 Welcome to the senior level newbie!
I like this "Scheherazade" FS and I think Wakaba looked lovely performing it. There are some really lovely choreographic moments in there and, thanks to Wakaba's improved presentation, they are very effective in the program. Wakaba opened with a massive 3Lz-3T (+1.50) and a big 3L (+1.30). When her jumps are on she gets massive positive GOE because her jumps are amazing. She skates with a lot of speed and gets lots of height, coverage and ride out. Her opening was great but, as always seems to be the case with her, she lost her focus towards the middle and ended up singling an intended 3Lz. She also lost points on an under-rotated 3T in her 2A-3T-2T combo. Luckily the judges were fair in terms of PCS (she earned the second highest PCS in the event). In the end Wakaba ended up placing 3rd in the FS which was enough to move her into 3rd overall and a bronze medal.
Wakaba has everything needed to be the next big thing in this sport. She does need to work on her spins but her skating skills and jumps are amazing. What's better, the judges actually give her credit for that. If she can back that up with some consistent skating, she could find herself on the World podium this year.
As for the rest...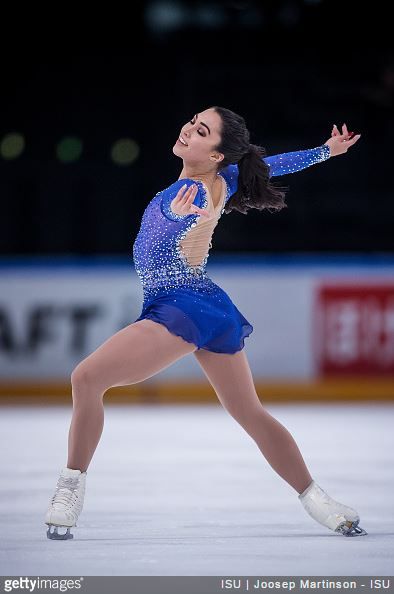 So close!
Gabrielle Daleman (CAN; 192.10, 4th):
Gabrielle had an incredible showing in the SP. She changed up the combo in the SP (like I figured she would) and landed a massive 3T-3T. That combo earned perfect GOE, meaning all nine judges gave her +3. She nailed the rest of her elements and sold her program very well. It was the best I'd ever seen her skate and the judges agreed. She earned 72.70 and was in 2nd place going into the FS. Unfortunately things did not go well. Gabrielle fell on her opening combo, singled a 3F and had a few other untidy landings. It wasn't a disaster but it wasn't enough to keep her on the podium and she had to settle for 4th. She was devastated in the K&C. I felt so bad for her. She definitely had a shot at a medal. Hopefully she won't take this too hard and will fight back at her next event.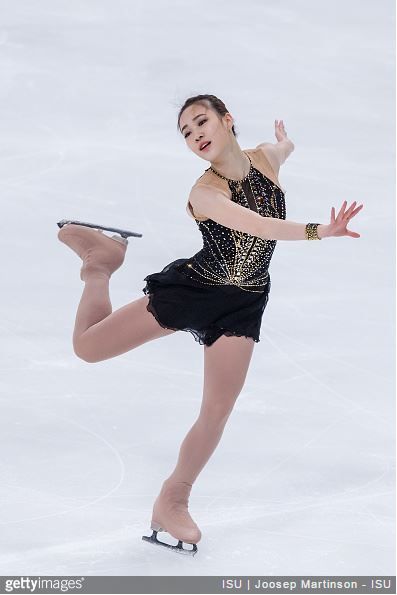 Finally! Some signs of life!
So Youn Park (KOR; 185.19, 5th):
It was really nice to see So Youn finally deliver well through two programs. She turned in a clean SP complete with a big 3S-3T (+1.40) and strong elements. So Youn's "Man With the Golden Arm" SP is probably the best she's ever had. She really gets into the choreography and I think the judges like it too. She finished 6th in the SP and made that final group. Her FS started off badly with a fall on her 3Lz. Luckily she rebounded quickly and hit five more triples including a nice 2A-3T (+1.30). Her only other mistake was an under-rotated loop, but everything else was clean. So Youn scored a personal best and pulled up to finish in 5th overall.
Other Competition Notes: Laurine Lecavelier (FRA)
had a very lovely SP. Very interesting choreography and she delivered it beautifully...
Mae Berenice Meite (FRA)
had a rough SP but fought back with a clean 6-triple FS. That was great to see from her...
Gracie Gold (USA)
was pretty terrible here. She popped two jumps in the SP and had two falls and only completed two triples in the FS. I seriously question the wisdom in having her compete here...
Mao Asada (JPN)
was also pretty terrible. She under-rotated her combo in the SP but still could have made a run at the podium. However, she doubled all but one triple in the FS. I'm not sure where she goes from here...
Alena Leonova (RUS)
delivered a solid SP but fell on four jumping passes in the FS and tripped and fell a fifth time. Thanks to the new rule that says after three falls the mandatory deduction is 2 points, Alena lost a total of 9 points due to falls. Ouch.
Only two events left to go! This week is
Cup of China
which will take place in Beijing, China. This week's headliners are
Ashley Wagner (USA), Kaetlyn Osmond (CAN)
and
Elena Radionova (RUS).
We'll also see
Mai Mihara (JPN), Elizaveta Tuktamysheva (RUS), Courtney Hicks (USA), Zijun Li (CHN), Rika Hongo (JPN), Karen Chen (USA), Joshi Helegesson (SWE). Ziquan Zhao (CHN)
and
Xiangning Li (CHN)
. Poll time! Places to the Final are on the line here for some of the previous medal winners.
So who comes out on top? Ashley, Kaetlyn, Elena, Mai or someone else? Make sure to vote!