Four Continents is usually a warm-up for the non-European competitors before the scene shifts to the World Championships in March. For others this is a final hoorah before the end of the season. All eyes were on a number of women at this event, particularly the Canadians and the Americans...but no one was watching the Japanese women...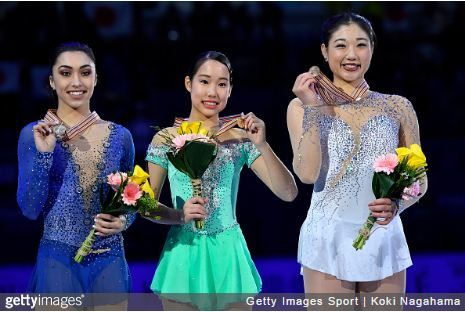 Didn't even see her coming...
Final results: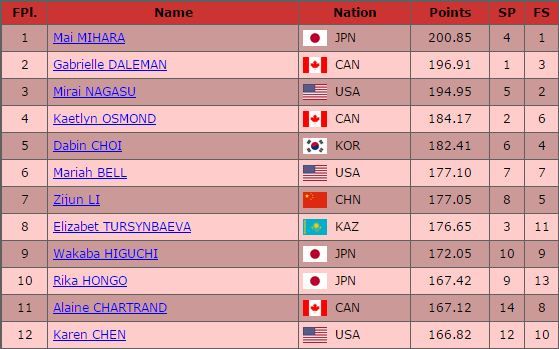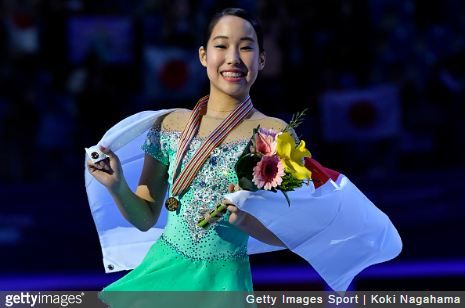 Sorry! Can't find a video...
Mai Mihara (JPN): 66.51 (SP) +
134.34 (FS) =
200.85 - 1st
Mai has had a very strong year and yet always manages to fly under the radar. With Satoko out of the event this year, all of the focus shifted to the Canadian and American women. Everyone kind of forgot about Mai...
The SP was clean and easy. Mai had some of the hardest jump content in the field (3Lz-3T, 3F, no edge calls) and she got good GOE on them (+1.10 on both passes). Her spins were solid but not outstanding, though all of them were level 4. The only area she missed out on was her step sequence which earned a level 3 instead of level 4. The program is nice but it just didn't stand out next to the programs of the top 3...more on that later. Mai did her job and finished her SP in 4th place, just a few points out of 1st.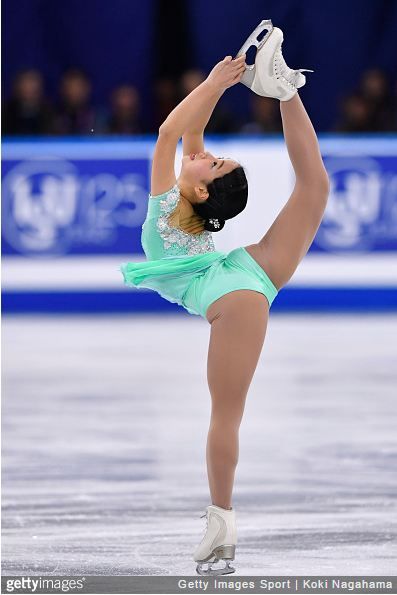 Not under the radar anymore!
Mai skated second in the last group behind a great performance from Mirai. I always find it admirable when a skater can deliver their best behind a strong performance from someone else. And that's exactly what Mai did. She hit all of her elements cleanly including a nice 3Lz-3T, as well as a 2A-3T and 3Lz-2T-2L in the bonus and managed to earn positive GOE on every single element. As good as she was, Mai can score even higher. She didn't max all of her levels which means there is still room for this program to grow which is great news for Japan. Mai finished 1st in the FS and moved up to finish 1st overall and win her first ISU title. Congrats!
Mai has the content but she's still too green. I think it really comes down to her packaging. This is her first year on the senior level and it
looks
like it's her first year. Her programs are pleasant and safe which unfortunately makes them a bit forgettable. With her smooth jumps and consistency she can leave a bigger impression but she needs a better vehicle. If her teams can mature her up next season team Japan will be in good shape!
Gabrielle Daleman (CAN): 68.25 (SP) + 128.66 (FS) = 196.91 - 2nd
Gabrielle has gained footing in the international standings this season and came into this event as a favorite for the podium. The opportunity has been there for Gabby in the past but her small errors usually knock her out off of the podium.
It's not often that Gabby finds herself leading after the SP but that's exactly what happened here. She opened up her SP with her trademark monstrous 3T-3T (+1.70) and followed it up with a shaky but clean 3Lz (-0.40). Gabby skated second to last, right after Kaetlyn had posted a solid but beatable score. The opportunity was right there to jump out to a lead and it's possible that knowledge was bouncing around in her head. I've seen her deliver this SP much better in the past but it was obvious she was very tight throughout the performance. To Gabby's credit she got the job done. She completed all of her jumps and was also able to max all of her non-jump elements. When the scores came up she ended up in 1st place by only 0.04 points, which basically left her tied with Kaetlyn heading into the FS.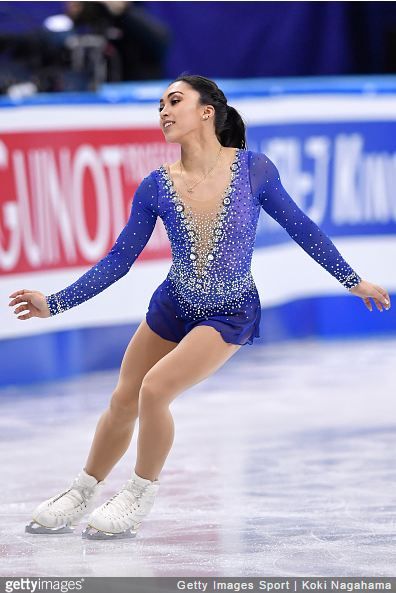 Almost there! Peak at Worlds!
The skating gods must love to test Gabby because she ended up skating after Kaetlyn again in the FS. It was the same scenario as the SP: Kaetlyn left the door open. However, it wasn't going to be a walk in the park; both Mai and Mirai had posted big scores which meant Gabby needed to deliver. For the most part she did. She opened up with another huge 3T-3T which earned the maximum GOE (+2.10) as well as a great 3Lz and 3F. Unfortunately, after that the trouble started. She messed up the entry to her layback spin which cost her a level and a bit of GOE; fell out of the landing on her 2A; and the biggest error, she singled an intended 3L which, had she landed it, would have given her the title on base points alone. In the end she finished 3rd in the FS which dropped her down to 2nd overall.
It was a solid competition for Gabrielle and it's good to see her get her first ISU medal. I'm sure it stings a bit to know that she was so close to winning. She had the lead going in and the advantage in PCS (nearly +3 over Mai) but the mistakes cost her. Hopefully this near miss will light a fire in her and she'll come out swinging at Worlds next month.
Mirai Nagasu (USA): 62.91 (SP) + 132.04 (FS) = 194.95 - 3rd
Mirai came into this event as the #3 ranked American in the field. The U.S. women have a tradition of flip flopping the national results in the standings at this event. And that tradition continued this year...
Mirai started off really well, hitting her 3F-3T cleanly (+1.00). The only major issue in the program was the solo 3L which got called for an under-rotation and cost her 2.10 points in -GOE. This used to be Mirai's money jump but she's been having trouble with it in the SP lately. Luckily she bounced back well with her 2A and finished out strongly, but losing those points on the 3L hurt her score. Thanks to some less than stellar skating from others, her score held up and she went into the FS in 5th place, nearly 4 points off of the podium.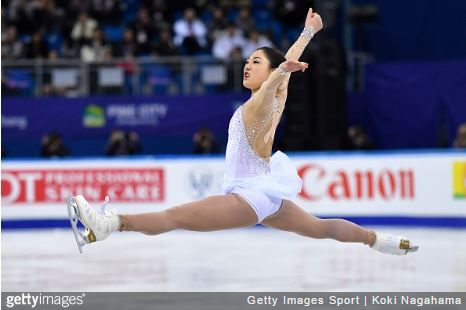 This is the Mirai we need to see every time next season
Mirai skated first in the final group and she really set the tone for the podium finishers. It's not often that she comes out firing on all cylinders but when she does it usually results in some great scores. Mirai threw down 7 triple jumps including 3F-3T, 2A-3T-2T and all level 4 spins. It was a very strong technical performance but the actual performance of the program wasn't that great until the last minute. Mirai is always very focused when she skates but it's to the detriment of the actual performance. She doesn't give much face or energy to her movements until the end and that hurts the overall performance and likely affects her PCS as well. Mirai only earned 62+ in PCS here and though the judges were conservative with the scores across the board, had she given the energy and passion to the
whole program
rather than at the end, she may have received a higher score. Still, the score she got was great and a career best. Mirai finished 2nd in the FS and moved up to finish 3rd overall for her second consecutive podium finish at this event.
This is likely the end to Mirai's season and, once again, she's going out on a high note. Her performances here have most people screaming, "Send Mirai to Worlds!" Honestly I think Mirai would do better than some of the people who are currently slated to compete, but the selection has already occurred so it's a done deal. I do think this strong finish sets Mirai up great for next season. If she wants to make it back to this Pyeongchang arean she will need to come out swinging next year and stake her claim early for one of those three (or more likely two) spots on the team.
As for the rest...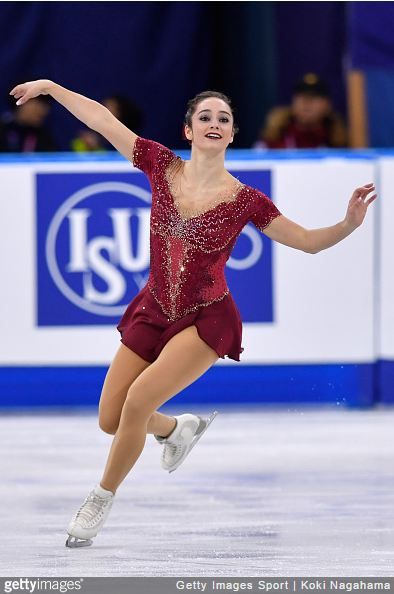 Hopefully the peak performance will be at Worlds
Kaetlyn Osmond (CAN; 184.17, 4th):
Oh Kaetlyn...
Kaetlyn, Kaetlyn, Kaetlyn
. This was definitely a missed opportunity for her to make a statement before Worlds. A statement was made...but it wasn't the kind she wanted to make. The SP wasn't as strong as it's been all season. Her 3F-3T and 3Lz were fine and then she had a brain fart and fell on her 2A. The mistake wasn't too costly and she ended up only 0.04 points out of 1st place. The FS started off great: big 3F-3T (+1.70) and big 2A-3T (+1.40)...and then everything dissolved into disaster. Three falls total including a
PogoSplat-esque
wipe out on her 3S. To Kaetlyn's credit she got up and did her best to keep smiling but it was obvious after that fall on the salchow that she was in some pain. She finished a disappointing 6th in the FS and dropped to 4th overall. This was not the way she wanted to go into Worlds. Kaetlyn's talent is undeniable but she has got to work on rebounding after mistakes and not letting everything fall to pieces. Hopefully she'll be ready to go next month...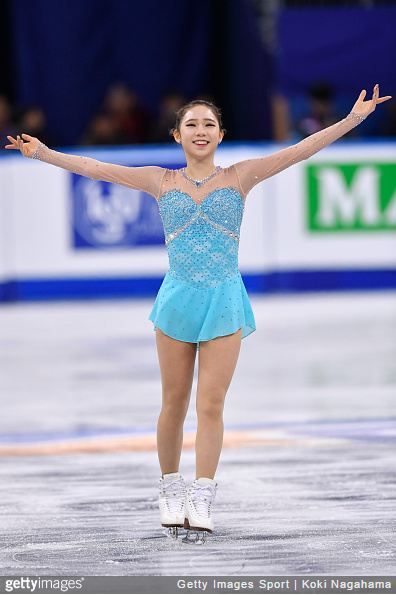 Home crowd went home happy!
Dabin Choi (KOR; 182.41, 5th):
It was really nice to see Dabin have such strong performances in front of a home crowd. She nailed her 3Lz-3T and 3F as well as level 4 spins in the SP. Dabin is not known among the international judges so her PCS were on the low end here. Nonetheless she scored a personal best and went into the FS in 6th place, securing a spot in the final group of skaters. Her FS was solid though she did lose points on two under-rotations on her harder elements. Even with the mistakes she scored another personal best and finished 4th in the FS to move up and finish 5th overall. Nicely done!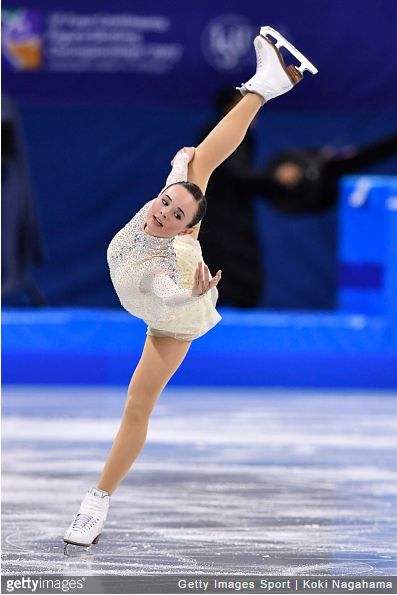 We need more...
Mariah Bell (USA; 177.10, 6th):
Mariah's SP lacked a lot of the zip and zing we've seen from her in other competitions. Rather than attacking the program, she was cautious and it showed. She didn't go for the 3-3, opting to do a 3Lz-2T instead. Mariah also had some issues with her 3F which cost her. She finished the SP in 7th place. The FS was slightly better though she did have jump errors throughout the program including a fall at the end of her 3F-1L-3S. The good news was she didn't lose any base value points from under-rotations...a thin silver lining but a silver lining no less. Mariah finished 7th in the FS and 7th overall. This wasn't a confidence inspiring skate for Mariah but she's capable of more. She or Karen will have to step it up big time next month if the U.S. hopes to retain three spots.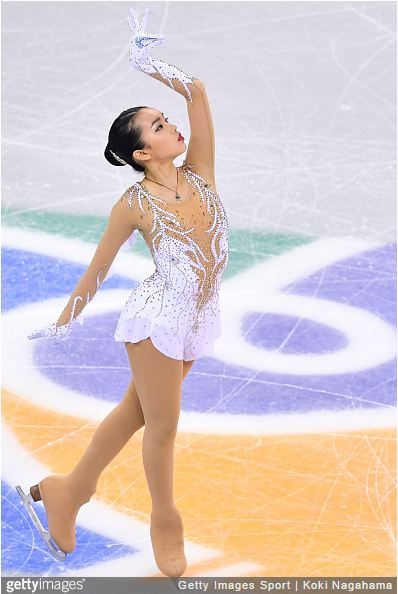 A lot more...
Karen Chen (USA; 166.82, 12th):
The hope was that after Karen's great performances at nationals that we would see her turn a corner and start delivering the way she did there. Not the case. It was reported that she'd had the flu at some point and after the competition she mentioned something about her right foot and boot issues again on
Instagram
. Whatever the reason, this was not the kind of performance people wanted to see from Karen before Worlds. Her SP was not good (bad landing on the combo, downgrade and fall on the 3L, lots of dropped levels in her non-jump elements) and the FS, while better than the SP, still had multiple jump errors and did not score very well. Unfortunately, this tends to be how Karen skates at international events. She actually finished 12th at this event last year as well. As the new U.S. champ she's under a lot of pressure to deliver and not many people handle that well. We'll have to see if Karen can manage better at Worlds.
Other Competition Notes:
Something was wrong with
Zijun Li (CHN; 177.05, 7th)
. She looked extremely distressed in the warm-up before the FS and, despite a solid skate, cried in the K&C afterwards. I'm thinking whatever was going on with her didn't have to do with skating...
Elizabet Turzynbaeva (KAZ; 176.65, 8th)
was in 3rd place after the SP but her excessive use of the Rippon feature on her jumps did nothing to help her in the FS. She fell twice and the feature makes her already sloppy jumps look sloppier. That's one element of the Tutberidze school of jumping she may want to leave out...
Wakaba Highuchi (JPN; 172.05, 9th)
was apparently injured. Her SP was pretty bad though she had a better performance in the FS.
That's it. Next stop is the World Figure Skating Championships in Helsinki. This event was supposed to give us an idea of what to expect from some of the competitors we'll see at Worlds. I have no idea what we're in for next month. I guess we'll see soon enough.