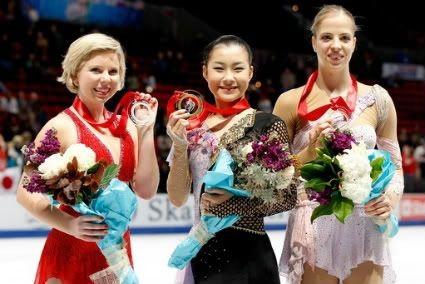 2010 Skate America podium...who will win it this year?
Gah! I'm getting really aggravated waiting for October to roll around so the season can finally begin. So to pass the time and maintain my sanity, I've decided to look back at some memorable performances from the various Grand Prix events. I'll start off with with Skate America, seeing as it's the first event we'll be treated to when the season finally starts.
Because everyone likes history (yeah right), here's a little backstory on the event:
As per Wiki
, the first Skate America (originally known as Norton Skate) was held in Lake Placid, NY in 1979 and was used as a tester event for the 1980 Winter Olympic Games. It was incorporated as an event of the Grand Prix back in 1995 which, coincidentally, was the same year the Grand Prix series began.
Some notable names in ladies' figure skating have been a part of this competition: Debbi Thomas, Kristi Yamaguchi, Tonya Harding, Midori Ito, Surya Bonaly, Lu Chen, Michelle Kwan, Irina Slutskaya, Sasha Cohen, Miki Ando, Kimmie Meissner, Mao Asada and Yu-Na Kim...just to name a few.
Here are a few notable performances:
1990: Kristi Yamaguchi, Free Skate
Kristi seriously turned the tides in her favor when she delivered this kick-ass 7 triple program and beat out the favorite, Midori Ito, for her first and only Skate America title. The program was a step up for Kristi and reassured her and the rest of the skating world that leaving leaving Rudy Galindo and pairs skating to skate full-time in singles was a great idea.
1991: Tonya Harding, Free Skate
Okay, ignore the tawdry dress and disjointed music and choreography...pay attention to the jumps. Say what you will about Tonya, but that chick was a
beast
when it came to jumps! Check out the
gigantamous
opening 3A! With two perfect 6.0s in the technical mark and 5.8s and 5.9s for presentation, Tonya beat out Kristi and won her second Skate America title.
1995: Michelle Kwan, Free Skate
(Note: You may want to fast forward through the first 1:12 of cute Michelle/Karen/Halloween fluff)
YES, DAMMIT, YES!! This was the first competition of the season and Michelle's debut performance of "Salome." As if the new mature program and presentation weren't enough, the soon-to-be Kween pimp-slapped the judges with a flawless 7 triple program (including a 3-3), and definitively proved she was ready to claim that top spot. Michelle beat out the favorite, Lu Chen, and walked away with the first of her
seven
Skate America titles.
2003: Sasha Cohen, Short Program
This was her debut performance on the Grand Prix for that year and Miss Sasha did it in style. She had a tiny hiccup in the opening combo, but picked it up and motored to the end in grand fashion. This also marked the first time the IJS was used at an international event. Sasha scored 66.46 in the SP on her way to a total score 197.35 and her first and only Skate America title.
2006: Mao Asada, Short Program
(Note: the sound in this video is uber-annoying; for some reason the mic picked up all of the scratchy ice sounds...)
This program marks the moment I absolutely fell in love with Mao. She ditched kinder-Carmen from the year before and embraced her inner ethereal goddess. The result: "Nocturne," which is probably her best SP to date. Graceful, elegant and effortless...she delivers it magnificently. Mao won the SP here but had a rough FS and finished third overall. Still, this program was the highlight of the entire event IMO.
2008: Yu-Na Kim, Short Program
This wasn't a perfect debut, but who cares? This program was absolutely amazing and even with the stumble on the 2A, the performance was great. "Danse Macabre" is an iconic program for Yu-Na and it dominated the 2008-2009 season in a major way. The music, choreography, costume, delivery...all perfection. It's my hands down all-time favorite Yu-Na program ever. She won here by a large margin, securing the first of her two Skate America titles.
2008: Yukari Nakano, Free Skate
This is my absolute favorite "Giselle" program. Funky leg wrap aside, everything else about Yukari's skating was wonderful: her presentation was lovely, her programs were well done, her spins were to die for, and her calm and happy presence made her one of my favorite skaters to watch. In a
Battle of the Giselles
, Yukari's "Giselle" stomped the shit outta Miki Ando's "Giselle" and earned Yukari a second place finish, behind Yu-Na and ahead of Miki.
2010: Kanako Murakami, Short Program
I adored this short program from Kanako. It was my favorite of last season and the only one that didn't make me feel like I was slipping into a boredom-induced coma. Her 3t-3t was huge and she sold the hell outta this program. Kankao placed 2nd in both the SP and FS, yet still managed to edge out Rachael Flatt by a little over two points and win her first GP title.
At the 2011 Skate America, we'll see Alissa Czisny, Carolina Kostner, Ksenia Makarova, and the return of Laura Lepisto. Also competing will be Caroline Zhang, Joshi Helgesson, Haruka Imai, Elene Gedevanishvili and Valentina Marchei.
Skate Canada's memorable performances coming soon!