A quick look at the JGP Volvo Cup ladies' free skate and winners, plus a little Caroline Zhang news
(No, she's not retiring)
. I didn't have enough time to watch all of the free skates from the JGP Volvo Cup this weekend, what with Labor Day and my attempts at having a life and all...so I'll just give you the top finishers.
Polina Shelepen (RUS), 1st: 105.48 (FS), 153.40 total
Polina S. is a puzzling skater. She's incredible to watch when she manages to stand up and painful to watch when she melts down. She's hot-and-cold which makes her a bit of a frustrating skater to follow. Polina placed 5th in the SP but caught fire and bounced back, nailing her FS, winning the segment and the event by a bit over 5 points. Her program included not one, but two 3-3 combinations (3lz-3t and 3s-3t). Other than a UR call on the 3t of her 3lz-3t, and an edge call on her 3f-2t-2lp combo, she skated cleanly.
Interesting note: Polina's TES of 59.53 was nearly 13 points higher than anyone else's; however, Polina's PCS of 45.95 was only 5th of the segment. She and her coach need to take the hint and get to work on that...
Zijun Li (CHN), 2nd: 93.10
(FS)
, 148.19 total
Zijun had quite a bit of trouble in the FS. Her only visible error was a fall on her final jump, a 2A. To understand why she missed gold, you have to look at the protocol. She lost a shitload of points due to
four UR calls
. She and coach, Mingzhu Li, need to get to work on this
tout de suite
. Zijun is too good of a skater to be losing competitions based solely on UR calls. I love her lyrical style, the use of her arms, wonderful spins and expressive skating...and so do the judges. Zijun ended up with the 2nd highest PCS of the night (48.51) which is enough to let her know that the judges like and will reward her skating; however, they aren't going to throw her a bone when she only manages to rotate 3 out of 6 triples. I'm proud of what she accomplished here, but she has her work cut out for her...
Polina Agafonova (RUS), 3rd: 87.24
(FS)
, 141.84 total
Polina A. suffered the same fate as Zijun Li, receiving three UR calls and a downgrade. She placed 5th in the FS but managed to finish 3rd overall due to her strong SP. She's another skater the judges are giving the go-ahead to; she had the 3rd highest PCS of the night (47.65). The judges like her skating so now it's up to her to get the technical side together. I will say I much prefer her style over Polina Shelepen's--smoother, more controlled. Like Zijun, Polina A. needs to her act together for the next competition.
As far as everyone else,
Ashley Cain
was less impressive in her FS than her SP: two URs, two DGs, two falls, and an edge call (ouch!) but she did manage to score the highest PCS of the night (50.46). Like Polina A. and Zijun Li, it's on her to back up her lovely skating with some decent jumps. Ashley finished 6th overall.
Yasmin Siraj
, one of my favorite upcoming US juniors, bounced back with a respectable FS (88.51; 3rd in the segment) and finished 5th overall. The biggest comeback of the night was Japan's
Miyabi Oba
. She was in 14th place after a disastrous SP (2 falls, 35.97) and yet managed to come storming back in the FS with a solid effort (86.69; TES of 46.59, 2nd highest of the night). She finished 7th overall. Full results
here
, plus you can watch all of the ladies SPs and FSs on
ISU's YouTube Channel
...bless them for finally doing this!
Lots to work on all around for the junior ladies. This week the JGP shifts to
Brisbane, Austria
. We'll get to see the JGP debuts of Japan's
Risa Shoji
, USA's
Courtney Hicks
and
Vanessa Lam
, and Korea's
Hae-Jin Kim
.
2011 Golden West Championships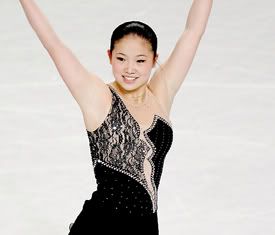 Caroline placed 1st at the 2011 Golden West Championships
In otro news, word is
Caroline Zhang
won
Golden West
this past weekend. It should be noted that top contenders
Ashley Wagner
and
Leah Keiser
withdrew, leaving an already depleted field even more depleted. Still, kudos to Caroline for cashing in on it. Her (unofficial) scores of 53.65 in the SP and 74.15 in the FS (127.80 total) were enough for first place but, to be honest, aren't that great...at all really. A score of 127.80 would only be good enough for 7th place at this past week's JGP Volvo Cup; Mirai Nagsu's
free skate
score
at last season's 4CC (129.68) would have bested that total score...
While I'm happy Caroline appears to be making progress, as time goes by, I'm starting to worry that her ship may have already sailed and she's missed it. It's a case of too little, too late. The road ahead of her is so long and she's already so far behind. It's very possible that she may never catch up. It's sad really...she had so much promise back in 2007. I was such a huge fan of hers and, must admit, I totally bought into the whole "next big thing" hype. Her first season on the senior level was wonderful, but it's been a steady tumble downhill since then.
With only one GP assignment (Skate America) and regionals to get through this season, Caroline definitely has a lot of ground to make up and less time to do it in. I'll continue to support her, though I can't say I'm expecting much to happen. As of right now, I can't see her anywhere near the podium at nationals. There are so many skaters to contend with: Alissa Czisny, Mirai Nagasu, Rachael Flatt, Ashley Wagner, Agnes Zawadski, Christina Gao, Vanessa Lam, Courtney Hicks, Leah Keiser, Yasmin Siraj. Sadly, Caroline's skill level is below every one of the aforementioned skaters, including the juniors. Looking from a senior international level, the field gets even deeper...
Who knows? Maybe a few years down the line she'll surprise us. But as of now, she still has a very long way to go...