Just a quick post here. If I find some videos I'll make sure to post them, but as of right now the ladies have skated their SPs and, YAY!, my girl is on top! Mirai Nagasu easily won the segment with a score of 58.38, nearly 8 points higher than Elene Gedevanishvilli who is in 2nd place with 50.56. Sarah Hecken is in 3rd with 49.07. It appears as though Ksenia Makarova had some trouble; she's in 6th place with 45.95.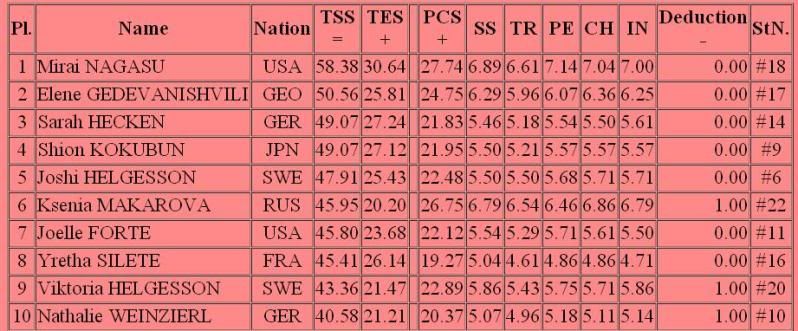 Unless Mirai has an implosion of epic proportions, she should easily win this competition tomorrow...
Update:
As expected, Mirai Nagasu won Nebelhorn Trophy...
It wasn't the kind of performance to brag about, but it did earn her the first gold medal she's won since the 2008 Nationals. Yeah, that kinda sucks given the amazing skater she is BUT a gold medal is a gold medal, even if it is against people you could probably beat in your sleep. Elene G. finished in second place and Joshi Helegesson rounded out the podium. Ksenia Makarova withdrew from the competition citing injury; she was in sixth place heading into the FS.
Here is Mirai's SP:
Nice dress, though I was hoping for something a bit more mature and sexy, kinda like what Elene G. wore: black, long sleeves, lace...va-va-voom! The length works nicely on Mirai though. That 3lp was gorgeous (she earned a full point from +GOEs) but she's still having issues with her lutz. I think I'm partial to the version of this program she did at Glacier Falls. The movements went with the music better. I'm assuming whatever she debuts at her first GP event this season won't look like this either...Lori is notorious for shuffling elements and choreography until she finds a perfect (acceptable) fit.
This dress makes me want cake...it looks like icing.
Three UR calls, two edge calls and one fall in the FS, yet Mirai easily won the competition by nearly 21 points. In the
interview posted over at Golden Skate
, she said she was very nervous to the point of shaking and that the fall on her opening 3lp-2lp combo shook her out of it. Maybe Frank Carroll should smack or shake the crap out of her before she takes the ice to help alleviate some of those nerves? Something needs to be done because she can't expect a fall to jar her out of her nerves every competition. I wonder if she works with a sports psychologist at all? If she does, she needs a new one. Those are an awful lot of mistakes to make in one program; however, if she's going to have a program like this, better to do it now where she can eff up that many times and still win by a landslide.
Winning this gold medal is a good step for Mirai. Being that her competition wasn't on par with her capabilities, Mirai must know that she'll have to do better next month at her first event. There's no way a skate like that will land her at the top of the podium at a GP event and she knows it. *sigh* My fingers are crossed...hell, my toes too. Hopefully this Nebelhorn gold medal is the first of many this season...hopefully.
Elene G. and Ksenia Makarova's SPs can be viewed
here
and the judges scores
here
.