The time is flying by!

JGP Baltic Cup marks the halfway point of the Junior Grand Prix season.

I'll give my review of the ladies and wrap up with a look at the JGP standings so far.
Evgenia Medvedeva (RUS): 61.61 (SP) + 118.35 (FS) = 179.96 (1st)
Unlike her first event where she struggled in the SP, Evgenia turned in two outstanding performances here.
She had a flawless SP, complete with a 3F-3T in the bonus as well as level 4 spins and a level 3 step sequence.
Evgenia followed that up with a 7-triple FS which included two 3-3s (3F-3T and 3S-3T in the bonus) as well as level 4s on every non-jump element.
Her only mistakes in the FS were an
e
call on her 3Lz and a time violation which cost her 1 point.
Though the competition was close after the SP, Evgenia pulled away and ended up winning by more than 27 points.
This second gold medal has locked Evgenia's spot in the Final later this year.
Thanks to her stellar performances, she will head to the Final as one of the favorites to win it all.
Angela Wang (USA):

58.00 (SP) + 94.36 (FS) = 152.36 (2nd)
I adore Angela's skating; there is something about her that distinctly reminds me of the Kween.
That's a huge compliment and not one that I give out lightly!
By far, Angela's SP was the best in the competition.
Lovely fluid movements and
I doth swoon
at the backward spiral at the end of the program (a nod to the Kween again).
Angela opted out of the harder 3Lz-3T and went for a 3Lz-2T instead.
She often struggles in the SP so getting a clean one under her belt to start the season off was great.
She maxed the levels on all of her spins, earned a level 3 for her step sequence.
Her strong performance left her only 3.61 points off of the lead.
Unfortunately, the FS didn't go as smoothly.
Angela opened up with a 3Lz-3T-2T; it was shaky but she got the rotation.
She followed that up with a gorgeous 3F…after that, everything went downhill.
Three falls
…a complete meltdown.
I don't know what happened to her.
Luckily for Angela this competition had the weakest field of ladies so far, so even with her FS implosion, she was able to hold on for silver.
Angela is scheduled to compete in the final JGP event three weeks from now.
Hopefully she'll come back stronger in her second event.
Gabrielle Daleman (CAN):

46.77 (SP) + 101.52 (FS) = 148.29 (3rd)
I've liked Gabrielle for a while.
I think she's so cute and I love the power and speed she has.
Her issue has always been a lack of control; she skates too fast and jumps too big.
Gabrielle started off as OOC (out of control) as ever.
Falls in her SP on her combo (3L-2T
<<
) and her 3L left her in 5th place going into the FS.
Thankfully, Gabrielle settled herself and took her time in the FS.
She opened with a big 3Lz-2T and followed it with a 2A-3T and 3F-2T-2T.
She got a little shaky in the second half and had some wonky landings but still managed to execute three more triple jumps.
Her only major mistake was a fall on her final 2A, but overall this was a vast improvement for her.
This proves that when Gabrielle takes her time she can skate well.
She placed 3rd in the FS with a personal best score and finished 3rd overall, earning her first JGP medal.
Good job Gabrielle!
Miyabi Oba (JPN; 146.86, 4th)
is like a hybrid of Miki Ando and Shizuka Arakawa: 65% Miki, 35% Shizuka.
It's an odd combination but it works for her.
Miyabi had a rough start in her SP, placing 7th.
She fought back in the FS and delivered a strong program (one
<
call).
Miyabi finished 2nd in the FS and leapfrogged from 7th to 4th overall.
Maisy Hiu Ching Ma (HKG; 130.69, 6th) was a pleasant surprise in this competition. She's not the strongest in terms of jumps (no lutz, no flip, several
<
s) but I really enjoyed her. Maisy is expressive and shows a lot of personality and projects well when she skates. I always appreciate those qualities in skaters.
Mariah Bell (USA; 128.11, 7th)
is still struggling.
Mistakes on her combo in the SP (3Lz
<
-2T) and 3L (doubled it) as well as her low level spins and step sequence really hurt her.
Mariah did better in her FS but several
e
calls, a popped lutz and lower level elements kept her score down.
I really love Mariah's style but until she gets her jumps and spins under control, she's going to have a hard time breaking out of the lower ranks.
Next week is JGP Minsk.

We'll get to see Polina Edmunds and Barbie Long (USA), Natalia Ogoreltseva (RUS), Rika Hongo (JPN), Alaine Chartrand (CAN), and Da Bin Choi (KOR).
JGP Standings: Midway Point
Here are the standings as of today: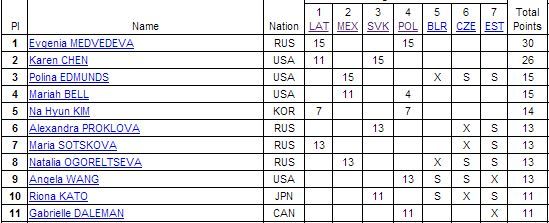 With her second gold medal, Evgenia Medvedeva (RUS) is a lock for the Final with 30 points and will probably finish in the top position.


Karen Chen (USA) earned a bronze medal in her first event and gold in her second event which gives her a total of 26 points.

As of now she's ranked second but there are a number of skaters left to go who could end up with a higher point total which means her positioning is likely to change.

The good news is if it comes down to a tiebreaker, the gold medal she has is weighted heavier than a silver medal which will give her the advantage over skaters who earn 26 points but who do not have a gold medal.

Based on my calculations, I'm pretty sure she's a lock for the Final (but don't quote me on that yet).
Polina Edmunds (USA) has earned 15 points with a gold medal at JGP Mexico.

A gold or silver medal will give her 30 or 28 points respectively, both of which will be good for a spot in the Final.

A bronze medal will give her 26 points and put her into a tiebreaker situation in which score totals will be used to determine the placements.
Natalia Ogoreltseva (RUS) has 13 points. A gold medal will give her 28 points, a silver 26 points.

If Natalia gets silver this week she'll equal Karen Chen in point total but Karen's gold medal will be weighted heavier than Natalia's two silvers.
As of now, the ladies who will shake up the standings are Alexandra Proklova, Maria Sotskova and Natalia Ogoreltseva of Russia, and Polina Edmunds and Angela Wang of the USA.

Polina and Natalia will battle for gold next week at JGP Minsk; Alexandra and Maria will face off at JGP Czech; and Angela will have to contend with Serafima Sakhanovich (RUS) at JGP Estonia.

Serafima is not in the running to make the Final due to her 4th place finish at JGP Slovakia, but she still poses a huge threat to Angela's chances of making the Final.
Lots of skating left to go!