There's never a dull moment in skating...yeah, that is a complete and total lie, but at least there is plenty to talk about this week. Gracie's making moves (possibly), Miki's debut is around the corner, and the worst news ever about Johnny Weir!!
Gracie + Frank = Gold?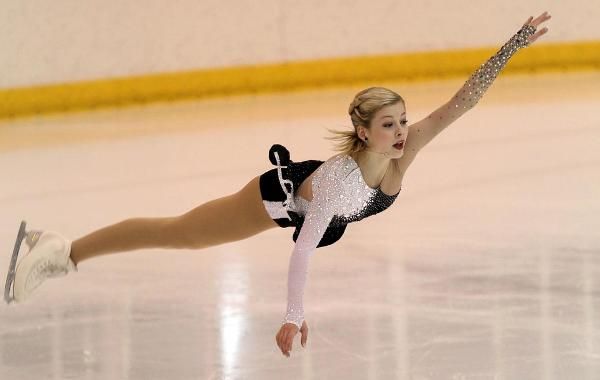 Can Carroll right the S.S. Gold before Sochi?
So, TSL's Dave and Jenny had been alluding to this news for about a week or two but it just became official this past weekend. Gracie has parted ways with her coach Alex Ouriashev and will be spending a week doing
a trial run with Frank Carroll
in Los Angeles, though no official decision has been made as to who she will work with. Apparently, Gracie left Alex right after Champs Camp and has been training with Oleg Epstein and Marina Zoueva since. Phil Hersh tweeted that Alex said he was "very shocked and disappointed in her [Gold's] decision."
Frank Carroll is the King of coaches in US skating. His coaching highlights include Michelle Kwan at the height of her career as well as Olympic gold medalist Evan Lysacek. In addition to Evan, Frank's only other main student for this run to Sochi is world silver medalist Denis Ten. One would think Frank wouldn't want to spread his attention too thinly. So has Frank's schedule opened up to the point he now has extra time to fix the hot mess that is Gracie Gold? There's some speculation that Evan may be too injured to make his comeback run; he was supposed to compete at the US International Classic this past weekend but pulled out citing injury. Maybe Frank is cutting his losses with Evan and now has time to devote to Gracie? No one knows yet...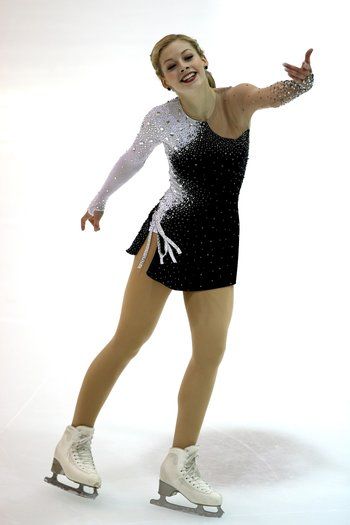 Never. Perform. This. Program. Again.
As for Gracie going to Frank, theoretically, it would be a good move. I think Frank would require Gracie to drop Zoueva as her choreographer and go to his choreographer of choice, Lori Nichol. Honestly, I think Gracie needs to spend the majority of her time with Lori. The hope is Lori would be able to teach Gracie a thing or two about connecting to her music, feeling the movements and executing them without looking like a windmill. Gracie needs to scrap both of her crap-ass programs and get new ones, preferably ones that don't try to present her as something she is not. I'm dying to see Gracie embrace her speed, power, huge jumps and complete lack of grace. She needs something like
Irina Slutskaya's "Totentanz" SP
from 2006. It dropped all pretense of trying to be artistic and just allowed Irina to motor through at top speed busting out huge jumps and fast spins. It put her best attributes on display and for that reason it's my favorite program of all time from her.
Watching Gracie
try
to be artistic makes me gag because she sucks at it. Stop trying to force a square through a circle; let the damn square be a square! Gracie isn't graceful (ironic, but true) or expressive; she's not a gifted performer nor is she able to interpret music well. Giving her obscenely complex music or a portraying her as a "power witch" in a sparkly pink costume is not going to disguise that. The sad truth is her current programs do the exact opposite: they highlight what is wrong with her skating. I have no idea what Zoueva was thinking but I'm seriously questioning her credibility when it comes to packaging a skater effectively. Her current work for Gracie is a huge resounding big ol'
FAIL
. Hopefully working with Frank would get Lori to steer Gracie in the right direction and find music and choreography that will play to her strengths and downplay her weaknesses…that's the hope anyway.
Gracie is in for a long road to Sochi...
As far as fixing whatever mental blocks she has, we'll have to see how that goes. Frank may be able to help Gracie learn to focus and stay calm but then again, he's not a miracle worker. The coach can only do so much. Gracie is an extremely nervous competitor to the point she's rapidly approaching headcase status. It's something she can work on but I don't consider Frank to be the headcase guru. Frank can talk to her and coach her until he's blue in the face but in the end, Gracie has to master her own mind and go out there and skate.
The other big issue for Gracie will be where she ends up. Frank is in L.A.; she's in Chicago. There's a possibility that Gracie will want to continue to work with Epstein and Zoueva which means she'd be traveling back and forth from Chicago to L.A. for the rest of the season. If there's one thing we've learned it's that distance and coaching do not mix well. I'm thinking Frank is an all or nothing kind of coach. It's his way or the highway which means it's very unlikely he will agree to sharing Gracie with Epstein and Zoueva. Moving/commuting is always stressful and the added stress of training in a new environment and getting used to Frank's methods could equal even more stress. Then there's the pressure of working with Frank (being Frank Carroll's student comes with a built-in level of expectation), the pressure of being the
projected
#1 US lady and the insane pressure that accompanies an Olympic year. At this rate I'm expecting Gracie to have a nervous breakdown by nationals...
Now the crazy question is what will happen if this whole Frank/Gracie thing doesn't work out? What then? Is she going to go into this Olympic season sans a full-time coach? Whatever the case, all eyes are on Miss Gold as this soap opera unfolds. Grab your popcorn! This season is going to be one helluva a show!
Miki to Debut at Nebelhorn Trophy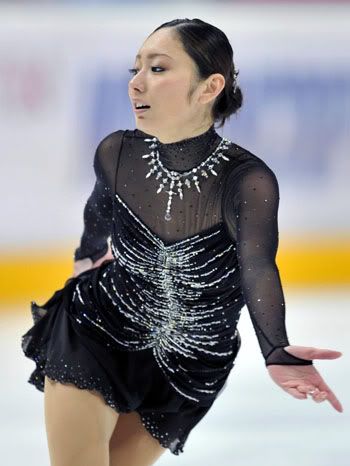 Pack the breast pump! We're heading to Germany!
The new
MILF
(figuratively speaking...I would like to do no such thing to her) will be making her
season debut at Nebelhorn Trophy
next week. Kiira Korpi is out with an Achilles tear (poor baby) which means Mama Miki will step in and attempt to satisfy her minimum TES requirements for eligibility to compete in Sochi. Reports coming out of Japan are that Miki has regained most of her jumps and is looking ready to go.
Miki's last competition was all the way back in 2011 when she narrowly beat Yu-Na Kim at the world championships and won her second world title. The landscape has changed quite a bit in ladies skating since Miki's hiatus. Yu-Na's absence caused the technical side of senior ladies skating to slump quite a bit; however, the good news was the PCS side of skating (choreography, interpretation, etc.) took center stage and really became the deciding factor. Nowadays a program that is purely a technical display will get you a great score, but it won't necessarily get you the win.
This is where Miki may run into some trouble. Over the years she's gotten better at presenting herself and attempting artistry...but she is no match for the Big Three (Yu-Na, Carolina, Mao). I think Miki will have reputation on her side if she comes back strong but I don't think it will be enough to unseat the top dogs in the sport. I'm not exactly sure where Miki fits in right now. Her strength is her jumps and that should not be discounted. Miki usually skates well under pressure and on a night where one of the favorites falter, she could sneak in for a medal.
I'm happy Miki is continuing to skate but I'm not happy for what this will mean for Akiko and Kanako. If Miki is in form, the Japanese Skating Federation may push her to be on the Olympic team which means either Akiko or Kanako will be left behind (of course Mao's ticket is already booked). Personally, I think Akiko and Kanako have earned their trip. Miki competed the year after Vancouver and then stepped away. Akiko and Kanako have helped to carry Japan for this quad...they deserve to go. If Miki earns her spot this season, then that's fine. I just don't want to see the JSF hold her up just to get her on the team.
Nebelhorn Trophy will take place in Oberstdorf, Germany on September 25-28.
Johnny Weir is Officially Out...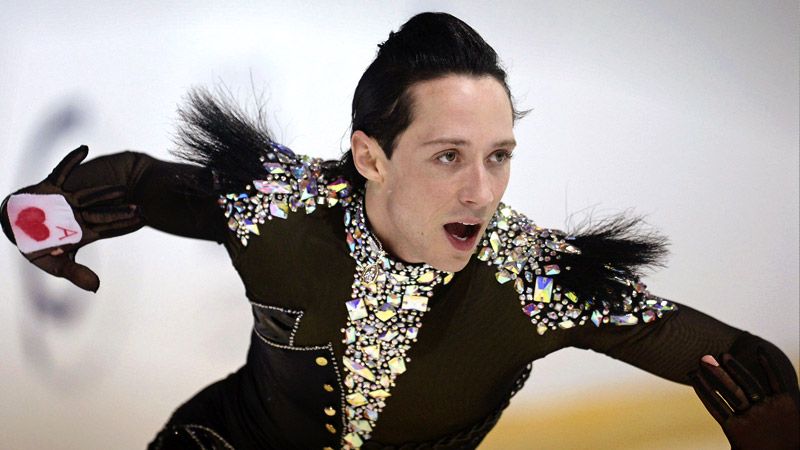 Farewell you fabulous diva, you!
Duh! He's been
out
for eons! No, I mean Johnny has
missed the deadline to register
for a qualifying event for nationals. Other than Finlandia last season, Johnny hasn't competed since the 2010 Vancouver Olympics where he placed 6th. Like the rest of the
comebackers
, he needed to enter an Olympic qualifying event in order to obtain the TES minimums and be eligible to compete at nationals and qualify for Sochi. The deadline has come and gone and Johnny has not signed up to participate in any of the events which means (*sniff*) no Johnny this year. Damn, damn, damn! I mean, I already knew he was a long shot for Sochi but I really wanted to see him compete at nationals. In addition to being very colorful and unique, Johnny's skating is gorgeous and he always puts on a show and gets people talking.
I somewhat saw this coming. I figured he'd qualify for nationals and then maybe let the excitement build for a while before possibly pulling out, though I really did want him to add that Weir flair to nationals this year. *Sigh* Oh well... If he ends up in Sochi it won't be as a skater. Don't worry Johnny...you're still fabulous to me!
That's it for now!